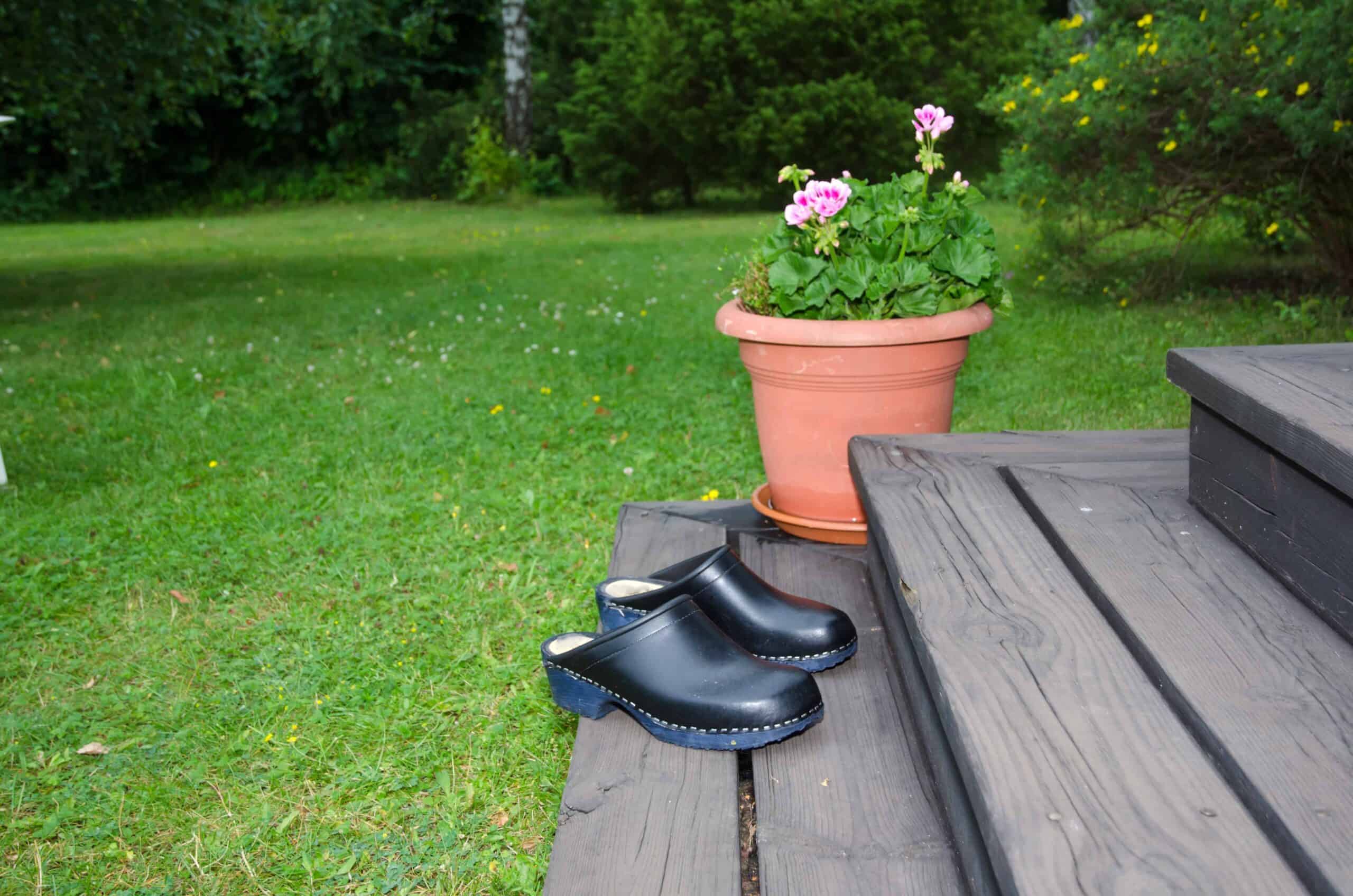 Comfortable footwear is essential for nurses whose primary focus needs to be their patients.
The last thing nurses need to worry about is ending up with tired, achy feet at the end of the day.
Clogs are a great footwear option for nurses and here are 6 of the best.
*Disclosure: This article on nurse clog shoes may contain affiliate links. If you click and make a purchase, I may receive a commission. For more info, please see my disclaimer.
Our Top Pick
Best Clogs for Nurses
1. Dansko Women's Professional Clog
Superior shock absorption and a roomy toe box is what you'll find with this Dansko Women's Professional Clog.
Made from 100% genuine leather, these clogs are professional enough for an office or hospital setting but feel like you're walking on a cloud thanks to the thick outsole and rocker bottom.
Dozens of colors are available to choose from, with several variations of black included so you always have the perfect shade that goes with any pair of scrubs you wear.
There's also a padded collar for additional comfort while walking.
Pros:
100% genuine leather
Dozens of color options
Padded collar
Cons:
Average arch support
Stretch out and widen over time
Loose in the heel
See the price of the Dansko Women's Professional Clog on Amazon.com.
Related Article: 5 Best Dansko Nurse Shoes
2. Crocs Women's Mercy Work Clog
The well-known Crocs brand brings you this Women's Mercy Work Clog.
A clog that merges both style and comfort together for the perfect nursing shoe.
The rubber outsole provides safety from slippery surfaces while the 100% Croslite construction is lightweight and durable.
The back strap hugs the heel and keeps the foot in place, preventing blisters and other abrasions that result from feet slipping in shoes.
There are also several fashionable details available, such as leopard print, paisley, and floral.
The signature crocodile logo on the side of the shoe lets you know you're getting the quality that the Crocs brand is synonymous with.
Pros:
Rubber outsole
Lightweight
Heel back strap
Cons:
Slip-resistant not slip-proof
Sizing runs small
The design comes off easily
See the price of the Women's Mercy Work Clog on Amazon.com.
3. Crocs Unisex Bistro Work Clog
Sale
Crocs Unisex Bistro Graphic Clog,Black/Multi,8 US Men / 10 US Women
CROCS AT WORK: Clogs designed with food service, hospitality, and healthcare workers in mind, making great Nursing Shoes or Chef Shoes. They're light and supportive enough to get you through even...
EASY TO CLEAN: Crocs Bistro clogs are fully molded and easy to clean by just using soap and water and allowing for a quick dry
SLIP RESISTANT KITCHEN SHOES FOR MEN AND WOMEN: Crocs Lock slip-resistant treads come together to help you serve up the best non-slip shoes for women and men
Male and female nurses will love the cool design of these Crocs Unisex Bistro Work Clogs.
The tie-dye design is versatile enough to go with any color scrubs and is suitable enough for both men and women.
Aside from the cool design, they are also super comfortable and easy-to-clean.
The material can be wiped down with a wet, soapy cloth after each shift to ensure cleanliness.
They are slip-resistant thanks to the threads on the bottom of the clog.
Even better, the enclosed toe box keeps your toes safe during your shift.
Pros:
Cool, tie-dye design
Slip-resistant bottom
Enclosed toe box for safety
Cons:
Colors are muted and dull
Tight fit
Arch support may be too much for flat or normal arches
Check availability of the Crocs Unisex Bistro Work Clogs on Amazon.com.
4. Dr. Scholl's Women's Dynamo Work Shoe
If you love the look of real leather but hate the unpleasant smell that forms after having your feet in them all day long, then you'll love this Dr. Scholl's Women's Dynamo Work Shoe.
While the exterior is crafted from 100% genuine leather, the interior is made for breathability so your feet don't get hot and sweaty during a long shift.
The special lining wicks moisture away while the antimicrobial shield controls odors.
The sock is also vented to allow airflow in and around the foot.
Add in the slip-resistant outsole and you've got a nursing shoe that's comfortable and safe.
Pros:
100% leather
Vented sock
Antimicrobial shield
Cons:
Only black color available
Sole comes apart easily
Minimal midsole cushioning
Check the price of the Dr. Scholl's Women's Dynamo Work Shoe on Amazon.com.
5. Sketchers Women's Slip Resistant Clog
Skechers Work Clog SR Black 8
Make those long, tedious shifts a little more bearable with the all-day comfort of the Clog SR from Skechers®.
Smooth leather upper.
Roomy, rounded toe box.
The trusted Sketchers brand brings you this Women's Slip Resistant Clog for the ultimate in shock absorption and exterior safety features.
The midsole includes premium shock-absorbing technology that fully supports the foot from toe to heel with each and every step.
There's also an internal heel stabilizer that helps create a smooth stride.
The platform sole offers the perfect 1 1/2 inch heel while the 100% genuine leather exterior looks great and is easy-to-clean.
Offered in two classic colors- black and white- you can comfortably wear these clogs in any professional medical setting.
Pros:
Superior midsole shock absorption
Internal heel stabilizer
1 1/2 inch platform heel
Cons:
Sizing runs large
Too wide for narrow feet
Minimal ankle support and stability
Check availability of the Sketchers Women's Slip Resistant Clog on Amazon.
6. Cherokee AnyWear Women's Zone Clog
The Cherokee AnyWear Women's Zone Clog is a lightweight, breathable clog that's also easy-to-clean.
The rubber material can be washed with water to remove stains and sanitize against germs and bacteria.
The rubber plays double-duty as it's also sturdy and slip-resistant, preventing falls while you're working.
Eight attractive color options- including a floral and owl design- offers something for every taste and style.
The molded removable insole supports the arch and helps prevent painful foot conditions like plantar fasciitis.
There's also a back strap that swivels up and down so it can be worn as a traditional clog or backless.
Pros:
Sturdy rubber material
Slip-resistant
Molded removable insole
Cons:
Sizing runs big
The removable insole may have odor over time
Slip-resistant but not slip-proof
Check the price of the Cherokee AnyWear Women's Zone Clog on Amazon.com.
Clog Shoe Buying Guide for Nurses
1. Slip-Resistant
Nurses encounter many challenges during a shift, including slippery floors.
Material like tile, wood, and linoleum can become slippery and even dangerous when it becomes wet.
Everything from patient medications to bodily fluids can leave a floor slippery.
Slip-resistant shoes with a rubber outsole are the best option for nurses looking to stay safe on slippery floors.
2. Movable Back Strap
Some clogs come with an open back that includes a back strap.
Back straps that are able to be moved up and down offer two different styles for the wearer.
The back strap being left in the down position is the traditional clog look.
While the back strap being moved to the front of the shoe is a more updated, backless style.
The back strap is an additional safety feature when it's left in place because it keeps the heel from sliding out of the shoe.
3. Breathable
Shoes can get hot and sweaty when they're worn for long periods of time.
Nurses often work 12-hour shifts, meaning their shoes are more prone to getting hot and sweaty.
Shoes made from breathable material or that have holes at various points around the shoe allow for air flow in and around the foot, preventing things like:
Foul smells
Hot, uncomfortable feet
Sweaty feet that slip around
The potential for mold growth under the insole
4. Washable
The job of a nurse can be a dirty one, so it's important that every aspect of their uniform be easy-to-clean.
Clogs are a beneficial option because they can usually be wiped down and sanitized after a shift.
Materials like rubber and leather are two options that are easy-to-clean.
Leather may require a special cleaner that's specifically designed to be used on this delicate material.
Most clogs can be washed with a simple solution of mild dish detergent and warm water.
Related Article: How to Clean Your Nursing Shoe
5. Enclosed Toe
Another safety feature that's important for nurses is an enclosed toe area.
With sharp objects like needles being used frequently by nurses, having the risk of one dropping on your toe can be scary.
An enclosed toe keeps your toes safe, thus allowing you to perform your job more efficiently without worrying about your toes being in danger.
Related Article: How to Pick the Right Nursing Shoe
6. Arch Support
Some may think that sneakers are the only reliable choice when it comes to arch support, but clogs can equally provide support.
Look for clogs that specifically state that they include additional shock absorption at the midsole or arch support that's sufficient enough for those with low or high arches.
7. Lightweight
Heavy shoes can leave your feet feeling even more tired after a long shift.
Lightweight, synthetic materials will have you feeling like you're walking on a cloud all day, which is important for nurses who work a 12-hour shift and walk an average of 4 to 5 miles.
Related Article: When Should Nurses Replace Their Shoes?
Final Thoughts
The right pair of shoes can mean all the difference between a productive shift and a painful shift.
Clogs are an ideal choice for busy nurses looking for comfortable footwear that won't leave their feet tired and achy.
Consider these clogs the next time you're searching for comfortable, reliable footwear.
Related Articles on Best Clogs for Nurses