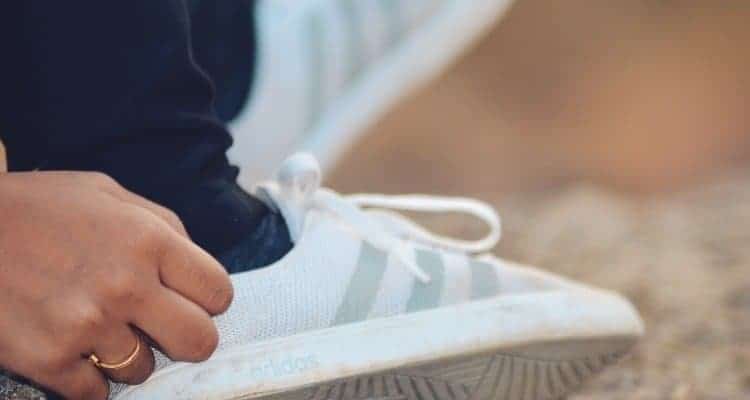 The brand Adidas is known for making some of the most comfortable and reliable walking shoes.
Since nurses spend the majority of their work hours on their feet and walking, the Adidas brand is a natural choice for many of them.
Here are some of the best Adidas shoes for nurses.
*Disclosure: This post may contain affiliate links. If you click and make a purchase, I may receive a commission. For more info, please see my disclaimer.
Top Pick
Best Adidas Shoes for Nurses
1. Adidas Women's Ultraboost 19 Running Shoe
The Women's Ultraboost 19 Running Shoe has been dubbed the most responsive shoe ever made by Adidas.
It's responsiveness starts with the lightweight and seamless design which features a knit upper which molds and stretches with your foot as you move.
Its unique motion weave technology holds your foot in place while you walk or run while also providing the flexibility needed for a comfortable stride.
Since these shoes really fit like a glove, there's very little opportunity for chafing that can cause abrasions, rashes, and blisters that often come along with working a long nursing shift.
Pressure points are also reduced with the supportive, flexible fit of the upper portion of the shoe.
The comfort continues down into the midsole, where the Responsive Boost cushioning and Stabilizing Torsion Spring allow you to have soft, supportive movements with each stride.
It all ends at the sturdy rubber outsole that is specifically designed to provide traction control so each step you take is safe and secure.
Pros:
Primeknit 360 upper molds to the foot
Responsive Boost midsole provides optimal cushioning
Rubber outsole offers traction control
Cons:
Snug fit may require a size up or wider shoe
Narrow toe box
The knit fabric is not as easy to clean as other materials
Check availability of the Ultraboost 19 running shoe on Amazon.
Related Article: 15 Best Shoes for Nurses: The Ultimate Guide
2. Adidas Women's Cloudfoam Pure Running Shoe
The Adidas Women's Cloudfoam Pure Running Shoes are an excellent choice for those nurses who want fashionable and stylish shoes that also provide support and comfort for their entire work day.
Made from a soft, knit upper, these shoes hug the foot so well that it feels like you're just wearing a pair of plush socks, not a clunky pair of sneakers.
The best part about these shoes is how great they look.
They coordinate perfectly with scrubs but are also stylish enough to wear with jeans and leggings for those errands you need to run after work.
With four appealing color combinations- including white on black, black on white, carbon on haze coral, and black on black- there's something for everyone.
The comfort doesn't stop at the knit upper.
There's more softness to be found with the Cloudfoam midsole that feels like- you guessed it- you're walking on a cloud.
The sturdy rubber outsole completes this shoe, offering safety and security on even the most slippery surfaces.
Pros:
Soft knit upper comes in four color combinations
Cloudfoam midsole provides cushioning and support
Solid rubber outsole keeps you from slipping on changeable surfaces
Cons:
Sizing runs small
The knit upper is not as breathable as mesh fabric
Wear with socks to avoid friction that can cause blisters, rashes, and other irritations
Check the price of the Adidas Cloudfoam running shoe on Amazon.com.
3. Adidas Women's Swift Run W
If you enjoy going to the gym or for a run prior to or after work, these Adidas Women's Swift Run W shoes will take you from point A to point B with both comfort and style.
The upper portion is knit and fits as snugly as a sock would, so you never have to worry about friction causing blisters and sores on the backs of your ankles.
Although it takes a bit of maneuvering to get your foot in the shoe, once it's on there is a custom fit unlike most other standard running shoes you'll find.
It also comes in 26 different color combinations, each with the three signature Adidas stripes on the side in a cool matte finish.
Those with flatter arches will love the injection molded EVA midsole that provides just the right amount of cushioning for the bottom of the feet.
This is especially important for people that suffer from flat feet and other painful foot conditions.
The rubber outsole offers strong, sturdy support so you always remain steady on your feet, no matter what you encounter during your shift.
Pros:
Knit upper molds to the foot
Injection molded EVA midsole provides cushioned support
26 color combinations
Cons:
Must maneuver foot to get it into the shoe
Sizing tends to run slightly larger
Large toe box
Check availability of the Adidas women's Swift Run W shoe on Amazon.
4. Adidas Men's Lite Racer Adapt Running Shoe
As more and more men enter the nursing field, there's an increasing need for high-quality nursing shoes that coordinate well with scrubs and provide the comfort and support that male nurses need during their long shifts.
These Adidas Men's Lite Racer Adapt Running Shoes certainly fit the bill when it comes to comfort, style, and support.
They have a unique, streamlined design that is both lightweight and sturdy so each and every step you take is properly aligned and solid.
This is particularly important for male nurses who are often asked to complete strenuous tasks like lifting patients that other nurses or techs may need assistance with.
This shoe comes in four appealing color choices- black/grey, red/white/black, blue/red/grey, and dark cargo/carbon which is a rich grey color.
These shoes are meant more for daily walking than for heavy runners as the midsole cushioning provides comfort and support for regular activities, but not the proper support for the pavement pounding that's endured during a long run.
They do run slightly narrow so if you have wide feet you may want to go up a size or purchase a wider shoe.
Pros:
Streamlined design
4 color combinations
Comfortable midsole cushioning
Cons:
Not meant for heavy running
Slightly narrow toe box
May require a size up
Check the price and availability of the Lite Racer Adapt running shoe on Amazon.
5. Adidas Originals Women's Stan Smith Sneaker
The Originals Women's Stan Smith Sneaker from Adidas are super easy to clean because of their synthetic upper that can simply be wiped with a damp cloth whenever they get dirty.
Nurses know how dirty their shoes can get during a shift with so many spills and accidents they may encounter while taking care of patients.
This is the female version of the Stan Smith shoe, a highly sought-after shoe by many looking for a cool design that is easy to maintain.
This particular shoe comes in 20 different color options, including a bright pink and shiny metallic silver.
Aside from the great look of these shoes, they are also built for comfort, from the soft upper to the cushioned midsole to the rubber outsole.
These shoes are not made from leather-like other Stan Smith shoes.
Pros:
Well-known Stan Smith shoes sought after by athletes and celebrities
20 cool color options
Comfortable design all around
Cons:
Sizing runs a bit large
Shoes are stiff and require a breaking-in period
Not made from real leather
Check availability of the Stan Smith sneakers on Amazon.com.
Shoe Buying Guide for Nurses
For the full guide check 0ur guide on buying the right work shoes for nurses.
1. Washable
Nurses encounter many challenges during their work shift, including spills and accidents that may end up on their shoes.
Things like chemicals, medications, and even bodily fluids may splatter on your shoes, leaving them damaged.
Ensuring your shoes are easy-to-clean is an important thing when buying shoes.
Synthetic materials are usually the best option because they can be wiped clean with a damp cloth or even thrown into the washing machine if the care instructions state that it's safe to do.
2. Knit Upper
A new design that many shoes are including is a soft upper made from a knit material.
There are many advantages to a knit upper, including:
Molds to the foot
Fits like a sock
Soft feel
Won't cause abrasions or blisters
Provides an all-day comfort
Knit shoes may require a bit more maneuvering to slide your foot into as they start off as a tight fit.
This is actually a desired effect because once the shoes are on they hold the foot steady in complete comfort throughout the duration of the wear.
3. Toe Box
The size of the shoe's toe box is important because toes that are cramped can be quite painful.
Narrow toe boxes can cause the toes to sit too closely to each other and may cause blisters, corns, or other foot abnormalities (source).
A wide toe box can be found in many shoes, but a safe bet is to always purchase a wide version of a shoe if your toes tend to need some more wiggle room.
4. Rubber Outsole
Traction control is an important thing for nurses since they may encounter slippery surfaces during their shift.
They also may need to run back and forth between patients so a sturdy, rubber outsole is crucial to avoiding falls that can result in injuries.
A rubber outsole is the best option because it provides traction control on a variety of surfaces, including wood, tile, and carpet.
5. Color
The traditional white nursing shoes are a thing of the past as more and more employers are allowing their nurses to venture out and express their personal style with different colored shoes.
While white is still a great choice, other colors like black, silver, red, purple, pink, blue, and gray are making their way to the top of the list.
Before purchasing colored shoes, be sure to consult your employee manual for the specific dress code rules at your place of business.
6. Breathable
Breathable shoes are a desired feature for many nurses.
Breathable shoes allow air to flow in and around the foot while the shoes are being worn, avoiding things like:
Sweaty feet
Hot feet
Feet that slip inside of the shoe
Feet that smell foul when removed
The need for shoe deodorizers
Final Thoughts
When you're looking for your next pair of nurses shoes, the Adidas brand is a trustworthy brand to consider that has made a name for itself when it comes to comfortable, supportive shoes that are built-to-last.
These five shoes are just a few of the choices for nurses to consider.
Related Articles: