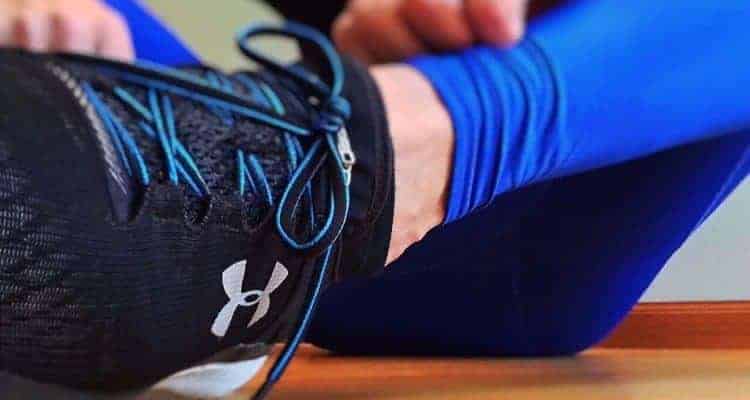 Nursing shifts are long, frequently requiring standing or walking for 10 or 12 hours in order to care for sick patients.
That's why we nurses need supportive shoes that can protect our arches, cushion tired feet, supply shock support for crucial areas like knees, hips, and ankles all while encouraging good posture to keep our spines healthy.
The guide below identifies four key features every registered nurse, CNA or nursing assistant should consider when buying work shoes.
*Disclosure: This post may contain affiliate links. If you click and make a purchase, I may receive a commission. For more info, please see my disclaimer.
Top pick
Best Under Armour Shoes for Nurses
These shoes are all from Under Armour, which provides top-shelf designs for athletes.
So, they can be trusted to guard the feet of nurses whether you're running across hospital floors, climbing steps, or dodging toxic spills on the floors.
1. Under Armour Women's UA Dash RN
Ideal for nurses, the Under Armour Dash RN shoe is distinguished by a 4D foam footbed that adapts to your foot's curves and bends for a customized and comfortable fit that won't slip or wobble.
Shoelaces and a snug ankle guard further guard against slips and give the shoe a secure fit.
Never heavy or clunky, the Dash RN is made from a lightweight mesh and genuine leather upper.
The outsole is made of rubber to cushion footfalls and offer traction. Additional rubber pods are positioned just beneath the forefoot and heel to cradle the foot even more.
This added padding will make the shoe more durable and provide great support when standing, walking or exercising.
The shoe's built-in sock liners will help your feet avoid blisters and reduce the friction between your feet and the shoe.
They will also reduce moisture so that your feet stay dry, which is important to avoid bacteria and fungi.
A test of these running shoes reveals them to offer good balance and arch support when in motion.
They also remain comfortable at the end of a long day, even if you are spending most of your time on concrete.
You'll forget you have them on. The fit is so gentle and soothing that they will not aggravate preexisting foot problems, such as bunions or corns.
The stylish shoes come in two color schemes: black and white as well as black and pink.
The bright pink can be easily seen if you choose to use these shoes to walk around the neighborhood in the evenings.
Pros:
Custom-fit
Prevents blisters
Non-slip
Check the price of the Under Armour Women's UA Dash RN shoe on Amazon.
2. Under Armour Women's Charged Bandit 4 Running Shoe
Characterized by its roomy, wide form the Bandit 4 sneaker offers a flexible synthetic shell and a pillowy soft cushioning to the feet.
If other shoes fit you too tight, you'll love the width offered by this style.
You might want to consider buying a half size larger to ensure enough toe space to avoid cramping; while the shoes are extra wide, the length is more conservative.
If you've been used to leather tennis shoes, don't hesitate to try this manmade material.
It is designed with mesh inserts to offer the air circulation and ventilation that natural fibers do.
The material is super light so they don't way down tired feet; instead, they bend easily to make movement natural and easy.
The inside of the shoe has a sock liner to conform to your foot's shape. The bottom of the shoe is made of rubber and offers strong shock absorption.
The heel cup is supported by an outer counter that locks the foot into place to prevent injury. All these features help to stabilize your feet and give you balance.
Compression foam is the secret behind the responsiveness of the midsole.
This foam will spring back with every step, reducing impact and pressure so you feel like you are walking on a cloud.
The sneaker also has a removable insole in case you need to insert orthopedic insoles or cut the insole for better comfort.
Choose from a variety of colors including black, navy, white, pink and light blue. There's even a reflective style to reflect lights when out jogging at night.
Pros:
Wide fit
Good ventilation
Low-impact
Check the price of the UA Women's Charged Bandit 4 Running Shoe on Amazon.com.
3. Under Armour Women's Speedform Amp 3 Sneaker
The Speedform Amp 3 training shoes are special because of their precise fit, which allows you to move quickly with sure steps.
This feature is important for nurses rushing to answer calls throughout the day.
The excellent fit is because the shoe has a unique construction that molds to every foot shape so there is no interference or obstruction.
Walking, therefore, feels like gliding.
The shoe has a knit upper, which was also chosen to create swift movement.
The knit is very lightweight so that it won't hold you down and slow your stride. It allows your feet to be properly ventilated and kept dry.
Speaking of dryness, the shoe has a sock liner made of moisture-wicking material that pulls any sweat away from your skin.
This will reduce odors and help prevent athlete's foot, which is a fungus that can lead to itching.
There's no need to worry about the shoe slipping as you walk because these shoes come with laces and a suede strap to lock the shoe into place.
This comes in handy since nurses have to walk in places that might have liquid on the floor.
Your arches will feel well supported with the Speedform's unique design that has a floating space between the insole and the foot to allow the arch to move naturally.
If you need to rush to an emergency, these shoes will be ready; they also have shank support for explosive motions as well as a cushioned rubber bottom to give good traction.
Pros:
Molded fit
Moisture-wicking
Arch support
Check availability of the Under Armour Speedform Amp 3 Sneaker on Amazon.
4. Under Armour Micro G Pursuit Running Shoe
The Under Armour Micro G shoe is designed for running but has all the features that an active nurse needs.
Made completely of synthetic material, including mesh, this shoe is light and airy to help keep your feet feeling energized and not fatigued after a long day on the job.
Foam around the ankle and on top of the feet feels like a constant, stabilizing hug to your joints.
Foot arches are propped up by sock liners that promise to remain resilient hour after hour to prevent pain and damage.
Foam material wraps the ankles and foot for a snug, cozy fit.
The outsole gives traction so you can be confident you won't slip no matter what surface you walk on. The insole is removable.
Movement is enhanced by the foam midsole, which is so soft and cushioned that your feet are protected from hard impacts.
The rubber sole is designed to offer supreme balance as well as flexible movement.
These stylish shoes come in conservative black, chambray blue, merlot, rhino gray, and several other colors.
Pros:
Balanced motion
Arch protection
100 percent synthetic
Check availability of the Under Armour Micro G Pursuit Running Shoe on Amazon.
5. Under Armour Men's Charged Escape 3 Running Shoe
The Charged Escape 3 excels at stabilizing the foot, partly due to the heel counter that keeps the foot well-supported.
In addition, the heel of the shoe is wrapped in a comfort collar that further keeps the heel from shifting and wobbling.
So, even if you're on uneven surfaces or carpet, you can be assured of staying balanced and fall-proof.
Comfort is guaranteed thanks to the sockliner, which pads the foot, provides a plush feel.
It protects every footfall even on hard surfaces.
There's some firmness too: the midsole is strong so you feel anchored and safe as you stride.
The rubber bottom has grooves that hug the ground and protect you against skidding.
Made of synthetic material, the upper part of the shoe is breathable and weightless to encourage fast motion and endurance.
The shoe moves with your foot's natural motion; the flexible design reduces the sense of friction and obstruction while walking.
These shoes are designed to last for years.
They have an anti-abrasion design to prevent the erosion of the key support areas.
So whether you are walking to take vitals or rushing to rescue a patient in need, you can be sure these shoes will remain in good condition to give you the comfort and reliability you need.
Pros:
Flexible
Stable
Long-lasting comfort
Check availability of the Charged Escape 3 Running Shoe on Amazon.com.
Buying Guide for Nursing Shoes
When purchasing a shoe to wear at a hospital, clinic or other medical environment, you should choose a shoe that can protect you in an environment with lots of heavy equipment and toxic substances.
Nursing shoes must shield the feet from heavy falling objects, spills, slips, as well as the simple, constant pressure of standing and moving.
The best shoe choice should have the following four elements to ensure nurses remain productive and happy no matter how long the shift.
Related Article: Work Shoe Buying Guide for Nurses
1. Quality Materials
The first level of protection for a nurse is the shoe material.
It must be strong, cushioned, well-sewn and have a variety of supportive elements to keep the arch, heel, toe, and bottom of the foot secure.
Good shoes can come in both natural or manmade fabrics.
We were able to find and recommend shoes made with a variety of materials, including leather, rubber, and mesh.
Look for materials that are breathable since nurses' feet can become hot and sweaty after several hours as well as materials that are easy to clean since nurses often come in contact with bodily fluids.
Waterproof and antimicrobial features are a plus.
You also want fabrics that are lightweight and conform to your foot shape.
2. Good Fit
Memory or compression foam as well as laces and straps signal that a shoe will provide a customized fit.
However, to be sure you have the best size, try on your shoes and walk in them before you buy them.
Walk on both carpeting and hard surfaces to see how the shoes feel.
Bend your foot and make sure the shoe bends with you.
Check to see if the arch of the shoe aligns with the arch of your foot.
Is the heel cradled by the heel cup? It should be.
Can you wiggle your toes and have ample room without touching the front of the shoe?
If so, you might have the perfect fit.
While the shoes should be loose enough to allow the foot to wiggle, they should not shift while in motion. So, consider a shoe with laces or straps that will hold the footwear in place and provide a secure fit.
3. Firm Soles
The sole, often made of rubber in a good nursing shoe, is important to protect the foot from hard or sharp objects that might be on the floor.
It should be thick enough to not be pierced or allow any object to injure the foot.
The sole should also be flexible enough to move with the foot to allow good stability and good blood circulation.
4. Protective Toes
Always choose a closed-toe shoe.
Whether steel or soft toe, the shoe should cushion the toe in case heavy objects are stubbed by the foot or fall on the foot.
There should be ample room in the toe area to avoid cramping, which could lead to hammertoe or plantar fasciitis (source).
5. Traction
Good work shoes have good traction with a strong grip and ample treading that resists slipping, even on wet floors.
Such a shoe will help you to always keep your balance.
Final Thoughts
Shoes are not a matter of fashion for nurses.
They are the difference between being physically protected on the job or being at risk for injury.
As professionals who need to move quickly to attend to life and death matters, it pays to choose a shoe that gives you the proper range of motion, maximum comfort and durability like the ones we recommend above.
Related Articles