5 Best Reebok Shoes for Nurses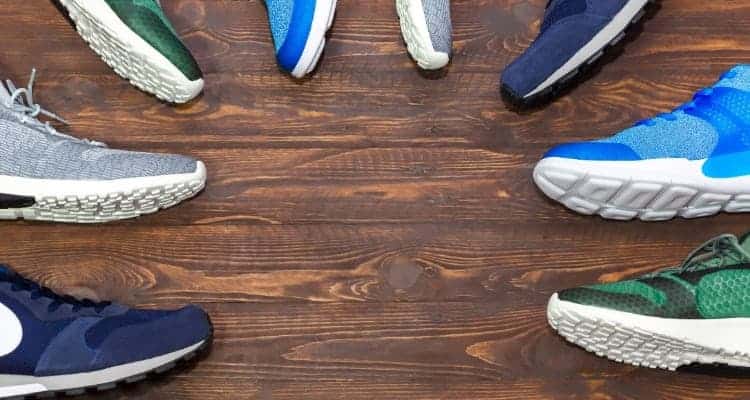 In this article, we're going to cover the best Reebok shoes for nurses, because we know nurses do a lot of walking.
To put it into perspective on average, a nurse walks four to five miles during a 12-hour shift (source).
That means that comfortable shoes are a necessity.
Reebok shoes have been around since 1958 and are known for providing high-quality shoes for walking, making them an ideal fit for nurses.
*Disclosure: This post may contain affiliate links. If you click and make a purchase, I may receive a commission. For more info, please see my disclaimer.
Top Pick
Best Reebok Shoes for Nurses
1. Reebok Women's Crossfit Nano 8.0 Flexweave Cross Trainer
Those that participate in CrossFit workouts need a sturdy, reliable shoe that's flexible enough to move with them.
Nurses also need these features since they do so much walking, and this Reebok Women's Crossfit Nano 8.0 Flexweave Cross Trainer provides that.
The Flexweave upper is breathable and lightweight while still being supportive.
The extra support continues with the minimal drop outsole which ensures you have a stable, secure connection to the ground at all times.
Additional features include a wide toe box, ideal for nurses with wider feet. No more cramped, sore toes after a long shift.
The cushioned sole features "new heel bootie construction" which hugs the heel with each step for maximum comfort and support.
With over 20 appealing color options, this shoe is a great choice for nurses.
Pros:
Breathable Flexweave upper
Minimal drop outsole provides stability
Wide toe box
Cons:
Not meant for heavy running
May require inserts for high arches
Needs a breaking-in period
Check the price of the Crossfit Nano 8.0 Flexweave Cross Trainer on Amazon.
2. Reebok Women's Nano 9 Cross Trainer
Nurses have one of the most demanding jobs in the world, and a demanding job requires a tough shoe.
These Reebok Women's Nano 9 Cross Trainer shoes fit the bill.
With everything that's encountered during a typical nursing shift- from lifting patients to cleaning up spills to running from one room to the next- nurses need a shoe that can withstand all of those challenges.
These CrossFit shoes are designed for heavy lifting, something nurses are required to do.
The Polyurethane NanoShell keeps the midsole intact and protects it from damage with even the heaviest lifting.
Add in the abrasion-resistant rubber outsole and you've got a shoe that is truly built-to-last.
The Flexweave upper offers an attractive design that keeps the foot securely in place while also allowing for plenty of flexibility.
Pros:
Polyurethane NanoShell prevents midsole abrasions
Rubber outsole prevents slipping
Flexweave upper is attractive and flexible
Cons:
Narrow feet may require a size down
Arch support is hard and not meant for high arches
Too heavy for running
Check availability and price of the Reebok Women's Nano 9 Cross Trainer on Amazon.com.
3. Reebok Men's Forever Floatride Energy
If you like to fit in a run before or after work, these Reebok Men's Forever Floatride Energy shoes are a great option.
Their lightweight design is specifically tailored for avid runners and since nurses do a lot of walking and even running during their shift, these make an excellent shoe choice for them as well.
They also look great and feature a cool, breathable mesh upper that allows for airflow around the foot.
In terms of stability and support, these shoes offer that, too.
The full-coverage carbon rubber outsole is durable and meant to last a long time.
It also keeps you from slipping or losing your footing.
The Floatride Energy Foam midsole bounces back with each step to ensure every stride is fully supported and comfortable.
Pros:
Breathable mesh upper keeps the foot cool and looks great
Full-coverage carbon rubber outsole is built-to-last
Floatride Energy Foam midsole supports each step
Cons:
Runs slightly large
Plastic heel area may cause irritation which can be remedied by wearing socks
Narrow toe box
Check the price of the Reebok Men's Forever Floatride Energy on Amazon.
4. Reebok Men's ZigWild Tr 5.0 Running Shoe
The zig-zag design of these Reebok Men's ZigWild Tr 5.0 Running Shoes may seem like it's just for show, but the design feature also adds support and stability to the midsole and outsole of the shoe.
Whether you're looking to purchase these shoes for regular wear at work, heavy running, or even hiking, they can withstand any challenge they are faced with.
The profile of the shoe is designed to look like a zig-zag on the bottom, which not only makes it look unique, it also allows the bottom of the shoe to securely grip any surface.
Although there are only five color options, they go well with just about any scrub design- especially the basic black or foggy gray color.
The breathable mesh upper keeps your foot cool and dry throughout your shift. The low-cut upper also allows for flexibility and mobility.
Pros:
Cool zig-zag design also provides added stability
Five attractive color options
Breathable mesh upper
Cons:
Slightly narrow toe box
Minimal arch support
Insole is not removable
Check if the Reebok Men's ZigWild Tr 5.0 is available on Amazon.com.
5. Reebok Classic Nylon Sneaker
The Reebok Classic Nylon Sneaker is just that- a classic.
You can't go wrong with this classic, from the distinguishable suede overlays and prominent Reebok logo featuring the well-known flag of the United Kingdom- Union Jack.
Since the Reebok brand originated in the United Kingdom, it's fitting that their classic nylon sneaker features the region's flag so prominently.
Aside from the signature look of the shoe, it also boasts some excellent features that nurses will appreciate.
The sculpted EVA midsole provides just the right amount of arch support and bounces back with each step so you're always comfortable and supported.
The padded foam sock liner is a unique feature that prevents abrasions and blisters from forming.
There's also a durable rubber outsole that provides traction control on a variety of surfaces.
Pros:
Classic suede design featuring the distinguishable Reebok logo
Sculpted EVA midsole supports each step
Padded foam sock liner
Cons:
Sizing runs a bit small
Narrow toe box may require a wider shoe
Great for walking but not meant for heavy running
Check availability of the Reebok Classic Sneaker on Amazon.
Shoe Buying Guide for Nurses
1. CrossFit
CrossFit is an intense, timed exercise that's proven to provide fast results (source).
Since the workouts are so intense, the shoes you wear need to be able to withstand just about anything.
CrossFit shoes are also great for nurses because they are:
Flexible
Breathable
Sturdy
Built-to-last
Excellent for traction control
2. Flexible Upper
When you hear the term "flexible upper" you might think that means zero foot stability.
This isn't true at all.
In fact, upper portions of the shoe that are made from flexible fabrics like mesh and nylon actually make the foot more stable.
Since the foot is able to move freely, you avoid injuries like ankle sprains and torn ligaments.
3. Midsole Construction
What the midsole is made of contributes greatly to how comfortable the shoe is.
The midsole is where the bottom of your foot touches when you step.
It's also where all of the arch support lies.
Those with high arches may need a midsole made from softer construction while those with flat feet or low arches may require firm midsole support.
Related Article: 10 Best Shoe Insoles for Nurses
4. Traction Control
Nurses encounter many challenges during their shifts, from sick patients to slippery floors.
Floors can become covered in everything from medications to bodily fluids.
That's why traction control is so important.
Rubber is one of the safest material when it comes to outsole construction and traction control.
5. Caring for Suede
Suede shoes require a bit more care when you clean them.
They make soaps, sprays, and brushes that are formulated to keep your suede shoes looking brand new and helps prevent shrinkage and stiffening of the shoes.
6. Sockliner
A sockliner is also referred to as an insole and is the top layer of material covering the midsole of the shoe.
Sockliners are typically made from foam and provide extra cushioning for the arch and heel.
Sockliners that are removable are ideal for people with flat feet who require additional arch support like orthotics.
7. Sizing Up
When a shoe is described as running small, it's best to size up.
Half sizes are best, if available.
You can always wear thicker socks if there's too much room.
Shoes that are too small also may require a breaking-in period.
Final Thoughts
With Reebok's longstanding history, their shoes are made to be reliable, comfortable, and durable.
From CrossFit to running to classic, all of Reebok's shoes are ideal for those in the nursing profession.
Depending on your specific job requirements, these shoes may fit the features you need to be productive.
Related Articles on Reebok Shoes for Nurses