How to Break in Clogs (Danskos, Crocs, etc.)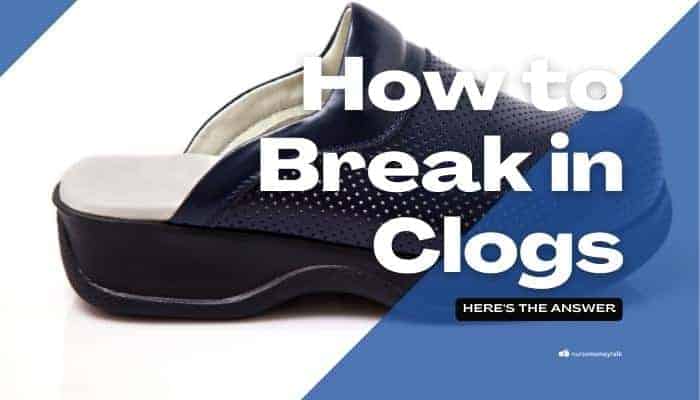 If you've worked in hospitals, you know nurses and doctors love their clogs!
It's almost nauseating how much these shoes are loved, but it's for a good reason.
Clogs provide much-needed support for doctors and nurses that stand on their feet all day long.
They're also award-winning shoes that provide amazing comfort!
*Disclosure: This article on how to break in clogs may contain affiliate links. If you click and make a purchase, I may receive a commission. For more info, please see my disclaimer.
How Do You Break in New Clogs?
Here's how to break in your clogs and reap the benefits of their comfort. For leather clogs, warming your shoes can help expand them, while other methods include using rice, stuffing your shoes, and plain old walking around in them until they're stretched enough!
What Are Clogs Made Of?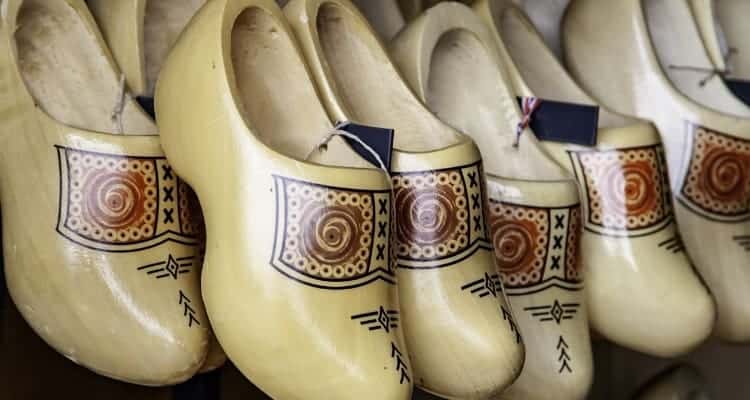 It's important first to understand what your clogs are made of so you can better know how to break them in.
Most clogs used by doctors and nurses are clogs made from synthetic uppers, including plastic, rubber, suede, or even genuine leather. They are a far cry from the all-wood design that was once used!
Of all clog brands, the most preferred include Dansko and Crocs. Dansko traditionally makes their clogs out of leather, while Crocs are famous for making their shoes out of comfortable rubber.
Related: Are Clogs Good For Your Feet?
Things to Remember
Before you start breaking in your leather or rubber clogs, it's important to keep a few things in mind. First:
Be Gentle
Don't try to break in your shoes overnight using harsh methods such as getting your shoes wet or setting them on fire (trust us on this one).
Shoes made of leather or rubber will last you a long time, provided you don't ruin their quality by trying to break them in sooner than they naturally do.
Have Patience
Shoes, especially leather ones, take weeks to break in, about 3 to 4 before they're fully comfortable.
If you're still on the hunt for your first hospital job, it's not a bad idea to buy your clogs ahead of time and start breaking them in little by little. This way, they're ready to go by the time you hit the floor running!
Protect your Feet
If you get painful blisters and callouses, stop and give your feet a break from the breaking-in process. Wear band-aids and ice your feet if necessary to prevent further damage.
Related: Why Do Nurses Wear Clogs?
Don't Expect Breaking-in to Stretch Shoes Many Sizes Up
Never buy shoes that aren't already comfortable on your feet.
You can't purchase clogs a half or full size below and expect to break them into a whole new size!
Instead, use the breaking-in process for shoes where your toe already has enough wiggle room, about a thumb's width or 1/2″ from the toe to the tip of the shoe.
How To Break in Leather and Rubber Clogs
High-quality Dansko leather clogs and rubber Crocs can be broken in by various methods.
Method 1: Walking with Thick Socks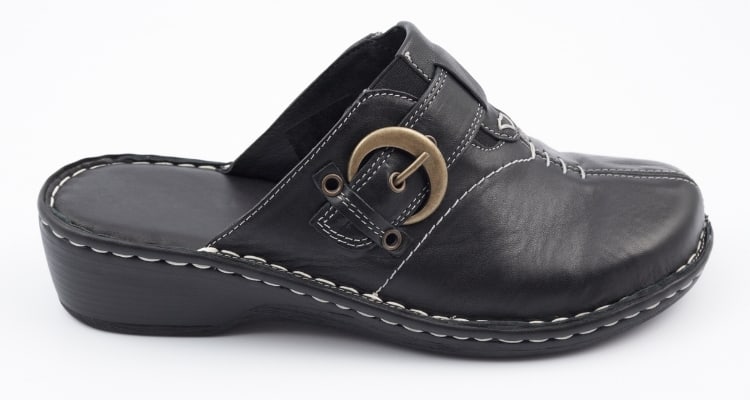 Materials Needed:
Take short walks in your leather clogs for a couple of weeks until you feel they are sufficiently stretched out.
During these walks, wear thick socks so they can stretch out your shoes naturally while also providing added comfort to your feet and problem areas.
These include the sides of your feet, especially if you have wider feet, the tops of your toes, and the back of your ankle.
Alternatively, you can skip the thick socks and simply walk around in your new shoes whenever you can, whether at home or out and about.
However, it's best also to wear a band-aid or even surgical tape to cover your problem areas mentioned above.
Related: How to Choose the Right Nursing Shoe
Method 2: Use a Blow Dryer (FOR GENUINE LEATHER ONLY)
Material Needed:
Blow Dryer
Thick Socks
Mink Oil
Soft Microfiber Towel
This method should only be used for genuine leather Dankso clogs.
Using this on synthetic materials can severely damage your shoes, and you will know if you start to see wrinkles as soon as you begin this method.
If you do, stop!
Put on a pair of thick socks or two pairs of regular socks
Place the shoes on your feet and feel where there are tight areas
Put a layer of mink oil on your shoes to protect the leather from high heat using a soft microfiber towel
Turn on your blow dryer to medium heat setting and aim it at those tight areas using a sweeping motion
Wiggle your feet around while you're blow-drying for maximum stretch
Finish off with another layer of mink oil, and wear your shoes for another hour or so to retain the shape
Mink Oil
Fiebing's Golden Mink Oil Leather Preserver is great for use on leather and vinyl items such as...
Golden Mink Oil softens, preserves, and waterproofs smooth leather and vinyl for outdoor use.
Helps prevent water, salt and perspiration stains.
Method 3: Using a Potato or Shoe Stretcher
This method can be used on any kind of shoe and is preferable to adding rice to your shoes or putting them in the freezer.
Freezing your shoes is never a good idea, and although it is widely thought to help stretch your shoes, it can damage the material.
Materials Needed:
Potato shaped closely to the inside of your shoe
Shoe Stretcher, cedar, or plastic works fine
Shoe stretch spray (optional)
For the potato method:
Peel a potato and shape it to the size of your toe box
Pat the potato dry using a paper towel
Place the potato in your shoe overnight for 12-24 hours
For the shoe stretcher method:
Place a shoe stretcher, also known as shoe trees, on the inside of your shoes according to the width and length desired
Make sure not to overstretch your shoes, as this can cause them to break under the stress
Shoe Tree Stretcher
♪Premium quality:The shoe trees are made from high quality in a design that supports a full...
♪Boot inserts shape holders:Boot Shapers keep your dress boots, winter boots and other lightweight...
♪Extend the life of your favorite shoes:A solid toe and heel provide moisture and odor absorption...
For both methods (optional)
Spray shoe stretcher spray during the process. Make sure the spray can be used on the material of your clogs.
Fortunately, these sprays can commonly be used on leather, suede materials, and canvas.
Method 4: Visit a Shoe Professional
If you're uncomfortable stretching your shoes out yourself, there's no shame in visiting a reputable shoe professional to stretch them.
These shoe repair shops use industrial-standard stretchers and know exactly how to stretch your shoes without damaging them.
Stay Comfortable in your New Clogs
Clogs can be incredibly comfortable once broken in.
Whether you visit a professional to do it, use a potato or stretcher, or take extra walks in thick socks, clogs can easily be made more comfortable before starting your next nursing job!
Until then, visit our job board for your next career move!
Have You Read These Yet?
Frequently Asked Questions