5 Best Puma Nursing Shoes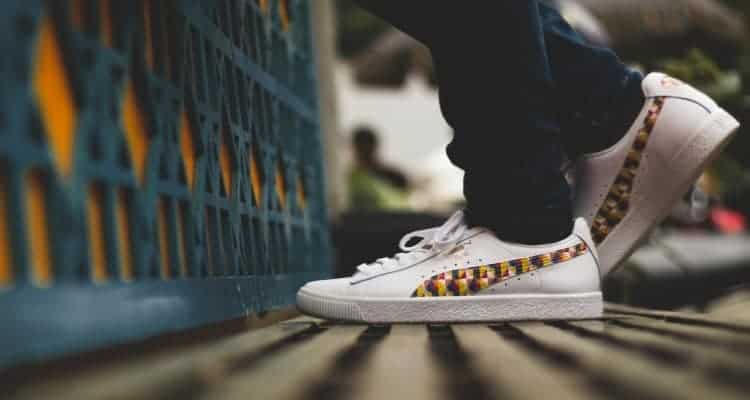 For over 70 years, Puma has been making some of the most cushioned, comfortable shoes around.
They are perfect for nurses because they give the support necessary to survive a long shift without ending up with tired, sore feet.
These are 5 of the best Puma shoes available for nurses.
*Disclosure: This article on the best Puma nursing shoes may contain affiliate links. If you click and make a purchase, I may receive a commission. For more info, please see my disclaimer.
Best Puma Nursing Shoes
1. Puma Women's Tazon 6 Cross-Training Shoe
The polished look of these Puma Women's Tazon 6 Cross-Training Shoes will add some style to your typical nursing uniform.
They have a narrower profile with some cool metallic details and the signature Puma logo.
Aside from looking great, these also feel great. They feature extra EVA cushioning in the heel for maximum shock absorption. The rubber outsole is durable and doesn't slip on hard surfaces.
There are even holes in the upper to allow for air flow, keeping your feet cool and dry. The base is wide for stability, but doesn't add any bulk.
Pros:
Not bulky
Extra heel cushioning
Breathable upper
Cons:
Only 3 color choices
Narrow toe box
Minimal arch support
Check the price of the Puma Women's Tazon 6 Cross-Training Shoes on Amazon.
2. Puma Men's Carson 2 Sneaker
A men's sneaker that is both lightweight and streamlined is what you'll find with this Puma Men's Carson 2 Sneaker.
It has a sleek profile with a minimalist style and it's offered in 11 understated colors- all of which look professional yet fashionable. The upper is also crafted of a breathable fabric that will keep your feet cool and comfortable all day long.
The sole is incredibly flexible, so it moves with you as you go. It's also made from rubber so it is resistant to slips on hard surfaces. The midsole is not very thick, so they are better for walking rather than running.
Pros:
Lightweight construction
Sleek design
Rubber outsole
Cons:
Thin midsole
Sizing runs small
Better for walking
Check the price of the Puma Men's Carson 2 Sneaker on Amazon.
3. Puma Women's Cell Riaze Cross-Training Shoe
The heathered look to the upper is what sets this Puma Women's Cell Riaze Cross-Training Shoe apart from the rest. It's a truly unique look that you don't find in many sneakers.
They are ideal for a more casual medical setting and also looks great with jeans when you aren't at work.
They have incredible arch support, and are even ideal for those with high arches.
They do run a bit on the small side, but going up a half size will help with this problem. They are also only offered in two colors.
Pros:
Unique looking upper
Excellent arch support
Comfortable toe box
Cons:
Sizing runs small
Only available in 2 colors
More suitable for a casual medical setting
Check the price of the Puma Women's Cell Riaze Cross-Training Shoe on Amazon.
4. Puma Men's Roma Basic Sneaker
The old combines with the new in this retro-inspired Puma Men's Roma Basic Sneaker.
It's a true blast from the past, with its thick outsole and classic Puma logo prominently displayed on the side and tongue.
It's upgraded with a durable leather upper and some current popular colors, like red and gold.
This sneaker boasts plenty of comfortable features for busy nurses, with a thick outsole that creates a good barrier between your foot and the floor, providing maximum shock absorption.
There's additional padding at the midsole and tongue for even more comfort and support.
Pros:
Retro-meets-modern style
Durable leather upper
Thick sole for superior shock absorption
Cons:
Not very breathable
Width is very narrow
Leather upper creases easily when walking
Check the price of the Puma Men's Roma Basic Sneaker on Amazon.
5. Puma Men's Super Levitate Sneaker
Elevate your style and comfort while you're at work with this Puma Men's Super Levitate Sneaker.
It comes in two basic colors- black and white- but they are anything but boring.
The leather and synthetic upper looks sharp and the minor details like the Puma logo and intricate stitching really make this sneaker stand out.
Comfort abounds with with a thick sole and extra cushioning in the heel for superior shock absorption. The rubber outsole gives you firm stability on any surface so you never have to worry about loosing your footing.
Pros:
Sleek leather upper
Extra cushion in the heel
Sturdy rubber outsole
Cons:
Only 2 colors offered
Narrow in the toe box
Upper is a mixture of leather and synthetic
Check the price of the Puma Men's Super Levitate Sneaker on Amazon.
Shoe Buying Guide for Nurses
1. Cushioned Heel
You probably hear a lot about cushioning in the midsole, but cushioning in the heel is just as important.
Heels with extra EVA foam added are ideal because they provide superior shock absorption while also molding to and cupping the heel.
Heels that aren't properly supported can lead to problems like:
Plantar fasciitis
Achilles tendinitis
Bursitis
Heel spur
Stress fractures
General heel pain
2. Lightweight
Shoes that are lightweight are not only more comfortable, they can also prevent aches and pains in the feet, ankles, and knees.
Since the shoes aren't as heavy, you don't put as much effort into lifting them off of the ground. The less effort you exert, the less tired your lower extremities will be.
Wearing lightweight shoes also makes you less likely to trip and fall because they aren't as cumbersome.
Heavy shoes can cause you to drag your feet, leaving you more likely to trip, sprain your ankle, or worse. Look for shoes made with lightweight materials like foam for maximum comfort.
Related: How to Clean Your Nurse Shoes
3. Removable vs. Gel Insole
Gel insoles have been touted as being the most comfortable type of insoles, and while they have their advantages, there are some disadvantages as well. Gel insoles:
Aren't removable
Can't be washed
Wear down over time and can't be replaced
May be too soft for those with flat feet
The better option is removable insoles. Insoles that are removable can be washed as needed to prevent foul smells.
They can also be replaced with new ones if they become damaged. If you need more cushioning or arch support, you can add in additional inserts or custom orthotics to create the best fit for your foot.
4. Upper Materials
The shoe upper is what holds the top of the foot in place. The materials used to make the upper can have a big impact on how well the shoe performs.
Leather uppers are the most traditional type, and they are widely used because they look great and are durable. Unfortunately, they are not as easy-to-clean or as breathable as some other materials like mesh or other synthetics.
The type of upper you purchase depends on your own personal preference. Leather is often preferred by nurses because of its durability and because it's thicker and protects the foot better if something is dropped.
5. Thick Sole
The thicker the sole, the more cushion there is between your foot and the hard ground.
Thick soles are ideal for those that suffer from frequent foot pain because there is less stress being placed on the soles of the foot.
Thick soles are not recommended for runners as it can actually put more pressure on the knees than thin soles. Nurses who use their shoes just for walking will still see a benefit.
Final Thoughts
Puma makes some of the most comfortable and reliable shoes on the market.
Their reliability has been proven for decades, and they are some of the best shoes you can wear for all-day comfort.
Give these shoes a try the next time you're in the market for a great pair.
Related Articles