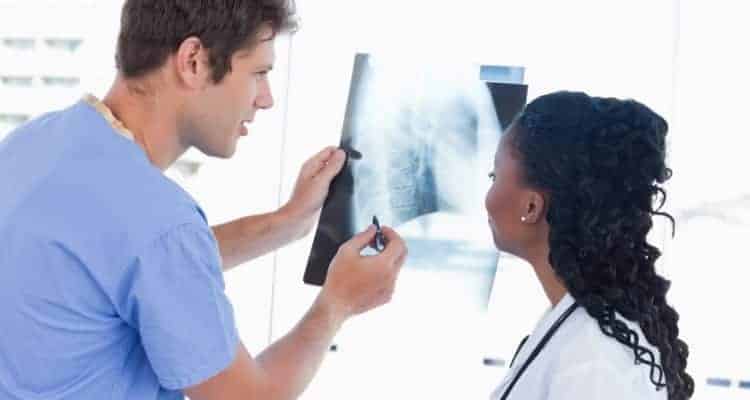 Thinking about changing your nursing profession?
Becoming a physician assistant is a great option for career advancement.
It allows you to pursue a job that utilizes all the years you spent in nursing school.
Plus, the autonomy, pay, and advanced training make the switch worthwhile.
So, can a nurse become a physician assistant? Yes, a nurse can become a physician assistant by completing the prerequisites for PA school. Afterward, you can apply to a PA program. After passing PA school you can then sit for the licensure exam (PANCE) to get your PA license.
Here's everything you need to know:
*Disclosure: This post may contain affiliate links. If you click and make a purchase, I may receive a commission. For more info, please see my disclaimer.
What Is a Physician Assistant?
Physician Assistants or PAs are healthcare professionals who work under the supervision of physicians.
They're responsible for conducting physical exams, ordering lab tests, and reviewing medical reports.
They are then allowed to develop proper treatment plans based on the diagnoses and prescribe medications to patients accordingly (source).
Moreover, PAs can schedule follow-up appointments and collaborate with the patient's family to plan the next phase of the patient's treatment.
In many ways, PAs function as the primary healthcare provider for their patients though MDs will frequently overlook the critical cases.
Find Schools
Use our school search to find educational programs across the country.
Why should nurses become physician assistants?
RNs interested in changing their field would like this opportunity. That's because the job involves more or less the same qualities with advanced training.
You can work in both a hospital and a private practice setting. Even if you're not interested in private practice, working as a PA allows you to earn approximately $108,430 per annum (source).
This is almost double the amount you may get paid as a nurse.
Can a Nurse Become a Physician Assistant?
At present, there are no known bridge programs designed for registered nurses (RNs) who wish to become PAs.
Your prior medical training, however, makes you an ideal candidate for the physician assistant programs.
That's because the admission board is usually looking for applicants who have the drive, passion, and skills to pursue the profession.
Fortunately, your professional experiences as an RN fulfill these requirements.
You've already shown to the admission board you have the qualities to survive in the fast-paced work environment.
Plus, your affinity for the healthcare industry is already clear by the career path you're planning to choose.
Moreover, several physician assistant programs require prior healthcare experience. They also want applicants to complete specific clinical hours before applying for the program (source).
What Else is in Store?
One of the biggest differences between being a nurse and a physician assistant is the way you handle a case.
Nurses are required to adopt a patient-oriented approach where their primary responsibility is to take care of the patient's emotional and physical well being and ensure that they're responding to treatments positively.
On the other hand, physician assistants follow a disease-centric model. They are trained to make deductions based on clinical reports and symptoms (source).
However, RNs who go on to become PAs get to apply their nursing skills to this profession.
Their empathetic approach, acute analytical skills, and advanced training as a PA make for a winning combination.
That's because it allows them to build a better bond with their patients as they feel more invested in the cases that come before them.
How to Become a Physician Assistant?
The pathway to becoming a physician assistant involves three basic steps:
1. Complete a Bachelor's Degree
As an RN, you may already meet this prerequisite if you have completed a Bachelor of Science in Nursing.
The foundational coursework includes physiology, chemistry, anatomy, psychology, and research.
Some PA programs are more science-oriented than others and may require specific classes not covered in nursing school.
Thus, you should look at the required qualifications of each program before making the final decision.
The best option is to select a PA program that matches with your current academic and professional profile.
Find Schools
Use our school search to find educational programs across the country.
2. Enroll in a PA Program
As explained earlier, registering in a PA program is a lot easier for RNs than other candidates.
That's because you've already covered most of the basic requirements like courses, clinical hours, and other healthcare-related perquisites.
However, once you're in, you will have to work just as hard as other students to complete your degree.
The PA program is divided into two parts.
First, you will have to complete several semesters (usually 3) of academic coursework which is a blend of theory and practical knowledge required in the field.
After this, the PA student will move onto a clinical setting to complete the required clinical hours. This can be done in a number of ways, specific to each program. Most will look somewhat similar to clinicals in nursing school.
The minimum duration for that is 2000 clinical hours, and most clinical rotations may take place in multiple settings (source).
On the whole, completing the PA program takes 25-27 months depending on the school you applied to. Your clinical rotations and academic grades may also affect the timeframe.
Does your nursing experience allow you to take a shortcut?
No. Clinical hours spent in nursing school don't qualify for your PA degree.
However, your professional experience allows you to adapt to the demanding rotations more quickly.
Pro Tip:
Select a PA program that's accredited by the Accreditation Review Commission on Education for the Physician Assistant (ARC-PA). Otherwise, the board would not accept your PA degree.
3. Get Your License
Once you've completed your PA program, you will have to sit for the Physician Assistant National Certifying Exam (PANCE) that is organized by the National Commission on Certification of Physician Assistants (NCCPA) (source).
Like the NCLEX, you will have to pass this exam to qualify for a state license before you're allowed to start your practice.
Apart from this, you have to log in at least a hundred hours of Continuing Medical Education (CEM) every two years to maintain your certification.
At the end of the tenth year, you'll have to undertake the Physician Assistant National Recertifying Exam (source).
PAs who don't adhere to these rules risk losing their credentials.
That's it! Your next task is to start the job hunt for your new PA job.
Related Article: 5 Best Job Boards for Nurses
Final Thoughts
In a nutshell, registered nurses have the potential to excel as physician assistants.
They have the medical training, advanced skills, and experiences necessary to get enrolled in the program.
Also, transitioning into professional life as a PA becomes easier due to their prior experience.
Lastly, their patient-oriented approach helps them stand out against traditional PAs.
Therefore, any nurse who wants a different career trajectory with different responsibilities can become a physician assistant.
So are you ready to make the switch?
Frequently Asked Questions
These are some frequently asked questions related to "can a nurse become a physician assistant?"
How long does it take to go from RN to PA?

It will take a nurse approximately 3.5 to 5 years depending on the PA program and how long it takes the nurse to get the required prerequisites before they can apply to a PA program.