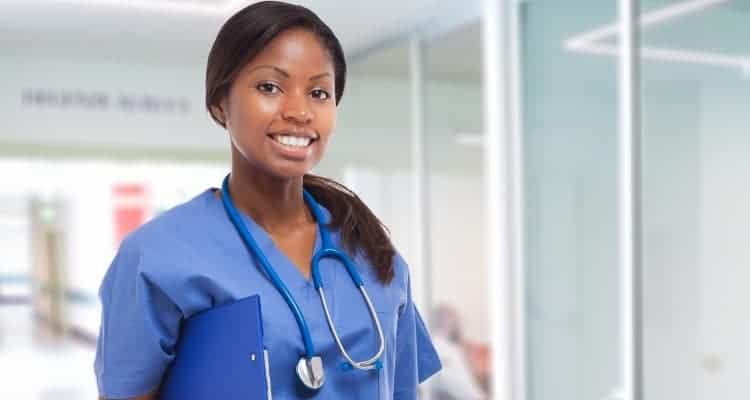 Nursing is known as an incredibly flexible career with virtually no bedside nurses feeling stuck in traditional 8:00 to 5:00 roles.
However, if you are looking for even more flexibility, a per diem role may be something that you are considering as a new nursing graduate.
*Disclosure: This article on "can a new nurse work per diem" may contain affiliate links. If you click and make a purchase, I may receive a commission. For more info, please see my disclaimer.
Can a New Nurse Work Per Diem?
Per diem nursing positions are coveted by new graduates who occasionally have them offered to them. Per-diem roles are typically filled by more experienced who may have multiple jobs or are not wanting to work full-time.
Find Per Diem Nursing Jobs
If working a per diem job interests you. You can look for per diem nursing jobs in your area.
How Easy Is It to Find Per Diem Work as a New Nurse?
Several hospitals currently offer per diem positions for individuals who are licensed in their states but who do not yet have nursing experience. Some offer to orient and train the individual, which is incredibly important for any new graduate.
Per diem work can also be found through nursing agencies. However, it is more difficult to find open positions here for new graduates as on-the-job training is far more difficult to complete.
Although new graduate per diem positions are available in rare situations, they are usually limited to very specific places in the United States that are seeing an increased need for nurses. They may not be available where you live, and you may find that they do not fit the bill for you.
Therefore, I would say that while it may be possible to find per diem work as a new graduate, it is quite rare, and you should not count on finding open positions immediately after graduation.
Instead, you will certainly find more success at per diem work if you gain at least a year or two of experience in bedside nursing on the floor or in an emergency department.
What Is Per Diem Nursing?
Per diem is a Latin term meaning per day, and it refers to choosing a schedule day-by-day in nursing.
With this nursing schedule, you can choose your own working hours and pick up shifts whenever you would like. These are temporary shifts designed to fill certain holes in hospital staffing as well as at clinics and other health care facilities.
How Is Per Diem Different From Part Time and PRN Nursing?
Per diem may seem similar to part-time and PRN nursing, but there are a few differences you should note before committing to one over the other.
Part-time positions offer fewer hours per week than full-time equivalent positions do. However, part-time nurses cannot choose their own schedules.
PRN stands for as needed in the nursing world. Whereas you can work for a health care organization or a nursing agency as a per diem nurse, PRN nurses are hired by the nursing unit itself and are used to fill in holes in staffing after full-time and part-time nurses are scheduled.
In addition, these nurses are required to meet the requirements of the unit, such as working a certain number of hours each month or working on a certain number of weekends or holidays, requirements that you do not have as a per diem employee.
Per Diem Advantages for New Nurses
If you can find a per diem job as a new nurse, you may discover that it brings several advantages with it. You can have a great work/life balance as you choose the exact shifts and number of work hours that you want.
You do not have to worry about requesting vacation days or finding coverage if you are sick. This is also a great way to determine which nursing specialty you most like if you were unable to make that decision in nursing school.
Of course, per diem nursing is also known as a great way to make good money. I have heard of people who have made thousands of dollars in only a week or two, helping them fund the rest of their lives without have to work long hours.
Another consideration if you are a new nurse is that you can pick up per diem shifts even if you have a full-time or part-time nursing position already.
This can be a great way to get your feet wet in other units, to cross-train to different floors and to make some extra money if you are trying to pay off student loans.
Find Per Diem Nursing Jobs
If working a per diem job interests you. You can look for per diem nursing jobs in your area.
Per Diem Disadvantages for New Nurses
Despite these great advantages, there are still some concerns for new graduates considering per diem work. Per diem jobs may not be a great way to build your confidence right off the bat.
As a new nurse, I needed the help of my nursing team along with several weeks of orientation before I felt confident enough to take on the care of my own patients.
In addition, per diem nursing does not guarantee you a certain amount of money every week. Some areas of the country and health care organizations offer far more per diem hours than you can find elsewhere.
Depending on where you live, you may find that you go weeks without any shifts to pick up. If you do not have another source of income, this can become a real problem.
Finally, make sure you find out what benefits you will be getting. While some agencies and health care organizations offer benefits to their per diem nurses, not all do, meaning that you may have to find and pay for your own health insurance, completely fund your retirement plan and more.
Find per-diem nursing jobs near you.
Final Thoughts
Per diem nursing certainly offers some advantages to new graduates. However, it may not be right for you, and it may not even be an option in your area.
To discover a nursing school that will get you ready for any job in your future, search our easy-to-use database today.
Related