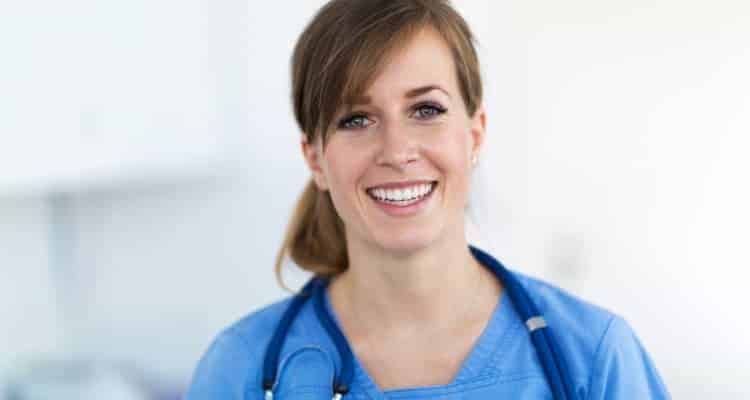 Congratulations, you made it!
The next order of business is for you to secure your dream job. For that, you need the right strategy.
Your license means you've already cleared the first three obstacles.
✅ Get into nursing school. (Done)
✅ Pass nursing school. (Done)
✅ Take and pass the NCLEX. (Done)
🔲 Get your first nursing job. (in progress)
We're here to lend a hand in figuring out how to overcome the fourth one.
*Disclosure: This post may contain affiliate links. If you click and make a purchase, I may receive a commission. For more info, please see my disclaimer.
Tips for Getting Your First Nursing Job
Here are some tricks and tips for getting your first nursing job:
1. Find the Right Fit
Did you know there are more than a hundred nursing specialties (source).
Many nursing grads find the sheer amount of job opportunities overwhelming. They either start applying to all the suitable job openings or keep on holding back.
Both of these tactics prevent them from making the most of their potential.
That's because each nursing position requires specific skills and aptitude to cope with the work environment.
The best idea is to weigh in the pros and cons of each nursing specialty that interests you.
Ask yourself:
What is your ideal work setting? (e.g. hospital, clinic, school, agency)
Do your qualifications, and work experience match the employer's requirements?
Can you see yourself in this role?
Therefore, choosing a specialization is necessary from the beginning.
Not only does it simplify the job application process, but it also helps you chart a focused career graph.
➡️ For help check out this article on some awesome nursing jobs for new grads.
2. Make a Checklist
Secondly, don't enter the job hunt blindly. You should set a proper game plan before you start sending out your applications.
We've seen many nursing grads waste time on the wrong job because they misinterpreted the job description.
That's why it's better to have an effective plan from the get-go.
Try to come up with a checklist that answers the following questions:
What do you want to learn from your first job?
Does this position fulfill your future goals?
What kind of income are you expecting?
Next, use this information to outline a job profile. The profile will allow you to search for jobs that accommodate your career goals.
This, in turn, will ensure that you don't go off-track during the application process.
For Example:
If you know your long term goal is to become a nurse anesthetist than you should probably be looking for ER or ICU nursing positions.
3. Build Your Network
Many business experts dub networking as an 'essential aspect' or a building block for a successful career (source).
They believe that making connections within the industry helps you gain an insight into the industry circles.
The information you collect from these contacts can then give you an edge over other applicants.
In Layman's Terms:
Connecting with other nurses will create opportunities for you that you might not have had otherwise.
This could be because:
Your influential contact has sent a personal recommendation.
Your contact has shared tips and tricks to nail the interview.
You are one of the few people who know about the potential job opening.
Even if this isn't the case, knowing other nurses can still be very useful.
They can help you navigate through months of unemployment, share resources, and give practical advice if things look bleak.
You can find these consultants in the form of a senior, teachers, guidance counselor, or job agencies. It also doesn't hurt to inform your social circle about your career plans.
More often than not, your immediate acquaintances come through for you.
4. Cover the Bases
What's the best way to apply for a nursing job?
The best tip for new grad nurses to get a job is to diversify your searching channels. In other words, don't stick to online job boards when you begin the job search.
You should also browse local hospital websites, national nursing job boards, and other private sectors.
The tactic helps broaden your search pool by presenting different opportunities available to you.
It'll also give you an idea about relevant information regarding your chosen field.
This includes:
The average salary of a particular specialty.
The required qualifications.
Logistics like work hours, training, and duties.
This time around, you'll utilize this information to refine your final job search.
What's More?
Do you remember the checklist we told you to make in the previous section?
Well, it's time that you pull it up to refine your online search.
You can use those details to tick off job opportunities that don't fit your profile. Then use specific keywords to shortlist the ones that do work for you.
Once you find them out, you should start sending the applications.
Pro-Tip:
While applying to an online job board should NOT be the only thing you do, you should look at one to see what's available.
➡️ Apply to available jobs on the nurse job board.
5. Be the Ideal Candidate
Or at least, present yourself like one!
It's an open secret that the administration will be bombarded with thousands of applications from fresh graduates as soon as the NCLEX results are in.
They only glance at each paper before deciding the applicant's fate.
What are these people looking for?
Here's a hint:
In the first level, the reader compiles a pile of candidates that have a sound academic record, excellent recommendations, and required qualifications.
Next, they search for resumes that convince them that the applicant has a deep understanding of the demands of the job. It is seen that applicants who confidently tells the team of the skills and knowledge that they can offer. The paper also lists extra work experience, volunteer work, and distinctive qualities that the applicant possesses.
Lastly, applications with a dash of personality always manage to get attention. These resume/cover letter prove that the candidate is passionate about the job.
The ideal nursing candidate would pass all three levels. Others are those who manage to score a few points here and there.
Therefore, you need to compose a customized resume and a custom cover letter that props you up as the best candidate (source).
Don't hesitate to tell stories that are relevant to the profession. Or, add personal elements that give you a unique character profile.
Pro-Tip:
Make sure to personalize your cover letter and resume to each job you apply to.
6. Stand Out from the Crowd
What else are they looking for?
Here's a trade secret that you might not know about:
In many ways, nursing required more human connect than other medical professions.
We say this because nurses are in direct contact with patients and their families. You're also an integral part of patient care and patient education.
These are the reasons why employers look for nurses who come across as good communicators, personable and detail-oriented.
You can leverage your application based on this character trait.
Additionally, be painting an honest picture by admitting your lack of experience and credentials.
Then explain that you are eager to overcome these things by being a dedicated member of the team.
Pro-Tip:
Always gives your resume a once over before you send it. Chuck it out and redraft it if it comes across as humdrum.
7. The Interview Prep
Let's get one thing straight―interviews are deal-breakers.
It's a good thing because a piece of paper could never explain what you can offer to your employers.
So use this opportunity to elaborate on the reasons why they should hire you.
Also, let them know why you think they are the right choice for you.
Answers like these show them that you are confident in your capabilities and have done the research about theirs.
Is there a secret formula to ace the interview round?
Nope. You can, however, do a few things to ensure that it goes well.
These include:
Researching the hospital. You should conduct a background check and learn as much as you can about them. Also, make sure you have a list of things you admire about their healthcare program. This shows them they aren't only a name on your 'job hunt' list.
Preparing sample answers. You must look up standard interview questions for nursing jobs to prepare for the big day. These questions will give you an idea of what to say and what not to say during the interview. A little rehearsal can also help you gain the confidence you need to come before a panel of interviewers.
Follow up like a professional. It's common for interviewers to ask the candidate whether they have questions regarding the job position. Take this opportunity to clear your doubts and gain more information from employers (source). Also, this is the ideal moment to ask them when and how they'll inform you about the results.
Pro-Tip:
Make sure to send a thank-you note after the interview.

The correspondence ensures that the meeting ends on a good note. It's also a clever way to remind them to consider you for the position.
8. Get a Reality Check
Believe it or not, students are sheltered from the dynamics of the real world. You are accustomed to getting your way in some areas.
Also, students who come in the top are often given an unfair advantage within the institute.
They are used to getting picked first for projects, recommended for internships, and other benefits.
Unfortunately, professional life doesn't always work this way. So it's necessary for you to approach the job hunt practically and systematically.
Try not to take these opportunities for granted, and don't slack off because you think your grades are sufficient enough to get an interview call.
You will find the rules are stricter, competition is greater, and stakes are higher than before. You need to go the extra mile to get your desired job.

Nurse Money Talk
9. Ask and You Shall Receive
Can't see any job openings at your favorite hospital? Don't know how to create your career path? Haven't completed the required clinical hours?
As a new nursing grad, it's natural to feel out-of-depth in certain situations. You shouldn't feel ashamed to ask for help during this phase. Who should you ask for help?
Here's a hint:
Your nursing school can direct you to training programs and certificates relevant to your specialty.
HR departments are happy to answer any inquiries related to job postings on their website. They may even tell you when to expect new announcements if required.
Sometimes scouring the local healthcare facilities and asking their admin for job openings can also help you get the job.
The main idea is to have the courage to ask questions. There is a high chance that your inquiry will lead you to the solution to your problem. It might also give you an idea of what your next move should be.
10. The Backup Plan
What if you don't get your dream job?
Failure is part and parcel of life, but it isn't the end of the world. That's why you should have a Plan-B ready for the worst-case scenario.
The strategy will ensure that you are ready for the next recruitment cycle.
Here are a few ideas for your backup plan:
Register for internship programs that can equip you with the skills and experience you need to qualify for the job.
Get a temp job to get hands-on experience as a registered nurse even if the salary is not on par with your expectations.
Take online nursing courses or training programs to get the required skillset.
Choose an alternative nursing specialty if nothing seems to work for you.
In short, make sure you're brushing up your nursing skills and finding ways to overcome the lack of experience.
Final Thoughts
In the end, nursing is a highly competitive field.
With thousands of nursing graduates gearing for similar positions, the stakes rise higher every year.
That's why your job hunt will be more successful if you step into this arena with an effective strategy at hand.
We hope that our tips and tricks can help you land your dream job. Best of luck!
Frequently Asked Questions
How much do new graduate nurses make?

The average salary for a new nurse is $65,746 a year. Keep in mind that this will vary significantly depending on what state, city, hospital, and nursing specialty.
Related Articles to Getting Your First Nursing Job