This is When Hospitals Start Hiring New Grad Nurses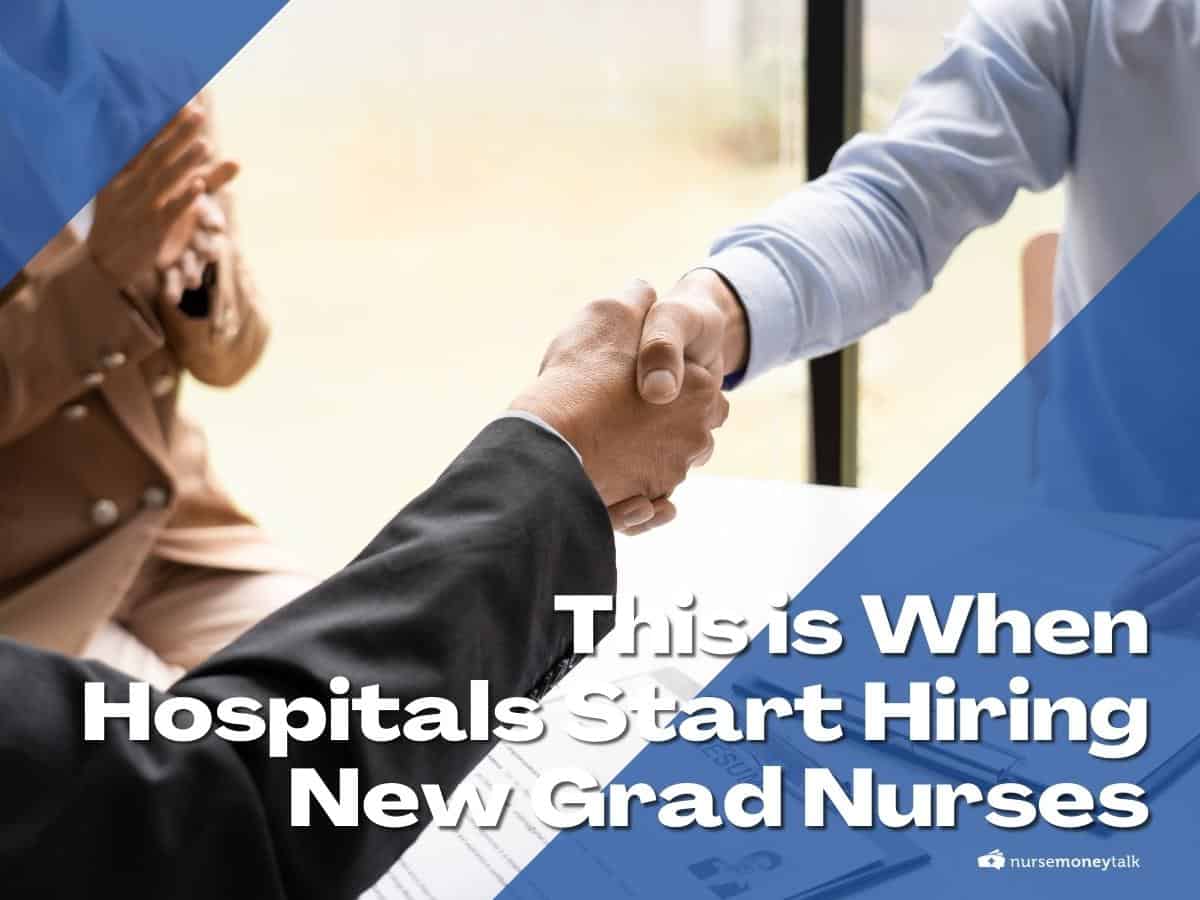 You might be wondering when hospitals hire new grad nurses and how to seize the opportunity.
This comprehensive guide is here to help you understand the hiring timeline, various factors affecting the hiring process, and what to expect in the journey.
When Do Hospitals Hire New Grad Nurses?
Hospitals generally hire new grad nurses throughout the year, but there are specific hiring seasons that you should be aware of:
Spring (March-May): As nursing schools typically have their graduation ceremonies during May, hospitals start hiring new grad nurses in the spring.
Fall (September-November): This is another hiring season, as some nursing programs have December graduations.
However, keep in mind that hiring can happen at any time of the year, depending on the hospital's needs.
Trusted by 430,000+ future nurses and new nurses everywhere. Check out the course that helps new nurses bridge the gap and transition smoothly to becoming nurses.
What does it cover?
Just to name a few.
The Factors Affecting Hiring
1. Economic Factors
The state of the economy can impact when hospitals hire new grad nurses.
When the economy is strong, hospitals tend to expand their services and hire more nurses. Conversely, a weak economy might lead to hiring freezes.
2. Hospital Budgets
Each hospital has its budgetary constraints, affecting when they hire new grad nurses. Hospitals usually allocate funds for new hires at the beginning of the fiscal year.
3. Nursing Shortages
Nursing shortages can create a sense of urgency for hospitals to hire new grads.
These shortages often occur due to an aging nursing workforce, higher demand for healthcare services, and a limited number of nursing educators.
4. State and Federal Policies
Policies related to healthcare funding and nurse staffing ratios can influence when hospitals hire new grad nurses. An increase in funding or changes in staffing ratios may lead to increased hiring.
The Hiring Process
Online Applications
Most hospitals have an online application process where you can submit your resume and cover letter. Some hospitals also require a separate application for their new grad nurse residency programs.
Interviews
Once your application is shortlisted, you'll be called in for an interview.
This may include one-on-one interviews with the nurse manager, panel interviews with multiple staff members, or even group interviews with other new grad candidates.
Nurse Residency Programs
Many hospitals offer nurse residency programs specifically designed for new grad nurses.
These programs typically last 6-12 months and provide additional training, mentorship, and support to help you transition from student to professional nurse.
Landing the Nursing Job: Tips and Tricks
Networking
Connecting with other nurses, attending career fairs, and joining professional nursing organizations can help you learn about job openings and gain valuable insights into the hiring process.
Tailor Your Resume and Cover Letter
Customize your new nurse resume and new grad cover letter for each hospital you apply to. Highlight your clinical experiences, volunteer work, and any additional certifications you may have.
Prepare for Interviews
Practice common interview questions, research the hospital's mission and values, and be ready to discuss your clinical experiences in detail.
Find Your New Nurse Job
Check out the NurseMoneyTalk job board for the latest new nurse job posting.
Find Your Next Nursing Job
Use the NurseMoneyTalk job board to look for and apply to great nursing jobs near you.
Have You Read These Yet?
Frequently Asked Questions