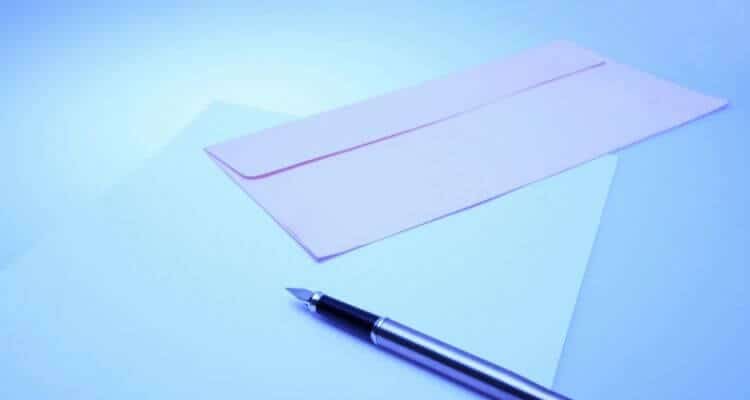 Drafting a thank you letter for a nursing interview can be hard.
Beyond that, many nurses don't know whether they should write one or not.
Similar to my other article on resignation letter for nurses I'm going to break down the etiquettes of a thank you note.
PLUS I'll give you some examples, and a template of a nursing interview thank you letter you can use.
Why Should You Send a Thank You Letter After an Interview
It should go without saying that gratitude and respect are important in any kind of setting, be it professional or personal.
This is especially true during the interview process as it gives your potential employer an idea of your values and character.
Being gracious and courteous also sets a good first impression, which, whether we like it or not, is crucial.
Those initial interactions the employer has with you are going to stick out in their mind as they consider your application and interview.
After going through the interview process, it helps to send a follow-up to say thank you.
It can be a wonderful tool for setting you apart from other candidates while keeping you at the forefront of the interviewer's mind.
That being said, it's important to make this thank-you letter count. You don't want it to look as if it is a last-ditch effort to get the job.
Rather, it should express your appreciation for the opportunity and demonstrate your eagerness for the position.
Sample Nursing Interview Thank You Letters
Below are a couple of examples of thank-you letters. Feel free to modify them according to your personal experience.
Sample Thank You Letter After Nursing Interview #1
Dear Mr./Ms./Mrs. (insert name),
Thank you for the interview on Tuesday afternoon. It was a pleasure to meet you and learn more about the (insert job) position at (insert workplace).
Upon having that interview, I'm confident that my credentials would suit this role and the responsibilities you mentioned. I think the duties and objectives that you pointed out are great ways to challenge and develop myself professionally and personally. I would be thrilled to achieve and learn more with (insert workplace). Furthermore, I'd be eager to bring what I learned during my (insert certification) to the company.
We discussed the size of the department and the company as a whole, which gave me insights into the workplace culture, communications, and mutual respect everyone shares. I would love to contribute to the team while learning from their insights. Given this opportunity, I would be diligent and professional as well as willing to work with other departments if necessary.
Following our discussion, I spoke with Carol at the front desk and was left feeling genuinely welcomed and supported. It would be wonderful to work with such a kind and uplifting team.
I enjoyed our brief conversation about your daughter's upcoming graduation from high school. I hope the day is a memorable one for both of you! I look forward to hearing from you soon. Feel free to contact me for any additional information.
Thank you again for your time.
Sincerely,
(your signature)
(your name and credentials such as RN or LPN)
Example of a Nursing Interview Thank-You Letter #2
Dear Mr./Ms./Mrs. (insert name),
I appreciate the opportunity to speak with you last Thursday afternoon regarding the (insert job) position at (insert company). Thank you for your continued interest in the qualifications that I believe would be a great contribution to your workplace.
As we discussed, my time working as a nurse has given me years of experience in the field and over that time, I've attained CPR and PALS certification. I feel that I would be a good fit for your company as I've worked in several ER units and pediatric environments.
During the interview, you mentioned that, due to a shortage of ER nurses, your ideal candidate would be willing to work some overtime. I can assure you that I am willing and able to assist with this as I've done so as an ER nurse at (insert prior workplace) for three years. I'm ready to be flexible in order to ensure unparalleled care for the ER patients.
Given this job opportunity, I will bring my communication skills and attention to detail to everyone I see at (insert company). As a former ER supervising nurse at (insert prior workplace), I am capable of directing and mentoring younger nurses and maintaining constant workflow management. My commitment to the job granted me the opportunity to lead a nurses' training in pediatric critical care for two years in a row, something I would love to contribute to your company.
After our discussion, I walked down the halls of the ICU and was greeted multiple times by the staff nurses. I would love to work in such a welcoming and supportive environment as well as learn from their efficiency and positivity.
I am looking forward to hearing from you soon. Please feel free to contact me if there is any other information I can provide.
Thank you for your time.
Sincerely,
(your signature)
(your name and credentials such as RN or LPN)
Email or Handwritten Note?
You're probably thinking…
"What about email?"
"Should I send a follow-up email after a nursing interview? Or stick with a handwritten thank you note?
This is a great question, and people might have different opinions depending on their generation and industry.
In today's society, both are acceptable forms of communication in the professional arena, although you may have your own personal preference.
On the one hand, an email will reach the interviewers more quickly, and you can even send it at an opportune time so that it lands at the top of their inboxes.
For instance, sending the letter on Sunday night means that they'll see it right away on Monday morning.
Emails are sent automatically so you can ensure that they receive the message in a timely fashion.
Moreover, communicating via technology has become the norm for many companies, so it probably won't come off as lazy or impersonal. On the other hand, nothing beats a handwritten letter.
The effort that it entails sends a message that you truly want this job and that you're willing to focus all of your energy on it.
It takes much more work to get good-quality paper, physically write out your message, seal it, and send it via the post office.
While it will take longer to be delivered to the employer, the impact it creates is stronger than that of a normal email.
Holding a hard copy of your letter may even compel the interviewers to give you careful consideration or review your file again.
A physical letter is something they can add to the collection of your resume and interview notes.
We should also note that you can type your note, print it out, and send that to the employer as well. This is especially nice if your handwriting isn't the neatest!
What Not to Include in Your Letter
It's critical to know what not to include in your letter, so you don't appear pushy, conceited, or silly.
You already handed in your CV or resume, so there's no need to go over all your qualifications again.
A thank-you letter isn't a copy of your achievements and education; it's a separate note that expresses gratitude for the opportunity. Besides, you and the employer already discussed these things in the interview.
You don't have to make this note tedious or boring; it's merely a way to reiterate your interest in the position.
However, you should proofread your note before sending it out.
Incorrect spelling and grammatical mistakes are a huge turn-off and ruin any progress you made during the interview.
In addition to reading through the note several times and checking regular grammar and spelling, be sure you properly identified the company, the position, and the name of your interviewer.
Nothing is worse than sitting down with your future employer only to improperly identify them in the thank-you letter.
Here's What to Add to Your Thank-You Note
Start off by thanking the interviewers once again. Make this a heartfelt expression of gratitude by addressing them by name.
You might also want to include the name of the position you're applying for in your thank-you.
Once that's taken care of, you can revisit the appointment you had together by identifying the day and time you met.
By including this information, the readers will be better able to picture you in their mind, and that mental image helps a lot.
Next, explain what you got out of that interview process.
You should mention how you now have a deeper understanding of the company and its values as well as its mission.
Talk about how you can contribute to that overall goal and why you're excited to join them.
Tell them how you recognize the job responsibilities along with a few reasons why you consider yourself a prime candidate for the position.
Acknowledge specific skills and abilities you have that would suit you well in this job.
Don't be afraid to be more informal; this isn't a resume or CV.
Those documents are meant to be formal, but a thank-you letter can include a bit of your personality and a nod to the exchange that you and the interviewers had.
If you two chatted about something interesting, such as their families or an event they're looking forward to, you could bring that up in the note.
Just a sentence is enough to add something unique to the letter and keep it from sounding as if you copied it from a template.
Now, we said you don't want to provide another run-down of your skills and qualifications, but it's okay to mention them very briefly.
You can do this in a concise way by mentioning the work that the job entails and the skills you possess to do it correctly and efficiently.
You might also mention how your capabilities align with what the company or department seeks to achieve.
Furthermore, talk about how you could benefit from working for them. Could this role help you develop your leadership skills?
Maybe it will teach you how to develop connections with a smaller team. Perhaps the clientele is different than what you're used to.
Allude to how the new workplace will challenge you and build you up.
Here's another helpful hint: research the company's strategies and programs to get a better feel for their workplace culture and mission.
Lastly, make it clear to the person reading your note that you're excited about the role.
If you can think of any ways you could bring something new and creative to the job, maybe mention that in a brief sentence.
Ket Takeaways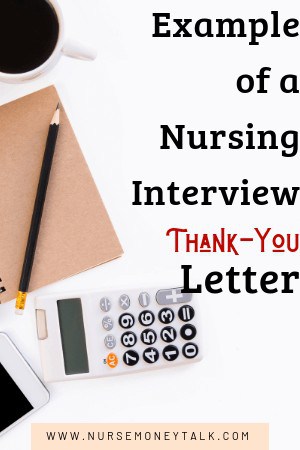 Hopefully, this gives you some insight when it comes to nursing interview thank you letter etiquettes.
As you continue your job hunt make sure you're also updating your nurse resume and your nurse cover letter for each job.
To help you out make sure to check out some of our resources below.
Frequently Asked Questions
We'll end with some FAQs related to thank-you letters. These should tie up any loose ends!
When Should I Send My Letter?

Aim to send out the thank-you note one or two days after the nursing interview. The interaction should still be fresh in both of your minds.

How Long Should The Letter Be?

A few paragraphs will be enough to thank the interviewer, review your discussion and credentials, and express excitement for the potential job position. You don't want to go over a page as you're not writing a novel; you're merely sending a follow-up.

How Do I Address The Interviewer?

Even if they provided their first names, it's better to stick with Mr., Ms., or Mrs. in the thank-you letter. The inclusion of a prefix or title adds that bit of formality that shows respect.

Do I Always Need To Send A Thank-You Letter?

What if I don't even want this job? You should still send in a thank-you letter to acknowledge the interviewers for their time and patience. Who knows? They might take notice that you went the extra mile and refer you to another company.

Is Sending A Thank-You Letter Ever A Negative Thing?

Some people might worry that a thank-you letter might appear outdated or cheesy. The way we see it, however, is that it can't hurt. The key is the way you think about this letter. It isn't entirely a thank-you note but more of a sincere follow-up.

Will A Thank-You Note Make Or Break My Chances Of Getting Hired?

In reality, no. If you're a low-tier candidate, a mere thank-you letter won't suddenly boost your chances. Along the same lines, high-tier candidates won't lose their chances if they don't send letters.

Rather, these notes are follow-ups to show gratitude and maybe add something different to your application. As we said earlier, your effort might lead to getting a reference for another position.

What About New Graduate Nurses?

Should new nurses send a thank you letter for a nursing interview? Absolutely. Whether you're interviewing for a nurse externship, or a for an entry-level nurse position. Maybe even for a nurse residency, either way, our recommendation still stands.

How Should I Address An Email Thank You Letter?

In the subject line list your first and last name with a "-Thank You."

For example…

"Subject: Jane Doe – Thank You."

Also, make sure to list your contact information in the signature section of the email. So, an example would be…

Sincerely,
(Signature)
Jane Doe, RN
[email protected]
(123) 456-7890
Related Articles
Here are some related articles on how to write a nursing interview thank you letter.