Example of a Nurse Cover Letter (Template+Guide)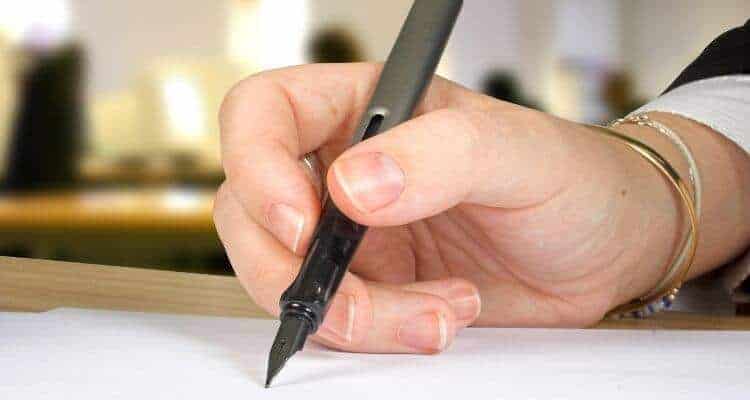 Even though nurses are in demand you still have to bring your "A" game when you're applying to nurse jobs.
That's why in this article we're going to cover how to write a nurse cover letter.
A cover letter is often an afterthought, or not even thought of at all for many nurses.
While there is an increased need for skilled nurses, the nursing field is still highly competitive.
*Disclosure: This post may contain affiliate links. If you click and make a purchase, I may receive a commission. For more info, please see my disclaimer.
The Purpose of a Nurse Cover Letter
When applying for nursing jobs, it helps to have a detailed resume and an effective cover letter. Having a quality cover letter is an essential part of the job-hunting process (source).
It acts as an introduction and a summary of skills, and it gives employers an overview of why you're the right candidate for the job.
A well-crafted cover letter may even make the difference when HR departments struggle to decide between two candidates.
The cover letter is also tailored for each job application.
It should include details related to the specific facility where you're applying for a job, and it provides a chance for you to explain why your skills match the needs of the employer (source).
Before you start writing, I suggest that you take the time to look at a few examples and explore some tips.
Here is everything that you need to know to write a stellar nursing cover letter.
Related Article: Why Your New Nurse Resume is NOT Working
What Should You Include in a Cover Letter for a Nursing Job?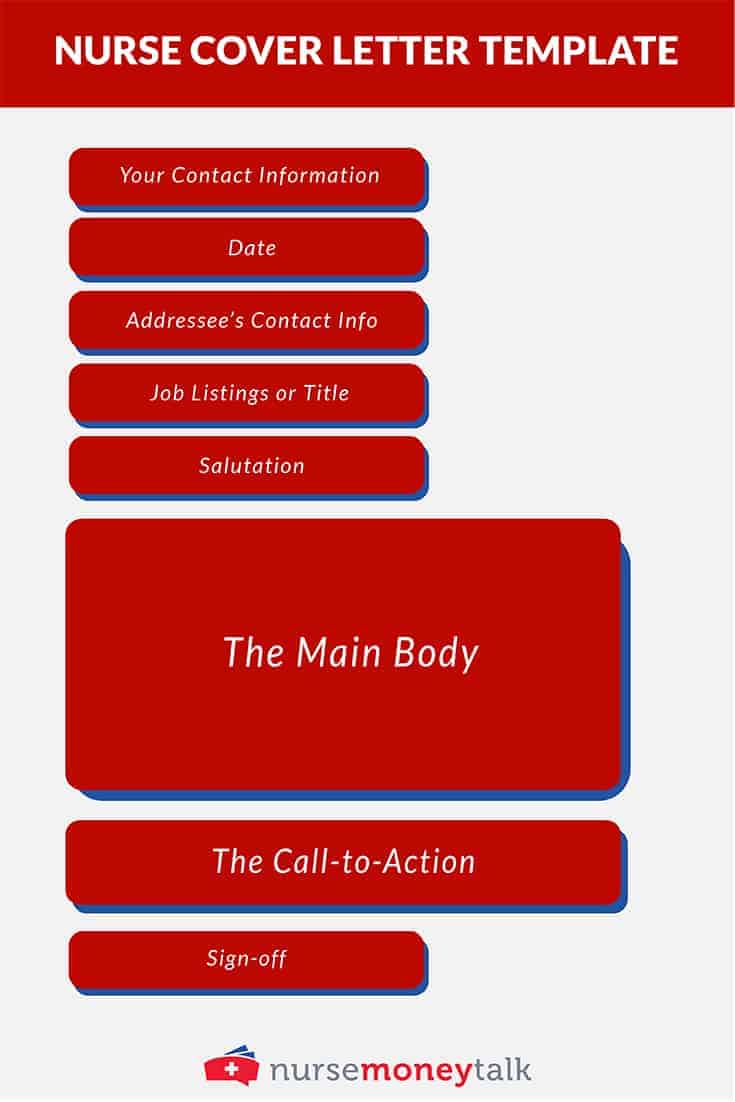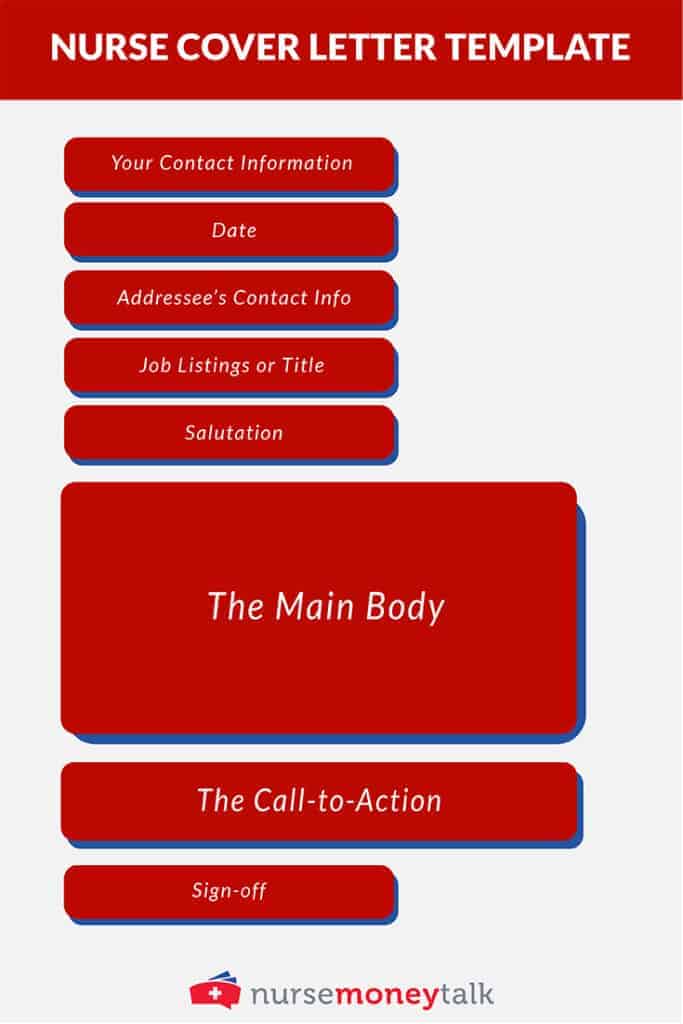 The first step in writing a quality nurse cover letter is ensuring that it includes the required information and follows the standard format.
Here is a quick overview of what you need to include:
Your contact information
The date
The addressee's contact information
The job listing or title
The salutation
The main body
The call to action
The sign-off
The letter starts with your name. Make sure you include your certification or licensing status, such as "Jane Smith, RN." On the second line, add your address, phone number, and email address.
The next section includes the date and the contact information of the hiring manager.
Include the contact's title, such as "Human Resources Manager."
If you're submitting a resume for a job that you find online or in a paper, you may want to reference the source.
For example, "RE: Registered Nurse Entry Position."
The salutation is a simple greeting. Most cover letters start with "Dear" followed by the contact's name.
If you don't know the name of the hiring manager, you can simply include "Dear hiring manager."
The main body and call to action are the most important parts of the letter. This is where you sell your skills, experience, and traits to make yourself the most attractive candidate on paper.
The sign off is a simple ending to the letter.
Candidates often sign off with "best regards" or "sincerely." If you want to come across as being more original, you can use a synonym, such as:
"Regards"
"Yours sincerely"
"Yours respectfully"
Avoid anything too personal, such as:
"Cheers"
"Love"
"Take care"
"Best wishes"
Related Article: What You Should Bring to a Nurse Interview
What Details Should You Discuss in the Body?
Other than the contact information, salutation, and sign off, you'll include a few short paragraphs to help sell yourself. These sections include the main body and call to action. The body contains three parts:
The hook
Interest
Achievements
Hiring managers typically scan the cover letter to see if anything is out of place or missing, such as the hiring manager's name.
After a quick scan, they'll read the opening paragraph, which is where you need to hook them.
The hook should include two to three lines that promote your skills and build interest.
Toward the end of the article, I'll provide a couple of examples so that you can see what an effective hook looks like.
The second paragraph discusses why you want the job and why you're the most qualified candidate. Don't simply list the number of years that you've worked or say that you like to help treat patients.
This section needs to maintain interest from the opening paragraph.
End the second paragraph with a line drawing attention to your achievements, such as "among my accomplishments." These two short paragraphs are followed by a bullet point list of your biggest achievements.
Again, don't simply list your certifications or past employment.
Those details are included in the resume. This is where you include information that isn't typically added to the resume.
Consider any major challenges that you've overcome or initiatives that you helped get off the ground.
For example, perhaps you've trained nurses or helped establish a blood drive that allowed your hospital to achieve a new record. Include three or four bullet points.
You don't want to fill the cover letter with a lengthy highlight reel of your achievements.
The body ends with a short sentence summarizing why you're interested in the job.
For example, "I'm looking forward to how much more I can achieve in a setting like NAME OF HOSPITAL."
Related Article: Common Nurse Interview Questions + Answers
How to Write an Effective Call to Action
After the body, it's time to write the call to action. Calls to action are used in marketing to give potential customers a clear direction.
When you view a product page, you may see a button that says, "click here to get the best price" or "sign up today to get a free gift." The call to action is asking you to perform a specific action.
The call to action at the end of your cover letter should ask the hiring manager to contact you to set up an interview.
This is another portion of the cover letter where you don't want to simply state facts, such as, "I'd appreciate if you contact me to set up an interview at a time that is convenient."
You want to use this closing line to stand out from other candidates.
You may even use the call to action to remind the hiring manager of your past accomplishments. Here's a short example:
"Can we arrange a meeting to explore how my experience and drive can help increase patient care at HOSPITAL?"
In marketing, the call to action is typically just three to seven words. With a nursing cover letter, it can be a full sentence.
The goal of this sentence is to summarize the point of the cover letter in a question.
You want to arrange an interview, but you need to tell the hiring manager why they should contact you instead of the dozens of other candidates.
Asking a question also forces the person reading your letter to consider a response before they even open the rest of the resume.
Related Article: 10 Must-Know Nurse Interview Tips
How Do You Know What the Hiring Manager Is Looking for?
One of the main purposes of the cover letter is to show the hiring manager that you're the right person for the job, so how do you know what they want?
The details are often included in the job description.
When you look at dozens of job listings, it's easy to skim the details and focus on whether you meet the qualifications.
Within the details, you'll often find specific traits, skills, or experience that the hospital or healthcare facility wants in a new nurse. Most job listings include the following information:
Hospital Name
Location
Salary
Position requirements
Position responsibilities
The position responsibilities typically include the details that can help you stand out as the most qualified nurse.
You may see a listing that includes the following responsibilities:
"Perform approved therapeutic procedures and diagnostic procedures while assisting the MDs with medical procedures."
Find at least one aspect of the listed responsibilities where you can showcase your talents or experience.
You may have experience in an ER assisting MDs or perhaps you've trained doctors in how to use the latest diagnostic equipment.
Always thoroughly read the job description while trying to find connections to your past achievements.
Make a note of any specific details where you can illustrate your skills or previous projects. You can use this information when crafting the main body of your cover letter.
Review Sample Nurse Cover Letters for Nursing Jobs
The last step in preparing your own cover letter is to look at a couple of examples.
The first one is for an entry-level position, making it a suitable example for those applying for their first nursing jobs.
The second example represents a nurse with several years of experience looking to further his or her nursing skills.
Nurse Cover Letter Example 1 – Entry-Level Nursing Position
Your Name, RN
Your city, State (abbreviated) zip code | phone number | email address
Current date
Hiring manager's name
Hiring manager's job title
Example Hospital
Address
City, state, zip code
RE: Entry-Level Registered Nursing Position
Dear Ms. Smith,
Graduating with high honors from Example University and achieving the highest grade on my NCLEX-RN exam are two of my most satisfying accomplishments. I would be even more satisfied utilizing my education to help improve the quality of patient care at Example Hospital.
With three years of clinical experience, I have had the chance to work in a variety of settings. Example Hospital always stood out as a place that truly put the patients first. I believe this is the perfect environment for me to further my real-world training and shine. Here are several of my past achievements:
● Finished first in my class at the respected Example University Nursing School.
● Established an outreach program to provide health education to senior citizens.
● Led a blood drive program with local high schools to promote health education in the schools.
Education has been my focus for the past few years, and I'm excited to continue this education at Example Hospital.
Can we arrange a meeting to consider the ways that my commitment can help Example Hospital's patients?
Best regards,
Jane Doe
You may have noticed that this cover letter doesn't include a list of certifications or skills.
If the job requires specific certifications, knowledge of patient records and charting systems, and communication skills, you don't need to list them on the cover letter, as they'll be included in the resume.
Nurse Cover Letter Sample 2 – Experienced Nursing Position
Your Name, RN
Your city, State (abbreviated) zip code | phone number | email address
Current date
Hiring manager's name
Hiring manager's job title
Example Hospital
Address
City, state, zip code
RE: Experienced Nurse Practitioner
Dear Ms. Smith,
The last three years of my life have been committed to reducing workplace hazards, helping to make my facility one of the safest healthcare facilities in the region. I would love to bring this same level of commitment to Example Hospital.
As a nurse practitioner with five years of experience, I appreciate the practices put in place at Example Hospital. The systems that your facility already has in place should provide the perfect environment for my skills and expertise to have the biggest impact. My previous accomplishments include:
● Established a system for reducing exposure to hazardous materials, reducing workplace accidents by 80% in three years.
● Led an initiative that helped form a partnership with a local college to provide clinical rotations to nursing students.
● Became the lead nurse in charge of scheduling, helping to reduce work hours by 10% without reducing the quality of patient care.
I look forward to bringing these same skills to a patient-focused facility like Example Hospital.
Can we arrange a meeting to review how my experience can address the needs of Example Hospitals' patients?
Yours sincerely,
Jane Doe
These cover letters are short, to the point, and help highlight several unique achievements that you may not have room to include in the resume.
Frequently Asked Questions About Nurse Cover Letters
1. Do You Need Special Formatting or Paper for the Nursing Cover Letter?
Besides the content of your letter, you need to consider the paper, ink, font, margins, and styling. Use 10pt or 12pt text sizes with simple fonts, such as:
Calibri
Arial
Courier New
Verdana
Times New Roman
Don't choose a font that is hard to read or cartoonish, such as Comic Sans. Stick to black ink and only use one font for the entire letter.
If the text is difficult to read, your resume will likely get tossed.
Resumes are printed on standard 8.5 x 11-inch paper. It's the size that fits in most folders, filing cabinets, and printers.
The paper that you use for the resume should also match the paper used for the cover letter.
Most people use plain white paper. Avoid any specialized resume paper with thick scrollwork or frilly borders.
While bright paper should be avoided, you can use a very lightly tinted paper with a hint of blue, gray, pink, or tan.
This can help your cover letter stand out without the hiring manager needing to read a single sentence.
2. Do Nurses Need a Cover Letter?
Absolutely they do.
A cover letter can make the difference between you getting the job interview or not. A nurse cover letter provides additional information related to your nursing resume.
It's also a way for you to highlight or add additional skill sets or experiences you think will be needed for the job.
3. What are Some Easy Tips for Writing a Good Nursing Cover Letter?
Keep it short, sweet and to the point.
Make sure to change the cover letter based on what job your applying for. Don't just use the same cover letter for every job application.
Personal Stories are found as long as they enhance your resume and go along with what the facility is looking for.
Make sure to show some passion and enthusiasm for the job your applying for.
Proofread! Proofread! Proofread!
Conclusion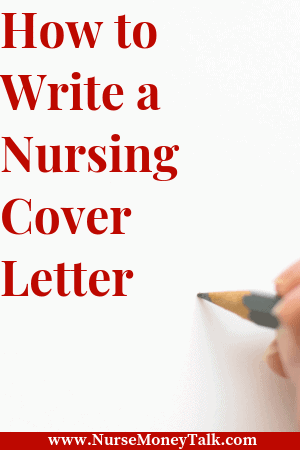 We hope you found these tips helpful in helping you get and ace your next nursing interview.
Related Articles to Nurse Cover Letter