5 Things You Must Bring to Your Nursing Interview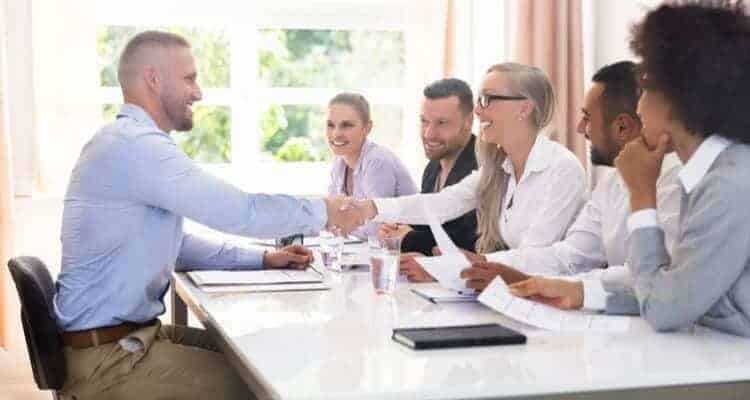 In this article, we're going to talk about what to bring to a nursing interview. Because getting the interview is only half the battle. Once you get the interview, you have to show up and impress the interviewer. One of the ways you're going to do that is by making sure you bring the right things to your nursing interview.
So, what do you need to bring to your nursing interview?
Professional Attire
Padfolio
Copy of Your Resume
Copy of Your Nursing License or Other Certifications
Letters of Reference
Business Card with a Photo
Pen & Paper
Anything Else They Ask You to Bring
If you haven't already done so, make sure to check out some of our other articles in our nursing interview series:
*disclosure: this post may contain affiliate links. If you click and make a purchase, I may receive a commission. Please see my disclaimer.
What to Bring to a Nursing Interview
Below is our list of what you need to bring to a nursing interview. Along with that, we're going to give you an explanation of why each one is essential.
1. Professional Attire
Alright, so this one isn't so much as what you're going to bring as it is what you're going to wear. There's a reason why I have this one front and center as #1 because it's an easy fix, but it's one I see or hear that's not done all the time. I can not stress enough the importance of wearing professional attire for your nursing interview.
This is an easy way to stand out…in a good way.
It shows your professionalism and how seriously you take the position. Even if wearing professional attire to a nurse interview is something you don't like or think should go out of style, that's not really the point. Dressing professionally is still considered a must for any interview (source).
If you're not 100% sure on what you should wear or you need further explanations on why it's important definitely check out our article about appropriate nurse interview attire.
2. Padfolio
If you don't know what a padfolio is than you're probably wondering what it is and why you should have one.
A padfolio is kind of a crossover between a wallet and a binder (source). The purpose of it is to help you keep any important paper organized.
So, in this case, it would help with keeping resumes, copy of licenses/certificates, business cards, and so forth organized.
It adds a professional look to any business or semi-business attire.
Instead of walking into an interview or a meeting with a backpack (which doesn't look as professional) a padfolio looks a lot classier/professional.
If you don't know what a padfolio looks like here's one of the higher-rated ones on Amazon.
If you're not quite sure about a padfolio another good alternative is a briefcase. Similar to this one…
If you want a more feminine purse/briefcase hybrid, there's this option also….
Regardless of whether you pick a padfolio or a briefcase please just make sure you don't walk in with a backpack. Or worse loose paper.
3. Copy of Your Resume
Even if you turned in a resume with your job application, make sure to bring copies for your interviewer.
If you're being interviewed by a panel, make sure to bring enough for everyone.
Something to keep in mind is to always bring extras. You could be told that 3 people are interviewing you, but that may or may not be the case.
It's not uncommon for extra people to be brought in. If that happens, it's awkward if there are not enough copies for everybody.
But it looks really good if you have extra copies for everyone.
4. Copy of Your Nursing License or Other Certifications
They may or may not ask for this. But if they do make sure you're prepared with a copy of your nursing license and any other certifications like First Aid, Basic Life Support (BLS) or Advanced Cardiac Life Support (ACLS).
5. Letters of Reference
This is probably attached to your resume. But if it's not, make sure you have enough for everyone.
6. Business Card with a Photo
I can't take credit for this one. I got it from another nurse, and honestly, when they told me their rationale for it, I thought it was brilliant.
The rationale I got was that recruiters could potentially interview a lot of people in a given day let alone in a given week or weeks. A business card with your photo is a good way for the interviewer to be able to remember who you are.
(As a side note make sure you're not putting your photo in your resume. I go through some of the reasons in the new nurse resume article.
7. Pen & Paper
Make sure to bring a pen and paper so you can take notes during the interview or write down any other thoughts.
My pen of choice is usually a pilot pen. Because it writes smoothly for me. It's actually the primary pen I used when I was in taking notes in nursing school
You can check out one of my favorite pilot pens on Amazon.
As for the actual paper for taking notes. Depending on whether you have a padfolio or something like a briefcase, you could check out this legal pad (on Amazon)…
Or a small notepad like this one (also on Amazon).
8. Anything Else They Ask You to Bring
Just like how every job is different, every interview is also different. With that said pay attention to the email or phone instructions you get because sometimes they're going to ask you to bring something or a copy of something specific.
If that's the case, make sure you bring it or let the interviewer know ahead of time if you're not going to be able to bring it.
Don't be caught fumbling if you're asked about whatever it is you're supposed to bring, and you don't have it. It's going to look bad.
Final Thoughts
As you can see, when it comes to what you need to bring to a nursing interview, there are several things you need to make sure to have.
If you found this article helpful, please make sure to share it on your favorite social media.
Did we leave something out that you should bring to a nursing interview?
Related Articles to What to Bring to a Nursing Interview
In case you missed it, these are some of the other articles in our nurse interview series.