How to Dress for a Nursing Interview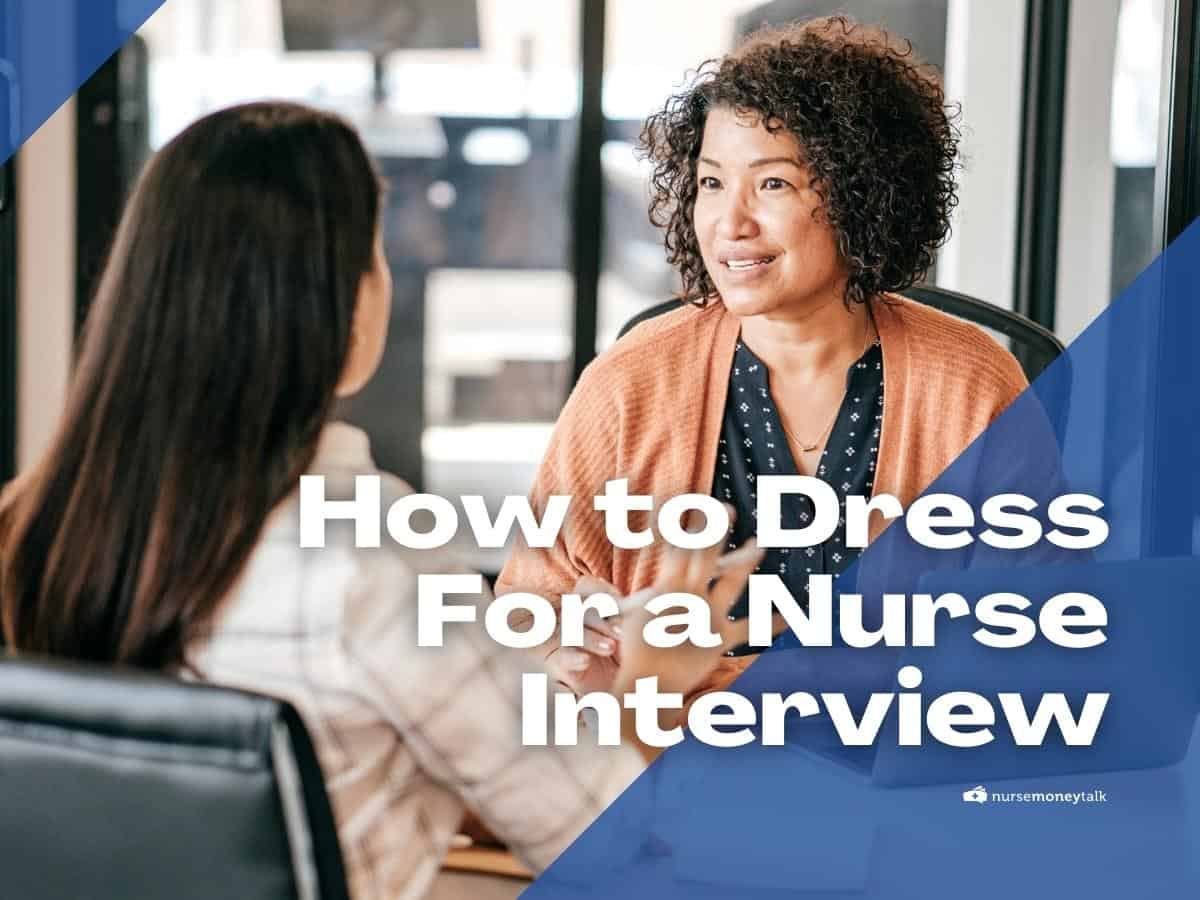 Making a strong first impression at a nursing job interview is critical.
Your skills and experience may make you qualified for the position.
However, your appearance and presentation can often be the deciding factor between you and another candidate.
Does What You Wear for a Nursing Interview Matter?
Yes, what you wear for a nursing interview absolutely matters. It can even be the deciding factor between whether or not you get the job. One of the main reasons is the significant impact it has on first impressions.
Making a Good First Impression For a Nurse Interview Matters
When you first meet someone, you quickly form thoughts and opinions about them based on various visual cues.
These cues include how they dress, talk, walk, and their overall appearance.
Just like anyone else, the nurse manager who interviews you will also form opinions based on your presentation.
Some questions they might ask themselves are:
Have you dressed appropriately?
Do you look well-groomed?
Do you smell?
Your choice of attire can help convey positive traits about yourself, such as:
Professionalism
Confidence
Attention to detail
Seriousness about the job
Since first impressions are crucial in job interviews, it's essential to dress appropriately to leave a positive impact on your potential employer.
Remember, during a nursing interview, your attire will speak volumes about your professionalism, competence, and dedication to the job before you even begin answering questions.
So, make an effort to dress well and create a favorable impression right from the start.
What to Wear to a Nursing Interview?
Clothes
Men
The video above does a pretty good job summarizing this section.
For a nursing interview, men should wear:
A dress shirt (ensure it is not wrinkled)
Slacks
Fitted jacket or blazer
Necktie (solid colors or patterned)
Women
The video above does a pretty good job summarizing this section.
Women should consider wearing the following for a nursing interview:
A blouse (not too tight or low cut)
A skirt that's not too short or long
Slacks
For both men and women, it is best to stick to traditional colors like black slacks or skirts with a white shirt.
Men can add a colorful necktie, while women may have slightly more freedom with style and color choices but should opt for muted tones.
Sale
GRACE KARIN Women's Business Dress
【Occasion】This is a great choice for you to wear to work, party, cocktail, family gathering,…
【Excellent Design】If you don't want to show your arms, batwing sleeve makes you feel more…
【Zipper Closure】The invisible zipper design on back, not only beautiful, but also very…
Shoes
Men
Men should wear dark-colored dress shoes or shoes that resemble dress shoes. Socks should be dark-colored, plain, and simple.
Sale
Bestseller No. 1
Sale
Bestseller No. 2
Women
Women should opt for polished and clean pumps or flats. If wearing hose, choose nude-colored ones.
Shoes should be quite presentable – not overly scuffed but not overly shiny either.
Sale
Bestseller No. 1
Bestseller No. 2
Hair
Men
Hair should be clean, well-kept, and combed, consider visiting a barber a day or two before the interview. Facial hair should also be clean and well-groomed.
Women
Hair should be well-kept, combed, and professional-looking, regardless of the style chosen.
Miscellaneous Accessories
Men
If wearing a watch, choose a simple and classy option. For carrying items like your resume, consider using a portfolio folder or a business padfolio.
Sale
Business Padfolio/Executive Portfolio
Timeless Upscale Look – Make life's accessories functional and attractive with the minimalist…
Convenient Organization – This executive document organizer gives you an easy way to store all…
Slim Design – This writing padfolio is less than half an inch thick and includes 8.5-inch x11-inch…
Keep jewelry and piercings to a minimum, and research the company culture to find out if certain looks are not allowed.
Women
Keep jewelry to a minimum and choose pieces that do not distract from your appearance.
If using a purse, choose a tasteful option like this leather handbag tote.
Leather Handbag Tote
Size: 12.2″W x 8.3″H x 5.1″D, Handle Drop Height: 5.9″(Please refer to this size carefully before…
Features: This bag has an adjustable and removable shoulder strap and decoration as picture shows….
Structure: Outside: 1 small back zipper pocket. Inside: top zipper closure; 1 middle zipper pocket…
Remember, the primary goal is to make a good first impression and secure the job.
Can a Nurse Wear Scrubs For An Interview?
When it comes to job interviews for nursing positions, you might wonder if wearing scrubs is appropriate.
While you could wear scrubs, it is generally not recommended.
Here are some reasons why you should opt for professional attire instead:
Competition: Even with nursing shortages in some areas, sought-after facilities and departments can be challenging to get into. By dressing professionally, you can stand out from other candidates who choose to wear scrubs.
Seriousness: Presenting yourself in professional attire demonstrates a level of seriousness that scrubs may not convey. This can leave a positive impression on your interviewers.
Making an Impact: If only a few candidates dress professionally, they are more likely to make a lasting impression on the interviewers. This can give you an advantage over other applicants, especially in a tough hiring process.
One pushback I often receive is from nurses who say, "I'll be interviewed by a nurse, so they'll understand."
However, it's important to keep in mind that you never know who will be conducting your interview or how many people will be involved.
Some possible interview scenarios include:
A panel of your potential nursing colleagues
The nurse manager
A member of the human resources department
Or any combination of these individuals
Non-clinical interviewers, like members of the human resources department, are likely used to being around professionals who dress accordingly.
Even if a nurse manager is interviewing you, keep in mind that they spend a significant portion of their time around people who wear business attire.
While wearing scrubs to a nursing interview doesn't automatically disqualify you, dressing professionally can certainly provide an advantage.
So rather than choosing scrubs, opt for attire that reflects your professionalism and commitment to the nursing profession, making a positive, lasting impression on your interviewers.
What NOT to Wear to a Nursing Interview?
While preparing for your nursing interview, it's crucial to avoid certain clothing items and styles that could leave a negative impression. Here's a quick list of what to steer clear of:
Poorly fitting clothes: Avoid outfits that are too tight or too loose.
Revealing clothes: Save those for the weekend; opt for more professional attire.
Very high-heeled shoes: Stick to comfortable, office-appropriate footwear.
Tennis shoes or sneakers: Choose more formal shoes instead.
Excessive makeup: Keep your makeup natural and not overdone.
Excessive cologne or perfume: A subtle scent is fine, but don't overpower the interviewers.
Dirty clothes: Ensure your outfit is clean and fresh.
Wrinkled clothes: Iron your shirts and pants for a polished look.
Not being groomed: Maintain good personal hygiene – bathe, comb your hair, and use deodorant.
Now that you're aware of what not to wear, you can confidently plan your nursing interview attire.
Key Takeaways
Your nursing interview dress code can truly make or break making a stellar first impression.
By presenting yourself in polished, professional attire, you convey respect for yourself and the nursing role.
Follow our tips to dress for success at your nursing job interview. The effort pays off when you get hired!
Have You Read These Articles?
Here are the other articles in our interview series for nurses.
Frequently Asked Questions
Here are some other frequently asked questions about nursing interview attire.