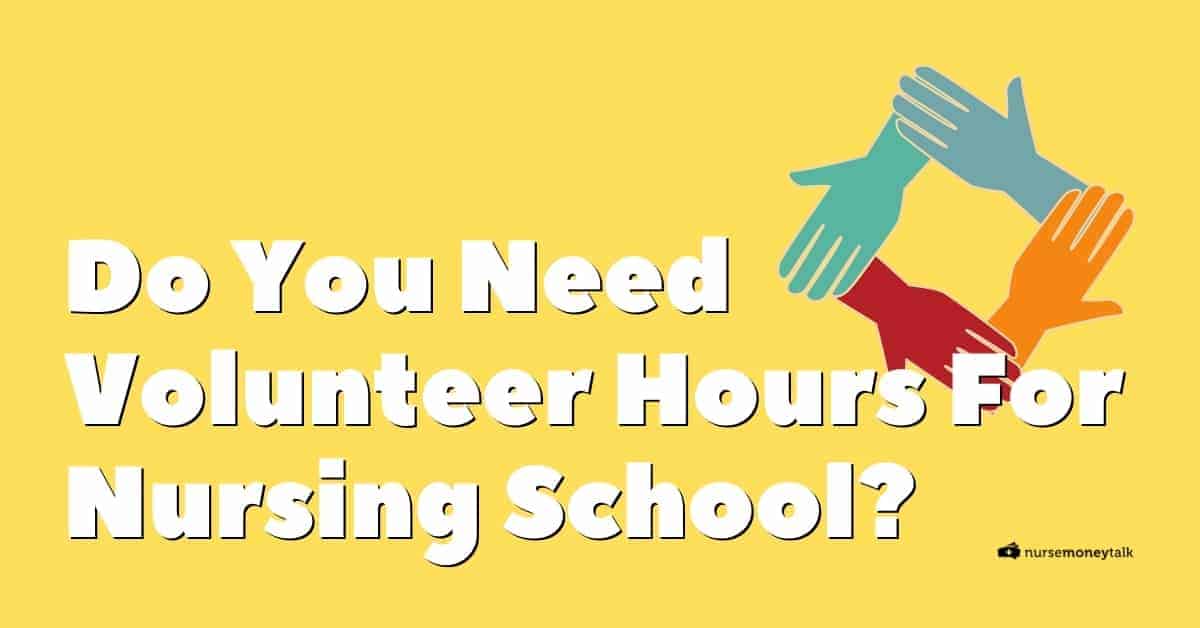 I'm going to answer another question I got the other day, which has to do with volunteer hours for nursing school.
I'm going to discuss whether or not you need volunteer hours for nursing school. Plus, talk about some good places a nursing student could volunteer at.
*Disclosure: This article on do you need volunteer hours for nursing school may contain affiliate links. If you click and make a purchase, I may receive a commission. For more info, please see my disclaimer.
Do You Need Volunteer Hours for Nursing School?
Not all nursing schools require volunteer hours. For those that do, it could be as many as 100s of volunteer hours that are needed. Check the requirements of any nursing school you're considering applying to make sure you know what their volunteer hour requirements are.
Find Nursing Programs
Search our school database to find schools and get information on the right programs for you. (Don't worry, it's fast and free!)
Many Schools Don't Require Volunteer Hours
When I was applying to a nursing program, the schools I looked at didn't require volunteer hours as part of the application process or graduation requirement.
Interestingly enough, I actually did volunteer regularly back then, but none of that would have made a difference for the nursing programs I was looking at.
Instead, those schools focused on quantifiable things like cumulative GPA, science GPA, and where you took your classes.
Even though my school choices back then didn't look at volunteer hours, I know many schools do. If you're wondering about volunteer hours and nursing school, here's my recommendation.
Talk to the Program to Be Sure
The best way to know the volunteer requirements (if any) of a nursing program is to talk to that nursing program you're considering applying to.
Reach out to an academic advisor or someone affiliated with the school and ask them whether or not they require volunteer hours as a part of the admission process.
Even if they don't require it, ask them if it would make your application stand out or help you if you had some volunteer hours.
This is important because you don't want to spend the time and effort volunteering if it's not going to help you with your application.
Side Note:
The point isn't to discourage you from volunteering or say volunteering is a waste of time. On the contrary, I think volunteering is a wonderful thing to do.

But for this, I don't want you doing something with the mindset it will help you accomplish a goal only for it not to do that.
Now, what about volunteer hours to graduate from nursing school? That again will be specific to your nursing program, so you need to reach out to them to be sure.
I didn't need it to graduate. But from what I've seen in some forums, it appears some nursing students might have needed it.
Pro-Tip
Volunteering is a great way to gain some valuable experiences. But do you know another way to gain valuable experience?

Specifically, experiences that will help you in nursing school and for your future career as a nurse.

It's to get a job in the healthcare field, even before becoming a nurse. I go over that in more detail in the article "Should I Work During Nursing School?"

Check out the linked article for the full discussion on that.
How to Get Volunteer Hours for Nursing School
So, you've decided you would like to do some volunteer work. Now you're wondering where you should do some volunteer work.
Luckily I wrote an article a while back about the 25 Top Places Nurses Should Volunteer At. I looked over that article and realized many of the places I mentioned would work as a good volunteer spot for a nursing student.
Check out that blog post for the complete list, but here are three from that list.
1. YMCA
If you're looking to give back to your community and become a positive change in the lives of others, the YMCA is ready for you.
With a number of rewarding volunteer programs, you'll have plenty of options that can help you better your community.
As a volunteer at the YMCA, you can help coach youth sports teams, help adults live healthier lives through exercise programs at the YMCA, organize community service projects, and much more.
3. Big Brother Big Sisters of America
If you love working with children and getting involved with a great organization that helps kids reach their potential, then Big Brother Big Sister of America is the perfect fit for you.
After a thorough vetting process, you'll be matched with a child in need of a positive role model in their life.
You'll spend your time with them doing fun activities and encouraging them to follow their dreams and achieve big things.
2. Church or Religious Organization
Another great place to volunteer at is a church or religious place of worship you're affiliated with.
Volunteering for a religious organization can vary since some have ties ranging from medical clinics to youth centers and even food pantries.
Even if you're not religious, there's still a lot of good that many religious organizations do.
Become a Nurse
If you haven't already found a nursing school, make sure you check out the offer below for an easy way to find the nursing program that will help you achieve your dream of becoming a nurse.
Find Nursing Programs
Search our school database to find schools and get information on the right programs for you. (Don't worry, it's fast and free!)
Have You Read These Yet?
Frequently Asked Questions