How to Get a Job After Nursing School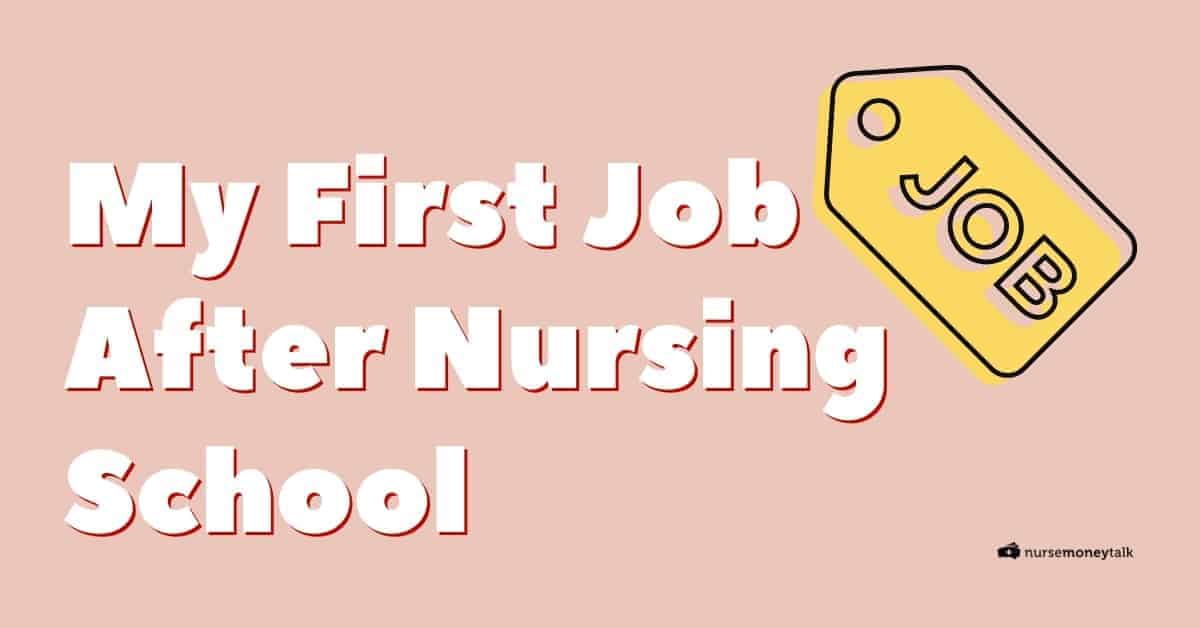 In this article, I'm going to talk about how hard getting a job after nursing school will be.
Along with that, I'm going to tell you some of the things you can do to start preparing today and make getting a job after graduation a little (to a lot ) easier.
*Disclosure: This article on how to get a job after nursing school may contain affiliate links. If you click and make a purchase, I may receive a commission. For more info, please see my disclaimer.
How Hard Is It to Find a Job After Nursing School?
Despite the claim of a "nursing shortage," many new grads across the country are going to have a hard time getting their first nursing job. To make getting your first job easier, you need to network, prepare a good resume, and know how to interview well to give you the best chance.
Even With the Nursing Shortage
Despite the nursing shortage and the tremendous growth, the nursing career field is supposed to have (about 9%, US Bureau of Labor Statistics), many nurses will find it hard to get a job as a new grad nurse.
There are various reasons for this. Some new grad nurses, in general, live in cities that have a lot of nurses, while some new nurses are hyper-focused on getting into specialty areas that tend to shy away from hiring recent grads.
Regardless of the reason, the fact of the matter is that if you're a nursing student reading this, nursing is still a great field with many options.
Still, as a new grad, you need to start taking steps TODAY to make life easier for you tomorrow when you're trying to get your very first job.
Tips To Get a Job After Nursing School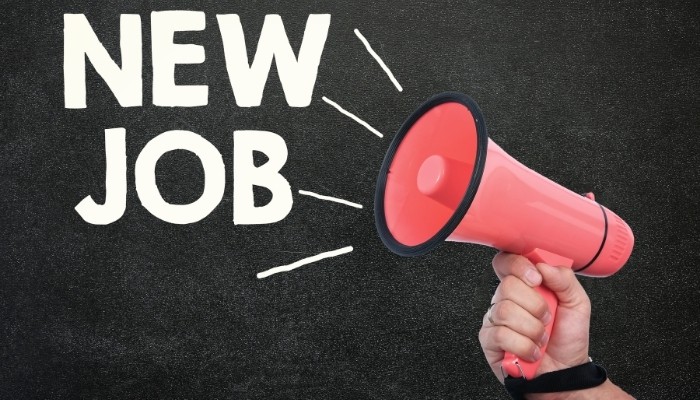 Here are the things you need to be doing.
1. Treat Every Clinical Like It's a Job Interview
From your first clinical to your very last clinical, you need to take every single one of them seriously. You need to treat each one like it's a job interview because, in a lot of ways, it is.
You would be surprised how many nursing managers are looking for their next employee from the crop of nursing students coming through their department for clinical.
Think about it. When you come through a department, the nursing staff get to see who you are, how you act, how you treat patients, and, just as important, how well they're going to enjoy working with you.
If you get an opportunity to precept in the department or unit you want to work in after graduation, you should do it.
Assuming you didn't make a really bad impression or that department isn't hiring, I would be surprised if you weren't offered a position if you ask for one.
Pro-Tip
This also works against you. If you make a bad impression during clinical in a department you want to work in after graduation, you might have a tough time getting a job there.
2. Network While in Nursing School
Have you heard the saying it's not what you know but who you know? That saying is very true, and you'll see that play its part in the workplace, especially when it comes to getting jobs.
I know nurses who only got jobs because they knew one of the employees who put in a good word for them. There have been some jobs that I would never have heard about if someone I knew didn't tell me about it.
The truth is growing your network will give you more opportunities than you can imagine. But what does that mean from a practical sense for a nursing student?
It means several things.
1. Form a Connection/Relationship With Your Faculty Instructors
This isn't meant to be weird but seriously, take an interest in going to your nursing professor's office hours. Make sure you ask good questions in class. Be a diligent and hard worker. Overall, just make sure they think highly of you.
Your faculty instructors are probably connected with the community. There are things they're going to hear because they're connected with the community and because they've been in the nursing career field for so long.
If there's a field, you want to go into, reach out to a faculty member and ask them. Make sure they know that's a field you're interested in.
2. Join a Nursing Professional Organization
A professional nursing organization is a great place to network.
If you're a nursing student, there's usually a limit to how you can get involved, but if you can show up to meetings or any events.
You would be surprised by the nurses that show up to these events. Many are managers or nurses in prominent positions in the facilities you would probably like to work at.
Pro-Tip
See if your school has a chapter for the Student Nurses Association. It's a national organization for nursing students.
3. Get a Nurse Aide Job While in Nursing School
A great way to get your foot in the door of the department or unit you want to work in after you graduate is to get a job there as a nurse tech.
That's what I did when I was in nursing school. I was able to get a job during nursing school as a nurse tech in a transplant ICU.
I worked hard and always remembered that every shift was a job interview. It shouldn't be surprising that when I applied to work there, I was accepted.
This is despite the fact it's a hard specialty for new grads to break into.
The point of me saying this is not to boast but to highlight how getting a job or preceptorship while in nursing school at your desired destination after graduation works, and it works really well.
Pro-Tip
As a side note, I think most nursing students should get a CNA job.

Not just because it's a great way to network and get your foot in the door of the hospital you want to be at post-graduation, but it's also a great way to get more exposure to some of the things you're learning in school.

I talk more about it in the linked article above.
Find Your Next Nursing Job
Use our nursing job board to start looking for and applying to great nursing jobs near you.
4. Work on Preparing Your Resume
There's not a whole lot to say on this, except if you haven't already started on your resume, you should.
In general, you should make a habit of keeping your resume up to date because you never know when a good job opportunity will present itself.
If you need help building your resume, check out this service that will build out your resume for you.
You can very well do it yourself, but I've found that if you've never done a resume, it's probably not a bad idea to have someone else (like this professional service) do it for you once.
Then moving forward, you'll just update it based on the template you already paid for.
5. Practice Your Interview Skills
One of the things I've told nursing students before is that your resume is what grabs a hiring manager's attention. It's what gives you the opportunity.
The interview is what closes the deal and lands you the job. There's an art to interviewing, and most people are not going to naturally be good at it.
To be good at interviewing, you need to practice and research good interviewing techniques. Along with how to answer the questions you're going to get asked in those nursing interviews.
I have a lot of interviewing resources already on my site, so I'll list some below and let you check those out:
6. Take Your Boards ASAP
You can get conditional job offers that are based on you passing the nursing boards and getting licensed.
But guess what?
They're conditional, which means you need to take and pass boards as soon as possible.
If your future employer expects you to be licensed on this date, then you need to do everything in your power to make sure that happens. Failure to get licensed in the agreed-upon time frame may mean your offer is rescinded.
Make sure to get a good NCLEX prep course like this one, to make sure you pass the NCLEX the very first time you take it.
What do you do if you didn't pass the first time?

If it's clear you're not going to be licensed when they're expecting you to be, make sure to have the conversation with your future employer.

Please don't wait for them to reach out to you.
NCLEX Prep Academy
Check out the comprehensive NCLEX prep review that I recommend. Don't bother with other NCLEX preps that over promise and under deliver. Did I mention they have a 99.86% NCLEX pass rate?
7. Prepare to Accept the Job You Don't Want
Many nursing students will have high hopes of going from nursing school straight to ER Nursing or ICU nursing. While that does happen, it doesn't always.
What that means is you might have to accept the job offer you don't want.
Don't think of it as a failure. Many of those specialties are tough places for new grads to be in anyway. The primary goal after graduation is to secure a job.
Prepare for Your First Year as a Nurse
Getting your first nursing job after nursing school can be difficult and frustrating. As long as you start preparing for this SOONER rather than later, it can help make the process a lot easier.
With all that said did you know that being a new nurse is challenging. Check out the offer below to see how you can make things that much easier for you as a new nurse.
New Nurse Academy
Graduating from nursing school is a joyful time, but it quickly leads to a lot of stress once you start working as a new nurse. Check out the course that helps new nurses bridge the gap and transition smoothly to becoming nurses.
Have You Read These?
Frequently Asked Questions