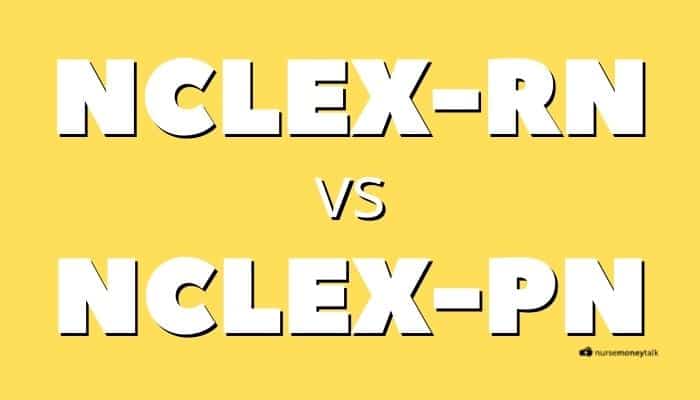 After finishing nursing school, you're ready to take the NCLEX exam. It's the last hurdle standing between you and your nursing career.
There are two versions of the test, one for practical or vocational nurses and one for registered nurses.
The two versions are fairly similar, but there are also differences. Let's explore!
*Disclosure: This article on the nclex rn vs nclex pn may contain affiliate links. If you click and make a purchase, I may receive a commission. For more info, please see my disclaimer.
What is NCLEX licensing?
The National Council Licensure Examination (NCLEX) is a test developed by the National Council of State Boards of Nursing (NCSBN).
Every nurse practicing in the U.S. has to pass this licensing requirement administered by a national body, which means that all nurses take the same test no matter where they live.
It also means all licensed nurses working in the U. S. have the essential knowledge and skills to provide excellent standards of care to protect the public.
The test consists of multiple-choice questions run on a Computerised Adaptive Testing (CAT) system.
The system predicts candidates' abilities and competence based on their answers.
As the candidates answer each question (no skipping allowed), their answers and scores are tracked.
Once the computer establishes the candidate's competency, the test shuts off.
The only NCLEX prep you'll need. Check out the nclex prep course that helps graduate nurses pass their state board.
What does it cover?
Just to name a few.
If the computer cannot confidently determine the level of competency of a candidate, the test will shut off once all the questions have been asked or the allowed time limit has expired.
Since October 2020, the latest version of the CAT program will consider all the given answers to determine the final passing or failing grade.
The use of the CAT system in administering this vital test ensures fairness and accurate prediction of a candidate's ability.
Each question is challenging without being too difficult, and the candidate has at least a 50 percent chance of providing the correct answer.
The system is programmed in such a way as to avoid giving "easy" questions to high-ability candidates and "difficult" questions to lower-ability candidates.
Related: How is the NCLEX Scored?
What is NCLEX-PN?
NCLEX-PN is the test administered to applicants for a practical nurse (LPN) or a vocational nurse (LVN) license.
It may be taken by those who earned a diploma in licensed practical nursing or licensed vocational nursing from an accredited nursing school.
The NCLEX-PN questions focus on the scope of practice of the LPN (or the LVN), and the questions will relate to assisting an RN and working under supervision.
The NCLEX-PN may not have any questions about administering blood products to patients because that is not in the LPN scope of practice.
But, questions relating to assisting patients with daily living activities or promoting sleep may be the same as on the NCLEX-RN exam.
What is NCLEX-RN?
Applicants take the NCLEX-RN if they're seeking a registered nurse licensure.
These candidates have graduated either with an Associate Degree or a Bachelor's Degree in Nursing.
The questions will focus more on the management of care according to the scope of practice of an RN.
Related: Can You Take the NCLEX Without a Nursing Degree?
What are the similarities between NCLEX-PN and NCLEX- RN?
The NCLEX-PN and NCLEX-RN are similar in many ways.
Both exams were designed to test the knowledge and skills of new nurses.
They may even display the same questions on topics where the content overlaps between practical and registered nurse programs.
The CAT system runs both tests.
The NCSBN develops both tests.
Both exams are administered by and taken at a Pearson Vue Testing Center
Since the modifications to the test format were introduced in October 2020, there is the same number of questions on both the NCLEX-PN and NCLEX-RN exams.
Each exam has 15 pre-test questions, the minimum of questions that need to be answered is 75, and the maximum is 145.
Both tests have a five-hour time limit to complete the examination.
What are the Differences Between NCLEX-PN and NCLEX- RN?
The main difference between the two exams is the content and the emphasis on each section.
Most of the NCLEX-RN questions relate to the management of care and consist of creating care plans and evaluating nursing care.
In contrast, NCLEX-PN concentrates on coordinated care and includes collecting patient information and performing tasks that support care plans.
Differences in Body of Knowledge where questions are derived between NCLEX-PN and NCLEX-RN exam
| | | |
| --- | --- | --- |
| Body of knowledge | NCLEX-PN | NCLEX-RN |
| Psychosocial sciences (psychology and sociology) | X | X |
| Biological Sciences (anatomy, physiology, biology, and microbiology) | X | X |
| Physical Sciences (Chemistry and physics) | X | – |
Table 1: Differences in Body of Knowledge where questions are derived between NCLEX-PN and NCLEX-RN exam
Differences in the distribution of content between NCLEX-PN and NCLEX-RN
| | | |
| --- | --- | --- |
| Content distribution | NCLEX-PN | NCLEX- RN |
| Physiological adaptation | 10% | 14% |
| Management of care | – | 20% |
| Safety and infection control | 13% | 12% |
| Health promotion and maintenance | 9% | 9% |
| Psychosocial integrity | 12% | 9% |
| Basic care and comfort | 10% | 9% |
| Pharmacological and parenteral therapies | 13% | 15% |
| Reduction of risk potential | 12% | 12% |
| Coordinated care | 21% | – |
Table 2: Differences in the distribution of content between NCLEX-PN and NCLEX-RN (table chart).
NCLEX Topic Distribution
Below are some pie charts of the above table. This might help give you a better visual of the question makeup of the two NCLEX exams.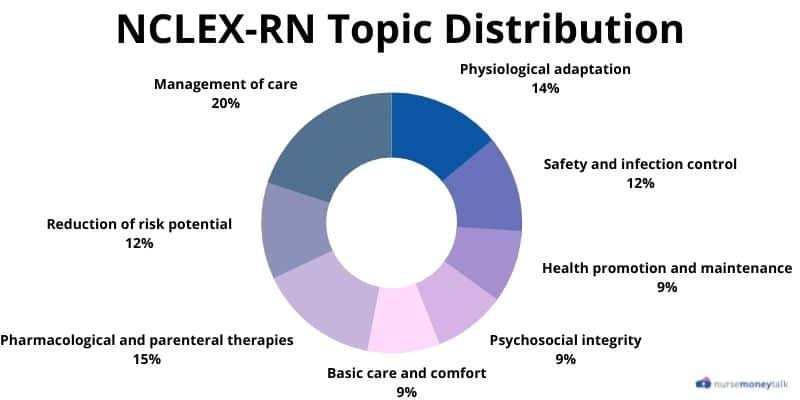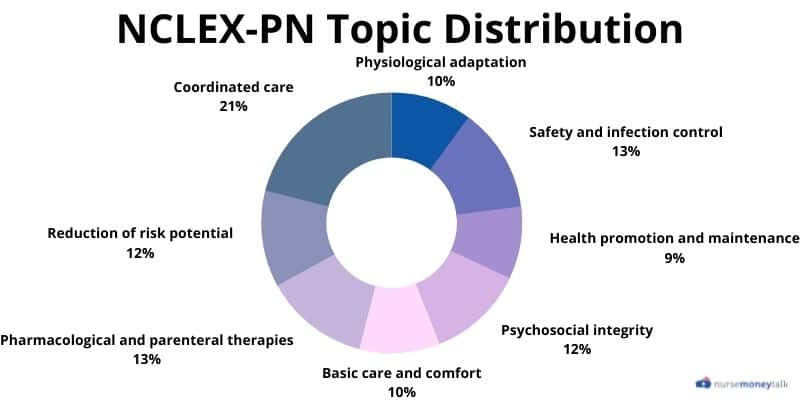 NCLEX Prep Academy
Check out the comprehensive NCLEX prep review that I recommend. Don't bother with other NCLEX preps that overpromise and underdeliver. Did I mention they have a 99.86% NCLEX pass rate?
Key Takeaways
As you see, the NCLEX-RN and NCLEX-PN are not that different.
They both test your nursing knowledge and skills and provide proof of your skills.
Whether you want to start your career as an LPN or an RN, make sure you prepare well for the big test and you should have no problems passing it.
Related Articles
Frequently Asked Questions
Here are some faqs related to NCLEX-RN vs NCLEX-PN.