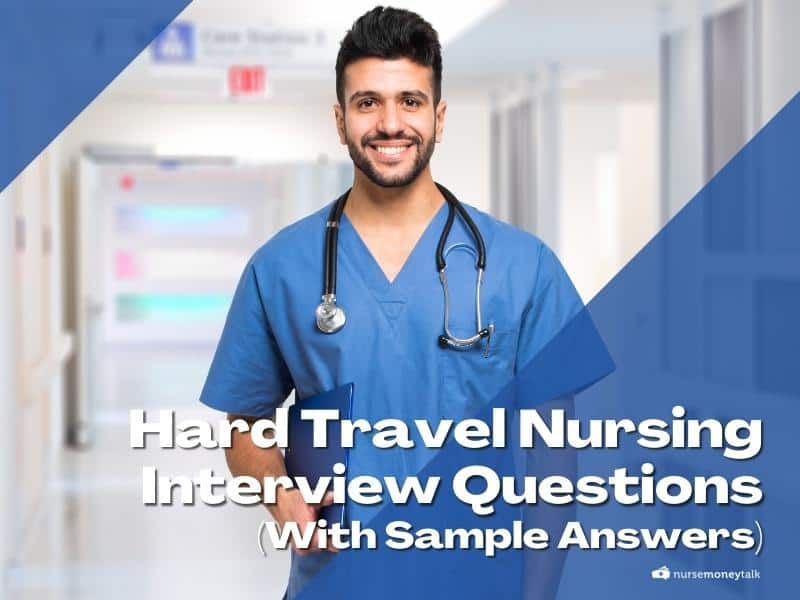 As a travel nurse, you move from place to place and work short assignments in different places.
So, you are no stranger to getting interviewed and hired.
But for travel nursing newbies or some of you who want to brush up on your skills, here are ten questions that can be difficult to answer during an interview.
Travel Nursing Interview Questions and Answers
Here are example travel nursing questions with sample answers.
1. What qualifies you for this position?
This is a question to which your interviewer already knows the answer from looking over your resume.
So what they want is to assess how well you have researched them and how well you can apply your experience and knowledge to care for their patients.
In other words, the interviewer wants to hear if you understand what the job entails and what you think will be expected of you when they hire you.
Answer
"I have (a number) years of experience working and caring for elderly patients.

Working at your care home will let me bring my experience and knowledge of geriatric care to your institution.

I have also been a travel nurse for (a number) of years, and the experience of working in different places has taught me to be flexible and ready for anything.

I think I will be a great asset to fill the temporary position you offer."
2. What strategies would you use when dealing with a coworker you don't get along with or who is unhelpful?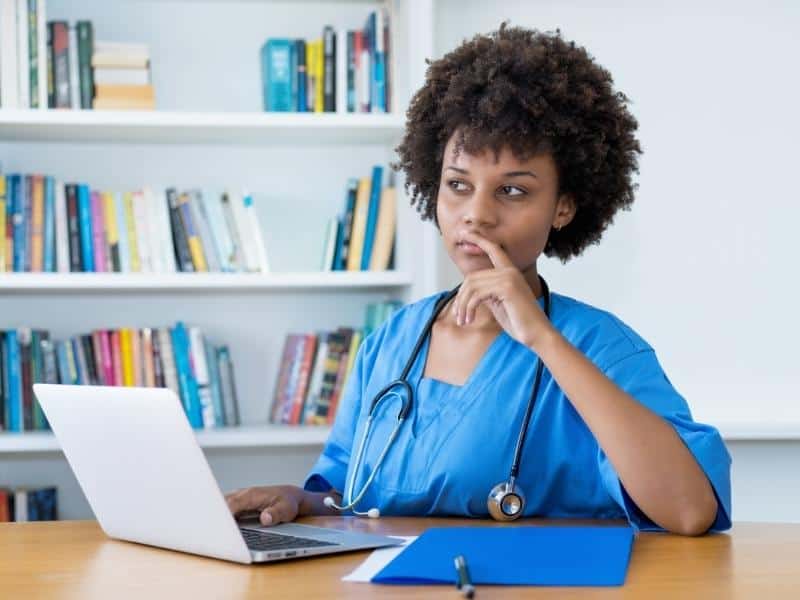 Travel nurses have to be team players. As a travel nurse, you join a group of resident staff who are strangers.
You are a guest in their ward. Also, different institutions work differently, so you may need to adapt your way of working to theirs.
Answer
"The strategy I use to deal with a challenging coworker is to understand what is causing the challenging behavior.

If something can be helped, I will do whatever I can to solve the tension.

However, if I attempt to talk to my unhelpful colleague and they do not cooperate and continue being unhelpful, I feel escalating the issue to a unit manager or an administrator may be necessary.

However, I am always willing to compromise and work out or change any problems coming from my side, and I feel that if people cooperate, everybody wins."
3. What characteristics, according to you, make a good travel nurse?
The interviewer will ask this question because they know you will answer by listing personal habits you possess.
Therefore, the question becomes a way for them to gauge your qualities and compare them to their requirements.
Answer
" I think a traveling nurse's essential quality is to be flexible.

When you are taking assignments that may be situated in different parts of the U.S., you will need to maintain composure and adjust to new circumstances quickly.

You should also have very good problem-solving and organizational skills. Another crucial trait is good communication skills to communicate with all levels of people efficiently.

You may need to start work while you are still trying to organize the delivery of your furniture and finding a place to live for the duration of the placement.

So, the ability to multi-task can come in handy."
4. How would you handle sudden changes on the job?
Travel nurses are often faced with changes and unexpected circumstances.
Different emergencies can arise from working in different institutions with different working styles, and the interviewer needs to assess your adaptability during these unexpected times.
When formulating your answer, emphasize your flexible approach to the situation.
Answer
"As a travel nurse, I have had situations where, on my first shift in a new facility, a patient's condition had deteriorated, and I had to act fast to regain control of the situation.

When faced with an unforeseen crisis, I stay calm, remember my training, and organize resources as quickly as possible.

During that incident, the patient I was looking after coded while I was in the room, so I called the code, and other personnel came to help as I knew they would because we are all trained in emergency procedures.

The patient regained consciousness after resuscitation, but passed away a few days later. He was a terminally ill patient."
5. How do you stay current with the continual medical technology developments?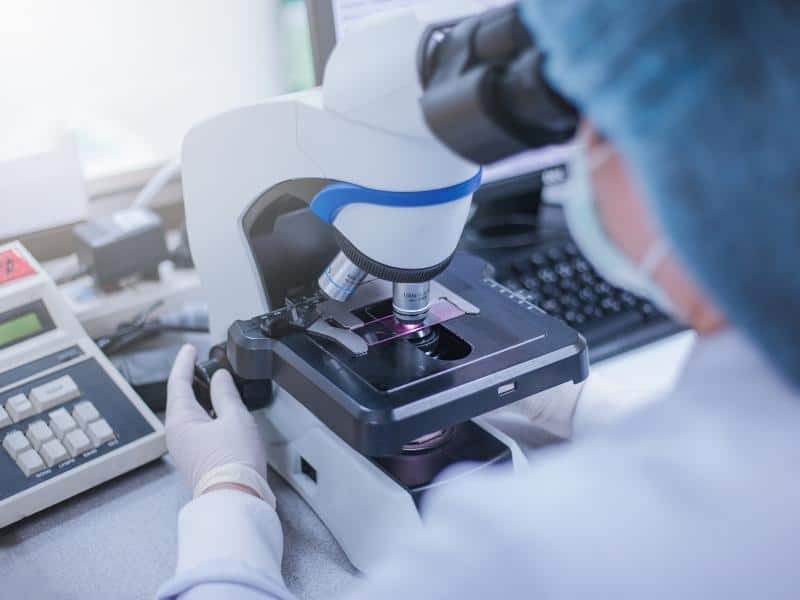 Hiring managers need to determine whether you are dedicated to the profession or happy providing just the bare minimum of care to your patients.
When answering, answer honestly whether you have or will attend any conferences or are pursuing continued education through courses or workshops.
Answer
"Mostly to keep abreast with the latest professional developments, I subscribe to medical journals.

Sometimes, if I am lucky, there will be a medical conference I can attend in the town where I am based.

My other sources of continuous education are advanced online courses which I take to ensure I offer my patients the best and up-to-date care."
6. What are your strengths as an employee?
Here, you need to highlight your ability to work independently and adapt to new situations.
Remember to mention that you are a quick learner because there will always be something new to learn in each of your travel nursing assignments.
Answer
"I am a hard and reliable worker. In my previous positions, I was praised by unit managers for my ability to work independently and for being a good team player.

I am good at identifying skilled and positive traits and attitudes in others and adapt easily to new situations. I also learn new skills quickly."
7. Have you been in a position where your team depended on you, but you were not able to perform due to a lack of training?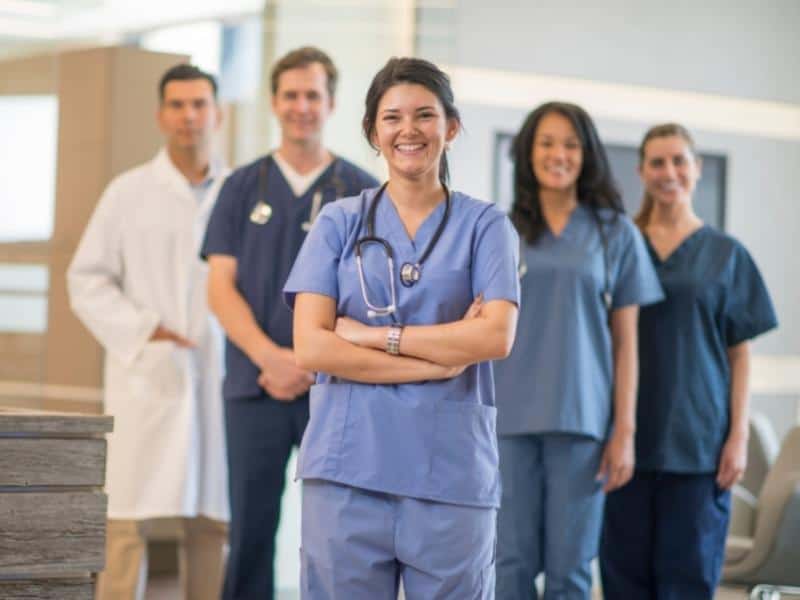 Consider what the interviewer wants to learn about you when answering this question.
You should mention that teamwork is important to you and avoid blaming the lack of training, but rather show how you overcame this shortcoming and solved the situation positively.
Answer
"Yes, I have been in a situation where I didn't have enough knowledge to provide proper patient care to a patient with a complex diagnosis and several comorbidities.

However, I knew I was not alone and asked my team members to help me figure out the situation to ensure that the patient's safety was not compromised and they received proper care."
8. How do you manage stress?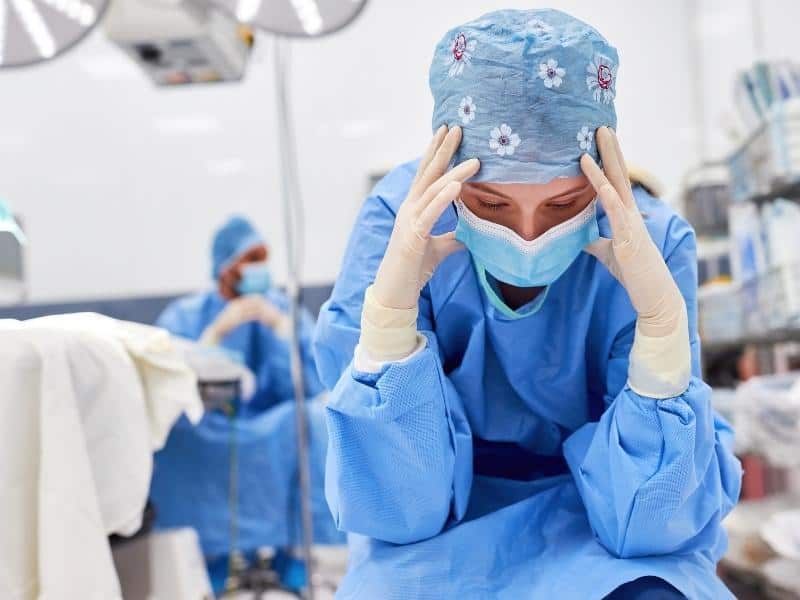 Stress is a common complaint among nurses because nursing is a stressful profession.
Nurses with healthy coping mechanisms to deal with stress are more likely to be employed because employers seek people with good mental health.
Tell the interviewer how you relieve stress or a special way you relax after a particularly heavy day.
Answer
"I am used to working in stressful situations, and I don't have a problem with that.

If I have a particularly bad day, when I get home, I like to relax in a warm bath with scented candles and do yoga to help me decompress.

Otherwise, I like to work in a garden or help out at a local dog shelter where I volunteer to walk some of the shelter dogs."
9. Why do you want to work with us?
Precisely pinpoint for the interviewer how your experience and work ethic match the institution's vision statement.
Show your interest in the healthcare facility and let the interviewer know what attracted you to the posting in the first place.
Answer
"I have experience working with a senior patient population [insert a particular disease, nursing specialty, patient population here], and I feel that I would be able to help you provide quality care to improve patients' lives through my ability to engage with older folk.
10. Why should we hire you?
Your answer should include a combination of stating what skills and value you bring to the institution and what you still want to learn from them.
Answer
"I strongly believe that my previous experience providing quality, compassionate care for our elders will help me fit in well with your facility.

My goal for working here is to learn more about the most effective dementia treatments so I can add more value."
Final Thoughts
The difference between a traveling nurse interview and an interview to fill a permanent post is that travel interviews are most often done by phone rather than in person.
So the interviewer does not see you when they ask you questions. Writing down personal model answers so you can refer to them during an interview will help you sound calm and confident.
Good luck with landing your dream travel nursing job.
Have You Read These Yet?