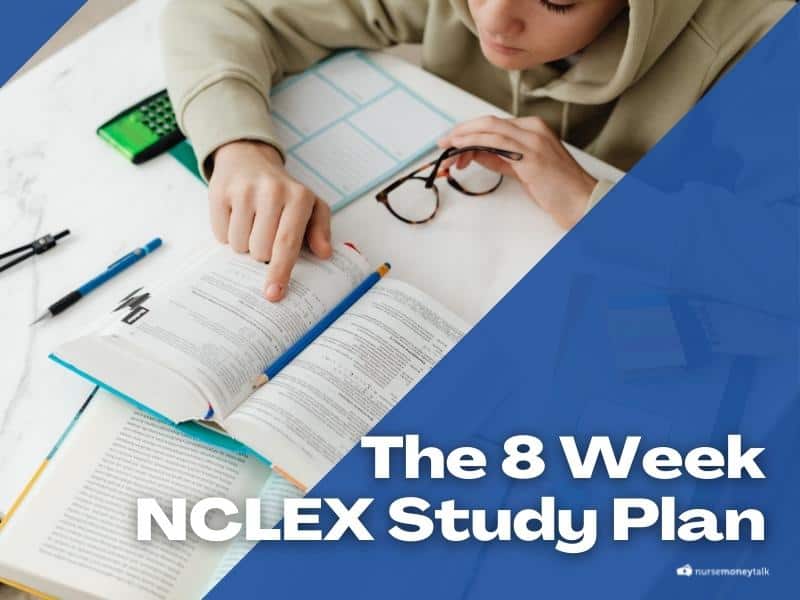 The NCLEX is not a test you can cram for the night before and expect to do well on. It requires weeks, even months, of dedicated study time.
If you're starting to feel the pressure of the NCLEX looming over your head, don't worry!
I've put together an 8-week study plan to help you make the most of your studying and set you up for success come test day.
NCLEX Study Plans
Example 1
Week 1: Complete a Comprehensive Review Course
One of the best ways to prepare for the NCLEX is to take a comprehensive review course.
These courses are designed to help nursing students prepare for the NCLEX and cover all of the material you need to know.
Many students find that taking a review course gives them the structure and discipline they need to stay on track with their studying.
Check out this review course that countless nursing students have used to pass the NCLEX the first time.
The only NCLEX prep you'll need. Check out the nclex prep course that helps graduate nurses pass their state board.
What does it cover?
Just to name a few.
Week 2: Create a Study Schedule
One of the biggest mistakes that nursing students make when preparing for the NCLEX is trying to study too many hours in a day.
When you try to study for more than 4 or 5 hours at a time, your brain starts to shut down, and you stop retaining information.
That's why it's important to create a schedule that allows you to spread your studying over several hours each day.
Week 3: Join or Form a Study Group
Studying for the NCLEX can be a lonely process, but it doesn't have to be! Joining or forming a study group is a great way to stay motivated and on track.
It's also helpful to have someone else who can answer your questions and help you when you're stuck.
Week 4: Take Practice Tests
Taking practice tests is one of the best ways to prepare for the NCLEX because it allows you to see what areas you need to focus on.
Most review courses come with access to practice tests, but many free practice tests are available online.
As you take these tests, pay close attention to which areas give you trouble so that you can focus on those areas in future weeks.
Week 5: Identify Your Weaknesses
Now that you've taken some practice tests and identified which areas give you trouble, it's time to focus on them.
Go through your old notes and textbooks and re-read any sections that gave you trouble on the practice tests.
If necessary, consider finding additional resources—such as videos or articles—that can help explain these concepts in different ways.
Week 6: Review RN Roles & Responsibilities
In addition to knowing all of the content covered on the NCLEX, it's also important you understand what role RNs play in healthcare settings.
To brush up on this topic, review your old lectures from nursing school and read any relevant chapters in your textbooks.
You should also familiarize yourself with common RN duties so you can be prepared for questions about them on test day.
Week 7: Take More Practice Tests
By now, you should be feeling more confident about the material covered on the NCLEX thanks to all of the extra studying you've been doing.
To make sure that this confidence is warranted, take another practice test or two this week just before beginning your final week of studying.
This will give you one last chance to identify any lingering weaknesses you can focus on in your final week of studying.
NCLEX Prep Academy
Check out the comprehensive NCLEX prep review that I recommend. Don't bother with other NCLEX preps that overpromise and underdeliver. Did I mention they have a 99.86% NCLEX pass rate?
Week 8: Relax & Visualize Success
It's finally here—your last week of studying! At this point, there's not much left you can do except relax and visualize success.
Avoid stress by getting plenty of rest and exercise this week. Take some time each day to visualize yourself passing the NCLEX with flying colors.
These positive Visualizations will help increase your confidence going into test day so that You Can Do This!
Example 2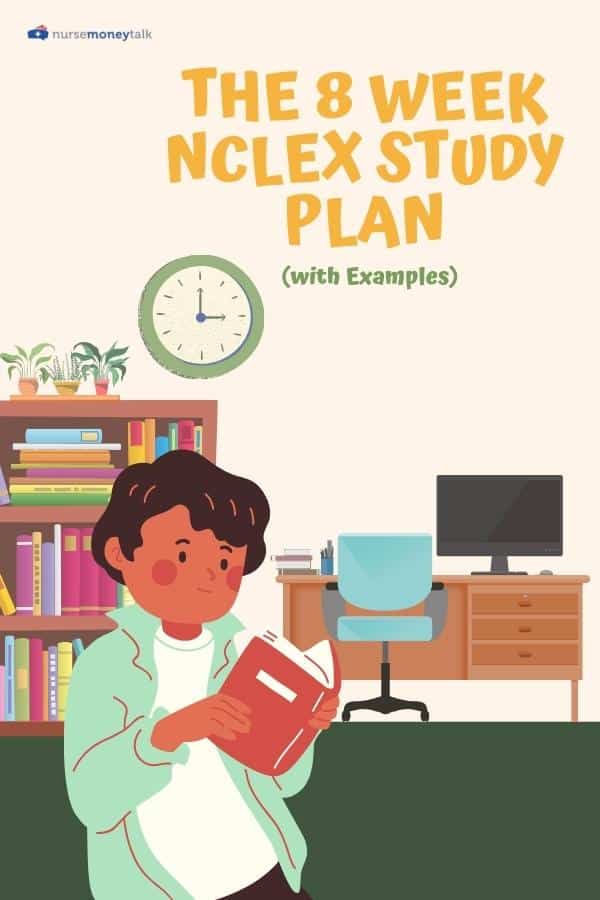 Week 1:
Get organized. Purchase an NCLEX prep course. This is the one I recommend. Regarding scheduling, try to study for at least 4 hours each day during this week.
If you bought the NCLEX prep course I suggested there's a section where it will create a detailed study plan for you based on when you're going to take the NCLEX
Weeks 2-4:
Focus on content review. These 4 weeks are all about content review.
Use your study guide and other resources to brush up on all the topics you need to know for the NCLEX. Make sure you're understanding the material and not just memorizing facts.
A good way to check for understanding is to teach someone else what you just learned. If you can explain it clearly, then you know you understand the concept!
During these 4 weeks, continue studying for at least 4 hours each day, with breaks as needed.
Weeks 5-6:
Start practicing questions (if you haven't already). In addition to content review, these 2 weeks are also about practice questions.
Use practice questions to test your knowledge of content and also familiarize yourself with question types that will be on the NCLEX.
If you bought the prep course I suggested above you'll have access to plenty of practice questions in the question bank.
If you didn't buy it many question banks are available online (unfortunately not as good as the paid ones); find one you like and stick with it.
Again, make sure you're taking breaks as needed, so you don't get too overwhelmed or burnt out. I recommend doing at least 75 questions per day during these 2 weeks.
Weeks 7-8:
These are your final 2 weeks before taking the NCLEX! At this point, you should start feeling confident in your knowledge.
You should also be comfortable with the different question types you'll see on the NCLEX.
During these 2 weeks, continue practicing questions and simulating test-taking conditions as much as possible.
This means finding a quiet place where you won't be interrupted and taking a practice test like you would on the actual NCLEX. This will help get you mentally prepared for taking the actual exam.
I recommend doing at least 100 questions daily during these 2 weeks. You should give yourself a break a couple of days before your test day.
NCLEX Prep Academy
Check out the comprehensive NCLEX prep review that I recommend. Don't bother with other NCLEX preps that overpromise and underdeliver. Did I mention they have a 99.86% NCLEX pass rate?
What Do You Think?
Did you find this helpful? Would you have preferred a more detailed study plan? Let me know in the comments sections below.
Have You Read These Yet?