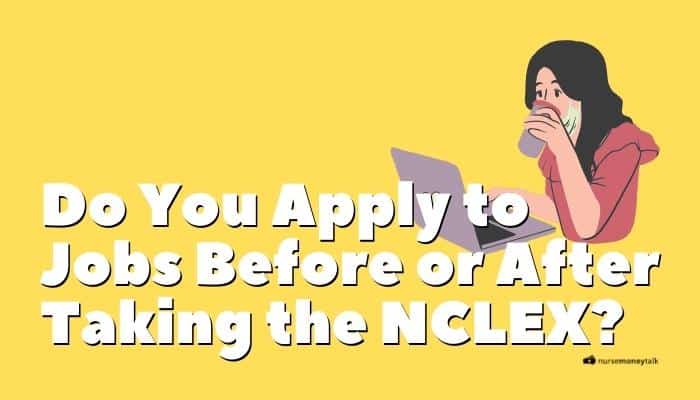 A common question many nursing students will have is when they should start applying for nursing jobs.
Is it better before or after passing taking the NCLEX? Here's the answer.
Do You Apply to Jobs Before or After the NCLEX?
You should start applying for jobs before you take the NCLEX. If the jobs you're interested in don't take unlicensed applicants, consider reaching out and connecting with the nurse manager.
The only NCLEX prep you'll need. Check out the nclex prep course that helps graduate nurses pass their state board.
What does it cover?
Just to name a few.
Here Are Your Options
There are really only two ways to go about this.
You can either wait to start looking for jobs before taking the NCLEX or do it after taking the NCLEX.
I am on the camp that you should NOT wait to take the NCLEX, let alone pass the NCLEX, before applying to jobs.
Related: How Many Questions Are on the NCLEX?
Why You Should Start Job Searching Early
The reason I would recommend applying to jobs early is twofold.
The first reason is that there's a piece of mind it gives you after nursing school knowing you already have a job.
The other reason is that the good new grad jobs will be hard to get into, and those jobs will require you to do some networking beforehand if you want to be successful.
Some Jobs Don't Accept Unlicensed Applicants
With all of that said, it's important to note that some companies don't accept applications from unlicensed candidates.
For those jobs, I would recommend you still network and make sure you take your NCLEX and pass as soon as possible.
My Experiences
In nursing school, I worked as an ICU tech in the unit I wanted to work in after graduation.
While I worked there, I had multiple conversations with the nurse manager about an ICU RN position.
Even though I could NOT apply for that position until after I passed the NCLEX, everything was already in place ahead of time.
This was not the case for some of my classmates.
Some of my peers already had formal offers (contingent on passing boards) before they even scheduled their NCLEX.
NCLEX Prep Academy
Check out the comprehensive NCLEX prep review that I recommend. Don't bother with other NCLEX preps that overpromise and underdeliver. Did I mention they have a 99.86% NCLEX pass rate?
Related Articles
Here are some articles related to applying for nursing jobs before nclex.