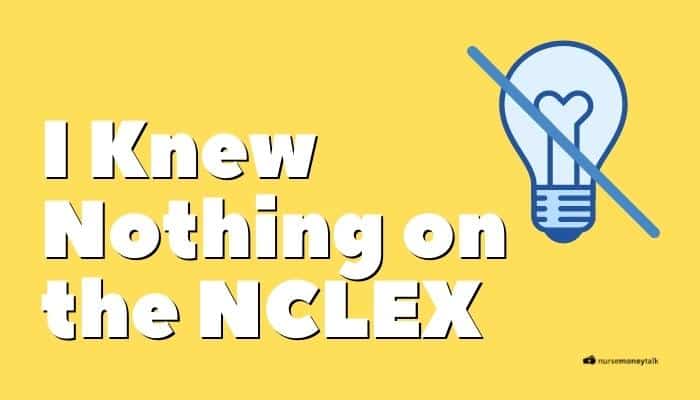 Almost everybody who takes the NCLEX exam is unsure whether they passed or failed when they finish.
This exam stands between you and your goal of being a nurse. Without it, you can't practice.
That's a lot of pressure, and it's normal to feel anxious while waiting for the official results.
Those six weeks feel like cruel and unusual punishment while waiting for the verdict.
Here are some things you need to keep in mind.
What to Do If I Feel Like I Knew Nothing On the NCLEX?
Even though you may feel convinced you knew nothing on the NCLEX and are sure you failed, in reality, you probably passed the test. The usual passing rate of NCLEX candidates studying nursing in the U.S. is around 86%. So statistically, you have a far better chance of passing than failing.
The only NCLEX prep you'll need. Check out the nclex prep course that helps graduate nurses pass their state board.
What does it cover?
Just to name a few.
Most People Nursing Students Will Pass
As stated above, most students are going to pass the NCLEX.
I remember looking back at when I took the NCLEX-PN and the NCLEX-RN. None of my classmates felt confident about passing afterward.
Even the students who made straight A's in nursing school were unsure about themselves.
It's just how it goes.
I think there are some things you can do, such as the Pearson Vue NCLEX trick or ordering the NCLEX quick results, but I don't usually recommend either one of those.
There are also some indicators of whether or not you passed the NCLEX. Once again, I don't typically recommend that either since the only 100% way to know the answer is to wait for the official results.
Signs That You Passed the NCLEX Exam
While I don't think these are good indicators, I listed some of them out since some nursing students swear by these.
1. Questions Got Progressively Harder
If you found that the questions got progressively harder before the test finished, it's a good sign you passed the NCLEX.
The NCLEX uses computerized adaptive testing to determine the skill level of a candidate.
If the test starts with easy questions and becomes progressively difficult before shutting off, it's probably a good sign your skill level was above the standard minimum.
2. You Answered A Lot of Hard Questions
If you were required to answer many syntheses or analysis questions, you might have a passing grade.
Synthesis and analysis questions are considered more difficult and challenging for the candidate to answer correctly than simply evaluating a patient's status or treatment plan.
Since the computer gave you the more challenging questions, you answered the easier questions correctly.
Having been given numerous synthesis questions in your session may indicate that you have passed the test.
3. You Answered Only 75 Questions
You may have passed if your test shuts off after answering only seventy-five questions.
Seventy-five is the minimum number of questions that the computer uses to determine with 95% confidence whether your knowledge is above or below the standard a registered nurse should have.
If the computer does not reach the 95% confidence level before asking seventy-five questions, it will continue to issue more questions.
Related: This Is How the NCLEX is Scored
4. You Answered More than 75 Questions
If you answer more than seventy-five questions, but the test shuts off before the five-hour maximum time has elapsed, it's a good sign you passed the exam.
This is especially true if the questions were progressively more difficult
5. You Ran Out of Time…But Answered More than 75 Questions
This could be a good sign if you run out of time but answer more than seventy-five questions if the questions get progressively more challenging.
6. You Answered the Maximum Number of Questions
If you answered the maximum number of questions before the five hours allowed time is up, then the computer will score you on the final ability estimate instead of the 95% confidence rule.
Like the confidence rule, the ability estimate rule determines the entry-level nursing knowledge, abilities, and skills of a candidate.
What to Do if You Fail NCLEX
If you fail the NCLEX exam, you'll receive the candidate performance report about six weeks after.
You'll be able to register for another attempt so long as it's at least 45 days after your last attempt.
Before you rush into booking a new exam date, take some time to analyze why you did not do so well this time.
If you think you didn't prepare well, or the review questions were much easier than the ones on the actual exam, perhaps you should try using another NCLEX prep (this is the one I recommend).
If your mind went "blank" as soon as you sat for the exam (it happens to the best of us), then it seems like your stress levels went out of control.
You may need to find some stress relief methods to get better control over your stress before the next attempt.
Reflect on your study habits. If you didn't give yourself enough study time and attempted to cram everything at the last minute, the faulty study methods may be the reason for failing.
Key Takeaway
Failing an exam can happen to anyone, and it does not define you.
Sometimes, no matter how hard we try, things just don't turn out the way we want them.
So, if it feels like you have failed your NCLEX, try to take a step back and examine the situation realistically.
There's a good chance you passed even though it feels like you failed. However, if you did fail, give yourself some grace.
Take a breather, book another exam date and prepare for it like crazy, so you'll be more likely to succeed the second time around.
NCLEX Prep Academy
Check out the comprehensive NCLEX prep review that I recommend. Don't bother with other NCLEX preps that overpromise and underdeliver. Did I mention they have a 99.86% NCLEX pass rate?
Related Articles
Frequently Asked Questions
Here are some frequently asked questions related to "I feel like I knew nothing on the NCLEX."
How common is it to fail the NCLEX?

On average, about 12-15% of first-time NCLEX test-takers will fail the NCLEX. The vast majority of students will pass the NCLEX the first time.

How do you know if you failed the NCLEX?

If you fail the NCLEX, you'll receive an NCLEX Candidate Performance Report (NCLEX-CPR). The NCLEX CPR will assist you in doing better the next time you take the NCLEX.