Pearson Vue NCLEX Trick – What is it? & How Does it Work?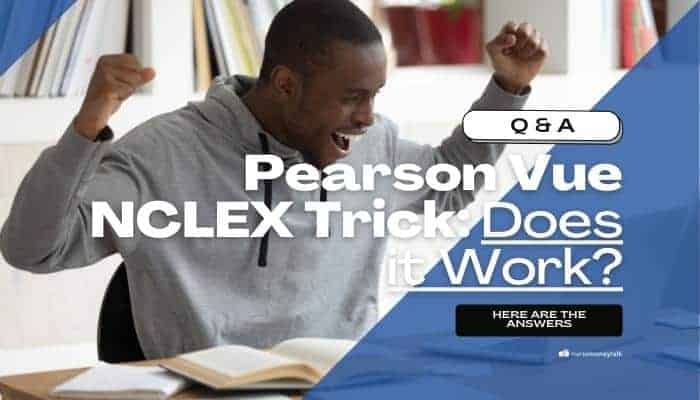 If you're about to take the NCLEX, then surely you've heard about the Pearson Vue NCLEX trick.
What you might not know is what exactly it is, does it actually work, and of course, how to do it.
So in this article, I'm going to answer some of the most commonly asked questions nursing students have about the Pearson Vue NCLEX trick.
What is the Pearson Vue NCLEX Trick?
The Pearson Vue Trick (PVT) is a way for NCLEX test takers to see if they passed the NCLEX before getting an official score from your state board of nursing or an unofficial score if your state participates in the NCLEX quick results program.
How To Do Pearson Vue NCLEX Trick
While I generally don't recommend doing the Pearson Vue NCLEX trick, if you do want to do it, here are the steps.
The only NCLEX prep you'll need. Check out the nclex prep course that helps graduate nurses pass their state board.
What does it cover?
Just to name a few.
Step 1. Submit Your NCLEX
Go ahead and submit your NCLEX and then wait a couple of hours before trying to do anything.
By the time you go out and eat and decompress from taking the NCLEX, enough time (2-4 hours) has probably passed to hopefully give you the best results.
Step 2. Log in to Pearson Vue
Go ahead and log in to your account on PearsonVue.com. Fill out whatever questionnaire you need to do to get back to the page to re-register for the NCLEX.
Step 3. Re-Register For the NCLEX
Go ahead and register for the exam.
Step 4. Verify Your Information
Go ahead and verify your information. Make sure everything is correct, and then hit the submit button.
Step 5. See What Happens Next
If the site charges your card and allows you to register, then you probably failed the NCLEX. If it doesn't charge your card and you instead receive a pop up that says something like:
"Our records indicate you have recently scheduled this exam. Another registration cannot be made at this time"

This is what you'll commonly hear referred to as "the good pop-up."
It probably means you passed the NCLEX since it's not letting you register again for the exam.
Does the Pearson Vue NCLEX Trick Work?
The NCLEX trick is not 100% accurate. Some students have reported getting "a bad pop-up" when they passed and getting "the good pop-up" when they failed.
Furthermore, some students have reported being charged for an exam when attempting to do this trick even though they passed and ended up not needing to retake the NCLEX.
Should You Do the NCLEX Trick?
For me personally, when I took the NCLEX, I didn't attempt to do this trick, and I wouldn't recommend you do either.
The main reason is that it's not 100% accurate, and it's hard for me to recommend doing something that could give you a false answer.
I know this probably isn't the answer you want to hear. What I would recommend is that you wait until the official results come out.
If you're in a state that participates in the NCLEX quick results, then pay that nominal fee 48 hours later to get the unofficial results from Pearson Vue.
NCLEX Prep Academy
Check out the comprehensive NCLEX prep review that I recommend. Don't bother with other NCLEX preps that overpromise and underdeliver. Did I mention they have a 99.86% NCLEX pass rate?
Have You Read These?
Frequently Asked Questions
Here are some frequently asked questions on the Pearson Vue NCLEX trick.