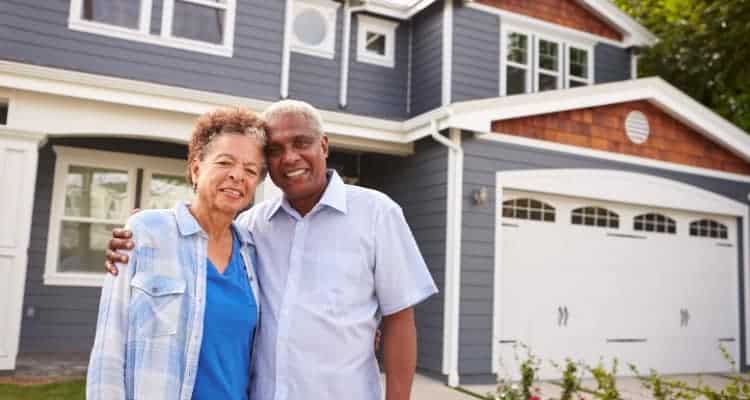 You've helped improve the lives of countless patients over the course of your career. Now it's time to retire and enjoy your golden years.
Where is the best place to settle down and enjoy your retirement, though? We've compiled a list of 25 of the best cities for retired nurses.
*Disclosure: This article on the best cities for retired nurses may contain affiliate links. If you click and make a purchase, I may receive a commission. For more info, please see my disclaimer.
Best Cities for Retired Nurses
Please note they're not in any particular order. The primary reason being that different people will want different things in their retirement.
Because of that our main goal is to really just highlight some key points of those cities and why we think a retired nurse might like it. It's up to you to figure out if it fits in with your particular retirement goals.
1. Fort Myers, Florida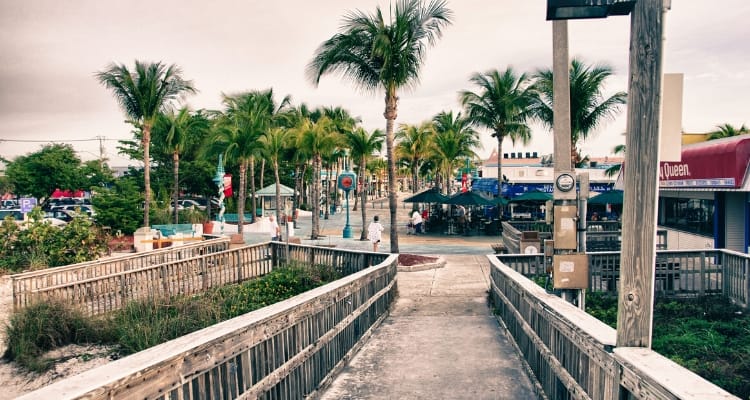 Known as the "City of Palms", Fort Myers, FL offers the perfect mix of small-town charm and big-city living. With a population of just over 700,000, the median home price is $219,200, making it an affordable place to live.
June to September brings tropical-like heat and rain, but the remainder of the year is often sunny with comfortable temperatures in the upper 60's to low 70's.
There are plenty of things to do, including parks to enjoy the sunshine in, entertainment venues to catch a concert or play at, and a wide array of restaurants to dine in.
If you're a big sports fan, you can catch the Boston Red Sox and Minnesota Twins practice during spring training.
Dog owners will also appreciate the abundance of dog parks and dog-friendly restaurants. The quality of life and low cost-of-living puts this city at the top.
2. Burlington, Vermont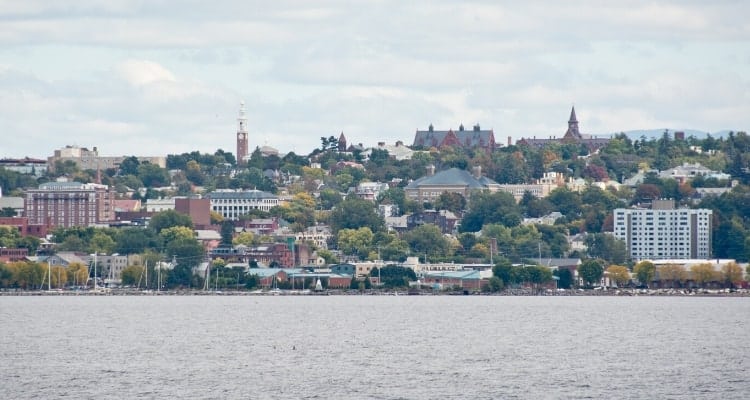 If you love winter activities like skiing and ice skating, the early winters in Burlington, VT will please you. Nestled 180 miles northwest of Boston, MA, this quaint little city was where the world-famous Ben & Jerry's ice cream company was founded.
It's known for more than just the place where Chunky Monkey ice cream originated. It's also home to the University of Vermont, which hosts 11,000 college students each year.
Why would a college town make a good place for a retiree? There are plenty of opportunities to experience the finer things in life, like the rich art district downtown which boasts the Flynn Center for the Performing Arts and the University of Vermont's Robert Hull Fleming Museum.
The warmer months bring about many opportunities to get outside for activities like sailing, hiking, and fishing. It's the ideal lakeside city to retire in.
3. Huntsville, Alabama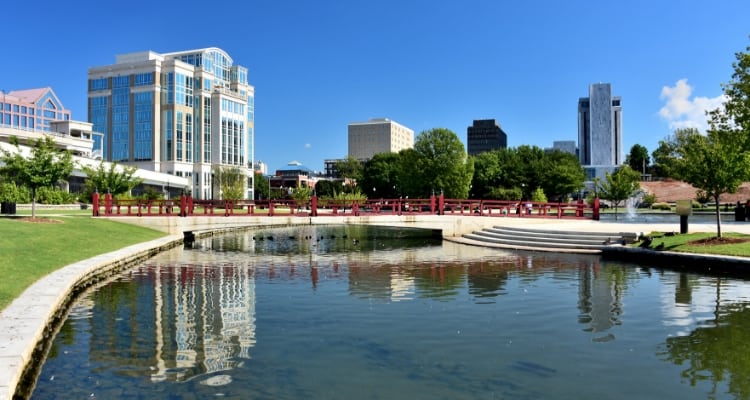 With a population just over 190,000, Huntsville, AL offers all the things a retiree could possibly want in a city. The cost of living is 6 percent below the national average, making it a very affordable place to reside.
The taxes are also low, so it's easier to own a home in this city than in some other US cities. Fifteen percent of the population is over the age of 65, so you'll be among many other retirees if you live here.
Since such a large portion of the population is of retirement age, many activities in the area are geared towards retirees. You'll find plenty of places to golf, walk along the beach, enjoy dining and entertainment options, and be an active part of your community.
The city is also home to NASA's Marshall Space Flight Center, so there's always something new to learn.
4. Sarasota, Florida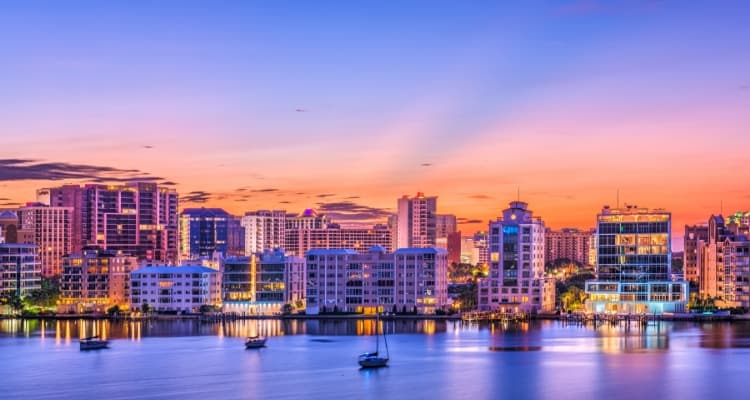 A booming economy and ideal weather year-round put Sarasota, FL near the top of the list of the best cities for retired nurses. The beach life is what brings people to this bustling city, but the entertainment life is what keeps them here.
There are so many parks, golf courses, restaurants, shopping centers, and farmer's markets to enjoy, there's always something to keep you busy. That's not even including the beaches, which are one of the biggest draws for retirees looking to settle here.
The weather in South Florida is hot and humid in the summer, but there are always plenty of ways to stay cool. You'll find paradise-like weather in the spring, fall, and winter, with temperatures often topping off around 70 degrees.
The median home price is $237,260, so it's affordable for many retirees, although the housing market is a bit competitive here.
5. Athens, Georgia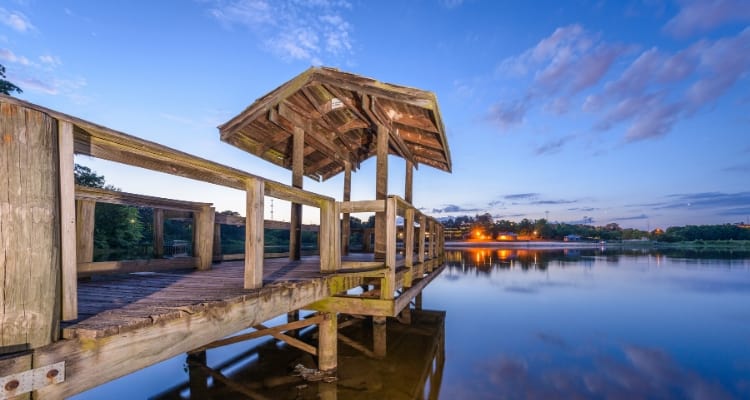 Located 70 miles east of Atlanta, Athens, GA is a busy city with plenty to offer its residents. The astonishing architecture will take your breath away as you walk through the historic districts located at the heart of downtown.
Downtown also houses plenty of dining and entertainment opportunities, including the University of Georgia's Performing and Visual Arts Complex.
There's also the Georgia Museum of Art, which hosts countless performances throughout the year.
Residents here enjoy mild winters and very warm summers, with just the right amount of precipitation spread out among the days.
This allows for plenty of opportunities to get outside and participate in activities like golf, biking, walking along the tree-lined streets of downtown, and dining al fresco.
Football fans will look forward to the fall when the University of Georgia's Bulldogs host two of their biggest rivals, Auburn University and Georgia Tech.
Do You Want to Keep Working in Retirement?
If you want to keep working even in retirement, consider a work from home nursing job. There's a lot of different options for nurses. Check out some of the options in the linked text above or start applying today.
6. Anchorage, Alaska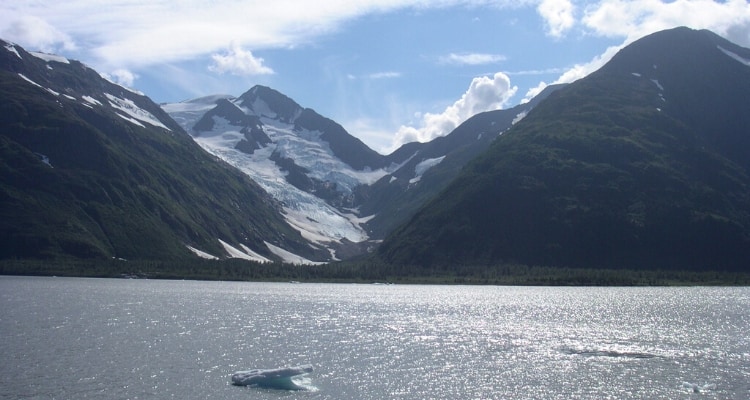 Although the cost of living for seniors is substantially higher than the national average, the vast beauty of Anchorage, AL more than makes up for it.
Those with an adventurous spirit will appreciate all that there is to do in this gorgeous city, from fishing to dog sledding to wildlife cruises, there's something for everyone who enjoys being outdoors.
There are plenty of things to do for those who crave an indoor lifestyle as well, including shopping centers, spas, and museums.
The largest city in Alaska, Anchorage has a population of nearly 300,000, only 10 percent of which are of retirement age.
There are plenty of perks to living in this vibrant city, including an annual dividend that all residents receive from a state fund that comes from the state's oil profits. Payments can be anywhere between $1,000-2,000, a nice chunk of change for retirees.
7. Lancaster, Pennsylvania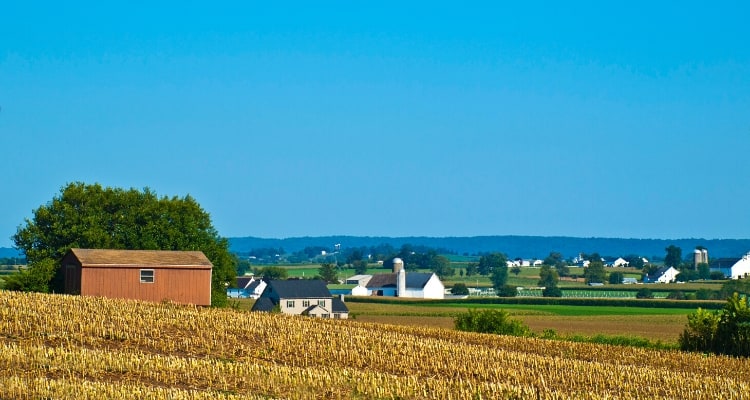 An abundance of open farmland combines with a busy downtown for the perfect mix of country and city in Lancaster, PA.
Known as Pennsylvania Dutch Country, Lancaster is full of rolling hills and peaceful areas on the outskirts, but in the center of the bustling city are a whole host of activities to do- from restaurants and shopping to festivals and a booming cultural scene.
A large population of over 500,000 yields fair home prices, with a median home selling for $196,025. Lower taxes and average prices for living expenses make Lancaster a very affordable place for retirees to reside.
If you enjoy all four seasons, then this city is perfect for you. Winter brings plenty of snow while the fall brings a beautiful array of colors.
Activities like snow tubing and skiing make the winters seem less harsh, despite the average 32-degree temperature.
8. Bellingham, Washington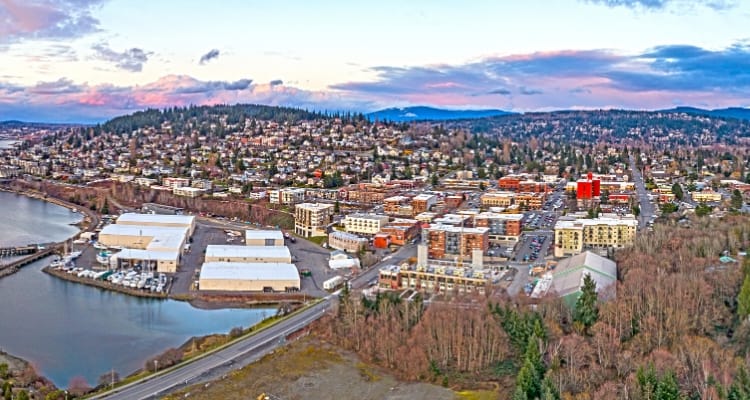 If you don't mind some misty rain in the fall and winter, the summers in Bellingham, WA will knock your socks off and make you glad you live in such a gorgeous city.
In fact, it barely rains in July and August, which more than makes up for the drizzly cooler months. The weather isn't the only thing this city has going for it.
There are many year-round activities for residents to do, including golf, skiing, and fishing. Its close proximity to Canada makes for an easy trip up north to experience the beauty of another country.
Although home prices are higher than the national average, the low crime rate and availability of modern conveniences balances that out.
There's a large performing arts center located downtown which hosts many acts throughout the year. Restaurants, shopping centers, and other entertainment options make this city a winner.
9. Phoenix, Arizona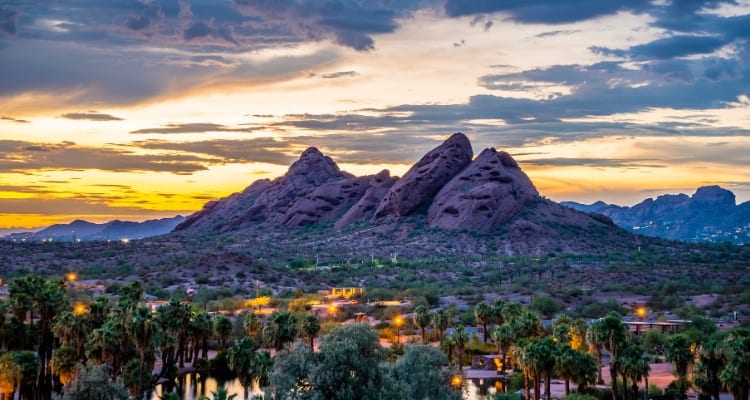 The most-populated city on our list so far with 1.5 million residents, Phoenix, AZ is a great place to live and play. The cost-of-living is higher than the national average, but there are so many things to see and do that the extra cost pays off in the end.
The warm, dry climate is ideal for those with health issues like arthritis. Many retirees appreciate the weather because they're able to get outside year-round for activities like golfing and hiking.
Phoenix is close to the other bustling cities of Scottsdale and Glendale, so if you run out of things to do here, you won't have to go far to find more adventures.
There are professional sports teams to watch throughout the year, including the Arizona Cardinals and Diamondbacks. Factor in the abundance of dining and entertainment options, and there's nothing not to like about Phoenix.
10. Asheville, North Carolina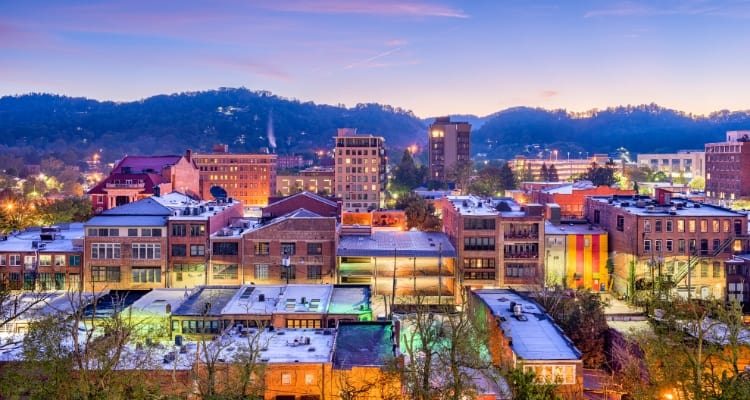 Nestled along the Blue Ridge Parkway, Asheville, NC is known as "The Land of the Sky." Its high elevation makes for some breathtaking views, no matter where you are located in the city.
Great Smoky Mountains National Park is one of the top attractions nearby, but there are plenty of other indoor and outdoor activities to do as well.
Live music on the weekends is one of the biggest draws for the downtown crowd, as are the dozens of art galleries and museums.
The median home price is slightly higher than the national average at $248,500, but the mild weather and easy commute make up for the increased cost.
The pleasant weather allows farmers to grow crops in abundance here, which gives residents the chance to eat fresh fruits and vegetables when they're dining at local restaurants or preparing meals in their own home.
11. Portsmouth, New Hampshire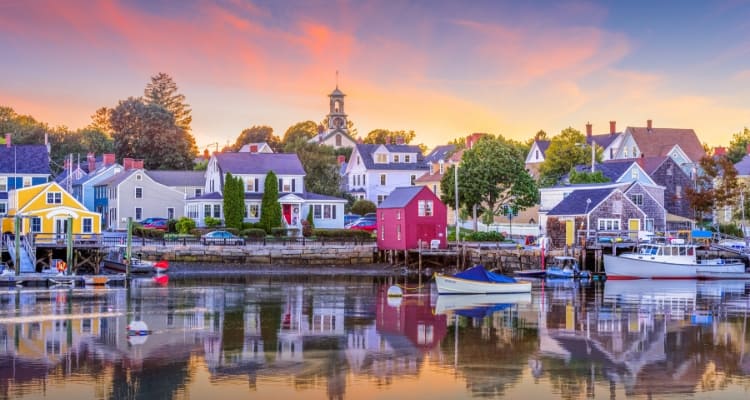 Don't let the small size of this town fool you. Portsmouth, NH is one of the most culturally-rich places to live. Home to only 20,000 residents, it's got all the charm of a little village with all the pizazz of a big city.
Its close proximity to Boston adds to its appeal. There's always something to explore within the town, from dozens of historic buildings to quaint little sidewalk cafes.
If you're a person who likes to stay physically fit, you'll appreciate all of the outdoor activities to do, including the abundance of golf courses, the beautiful coastline which runs for an astonishing 66 miles, and the Rockingham Recreational Trail, which is ideal for hiking and biking.
The cost-of-living and median home prices are higher than the national average, but the non-existent sales and income tax balances this out to make it more affordable.
12. Fayetteville, Arkansas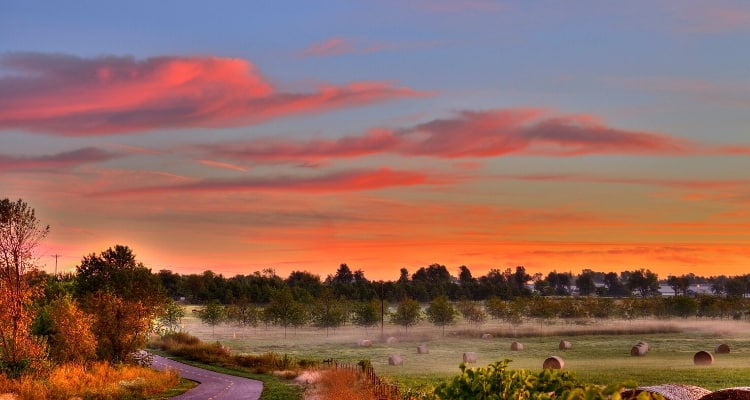 Affordability at its finest is what you'll find in Fayetteville, AR. If you're looking to make those retirement dollars last a little longer, this is the perfect city to do that.
The cost-of-living here is nearly 14 percent below the national average. Everything from groceries to gas are less expensive in Fayetteville. The taxes are higher, however, which is something to consider if you plan on owning a home versus renting.
The breathtaking Ozark Mountains give retirees plenty of things to do outdoors, from biking to hiking to fishing. The University of Arkansas is located downtown, so the need for recreational activities there is high for college students.
This bodes well for retirees, who benefit from lower costs at restaurants, museums, movie theaters, and other dining and entertainment options. One of the most popular places to go, the Walton Arts Center, hosts several events year-round.
13. Port St. Lucie, Florida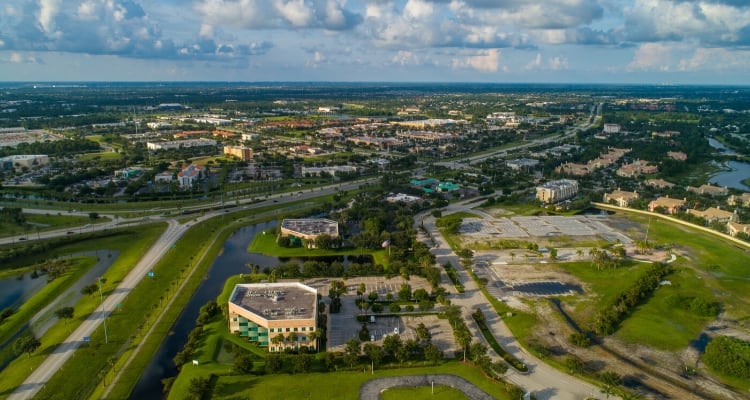 Conveniently situated halfway between Orlando and Miami, Port St. Lucie, FL is a retirees dream. The immediate area is quaint and quiet, but it's close to all of the modern conveniences one could need.
It's also one of the cheapest places to buy a house in Florida, with the median home value sitting at $211,083. The population is reasonably-sized at just over 450,000, but it's not overpopulated by any means. There are plenty of open areas to roam and explore.
The tropical-like weather means you can get outside most days, except during hurricane season or near the end of summer when temps can soar quite high.
On those days, there are several ways to keep busy indoors, including shopping in Village Square or catching a show at the MIDFLORIDA Event Center. There are plenty of spas, restaurants, and movie theaters to visit also.
14. Bloomington, Indiana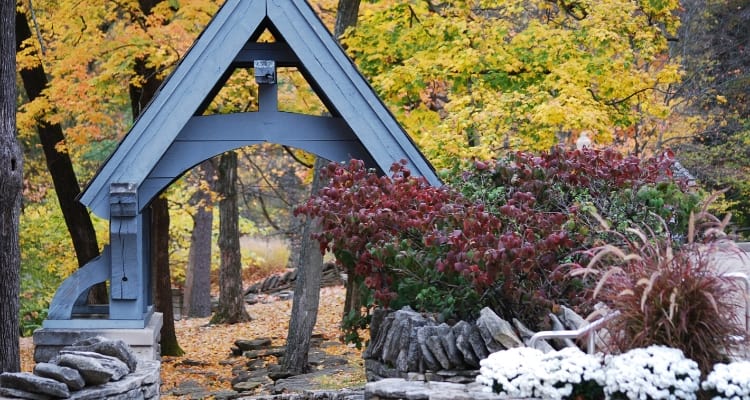 You may think that a busy college town would be the last place a retiree would want to settle, but Bloomington, IN is actually an excellent choice. The median home price is just under $200,000 and the cost-of-living is far below the national average, so your retirement dollars will go far here.
It's also a very liberal town, with a majority of the city voting Democrat. If you prefer a more progressive lifestyle and enjoy a fun, invigorating atmosphere, Bloomington is the place for you.
It's also one of the healthiest cities in the United States, partly due to the fact that so many of its residents stay active by walking along the beautiful, tree-lined streets of downtown or hiking and biking at the Hoosier National Forest. Crime is also low, so it's a safe, peaceful place to settle down and enjoy your golden years.
15. Carlsbad, California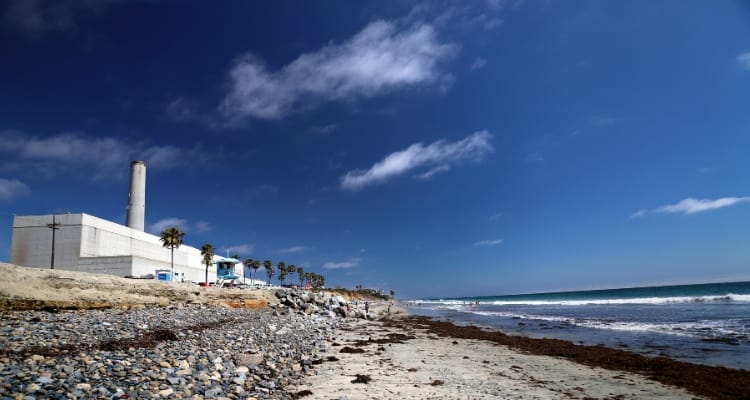 Home to LEGOLAND California Resort, Carlsbad, CA is a great place for retirees with grandchildren to live since there are so many fun attractions to bring them to when they come to visit.
There's also beaches, restaurants, an aquarium, museums, and more to bring the grandchildren to. There's also no shortage of things to keep those of retirement age busy, including golf courses, spas, parks, hiking trails, farmer's markets, and more.
Getting outdoors has never been easier thanks to the gorgeous, sunny California weather. All that beauty does come with a price tag, however, with the cost-of-living being much higher than the national average.
California is the second-most-expensive place to live, just behind Hawaii. The median home value is a whopping $860,700, but the beautiful homes are well worth the high price tag. The saying "you get what you pay for" holds true here.
16. Jacksonville, Florida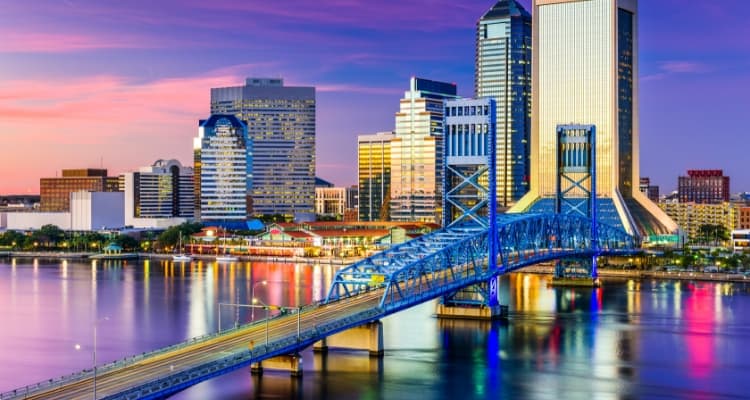 One of the fastest growing metropolitan areas in the United States, Jacksonville, FL is full of things to keep retirees busy as they live out their golden years.
The sunny weather, sandy beaches, and close proximity to plenty of restaurants and entertainment options are just a few of the pros to living in Jacksonville. The population is large and diverse, with nearly 1.5 million people calling this city home. Because the economy's booming, the housing market is hot, with the median home value at $174,658.
You can get to almost anywhere in under a half an hour, which is a benefit for those retirees who want to continue to work even after they hang up their nursing scrubs.
The weather in Jacksonville is just as diverse as its residents, with summer temperature topping off in the 90s and winter temperatures bottoming out at 50 degrees.
17. Winchester, Virginia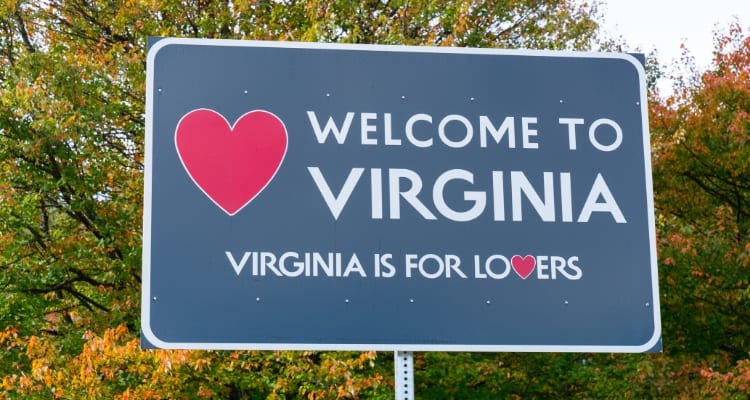 A smaller population and a cost-of-living that's lower than the national average, Winchester, VA is an ideal place for retirees seeking a quiet, comfortable life to settle.
The median price for a home here is just over $340,000, which is higher than the national average, but still quite affordable. There are pristine golf courses to enjoy and a vibrant arts scene to delight in.
Downtown's Winchester Little Theater hosts up-and-coming acts while the George Washington Hotel boasts many performances throughout the year.
Once home to George Washington, the area is steeped in history, with a war-themed weekend drawing a crowd every year to this endearing town.
Another popular yearly event, the Shenandoah Apple Blossom Festival, brings many tourists and locals together to crown that year's Queen Shenandoah. If the local arts and entertainment scene isn't enough, the bustling city of D.C. isn't very far away.
18. Denver, Colorado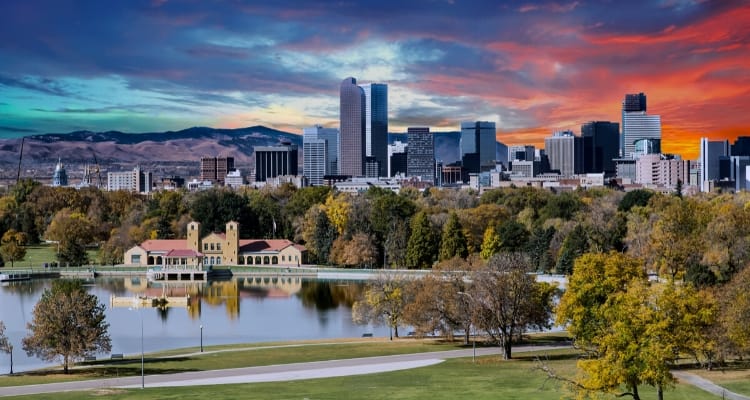 A picturesque landscape and strong economy are two of the standouts that make Denver, CO a great place for retirees to live. The mountains in the distance can be seen from almost anywhere, offering breathtaking views that are absolutely perfect at sunrise and sunset.
The low unemployment rate means the economy in Denver is strong, driving taxes lower and ensuring plenty of businesses are around for retirees to frequent.
With 11 percent of the nearly 700,000 residents being of retirement age, the city of Denver is built to offer an active lifestyle for older adults.
Those that need quality healthcare won't have to look far, as the nursing homes and assisted living facilities here are some of the highest-rated in the nation.
No matter the season, there's always something for retirees to do outdoors to keep them active and help them live a healthy lifestyle.
19. Winston-Salem, North Carolina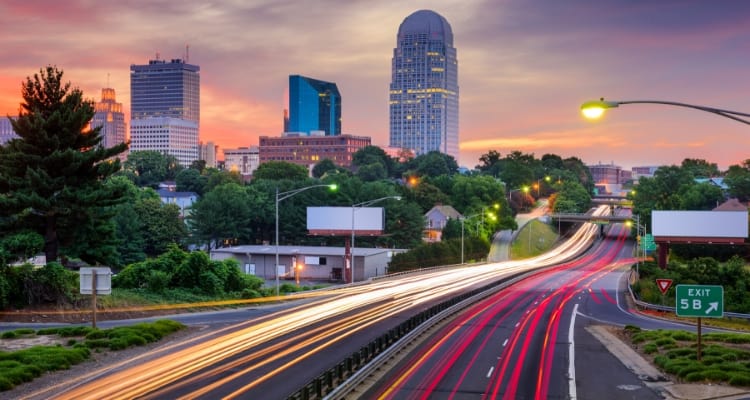 Southern charm combine with a bustling metro area to create one of the best cities for retirees to live in. Winston-Salem, NC is one of the most affordable places to live, with median home prices sitting at just under $150,000.
The cost-of-living is also low, so overall, a retiree's income can go a lot further here than it could in some other major cities. Although many of its residents are young, there are plenty of things for older adults to appreciate here.
The area has all four seasons, with average temperatures ranging from the mid-40's in the winter to the high-70's in the summer. All that gorgeous weather means there's a lot to do outside, including hiking in Pilot Mountain or exploring in Piedmont Quarry.
Indoor activities include museums, performing arts centers, shopping centers, movie theaters, and restaurants- all of which are reasonably priced.
20. Corvallis, Oregon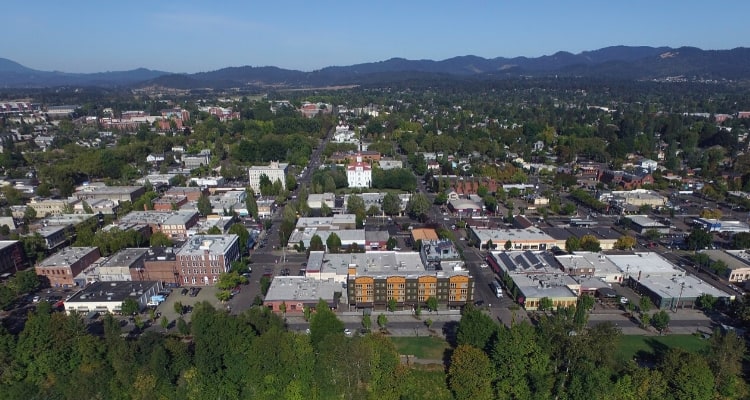 Just 70 miles south of Portland sits the colorful little city of Corvallis, OR. With a population just over 50,000, a portion of which are students at Oregon State University, this city is just the right size for retirees looking for a small-town feel with big-city conveniences.
The cost-of-living is in line with the national average, but home prices are on the high side. The fact that many pensions aren't charged state income taxes here helps alleviate some of the housing costs.
Corvallis is an active city, with many of its residents biking or walking to work or to run errands. There's a delightful farmer's market held downtown on Saturday's and many restaurants, stores, and entertainment destinations to enjoy. One of the largest tourist attractions is the annual Da Vinci Days, a festival where art and science are celebrated over a period of three days.
Do You Want to Keep Working in Retirement?
If you want to keep working even in retirement, consider a work from home nursing job. There's a lot of different options for nurses. Check out some of the options in the linked text above or start applying today.
21. Middletown, Connecticut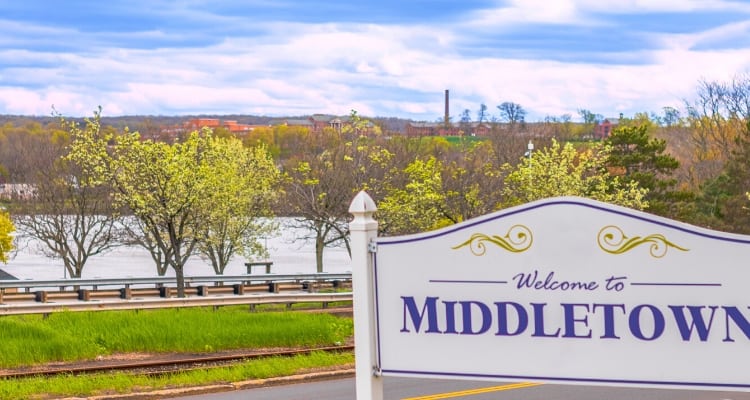 The affluent city of Middletown, CT is costly to live in, but the abundance of activities, low crime rate, and quaint, small-town feel make the higher price tag worthwhile.
Being a college town, there are plenty of adorable coffee shops, unique restaurants, and fun entertainment options to check out. The small population of 47,000 is the perfect size to ensure the economy stays strong without it feeling too crowded.
The cost-of-living is much higher than the national average, as are the home prices. The homes here are beautiful, though, so it's money well-spent.
Retirees that want to continue learning after they're done working can take a few classes at the Wesleyan Institute for Lifelong Learning, where courses are offered at low or no cost to residents.
The four seasons and numerous hiking trails give retirees plenty of opportunities to get outside and explore the area.
22. Nashville, Tennessee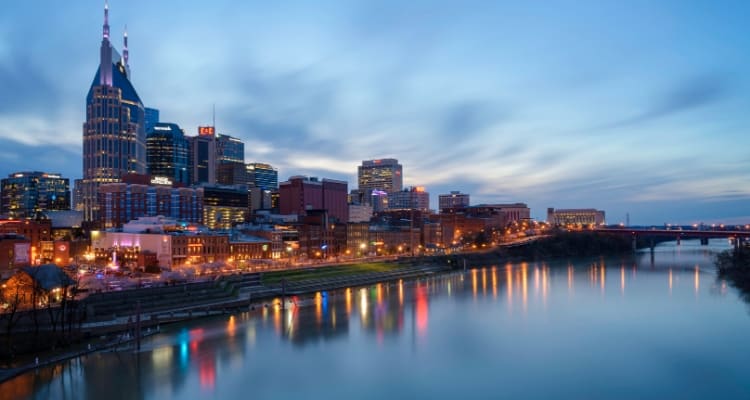 If you love music and the arts and are craving a city with plenty to keep you busy, then Nashville, TN is the place to be.
Home to many of country music's hottest entertainers, Nashville boasts countless bars, restaurants, and other entertainment venues where both popular and up-and-coming artists perform for locals and tourists every night of the week.
While the music scene is the biggest draw to living in this city of nearly 1.9 million people, there are plenty of other reasons why retirees would want to call this city home.
The housing market is competitive, with median home prices just slightly higher than the national average. Wages aren't taxed in Tennessee, so if you decide to continue working after retirement, you'll keep more of your earnings. The weather offers all four seasons and you can get just about anywhere in under 30 minutes.
23. Springfield, Massachusetts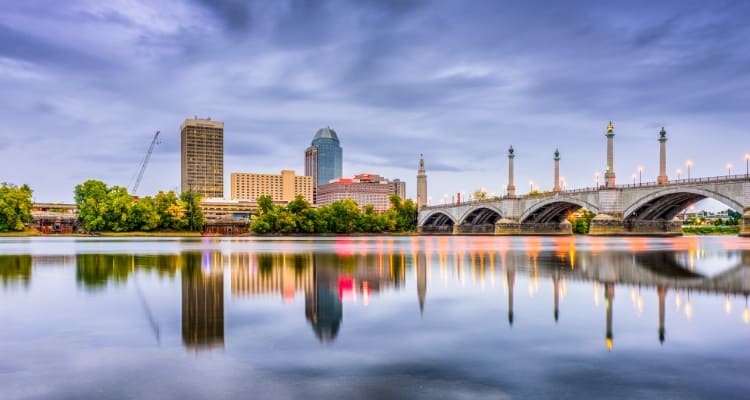 An active cultural district and its close proximity to Boston make Springfield, MA an excellent option for retirees. There is so much to do downtown, including casual and fine-dining restaurants, museums, galleries, and performing arts centers.
If you prefer outdoor activities, there's plenty of those to go around, too. Fishing on the Connecticut River, hiking in Mount Holyoke Range State Park, skiing, golfing, horseback riding, and more are just a few of the outdoor activities you can enjoy.
Although the cost-of-living is higher than the national average here, the recreational opportunities and entertainment choices make the cost worthwhile.
You can even continue your education by attending The University of Massachusetts-Amherst or one of four other nearby colleges, which offer courses specifically-geared towards retirees.
One such program, called Learning in Later Life, proves that you're never too old to expand your knowledge and learn new things.
24. Milford, Delaware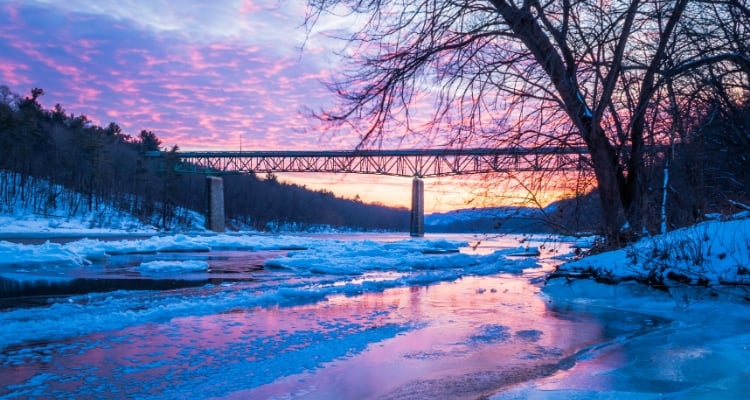 One of the least-populated cities on our list, Milford, DE is home to just over 10,000 residents. A large percentage of the population- nearly 20 percent- is of retirement age, meaning this city has a lot to offer retirees.
The beaches of Delaware are what draw many retirees to the area, but the cost can be high if you want to be right on the coast.
This little inland city is just 15-minutes from the coast, but the cost-of-living is much lower. Median home prices are just under $225,000, making owning a home much more affordable.
Along with nearby beaches, retirees will enjoy an diverse selection of restaurants and entertainment options. The small Milford Museum and Riverfront Theater downtown offer many art and cultural performances throughout the year.
The beautiful weather allows for plenty of outdoor fun, including fishing, boating, golfing, hiking, festivals, and parades.
25. Grand Rapids, Michigan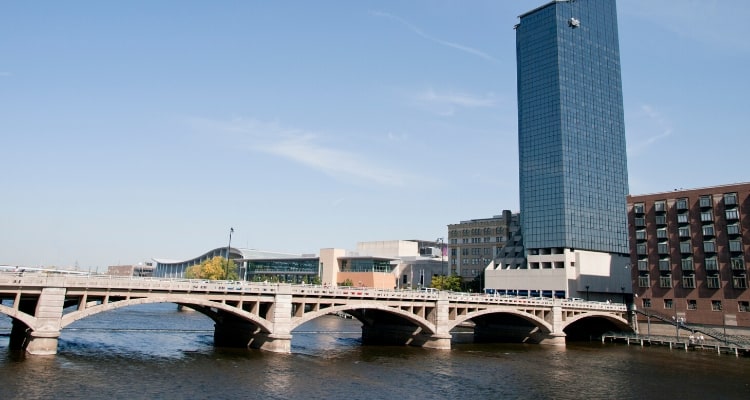 Despite boasting a large population of over 1 million people, Grand Rapids, MI still gives off that small-town feel. From quaint little downtown boutiques to community events like the Eastown Street Fair, this big city offers everything you could want in a bustling metro area with all of the charm of a tiny village.
It's affordable to live here, with the median home value sitting around $180,000. The cost-of-living is also low, with prices on gas and groceries being significantly cheaper than the national average.
If you don't mind frigid temperatures in the winter, the weather in Grand Rapids offers plenty of variety for outdoor enthusiasts. You can walk and bike in the summer or ski and ice fish in the winter.
Museums, performing arts centers, craft breweries, comedy theaters, and more will keep you entertained year-round. Jobs and education are also booming here.
Final Thought
Choosing where you settle down after retirement doesn't have to be a challenge. Find a place that offers all of the activities you enjoy at a cost you can afford and get started on relishing in those golden years. You've earned it after all your hard work as a nurse.
Frequently Asked Questions
Where is the best city for a nurse to retire?

A nurse should retire at a place where they can do everything they want to do in retirement at a price they can afford.

Where is the best state for a retired nurse to live in?

Florida and Colorado are some of the most popular choices for a retiree according to WalletHub.
Related Article