Nurse Retirement Age: What is the Best Age for a Nurse to Retire?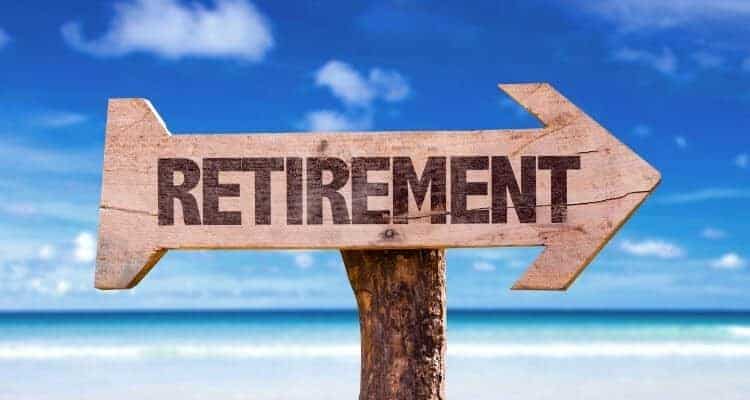 If you look at financial news, you're going to see something related to retirement.
Retirement is something we talk about from time to time (for a good reason), and today we're going to discuss nurse retirement age, specifically…
"What is the best age to retire from nursing?"
"How long do you have to work as a nurse before you can retire?"
"Is there an age limit for nursing?"
So, what is the best age for a nurse to retire? The average retirement age is 62, but the best age for a nurse to retire depends on the individual nurse. There are 3 criteria you need to check to determine when you should retire. 1) When you want to retire. 2) When you have enough money saved. 3) When you can no longer do your job.
*disclosure: this post may contain affiliate links. If you click and make a purchase, I may receive a commission. Please see my disclaimer.
Average Age of Retirement
According to Gallup, the average age of retirement in the United States is age 62 (source). A number that continues to keep going up.
It's been cited that one of the reasons the retirement age continues to keep going up is due to economic reasons and lack of retirement savings.
Factors that Affect Nurse Retirement Age
1. When You Want to Retire
As mentioned above for nurses thinking about retirement, one of the first places to start with is figuring out when you want to retire.
This question is essential because in a way asking and answering "when does a nurse want to retire" vs. "what is the best age for a nurse to retire" is dependent on when a nurse is ready to retire.
That might not make sense, so let me explain.
When asked, many Americans said they would like to retire by age 50-55 (source). With the FIRE (Financial Independence Retire Early) movement, many Americans are wanting to retire even earlier.
If you look at the actual retirement data, Americans are retiring in their 60s primarily related to not having enough saved up.
So, what does this mean for nurses?
It means that you need to know when you would like to retire because depending on how early you want to retire will determine how much you need to have saved up.
The last point I would like to add is that some nurses might not want to retire even if they have enough money saved.
The reason could be because they really enjoy their job, or they find a sense of identity with their job. Either way is fine it's just a matter of understanding what you want.
2. When You Have Enough Money Saved for Retirement
Knowing when you want to retire is one thing but having enough money to retire is another.
Almost 50% of Americans are not saving for retirement (source).
Instead, many Americans are opting to depend on social security for their retirement needs. For many reasons, this is not a good strategy.
Now you might then be wondering how much should a nurse have for retirement? It's going to depend on a lot of factors, and each nurse and their personal family and lifestyle situation is different.
In cases like this, a good financial advisor would be very helpful in making a personalized plan for you and your situation.
According to the Motley Fool, the average American worker will need about 80% of their income (before retirement) to live comfortably (source).
The article further mentions that social security for the average worker will probably only replace about half of that.
So, for example, based on their information, let's run a scenario where you're making about $100,000 a year pre-retirement.
You need $80,000 for retirement, but social security might only get you $40,000.
What that means is you will need to save enough to get the other $40,000.
For the sake of simplicity, we took out a lot of variables. But make sure to see a personal finance professional to dissect your financial situation properly.
3. When You Can No Longer Physically, Mentally or Emotionally Do Your Job
Nursing can be a very physically demanding job especially if you work on a med-surg floor.
It's so bad that the Washington Post has called nursing one of the most dangerous jobs in America (source).
Nurses are exposed to a hazardous work environment that ranges from hostile and combative patients to manual lifting and moving that no matter how good your body mechanic is, leaves you susceptible to injuries (source).
On top of the physical aspects of nursing, it can be a very emotionally and mentally draining job. There's a reason nurse burnout is so rampant in the nursing profession.
For the reasons mentioned above, you have to gauge your ability to continue doing your job.
If you want to keep working past retirement or you must keep working, there are some options.
If your current nursing job is too physically demanding, look at other nursing specialties such as nurse case management.
If your job is to emotionally stressful, try switching departments or to a different nursing specialty. While to a certain degree all nursing jobs are going to have stress…but not all stress is the same or the same to all nurses.
Final Thoughts
To brings this all together to answer the question "When is the best age to retire from the nursing profession?" it depends on you. First, figure out when you want to retire from nursing.
After that figure out how much money you're going to need in your retirement "nest egg" to be able to do it.
If you must work later into retirement age or if something health-wise happens, try to find another nursing job that might not be as physically demanding.
As always, thank you for taking the time to read our article.
If you found this article helpful, please share it on your favorite social media platform. Also, let us know what your thoughts are in the comment section below.
Frequently Asked Questions
These are some frequently asked questions related to the question "best age to retire from nursing."
Am I too old to be a nurse?

Can nurses retire at 55?

Yes, you can if you want to and have enough saved up in your retirement.

How old are nurses currently working?

The average age of registered nurses in the United States is 45-59. The actual average is around 50 years of age. The average age of nurses who are just starting is closer to 30 (source).
Related Articles to Nurse Retirement Age