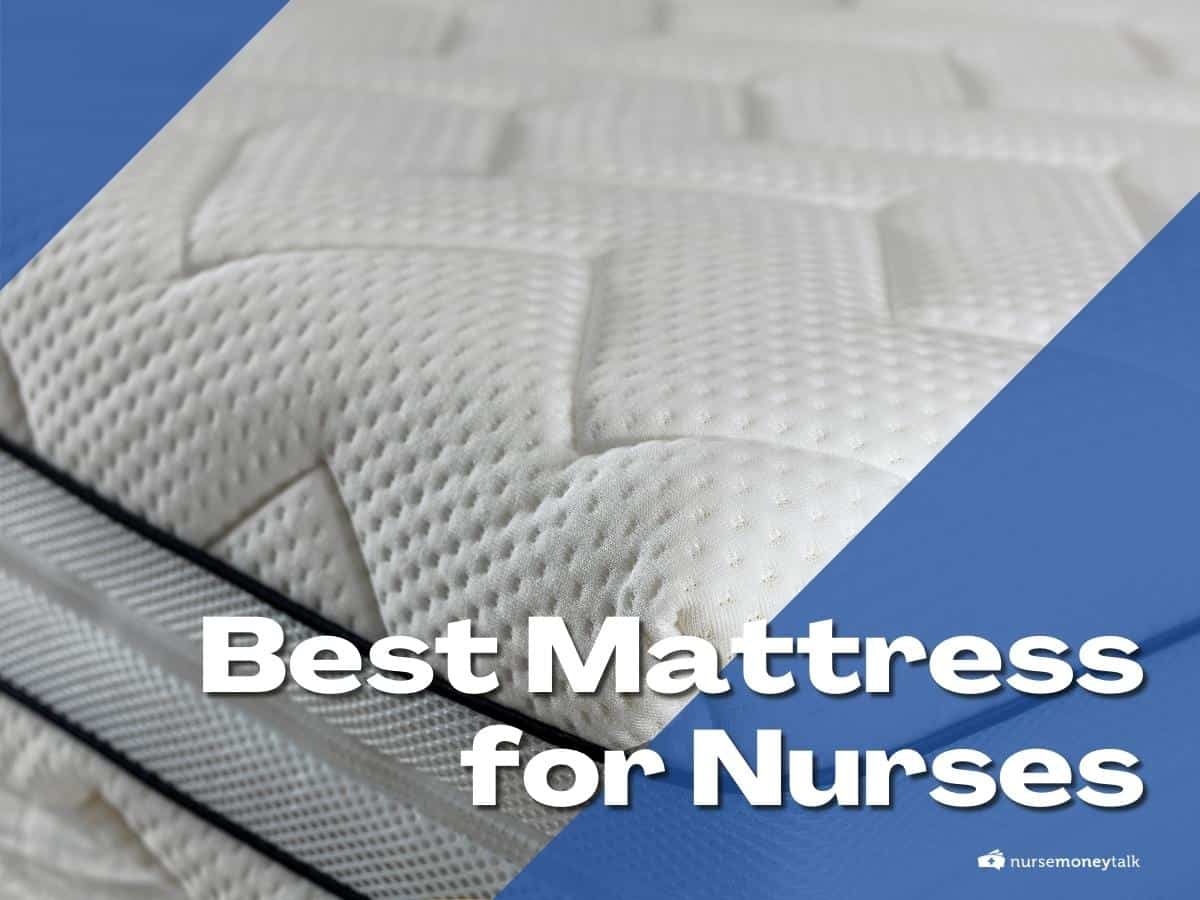 Getting a good night's sleep is essential for everyone, but it's especially important for nurses who work long hours and need to be well-rested to provide the best care possible.
The right mattress can make all the difference in helping nurses feel refreshed and ready for their shifts.
The Best Bed/Mattress For Nurses
There are a lot of options for mattresses. Many of them are really good, but many of them are also really bad.
The mattress that I generally recommend for people, and have been for several years now, is the sleep number bed.
The one I'm going to direct you to is specifically their updated Sleep Number P6 bed.
What sets the Sleep Number p6 smart bed/mattress apart is its promise of enhanced cooling and pressure relief, aimed at ensuring a rejuvenating sleep experience.
Its unique design incorporates soothingly cool layers that provide enhanced pressure relief, especially targeting areas like the shoulders, back, and hips.
For those who often find themselves waking up in the middle of the night due to overheating, this mattress has layers infused with 2x more ceramic gel that works to dissipate built-up heat.
This helps ensure a comfortably cool sleeping environment.
Support doesn't take a back seat either. The responsive layer ensures that users remain comfortably cradled, preventing any sinking feelings.
This plush support is especially noticeable in pressure-prone areas, offering much-needed relief.
A standout feature of the p6 smart bed/mattress is its dual-sided adjustability.
With the Sleep Number setting, individuals can customize the comfort and firmness on each side of the bed, a feature that's especially handy for partners with differing comfort preferences.
Moreover, the mattress is equipped with sensors that track your every movement, automatically adjusting firmness on both sides to ensure an uninterrupted sleep cycle.
To bring technology full circle, the Sleep Number p6 mattress pairs seamlessly with your smartphone.
The accompanying app not only allows you to track your sleep patterns but also provides an insightful SleepIQ® score.
This score, combined with personalized insights, serves as a roadmap to achieving better sleep hygiene.
Best Mattresses for Nurses
As a hardworking nurse, you deserve a mattress that provides the utmost comfort and support for your well-deserved rest.
Below, you'll find a curated list of the best mattresses perfectly tailored to meet your unique needs as a nurse.
1. Tempur-Pedic TEMPUR-Adapt 11-Inch Hybrid Mattress
The Tempur-Pedic TEMPUR-Adapt 11-Inch Hybrid Mattress combines the brand's legendary Tempur material with premium spring coils to offer both conforming comfort and supportive reinforcement.
This makes fir an excellent choice for nurses seeking a restful sleep.
This 11-inch mattress caters to all sleep positions by minimizing pressure points and providing proper alignment.
One of the standout features of this hybrid mattress is its premium knit cover with a cool-to-touch feel, ensuring that you can enjoy a comfortable and cool night's sleep.
The advanced fabric technology employed in the cover helps regulate temperature, keeping you fresh and at ease throughout the night.
In terms of durability and reliability, the Tempur-Adapt mattress offers an adaptive material that retains its shape, providing superior support and alignment year after year.
While the mattress may be more expensive than other options, it is widely known for its consistent performance and long-lasting quality.
It's worth noting that when you first unbox the mattress, it may take up to 72 hours to expand to its full size.
The expansion time may vary depending on the surrounding temperature.
Additionally, due to the memory foam construction and spring coils, this mattress is on the heavier side compared to others in its category.
Pros
Legendary Tempur material for pressure-relief and support
Premium spring coils for reinforcement and alignment
Cool-to-touch knit cover for added comfort
Cons
Expensive compared to other mattresses
May take up to 72 hours to regain its full shape
Heavier than other mattresses in its category
2. Dream Cloud 14″ Queen Mattress
Dream Cloud 14″ Queen Mattress
Invest in your sleep by choosing the Dream Cloud Queen Mattress, with its luxurious hybrid design and impressive sleep trial.
The Dream Cloud Queen Mattress features a blend of gel memory foam and innerspring coils that offer you a comfortable and supportive sleep surface.
This 14-inch mattress is designed with five layers of comfort, ensuring you get a good night's rest, especially after long nursing shifts.
The 365-night trial is generous and allows you ample time to decide if this mattress is the right fit for you.
Its CertiPUR-US certified foams ensure that you are sleeping on materials that are free from harmful chemicals and emissions, providing a healthier sleep environment.
However, some users have found the mattress to be a bit firmer than they expected. It might take some time for the mattress to soften and conform to your body.
Additionally, the mattress is quite heavy, which could make it difficult to move or adjust.
Pros
365-night home trial
Five layers of comfort and support
CertiPUR-US certified foams
Cons
A bit firmer than expected for some users
May take time to break in
Heavy and may be difficult to move
3. Nectar Queen Mattress 12 Inch
Sale
Nectar Queen Mattress 12 Inch
Upgrade your sleep experience with this medium-firm gel memory foam mattress, designed with cooling technology and pressure relief features.
Nectar Queen Mattress 12 Inch is a highly-rated gel memory foam option that helps you sleep cool and comfortably throughout the night.
Designed for all types of sleepers, this mattress adapts to your body, offering support and comfort where needed most.
With a 365-night home trial and a Forever Warranty, you have peace of mind when investing in this mattress.
When it comes to setup, some users report that it is not as easy as the video demonstrates, but once settled, the mattress offers a refreshing night's sleep.
The medium-firm feel may not suit all sleepers, but it is a popular choice for many.
The main concern with the purchase lies in the delivery process for sleep bundle products, but most customers are satisfied with the mattress itself.
If you are looking for a versatile, comfortable, and cooling mattress with long-term value, the Nectar Queen Mattress 12 Inch may be an excellent choice for you.
Pros
365-night home trial
Gel memory foam for cooling and comfort
Forever Warranty
Cons
May be too firm for some sleepers
Initial setup can be more complicated than shown in the video
Some users report issues with sleep bundle delivery
4. Beautyrest Black L-Class 14.5″ Plush Pillow Top Queen Mattress
The Beautyrest Black L-Class 14.5 offers nurses a luxurious sleep experience that caters to their need for comfort and support after long, demanding shifts.
This mattress features an advanced cooling system, utilizing plant-based technology to provide a cool and comfortable sleep surface—perfect for those who tend to overheat during the night.
One of the standout features of this mattress is the SurfaceTouch Gel Memory Foam, which works directly under the sleep surface to offer pressure relief from the moment you lie down.
This memory foam contours to your body for personalized support, regardless of your preferred sleep position.
Additionally, the Beautyrest Black L-Class mattress incorporates T3 Pocketed Coil Technology, providing enhanced support and absorbing energy to reduce motion transfer.
Its center zone construction offers targeted support where your body needs it most, allowing for a more restful and rejuvenating sleep.
However, it's important to note that the plush pillow top may not suit those who prefer a firmer sleeping surface.
Pros
Advanced cooling system with plant-based technology
SurfaceTouch Gel Memory Foam for pressure relief
T3 Pocketed Coil Technology for enhanced support
Cons
Expensive compared to other options
Heavy and difficult to move
May be too plush for some sleepers' preferences
5. Serta iComfortECO Firm Queen Hybrid Mattress
Serta iComfortECO Firm Queen Hybrid Mattress
The Serta iComfortECO Firm Queen Hybrid Mattress is an ideal choice if you're a nurse seeking a cool, comfortable, and sustainable mattress to help you get an uninterrupted and restorative sleep.
This sustainable hybrid mattress by Serta is designed to provide optimal support and comfort tailored to your individual needs.
The iComfortECO mattress specifically targets the back and thighs for overall pressure relief utilizing Terra Fusion Memory Foam made from 28% plant-based material, while EverCool Fuze Gel Memory Foam aids in temperature regulation.
The mattress employs an advanced 1000 Series 5-Zone Quad Coil Support System, made with 85% recycled steel, effortlessly adapting to your body to ensure ultimate satisfaction.
The Recycled Fiber Base not only enhances durability but aligns with the sustainable ethos of the mattress, giving you peace of mind and a guilt-free way to rest and recover after a long day.
Pros
Crafted with up to 70% sustainable materials
Provides targeted pressure relief and motion transfer reduction
Cool-to-the-touch and breathable cover
Cons
Limited 10-year warranty
Cover not removable for cleaning
Might be too firm for some preferences
6. Sealy Posturepedic 13″ Soft Memory Foam Mattress
The Sealy Posturepedic 13 with Cooling Cover Technology provides the perfect balance of support and comfort, which is essential for nurses who need a good night's sleep after long shifts.
The combination of soft and supportive foams helps disperse your weight more evenly across the mattress, ensuring a comfortable and personalized sleep experience.
What sets this mattress apart is the cooling cover technology.
The cover is designed with spun, cool-to-the-touch fibers that help promote a cooler sleeping experience, ensuring you wake up feeling refreshed and ready to tackle the day.
This feature is especially helpful for those who tend to sleep hot or live in warmer climates.
Antibacterial Surface-Guard technology offers superior protection, ensuring long-lasting durability and years of quality sleep.
The easy setup process involves simply unboxing, unrolling, and allowing the mattress to regain its full shape within 24 to 72 hours.
While this Sealy Posturepedic memory foam mattress is a fantastic option for nurses, heavier individuals may need to consider additional support, and it's worth noting that it's only available in a queen size.
Pros
Luxurious comfort with soft gel memory foam feel
Disperses weight evenly for a personalized experience
Cooling cover technology promotes a refreshing sleep
Cons
May take 24 to 72 hours to regain full shape
Heavier individuals may need additional support
Only available in queen size
7. Kin By Tuft & Needle 10-Inch King Mattress
The Kin By Tuft & Needle 10-Inch King Mattress is designed to provide nurses with a comfortable and supportive sleeping experience.
It's constructed with two layers of open cell T&N Adaptive foam that not only offer excellent breathability, but also help with pressure relief.
This mattress is created to give you the perfect combination of softness and firmness needed for a rejuvenating sleep.
One of the standout features of this mattress is its open-cell Adaptive foam technology.
This innovative material is designed to sleep cooler and provide more support than traditional memory foam and latex.
For nurses who work long hours and need a good night's sleep, having a mattress that stays cool and offers ample support is truly essential.
In terms of affordability, the Kin By Tuft & Needle mattress does not disappoint.
By focusing on the core aspects of comfort and support, this mattress delivers a high-quality product at a price that's accessible to everyone.
Plus, with its 100-night sleep trial and 10-year limited warranty, you can have peace of mind during your purchasing decision.
Pros
High-quality innovative foam for cooler sleep and better support
Affordable without compromising comfort and support
Risk-free 100-night sleep trial and 10-year limited warranty
Cons
Initial firmness may require an adjustment period
Built-in cover cannot be removed for cleaning
Heavier than some competing mattress options
8. Sealy Hybrid Bed in a Box
Sealy Hybrid Bed in a Box
Experience a rejuvenating night's sleep with the Sealy Hybrid Bed in a Box, designed to cater to your unique sleep style and body type.
This 12-inch, medium feel, Queen Size mattress by Sealy offers all the comfort and trusted quality the brand is known for, now conveniently packaged as a ready-to-ship Mattress-in-a-Box.
As a nurse, your long work hours can be taxing, and you deserve a good night's sleep on a mattress that suits your specific body and sleep preferences.
Combining premium memory foam infused with CopperChill™ technology and a layer of supportive coils, this hybrid mattress conforms and responds to your individual shape while providing extra support.
The CopperChill™ technology ensures a cooler and more comfortable sleep, which is essential for nurses working long hours and in need of a refreshing rest.
Setting up this Sealy mattress is hassle-free. Once it arrives, simply place it on your bed, remove the packaging, and wait for it to decompress and expand into its comfortable shape.
The mattress also includes a 10-Year Limited Warranty, giving you peace of mind with this investment.
However, if you prefer a softer or firmer mattress, this medium feel option may not cater to your preferences.
Additionally, it may take some time for the mattress to fully decompress upon unpacking.
Nonetheless, the Sealy Hybrid Bed in a Box offers promising support and comfort for nurses seeking a rejuvenating night's sleep.
Pros
CopperChill™ technology for a cooler sleep
Supportive combination of memory foam and coils
10-Year Limited Warranty
Cons
Might be too firm for some sleepers
Limited choice of firmness options
Requires decompression time upon unpacking
9. Purple Plus Queen Mattress
Sale
Purple Plus Queen Mattress
This mattress is an excellent choice for nurses seeking premium comfort and support during their much-needed rest periods.
The Purple Plus Queen Mattress offers a unique combination of cushioning and support, making it a great option for nurses who need quality sleep after long shifts.
The mattress features 2 inches of Purple's GelFlex Grid technology along with an additional layer of premium foam, ensuring pressure points such as hips and shoulders are cradled while keeping the rest of your body in proper alignment.
Temperature regulation is crucial for a comfortable night's sleep, and the Purple Plus Mattress excels in this area.
With a built-in Grid featuring over 1,400 air channels and breathable foams, the mattress provides a perfect sleep environment without overheating.
It's also hypoallergenic, making it a safe choice for those with allergies or sensitivities.
One aspect that might require an adjustment for some users is the unique feel of the GelFlex Grid technology, which differs from traditional memory foam or innerspring options.
However, this innovative Grid has been praised for its ability to adapt and respond instantly to a sleeper's movements, making it a worthy option to explore.
Pros
Innovative GelFlex Grid technology for enhanced cushioning and support
Temperature-neutral design with excellent breathability
Hypoallergenic materials and construction
Cons
Slightly higher price point than some competitors
May be challenging to move or transport due to weight
Potential adjustment period for those used to traditional mattress materials
10. Casper Sleep Element Mattress, Queen, Grey
The Casper Sleep Element Mattress is a top choice for nurses who need restful sleep after long shifts.
Its unique memory foam design provides the necessary comfort and support for a good night's rest.
With easy setup, simply take the mattress out of its box, place it on your bed, and watch as it expands to its full shape within 72 hours.
Moreover, this mattress adjusts itself to various sleeping positions, making it compatible with a majority of sleepers.
However, if you prefer a firmer sleeping surface, this mattress might feel too soft for your liking. On the other hand, those who love a plush feel will enjoy the cushiony support it offers.
It is important to note that the mattress may take longer to expand in cold temperatures, so it's best to let it decompress in a warm room for maximum results.
Pros
Fast decompression time
Memory foam for comfort
Suitable for most sleepers
Cons
May be too soft for some
Needs 24-72 hours to regain its full shape
Temperature affects expansion time
Buying Guide
As a nurse, finding the best mattress is crucial for your well-being and rest. Here are some factors to consider when choosing the right mattress for your needs.
1. Determine your sleeping position
Your preferred sleeping position will help you decide the right firmness level for your mattress.
Side sleepers typically require more contouring and pressure relief, so a medium-soft or medium mattress might be suitable.
On the other hand, back or stomach sleepers usually need a medium-firm or firm mattress for adequate support and proper spinal alignment.
2. Consider mattress materials:
Innerspring: These mattresses have a layer of steel coils that provide support and bounce. They offer a cooler sleeping surface as they allow air to circulate easily, but may not provide much contouring or pressure relief.
Memory foam: This material offers excellent pressure relief and conforms to your body shape. However, some users find memory foam too hot as it retains heat, but newer models come with gel-infusion technology to combat this issue.
Latex: Latex mattresses offer a balance of support and pressure relief. They might be a good option if you want a mattress that can conform to your body without the sinking sensation of memory foam. Natural latex is durable, hypoallergenic, and eco-friendly, but it can be costly.
3. Think about your budget
Determine how much you're willing to spend on a mattress.
Remember, higher-priced models may come with more features, but that doesn't always mean they're better.
Look for a mattress that meets your requirements and suits your budget.
4. Check trial periods and warranty
When comparing mattresses, take note of the trial periods and warranty terms.
A longer trial period allows you to test the mattress at home and ensure it truly suits your needs, while a good warranty protects your investment.
Remember, the best mattress for you will ultimately depend on your personal needs, preferences, and budget.
Take your time and explore different options to find the perfect fit for your restful sleep.
Have You Read These Yet?
Frequently Asked Questions