15 Best Father's Day Gifts for Nurses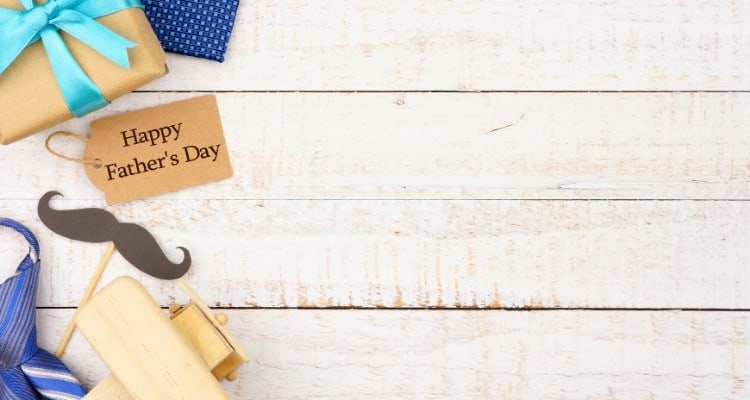 Father's Day is a day to celebrate any father or father figure that has played a special role in your life.
With nurses and other first responders working extra hard this year, they deserve a Father's Day gift that's extra special.
Here are 15 of the best gifts to give.
*Disclosure: This article on best father's day gifts for nurses may contain affiliate links. If you click and make a purchase, I may receive a commission. For more info, please see my disclaimer.
15 Best Father's Day Gifts for Nurses
1. Fitbit Versa 2
Nurses know how important taking care of your health is, which is why a Fitbit Versa 2 makes the perfect gift.
It can track things like heart rate, daily steps, and calories burned.
It also allows the user to answer phone calls and texts and listen to music, eliminating the need to carry around a cell phone while at work.
The band comes in six different colors so it coordinates with many outfits and the watch face has a large display that's easy-to-read, even in the darkest conditions. ➜See Best Fitbit for Nurses
2. Apple Watch
Apple users will love the gift of an Apple Watch because it offers all the great features that Apple products are known for in a convenient, wearable device.
The screen is 30 percent larger than previous Apple Watches and the screen features an always-on Retina display. There's also an ECG app which tracks the heart rate.
The adventurous nurse will appreciate the built-in compass and water-resistance capability of up to 50 meters.
It also instantly turns into a streaming device that gives the user access to over 60 million songs through the Apple Music library. ➜See Best Smartwatches for Nurses
3. Bose SoundSport Wireless Ear Buds
Listening to music is a great way for any nurse to unwind after a long shift, and these Bose SoundSport Wireless Ear Buds make that even easier to do.
They're sweat and water-resistant so they're ideal for working out. The ear tips come in three sizes -small, -medium, and -large- for a custom fit.
The Bluetooth capability and built-in microphone makes it easy to answer phone calls in between listening to songs.
This wise investment also comes with a special app feature to track them if they're lost called "Find My Buds."
4. Beard Grooming and Trimming Kit
A professional appearance is a must for any nurse and this Beard Grooming and Trimming Kit makes staying clean-shaven easy.
It comes with everything needed to clean, shave, trim, and groom a beard.
All of the ingredients in the beard oil and beard balm are natural and organic and don't leave behind a strong scent.
The beard brush is made from 100 percent boar bristle which is perfect for smoothing and taming unruly hairs.
Professional beard scissors stay sharp and tackle any unwanted hairs, leaving a beard neatly groomed and looking great.
5. 7-Piece Italian Crafted Glass Decanter & Whisky Glasses Set
Any nurse that enjoys entertaining will think this 7-Piece Italian Crafted Glass Decanter & Whisky Glasses Set is the best gift they've ever received.
The large decanter is square-shaped and holds 33.75 ounces of liquid. The 6 glasses are heavy and well-made and hold 9.5 ounces of liquid.
A fluted stopper keeps liquids from spilling in the decanter.
The diamond detailing on the decanter and glasses makes this set perfect for formal entertaining but casual enough for every day use. The lead-free glass is a bonus safety feature.
6. The Ridge Minimalist Hard Wallet
The compact design of The Ridge Minimalist Hard Wallet makes it an ideal choice for any nurse to carry while they're at work. It holds up to 12 credit cards and has a money clip for storing bills.
The solid metal body protects credit cards and other personal information from being stolen by RFID chip readers. The wallet is also backed by a lifetime warranty so replacement parts are never a concern.
Sleek, sophisticated, and durable- this wallet is the perfect upgrade from a traditional leather wallet that's both bulky and unsafe.
7. Wood Stain Organizer for Dad
Help the man in your life keep all of their essential items neat and tidy with this Wood Stain Organizer for Dad.
This unique organizer can be customized with different stain colors and engravings, making it a thoughtful and useful gift for any dad.
The organizer has spots to store glasses, keys, a cell phone, wallet, watch, rings, and more. It's easy to assemble and crafted from high-quality Baltic Birch plywood.
After a long work shift, it's the perfect spot for dad to store all of his personal items for safe keeping.
8. Engraved BBQ Set
Grilling has become somewhat of an art form for men in recent years, with many dad's donning personalized aprons and using special tools to cook up the best barbecue on the block.
This Engraved BBQ Set will help the dad in your life race to the top of the list of neighborhood grill masters.
This set comes with 2 skewers, a fork, spatula, tongs, grill brush, and 4 corn holders. Many of the items can be personalized with laser engraving, making it an extra-special gift.
There's even a carrying case included for added convenience.
9. 3-1 Charging Stand
Dad can conveniently charge all of his favorite Apple products in one spot with this 3-1 Charging Stand.
There's a place to charge a cell phone, smartwatch, and Airpods and it's compatible with most Apple devices, including the iPhone and Apple Watch.
A sturdy silicone construction safely holds all devices. Devices can also be used while on the stand for streaming movies and television shows or using Face Time.
It comes in 4 sleek color choices, including basic black and cool space gray. It's also easy to put together and only requires two screws.
10. 11 in 1 Beer Opener Survival Credit Card Tool
For a small gift that packs a real punch, consider gifting this 11 in 1 Beer Opener Survival Credit Card Tool to the dad in your life.
This little gadget offers several handy functions, including a:
Can opener
Sharp edge
Flat screwdriver
Ruler
Beer bottle opener
4 position wrench
Butterfly wrench
Saw blade
Direction auxiliary indication
2 position wrench
Lanyard hole.
Crafted from durable stainless steel, the 11 in 1 Survival Credit Card Tool conveniently fits inside of a pocket or wallet for easy storage.
It's useful for both emergency and everyday use.
11. Microsoft Surface Pro
A lightweight and portable laptop, the Microsoft Surface Pro easily converts to a tablet for added convenience. Travel nurses will particularly find it useful as it's easy to bring along on trips.
Its slim design gives it a sleek look, but it's one of the fastest laptops made by Microsoft.
One full charge yields over 10 hours of battery life so it can get a nurse (think home health nurse) through an entire shift without needing to be charged.
It also converts to studio mode so the user can draw or play with a stylus (sold separately).
12. Kindle E-Reader
If the dad in your life enjoys reading, this Kindle E-Reader will make a great gift for him.
It's the perfect size at 7 inches and features an option to switch from white light to amber light for those that prefer a warmer shade while reading.
It's also waterproof so it can be used by the pool, in the tub, or at work where spills are more likely to occur.
With Bluetooth compatibility, books can be listened to discreetly while traveling, on a break at work, or from the comfort of the reader's own home.
13. DeWalt Hammer Drill Kit
Every dad needs a good drill and this DeWalt Hammer Drill Kit is one of the best on the market.
DeWalt has become synonymous with high-quality tools and this drill kit is no exception. It's lightweight and cordless and comes with two rechargeable batteries.
Its compact design fits into tight spaces while the bright LED light makes it usable in dark conditions.
Although it's lightweight and compact, it's powerful motor lasts a long time and can drill at a speed of up to 1650 RPM.
As a side note, it's also backed by a 3-year limited warranty.
14. Power Recliner by Ashley Furniture
After working a long shift, there's nothing better than coming home to a nice, cozy recliner to put your feet up on.
This Power Recliner by Ashley Furniture is a gift dad will thank you for over and over again.
Offered in two great colors- rich chocolate and soft gray- it's a chair that will fit with any home decor.
The single motor recliner includes a power button for easy operation. There's also a backup battery in case of a power outage. It's also generously-sized so it fits even the tallest dad's.
15. Ray-Ban Sunglasses
Nurses know the importance of protecting your eyes from the sun's harmful UVA rays, so these Ray-Ban Sunglasses make a smart and thoughtful gift.
They're also ideal for night shift nurses who need to block out the sun while driving home so they can sleep better.
These sunglasses are offered in 43 colors, so there's something for every taste.
The frames are constructed out of nylon so they're both durable and lightweight. The lenses are scratch-resistant so the wearer can see clearly at all times. They're sure to become the recipient's go-to accessory.
Father's Day Gift Buying Guide for Nurses
1. Travel-Friendly
Many nurses have to travel for work, which means the items they own must be travel-friendly. This is especially true for technology items like laptops and smart watches.
Laptops are allowed on airplanes, but they must be removed from a bag and placed in a separate bin for x-ray screening before being allowed to board with it.
Laptops that are compact and lightweight are best for traveling with, especially if they need to be used while during a flight.
Space is very limited on airplanes and a bulky laptop can take up space otherwise needed for leg room, food trays, and other carry-on items.
2. Health and Wellness
Nurses are often more health-conscious than the average person because they've seen firsthand the harmful effects not taking care of your body can have on your health.
Gifts that help a nurse achieve optimal health and wellness are both thoughtful and practical.
Fitness trackers are one of the best gifts to give a health-conscious nurse. They can keep track of things like:
Heart rate
Blood pressure
Heart rhythm
Calories burned
Sleep patterns
Daily steps
3. Charging Devices
With so many different devices being used by the average person on a daily basis, having the ability to charge them quickly and conveniently is a must.
Also, devices that hold a charge for longer are preferred over devices that only last a few hours on a full charge.
Wireless charging devices give a user the ability to charge their devices anywhere, even if they don't have access to an outlet.
These are especially useful for nurses who may not have access to outlets at work because they're being used for computers and medical equipment.
4. Night Shift Nurses
Night shift nurses have different needs than day shift nurses because their sleep schedule is completely opposite from what most people practice.
There are several ways that night shift nurses can adjust to this unusual sleep schedule, including:
Limiting their caffeine consumption before the end of their shift
Wearing sunglasses on the way home from work to keep things dark
Putting light-blocking curtains in their bedroom
Working the same shift all the time so they aren't constantly having to readjust their sleep schedule
Using devices that block blue light before bed
Getting enough exercise and eating a healthy diet
Many of the gifts mentioned above would be helpful with achieving these goals so night shift nurses can get better sleep.
5. Safety
Since many nurses work odd hours, they may leave work late at night, leaving them more at risk of becoming the victim of a crime.
Any gift you can give to help keep the nurse in your life safe is one that is sure to be appreciated.
Survival tools and items with technology like GPS and emergency assistance are some great options.
Wallets that block RFID chip scanners are also useful for nurses working odd hours because it helps prevent identity theft by keeping scammers away from their personal information.
6. Comfort
Nurses work long, hard shifts and deserve a break.
Especially now when many are working even harder and in less-than-ideal conditions, they need comfort when they get home.
Some great ways for a nurse to unwind after a long shift include:
Enjoying an alcoholic beverage
Kicking their feet up on a recliner to watch a movie
Reading a book on their e-reader
Pampering themselves with some grooming tools
Playing their favorite game on a tablet or other device
7. Downtime Essentials
When nurses aren't working, they want to tackle projects around the house or relax with their loved ones.
Most guys enjoy working with their hands and want to own the latest tools so they can try them out on home improvement projects.
Tools are a great Father's Day gift, and it's a gift that will be used for many years.
Tools that should be in every man's tool box include:
Hammer
Screwdriver
Tape measure
Wrench
Pliers
Drill
Saw
Level
Utility Knife
8. Entertaining
Guys like to entertain, too, so entertaining gifts are a great idea for Father's Day.
A nice decanter set, furniture for extra seating, and technology to stream movies or television shows are just a few ideas.
Keep the gift recipient in mind when purchasing entertaining gifts.
If they aren't one to drink alcohol, a decanter set wouldn't be ideal. If they love technology and are always streaming the latest movies and television shows, then a new laptop would be an excellent gift idea.
9. Rugged
It's no surprise that men are a little tougher on their stuff than women are.
Gifts that are rugged and built-to-last are best for those men that enjoy working outdoors or don't take the extra time to properly care for their things.
Items made from durable materials like steel, rubber, and wood are your best bet when purchasing gifts that will last a long time. Items that are easy-to-clean and don't need a lot of extra care area also ideal.
10. Accessories
While some guys enjoy shopping, not all do.
If an item you're purchasing as a gift requires certain batteries or needs to be cared for in a particular way, be sure to include those accessories along with the gift.
This will save the recipient the trouble of having to buy these items and will make them more likely to use the item you gave them instead of it ending up in junk drawer.
You also might want to include specific instructions on how to care for the gift.
Final Thoughts
Whether the dad in your life is hard to buy for or is happy with any gift they receive, all of these gifts are sure to be appreciated by the recipient.
Take the guess work out of Father's Day gift-buying and purchase one of these thoughtful and useful gifts.
Related Article