5 Best Smartwatches for Nurses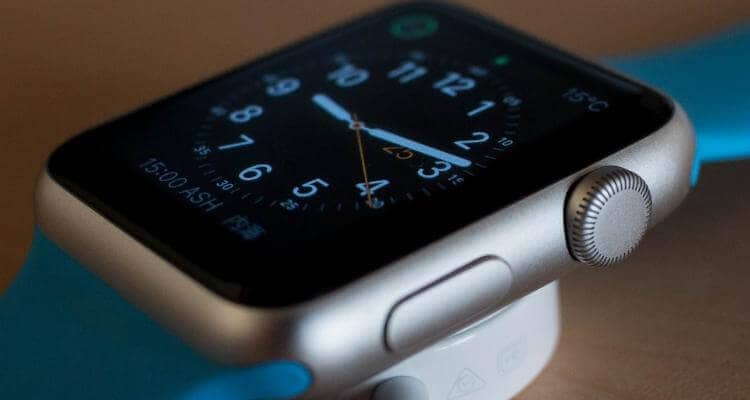 This article is going to cover the best smartwatches for nurses. A deeper dive to our previous article about the best watches for nurses.
I was thinking about that article the other day while I was working and as I looked at my wrist, it donned on me that half the time I wear a smartwatch to work.
There are a lot of reasons why smartwatches are one of my favorite types of watches to wear (I'll get to those at the end).
If you're like me and you prefer smartwatches than this article is for you.
As far as smartwatches for nurses is concerned, you'll be hard-pressed to finder ones better than the ones we mention in this article.
*disclosure some of the links on this site are affiliate links.
Best Smart Watches for Nurses
If you're not wanting to go through a bunch of lists and are just looking for the top picks than let me start off by telling you about the smartwatch I use regularly.
It's the Fossil Gen 4 Explorist (check it out on Amazon).
Sale
Fossil Men's Gen 4 Explorist HR Heart Rate Stainless Steel and Silicone Touchscreen Smartwatch,...
Smartwatches powered with Wear OS by Google work with iPhone and Android Phones
Heart Rate & Activity Tracking using Google Fit; Built-in GPS for distance tracking; Swimproof design 3ATM; Google Assistant built in - it's your own personal Google, always ready to help; Speed...
This is one smart watch - receive smartphone notifications and app alerts, manage your calendar, control your music, download third party apps (your favorite ride-sharing or music apps), and customize...
The one I'm showing you has the silicone straps which for working as a nurse is a lot better than the metal strap Fossil Gen 4 Explorist that I wear.
The primary reason is that for work purposes the silicone strap is a lot more comfortable for when you're doing patient care.
Not to mention continual hand hygiene or washing the watch after patient care (don't worry the watch is swim-proof) the metal strap starts getting worn out quickly.
I know this, but I prefer metal straps, so I just wear them until it starts looking bad enough and then I'll switch them out.
That's the other nice thing about this watch is not only do you have a ton of options for watch faces, but you can get all sorts of different straps that Fossil makes for it.
It's an Android smartwatch, so the watch is better suited if you have an Android phone.
The watch does the usual smartwatch functions such as heart rate tracking, GPS, notifications, voice text and so much more. I get through a full day of use without a problem.
I'm a fan of fossil watches in general, and this is one of the ones I wear regularly.
Besides the watch itself, one of the things that I like about fossil watches is how helpful the Fossil store is if I have a problem.
This watch looks and feels like a quality product, and unfortunately, you're going to see that reflected in the price. This watch is not cheap.
The Fossil Gen 4 Explorist is for Android users. If you have an iPhone than I think it goes without saying to get the Apple Watch Series 5….
For all the reasons we'll mention later. If you have an iPhone, it's probably close to a no brainer.
Notice I said close to a no brainer because there are still some great smartwatches out there and we're going to start with the…
1. Fitbit Versa Smartwatch
Fitbit Versa Smart Watch, Black/Black Aluminium, One Size (S & L Bands Included)
Includes all Versa Lite Edition features plus: store and play 300 plus songs, utilize on screen workouts that play on your wrist and coach you through every move and track swim laps and floors climbed
Track your all day activity, 24/7 heart rate, & sleep stages, all with a 4 plus day battery life (varies with use and other factors), charge time (0 to 100 percent): two hours. Slim, comfortable...
Use 15 plus exercise modes like run or swim (Fitbit versa is water resistant to 50 meters, we do not recommend wearing charge 3 in a hot tub or sauna.) To record workouts and connect to Smartphone GPS...
The Fitbit Versa is primarily geared towards tracking activity and exercise.
It can record data for sleep quality and heart rate to help you monitor your own health.
As a nurse, you know how important it is to stay in shape.
Sleep plays a significant role in your preparedness for work, especially if you're working long or irregular shifts.
The Fitbit Versa can sync with your smartphone to send you notifications for texts and other communications straight to your wrist.
If your phone is an Android device, then you can send replies as well.
Depending on your workplace policies, this may be an appropriate way to manage job-related conversations and information.
The Fitbit Versa (on Amazon.com) can track other personal health information, such as the distance you walk over the course of a day, and how many stairs you climb.
All of this comes with a simple interface and one button that controls all of the modes and settings. There are plenty of apps and storage for songs.
These features are less useful for work, but if you want a watch that you can use for going to the gym, the Fitbit Versa can fill that role as well.
2. Apple Watch Series 4
The Series 4 is the latest edition of Apple's smartwatch line. It offers numerous improvements over the last model, the Series 3.
The display, the loudspeaker, the accelerometer, and the gyroscope are all expanded or made more sensitive.
It's made with an aluminum case that is resistant to water, although it's not a good idea to bring it too deep into any liquid or leave it in for too long.
It has two different sensors for your heart. It's loaded with an assortment of health and safety monitoring tools.
For example, it has heart rate monitors plus most of the bells and whistles you would expect from a smartwatch of this price range.
There are monitors for a heart rate that is too low or too high.
For working out, the Series 4 can automatically detect the workout you are carrying out and record your movements and accomplishments accordingly.
When it comes to tracking workout activity, you can set your goals against your friends or global leaders or tap into coaching to help you achieve the right form.
On top of that, you have access to the whole Apple ecosystem of apps and services.
The Apple Watch Series 4 (on Amazon) is the culmination of Apple's efforts to build an all-purpose smartwatch, and plenty of its features are beneficial to nurses.
Plus, because this is the latest model, it is clear that Apple will support it and roll out new software over the coming months to increase its value.
3. Apple Watch Series 3
The Series 3 is no less a suitable product. The areas where it differs are not significant for nursing.
For example, the loudspeaker is less powerful than the Series 4, but it isn't enough to make a difference for anything but playing music out loud.
The screen is not as large, but you can still see everything that you need to see and tap for notifications and updates.
The watch will vibrate and alert you when there is anything that needs your attention.
Most importantly, the Series 3 is significantly cheaper than the Series 4.
In terms of value, it offers a better proposition because it comes with all of the same software and access, including GPS.
There is nothing that you lose, aside from the prestige of having the latest and greatest model of an Apple product.
The case is actually thicker on the Series 3, so it will hold up better to the impacts and blows that might come throughout the workday.
You can get it in either a Small/Medium or Medium/Large size. Often, you get can it on a discount from its list price because it's one model behind the current release.
For significant savings in cost, you wind up with everything you need.
I want to add that for both the Series 4 and the Series 3 the straps are changeable. So if you want to accessorize it would be easy to do.
4. Samsung Gear Sport
As the name implies, the Samsung Gear Sport is first and foremost a support device for Samsung phones.
It has some extra features that are only compatible with Samsung smartphones.
If you like the look and function of the Gear Sport, but you don't have an iPhone or a Samsung Android phone don't let that deter you.
The Gear Sport will function with both Android (non-Samsung) and iOS phones. Samsung has also set the Gear Sport to control a wide variety of smart devices.
The Gear Sport can interface with your Samsung TV and other smart home appliances like lights and locks. It has all the usual fitness and health tracking tools, including heart monitoring.
It is unlikely that there will be anything you can interface with at work so this will depend entirely on whether you already own some existing gear you can control with the watch.
The onboard software also includes Samsung Pay, a near-field communication tool that can save your payment methods and apply them at participating retailers that have compatible systems.
Samsung has balanced the utility of support software with a variety of health-oriented tools and the smart-home connectivity.
While it is specialized, the Samsung Gear Sport has quite a few features that make it unique among a crowded field of competitors.
The Gear Sport (available on Amazon) is also fairly durable so it will hold up well at work.
Note that it comes in several colors and not all models are available with Bluetooth. If you do want to use Bluetooth, its effective range is about 30 feet with a paired device.
Any longer and you risk breaking the connection.
5. Huawei Watch 2
Sale
Huawei Watch 2 Classic Smartwatch - Ceramic Bezel- Black Leather Strap(Us Warranty)
Built-in GPS and continuous heart rate: monitor your heart rate and track your workout routes without your phone
Scientific sleep tracking: HUAWEI TruSleep keeps track of light, deep and REM sleep stages to make your sleep truly restful
Workout Coach: get real-time guidance and workout data such as recovery time and Vo2 Max. Qualcomm MSM8909W, 1.1 GHz
In many ways, the Huawei Watch 2 is similar to the Fitbit. It has a sleep and heart monitor. Along with smartphone connectivity, a workout coach for your exercise, and Google Music compatibility.
It also has a built-in NFC app as well as Google's virtual assistant services. The Huawei Watch 2 has some useful extras, too.
One of those is the ability to change the power consumption for the watch.
This will help you ensure that it can make it through a long shift or on-call period, something that other watches sometimes struggle to manage.
It has a fairly powerful CPU as well, the Qualcomm MSM8909W.
While you might not necessarily care about the model of the CPU, what you should know is it will keep the Huawei Watch 2 from lagging or crashing when you need it.
If you already own a Huawei phone, then you can achieve better connectivity and software crossover with the Watch 2 than with a different phone manufacturer.
Similar to the Samsung Gear Sport with Samsung phones.
6. Fossil Sport
Sale
Fossil Women's Gen 4 Sport Heart Rate Metal and Silicone Touchscreen Smartwatch, Color:Blush Pink...
Smartwatches powered with wear OS by Google work with iPhone and Android phones. RECOMMENDED CARE: Spot clean with a clean, damp washcloth.
Heart rate and activity tracking using Google fit; Built-in GPS for Distance tracking; swimproof design 5Atm; responses from Google assistant - it's your own personal Google, always ready to help;...
This is one smart watch - Receive smartphone notifications and app Alerts, manage your calendar, control your music, Download third party apps (your favorite ride-sharing or music apps), and customize...
The Fossil Sport like a few of the other options is based around the Google suite of services. That means Google Pay, Google Music, Google Assistant, and so on.
These will be more useful to you if you already use Google services, so the Sport is better for nurses with Android phones.
It will still work with an iPhone, but you won't get as much service crossover.
In terms of battery life, it does very well with a 24-hour life span under low to moderate usage. It comes with a rapid charger so you can top it off quickly.
If you don't find the existing software to be enough for you, it has full access to Google's Play store. That opens up a lot of options for expanding the watch's functions.
For the most part, step tracking and GPS, along with texting, will cover all of your needs during work.
It does have the ability to track your heart rate continually so that you can get an accurate picture of its range over the course of the day.
The Fossil Sport (available on Amazon) makes a nice introductory smartwatch for a nurse.
It has a good number of features, but it isn't overwhelming, and the menus are clear.
It also doesn't cost as much as most of its competition so you check out and see if a smartwatch is right for you without breaking the bank on something you might not like.
The watch is tough and splash-resistant, although it's not a good idea to immerse it in water.
What to Consider Before Buying a Smartwatch for Work
I mentioned a lot of good options on this list. While any one of these you pick would work, I do want to mention a couple of things you should keep an eye out when you're picking out a watch.
What Features are You Looking for?
Most of these smartwatches are not cheap. Therefore before making that kind of investment you need to make sure the watch has what you're looking for.
Is the Watch Waterproof?
This could also fall under what features are you looking for, but I wanted to pull this out separately just to highlight it. As nurses, we watch our hands a lot. You need to make sure that any watch you have can handle water and soap.
The Weight of the Watch
This watch is going to be on your wrist for 8-, 12-, or 16-hour shifts. Because of that, you want a watch that won't start becoming heavy or uncomfortable on your wrist
Frequently Asked Questions
The following are frequently asked questions.
1. What is the best Apple Watch for nurses?
The best apple watch for nurses is the Apple Watch Series 4. It's the newest Apple Watch available and has all the best features you would expect from a smartwatch.
Conclusion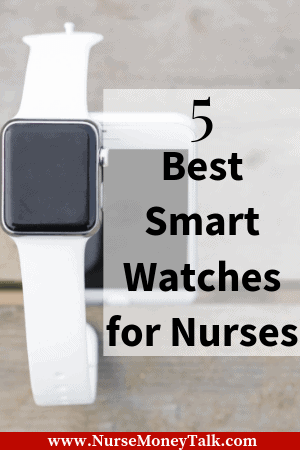 I hope this article on some really cool smartwatches for nurses has been helpful.
If you have any questions ask them below.
Related Articles on Smart Watches for Nurses
<! –– Convertkit General Email Optin Form Bottom of All Posts ––>