10 Best Watches for Nurses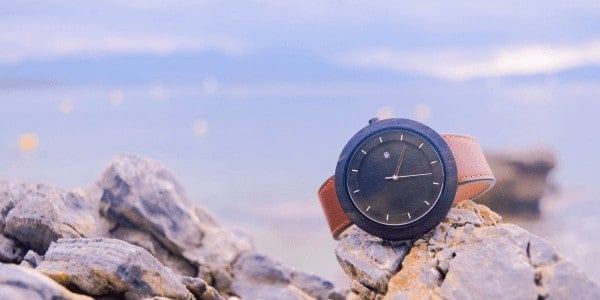 This article is about the best watches for nurses.
As a nurse, you could get by without a watch. But honestly, it really does make your job a little harder if you don't have one.
*disclosure: this post may contain affiliate links. If you click and make a purchase, I may receive a commission. For more info, please see my disclaimer.
Top Picks
Here are a few of our favorite watches from Amazon. Before I get to the list, we know how frustrating it is searching for the best product.
In this case, searching for the best watch, you can wear to work. If you're tired of looking and you have an iPhone get the Apple Watch.
The Apple Watch is one of the slickest watches on the market. Beautiful design and functionality you can't go wrong with the Apple watch.
If you don't have an iPhone or a smartwatch is not your thing. Then check out this Speidel watch…
The Speidel Women's Scrub Petite Watch is also water-resistant up to 160ft(50m) and comes with a 28mm stainless steel bezel.
Plus it has a silicone banding which means all that hand washing won't even phase this watch. It comes in 4 different band colors:
The cool thing about this watch is even though it has an analog face (it has hands) it can tell military time (24h).
It does this by time markers written on the front of the watch, so you never have to calculate military time in your head.
If you're wanting to "buy and run" the watches mentioned above would be our top picks.
If you're wanting more options than keep reading because we have a couple more watches for you to think about.
Best Watches for Nurses
1. Nurse Mates Women's Uni-Watch
This sleek women's watch makes a style statement while also providing comfort and ease. It's got an easy-to-read clock face that can also show military time.
The watch face features large numbers for ease of use; plus, it's water-resistant. The wrist strap is made of rubber silicone and adjusts between six and a half and eight inches in length.
It has a metal buckle, which makes securing the strap easier. This watch comes in two colors: black and white. The black version features pink numbers while the white one has black numbers. There is a step second-hand watch.
There are plenty of great things about Nurse Mate's Women's Uni-Watch. First of all, the adjustable wrist strap ensures that it will fit just about everyone.
Plus, the metal buckle is much sturdier than a plastic one. The numbers are pretty large, so it's quite easy to read with just a glance down at your wrist.
There isn't a loud ticking sound either; it's very quiet. The soft rubber band is very comfortable and won't bother nurses as they work long shifts. And this watch is super easy to clean; just rub it with a wet paper towel and a bit of soap.
On the downside, this watch shows the Nurse Mates logo on the watch face, which may be a turn-off for some people. There isn't a backlight so you can't read the time in the dark. An alarm function could come in handy for nurses, but this watch doesn't have that capability.
Another potential disadvantage is that it's a bit large for a women's watch. Moreover, the product description says that it's a water-resistant watch, but this doesn't mean that it's waterproof.
The watch face might cloud up when you wash your hands or get sweaty. Fortunately, this goes away a few hours after taking it off.
Pros:
Comfortable.
Easy to read watch face.
Water-resistant.
Cons:
It's large for a women's watch.
There's no backlight so it might be hard to read in dark areas.
Check out the Nurse Mates Uni-Watch on Amazon.com
2. Dakota Watch Mini Clip-on Watch
This watch from the Dakota Watch Company comes in 4 different colors:
Green
Gunmetal
Orange
Silver
The clip-on nature of the watch allows you to clip it on to your scrubs, your lanyard or even your nurse bag/backpack. The dial on the watch glows in the dark so you'll be able to see the time in patient rooms that are not well-lit.
Some of the nice features of this watch is it's water-resistant up to 100 feet. So if it gets dirty when you're giving patient care. You can wash it without a problem.
Another interesting thing about this watch is it has a bright LED light at the very top of the watch that would be perfect for being able to see something in a dark area.
Pros:
If you don't like things on your wrist this is a good solution.
Easy to read in the dark.
LED light at the top of the watch.
Cons:
Might not be a good fit for some nurses as a clip-on watch.
Changing the battery can be difficult.
If you're into watches that don't go on your wrist, the Dakota Mini Clip Watch is worth checking out on Amazon.com.
3. Apple Watch
Sale
The latest Apple Watch installment is the Series 4. It features a digital crown with haptic feedback, which is a fancy way of saying that the clock face is a touchscreen, just the same as iPhones.
It contains a gyroscope and accelerator so it can pick up your movement. It's got a 64-bit dual-core processor and speakers that have adjustable volume.
It has GPS capability and can read your heartbeat. The main goal of this watch is to keep you healthy and active.
The Apple Watch Series 4 has a longer battery life than its predecessors.
This is a watch that's actually water-resistant. It comes in a 40mm or 44mm size so both men and women can wear it comfortably.
It's also available in a variety of colors and styles such as:
Aluminum
Stainless steel
Pink
Gold
The fitness features on this watch are outstanding as it can help you track your goals, monitor your heart rate, and keep a record of your steps.
You can do several daily tasks hands-free such as make calls, listen to music, and read messages.
You should be prepared to shell out big bucks for this watch because it is wildly expensive. This is not a cheap for watch for nurses.
While most of these other watches can be found for under $30, if you can get the Apple watch series 4 for under $500 it would be a steal.
It uses the Apple operating system, so it's not the best choice if you have an Android.
With so many features, this watch could be distracting so it might not be ideal for a nurse. It's tempting to want to pay more attention to this accessory than a patient.
Pros:
This watch can do a lot of things (listen to music, read text messages, etc.)
It's a good looking watch.
It can serve as a fitness tracker.
Cons:
Many nurses will find it too pricey.
If you don't have an iPhone this is not the watch for you.
Non-tech-savvy nurses might find it too much to deal with.
Check out the Apple Watch Series 4 on Amazon.com.
If you prefer smartwatches then you should check out our other guide dedicated just to smartwatches.
4. Fitbit Alta
Fitbit Alta HR, Black, Large (US Version)
Get the power of continuous heart rate in Fitbit's slimmest design yet-all day, during workouts and...
With heart rate, you can better measure calorie burn, and use zones (Fat Burn, Cardio, and Peak) to...
With sleep stages powered by PurePulse heart rate, automatically track your time spent in light,...
The Fitbit Alta comes in two sizes: small (5.5″-6.7″) and large (6.7″-8.1″). There are also different colored bands to choose from such as black, blue, plum, teal, and pink.
It tracks your activity all day long, including your sleep. You can also hook it up to your smartphone, so it sends notifications straight to the watch.
The face of the watch measures just 0.61 inches, so it looks more as if it is a wristband than a timepiece.
The clock face is an OLED tap display, and the battery can last up to five days without recharging.
If you're into sleek style, the Fitbit Alta has got you covered. Its narrow design creates a smooth, streamlined look for men and women.
Something that nurses will appreciate is that this watch can go and go without needing a recharge, which is perfect for 12-hour shifts.
It stays out of the way and won't feel clunky on the wrist. The tap display makes it easy to read the time and your fitness stats.
Plus, you can customize the layout to your liking. If you have a larger wrist, there is an XL option that measures 8.1″-9.3″ in circumference.
Some downsides to keep in mind. This watch can be expensive so keep a lookout if you see it drop below $100.
Also, the smartphone compatibility only works if the phone is near the watch, so it's not the most reliable.
Another downside is that if you lose the Fitbit charger, you're out of luck since it's totally unique to the watch.
Over time, the clock face may pull away from the band, which might explain why the Fitbit has interchangeable wristbands.
Pros:
Comes in several different colors.
An excellent fitness and sleep tracker.
Easy to read display.
The watch lasts for several days.
Cons:
Many nurses will find this Fitbit expensive if all they're looking for is a watch that tells time.
Check out the Fitbit Alta on Amazon.com.
5. Casio Men's Sport Analog Dive Watch
Sale
The Casio Men's Sport Analog Dive Watch packs a lot of punch for its modest price tag. It's got 12/24-hour timekeeping capabilities as well as a Japanese quartz movement.
The clock face displays the day and date, and there are an hour, minute, and second hands.
It has a 44.6mm face and large, easy-to-read numbers. This watch has a rotating bezel and an easily adjustable comfort band.
This is an inexpensive option that looks as if you spent more money on it than you did. One of its most impressive features is its water resistance up to 330 feet deep.
For how cheap the Casio Sport's Watch may be, it's quite durable, which will come in handy for nurses on their 8-, 12-, and 16-hour shifts.
Not to mention moving and turning patients. It's also lightweight compared to other men's watches, so it's good for when you're running all over the place.
Since it's only suitable for men, we'll consider that a potential disadvantage. The watch was distinctly designed to be useful rather than being practical for nurses.
Part of the reason I say that is because there are lots of grooves and ridges on the band and clock rim that could harvest bacteria.
It only comes in black, so your choices are limited. There isn't a backlight so forget about reading the time in the dark.
Judging from the customer reviews, the band has a tendency to break down after not much use or time.
Pros:
An inexpensive watch option.
The watch is primarily black but does come in 3 different watch face colors (black, blue, green).
Cons:
The Watch could be difficult to clean because of all the grooves.
The watch band might start breaking down after a lot of use.
Check out the Casio Sports Watch available on Amazon.com.
6. Timex Unisex Weekender 38mm Watch
Sale
Here is a watch that will suit both men and women. There is the option of a 38mm and a 40mm case diameter plus many band styles to choose, from girly to basic to classic.
It can tell military time, and the dial has a backlight. The Timex Unisex Weekender 38mm Watch is water-resistant and has a scratch-resistant mineral case.
It also has the reputation of being a Timex watch, albeit one of the cheaper ones.
The backlight is a huge deal since none of the other watches on this list have one. You'll also appreciate that the band doesn't get caught on stuff and the case doesn't scratch easily.
It provides excellent quality for the price, and the quartz movement makes it very accurate.
This is a watch that looks as if you could take it for a day trip, but it still fits perfectly into a professional setting.
There are endless styles so a guy or a gal could tailor this watch to his or her personality.
One small negative is that the watch ticks a bit loud but not as loud as some other timepieces.
Another snag is that sometimes the second-hand falls between the indices on the watch face, which can mess you up when counting beats.
Pros:
Watch is water-resistant.
It has a backlight for easy viewing in low-lit rooms.
The watch can tell military time.
It comes in a multitude of watch band colors.
Cons:
Watch ticking can be loud.
Check out the Timex Unisex Weekender watch available on Amazon.com.
7. Swatch Women's Casual Watch
Swatch Women's Casual Watch
Collection: GENT STANDARD
Watch Size: 34mm plastic case with plastic dial window
Water Resistance: Up to 100 feet
Basic is anything but boring with this Swatch Women's Casual Watch. It's black and white design is timeless and goes with any attire.
The white dial has large, easy-to-read numbers so you can tell the time in a pinch, which is something busy nurses definitely need.
The plastic band and dial window are very durable and are also water-resistant up to 30 meters. This allows you to safely wash your hands at work without removing your watch.
It's a unisex watch that will look great with scrubs or any professional office attire.
Pros:
Large, easy-to-read dial
Classic design
Water-resistant for washing hands
Cons:
Difficult to switch out the battery
Strap is a bit long for thin wrists
Customer complaints of the buckle breaking easily
Check the price of the Swatch Women's Casual Watch on Amazon.com.
8. Casio Women's LRW200H-7BVCF Watch
Sale
A real show-stopper, this Casio Women's LRW200H-7BVCF Watch is one that is guaranteed to stand out on your wrist.
Its bright white band and watch face with colorful numbers will have you receiving compliment after compliment. Aside from it looking great, it's also sturdy and functional.
The resin band is lightweight, but it's also built-to-last. You won't have to replace it frequently because the band, watch face, and buckle are all made from high-quality materials.
It's water-resistant up to 100 meters, so you can do everything from washing your hands to swimming without having to take it off.
Pros:
Eye-catching design
Durable resin band
Water-resistant up to 100 meters
Cons:
Snug on larger wrists
Watch face is a bit small
White may discolor
Check the price of the Casio Women's LRW200H-7BVCF Watch on Amazon.
9. Speidel Medical Scrub Glow Watch
Speidel Medical Scrub Glow Watch
Lights Up for Low Light Situations: Featuring a 38MM, 5ATM case, The Scrub Glow Watch is easy to...
Designed for Nurses: The Speidel Scrub Glow Nurse Watch is perfect for doctors, nursing students,...
All Day Comfort and Durability: Made by Speidel, this watch is built to withstand the demands of a...
Versatile best describes this Speidel Medical Scrub Glow Watch.
It features both 12 and 24-hour markers on the large white dial, so you can pick how you want to tell time. The bright red second hand also makes taking things like a pulse reading much easier.
Another great feature of this watch is that the watch face lights up with just the push of a button. This is very useful when working in low-light conditions.
The hour and minute hands also glow in the dark for even more accuracy in darker conditions.
Pros:
12 and 24-hour markers
Watch face lights up
Glow-in-the-dark hands
Cons:
Condensation builds up when it gets wet
Light up feature doesn't stay on
Band isn't very durable
Check the price of the Speidel Medical Scrub Glow Watch on Amazon.
10. Fossil Men's Machine Stainless Steel Chronograph Quartz Watch
Sale
Fossil Men's Machine Stainless Steel Chronograph Quartz Watch
Fossil has always been inspired by American creativity and ingenuity. Since 1984, we've strived to...
A celebration of American manufacturing, Machine is a classic for a reason. This watch combines the...
Case size: 45mm; Band size: 24mm; quartz movement with chronograph analog display and date window;...
An attractive watch made from rugged materials is what you'll find with this Fossil Men's Machine Stainless Steel Chronograph Quartz Watch.
The band is made from ultra-durable silicone so it's meant to withstand more than just regular wear-and-tear. A hardened crystal lens protects the watch face from any cracks or scratches.
You can count more than just the seconds with this watch. You can also keep track of the days of the week, date of the month, and 24-hour time. Water-resistant materials allow you to wear it while working or playing.
Pros:
Sturdy silicone band
Scratch-resistant watch face
Track more than just the time
Cons:
Customer complaints of finish flaking off
Difficult to clasp buckle
Battery wears out quickly
Check the price of the Fossil Men's Machine Stainless Steel Chronograph Quartz Watch on Amazon.
11. Apple Watch Series 6
There are so many awesome features with this that you'll never want to take it off.
You can respond to calls and texts right from your wrist, which is very convenient when you're at work. It also allows you to listen to your favorite music, podcasts, and audiobooks.
Nurses know the value of living a healthy lifestyle, and this watch makes that a little easier. Track your heart rate, blood oxygen, activity levels, calories burned, and more.
The Always-On Retina display is particularly useful when working in dark conditions.
Pros:
Respond to calls and texts
Listen to your favorite music and more
Track fitness levels
Cons:
Needs to be charged up regularly
It May be difficult to set up for those who aren't tech savy
You need an iPhone to get full usage of the watch.
Check the price of the on Amazon.
12. Prestige Medical Watch
This watch features quartz movement and 24-hour dial. It can be read in military time, and it's water-resistant.
It has a stark white band, and the clock face is white with black numbers and a red second hand. It comes with a resin case, and the band is resin too. The full length of the watch is nine inches.
The Prestige Medical Nurse White Scrub Watch is an inexpensive option. The white color fits in well with a nurse's scrubs, and the wrist strap is comfortable.
In fact, the smooth resin band won't trap lots of bacteria as other watches with grooved wrist straps do.
The watch features red second hands that are easily distinguishable, which is good for taking vitals.
It features military time, which also comes in handy for nurses making their rounds. The numbers on the clock face are very easy to read.
There are a few negative aspects of this watch. Firstly, it only comes in one color: white. It's kind of bland and even looks a bit cheap.
The material doesn't look as if it has much-staying power so the holes for the buckle might tear after a few uses.
This watch doesn't have a backlight so you can't read it in the dark.
It's got a step second hand, which may bother people who would rather have a sweeping second-hand watch.
Men might be able to wear it if they have small enough wrists, but it's mainly geared towards women.
The biggest customer complaint about this product is its loud ticking sound, which can distract from counting heartbeats and is just a pain to listen to all day.
Why Should Nurses Wear a Watch?
As a nurse, you have a lot to think about, from tracking patients' vitals to documenting in patient charts (I'm sure you've heard this enough…if it's not documented it didn't happen).
Of course, giving out medication at the right time on top of everything else you're tasked to do.
With so much expected from your organization and of course time management is a must.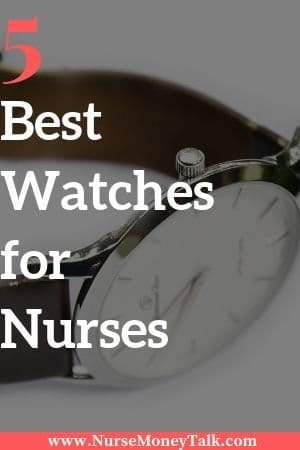 This gets us to the point of this article. A watch can make it easier to keep yourself organized and make efficient use of your time.
I know what you're thinking…
"Why do I need a watch when I have my smartphone?"
There are a couple of reasons why you need a watch even in the age of the smartphone.
Watches come without the added distractions of a smartphone clock.
Pulling out your phone doesn't look very professional.
With voice recording, video and camera capabilities of every smartphone it's a HIPPA violation waiting to happen.
Here's another question you're probably thinking about.
"Why do I need a watch when every hospital room has a clock?"
Not every hospital room or area you'll need a timer has one that's available or working.
In short, watches always come in handy, especially when running from unit to unit or finding yourself in a clock-less area.
How to Choose the Right Watch
It turns out that watches were the primary accessory for nurses back in the day.
While they were discouraged from wearing jewelry, watches were permitted because they helped with daily nursing tasks.
Back then, nurses wore pendant or fob watches that clipped onto their uniforms.
This way, they didn't have to worry about their wristwatches catching on equipment or scratching a patient.
Some nursing professionals prefer these timepieces while others have taken to wristwatches. But what makes a good watch for a nurse?
1. Military Time
Nurses can't just choose any old watch; they need a few different features in order for it to be able to work on the job.
The first function that's important to a nurse is military time.
This isn't always easy to find with analog watches, but the options in this review guide point out some possibilities.
Military time is often used in the healthcare setting so having a watch that does the conversion for you makes a big difference.
2. Having a Second Hand
Another feature that's necessary is a second-hand dial. Whether you prefer a sweeping or a step second hand, it's crucial for monitoring vitals such as heart rate.
This is extremely helpful because there are times when you might not have a clock in your line of vision. After all, there is no typical day in the office for a nurse.
You might work in the OR, in the ER, or in a doctor's office seeing various patients and situations each day.
You don't want to be bothered with asking how long it's been since this or that happened. That's why having a watch is ideal.
3. Waterproof/Water Resistance
As a nurse, you're constantly washing your hands. You need to make sure to pick a watch that's at least water-resistant and can handle splashes of water.
Some watches will claim to be waterproof or water resistance but fog after coming in contact with water. Try to avoid those watches.
While many times you can still read the watch. Sometimes you can't, and even still it can be a little annoying.
4. The Weight of the Watch
The weight of the watch can make a difference in comfort. Personally I prefer heavier watches.
But I know many nurses don't. You're going to be using your hands and arms all day. If you get a watch that's too heavy it can start being a little uncomfortable.
5. Backlight
I don't know why they still make watches without any backlight or a way to read them in the dark, but they do.
Be mindful of that feature. It might not necessarily be a deal-breaker but it can make the watch hard to read in dimly lit areas.
6. Date Indicator
Alright, this one might not be a big deal to many of you. But it's something I look for when I'm looking for a watch. It never fails.
When I'm witnessing a consent or signing another form I'm always looking for what the date is. That's why the watches I wear during my shift usually has a date indicator.
Conclusion
When choosing a nurse's watch, consider your price range. Also, consider the features that are must-haves for you.
This might be a backlight, military time, and a sweeping second hand. How big do you want the watch face to be?
Is there a certain material that you would prefer for the wristband?
Another good idea is to check out reviews from other Amazon customers to see how they've gotten on with their watches.
This accessory may seem basic, but it's actually a common standard for many nurses' uniforms.
Do you have any questions about buying the best watch for nurses?
Related Articles on Best Watches for Nurses
Frequently Asked Questions on Good Watches for Nurses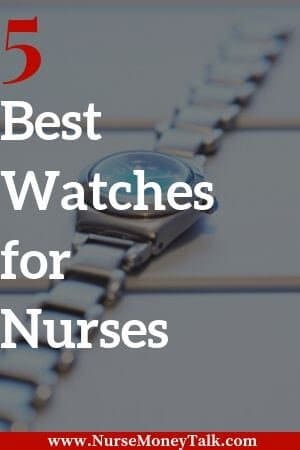 Where to Buy Nurses Watch?

There are several stores and online retailers you can use to find the perfect nurse watch. Amazon is typically my default retailer to buy products from and a watch for my nursing shift is no exception. Some other retailers would, of course, be Walmart and Target. If you're buying a smartwatch then a retailer like Best Buy is not a bad pick either.

Is there a big difference between nurse watches with sweeping second hand and those that are not?

From my experience no, not really. Much of it is based on preference. You can buy a poor or good quality nurse watch in either category. Our list contains one from each category. Personally I prefer the step second-hand watches, but that's more preference than it is functional.