This article is going to go over the best laptops for nursing students.
*disclosure some of the links on this site are affiliate links.
If you're in a hurry to pick the best laptop for nursing majors or you've spent so much time thinking about computers that you're just fed up with it then check out this Asus computer…
Quality build. With the recommended specifications.
Backlit keyboard with built-in fingerprint sensor to make sure you keep your computer secure. (Check out the current price & read the reviews here).
If you're not wanting a Windows laptop and you're ok spending a little more you can get this Apple MacBook Air.
You know if it's an Apple product it's going to be quality build with the best. (Check out the MacBook Air's current price & read the reviews here).
If you can't make up your mind between a Windows or a Mac…Go with the Windows laptop for all the reasons I'll mention below.
What Laptop is Best for Nursing Students?
As the resident tech expert for my family members, relatives and friends I understand how challenging tech stuff can be.
It doesn't help that tech has its own language, words and abbreviations that isn't easy for many nursing students to understand.
When I was starting nursing school I had similar struggles. I wasn't as tech-savvy as I am now. So much of the tech lingo was like a foreign language to me.
Even after getting a handle on the terminology it didn't help me much in figuring out which laptop was the best for nursing school.
Should I get a Windows laptop or an Apple Mac? What are the pros and cons? How good of a processor do I need?…actually what's a processor? What about screen size? The questions go on and on.
I'm going to help you answer these questions.
By the end of this article you're going to know what to look for when picking a laptop for a nursing major. Plus we're going to give you our recommended laptops for nursing students.
If you look at other articles on good laptops for nursing students you'll notice a pattern.
Other articles are usually just lists of computers which doesn't really give you a whole lot of directions.
Or they're filled with a lot of technical details that honestly if you cared to learn you probably would not have googled "what's the best laptop for nursing school."
As well meaning as some of those articles are being given 15 computer options is just going to cause you more confusions.
I hope to remedy this by giving you one recommendation based on these categories
Apple (Mac laptops)
➙ Recommended
➙ Higher-end
Windows (PC laptops)
➙ Recommended
➙ Higher-end
Chromebook
➙ Recommended
Most nursing students (or parents) already know if they want an Apple or a Windows laptop. Many times the primary questions are…
"What's the best Mac laptop for nursing school"
"What's the best budget Mac laptop for a nursing student"
Or
"What's the best Windows laptop for nursing school"
"What's the best budget Windows laptop for a nursing student"
That's going to be our primary focus in our recommendations.
Rest assured that any computer you pick from our recommended Mac or Windows laptops will be able to get the job done in nursing school without a problem.
Here are the Recommended Laptops for Nursing Students
Apple (Macs)
We're starting off with our recommend Mac list.
Apple MacBook Air
Here are the specs…
✓ 13 in Retina screen
✓ Up to 12 hours battery life
✓ Weight: 2.96lb (1.35kg)
✓ Storage: 128GB
✓ Intel Core i5
✓ RAM: 8GB
Gorgeous screen and excellent body build you could only expect from an Apple laptop. If you're a fan of Macs and you were planning on getting a Mac this is not a bad option.
The downside with most Macs is of course the price. They're generally more expensive than Windows laptops but Mac lovers like the ease of use of Macs.
Did I mention how lightweight the MacBook Air is and of course the support you would get from the Apple Store? Check out price of the MacBook Air. If you can get this for under $1,500.00 than don't let that deal pass you by.
MacBook Pro
Here's the MacBook Pro Specs
✓ 13in Retina Display
✓ Up to 10-hour battery life
✓ Weight: 2.03lb (0.92kg)
✓ Storage: 512GB
✓ Intel Core i7
✓ RAM: 8GB
The MacBook Pro is one of the best laptops Apple makes not to mention one of the best looking laptops on the market.
Compared to the Apple Macbook Air you're getting a laptop with more "horsepower" in just about every metric. You also get the Apple touch bar and the their fingerprint scanner which they call "Touch ID." The nice thing about the Touch ID is you don't have to deal with annoying passwords.
The one downside is that it's a little heavier than the MacBook air.
If you're wanting a Mac computer that's going to last you long after nursing school than you really need to check out the MacBook Pro.
Otherwise, just stick with the MacBook Air.
Microsoft (Windows) aka PCs
First things first the recommended Windows laptops for nursing school.
If you read the first part of this article than you already know which what laptop I'm going to recommend.
ASUS VivoBook S15
✓ 15.6 in Display
✓ About 11 hours of battery life
✓ Weight: 3.97lb
✓ Storage: 256GB
✓ Intel Core i5
✓ Ram: 8GB
Why did I recommend this computer at the very beginning? Because it's a good computer. It has the specifications you need to get your assignments done.
Are you going to be turning heads with this computer?
Nope.
But guess what? You'll be able to get your assignments done without a problem.
It's significantly less than the Apple MacBook Pro or Apple MacBook Air.
Checkout the ASUS VivoBook S15 on Amazon.com to see what I mean.
Microsoft Surface Book 2
Microsoft Surface Book 2 15-Inch 256GB i7 2-In-1 Laptop Bundle (16GB RAM, Detachable Touchscreen,...
1.9GHz 8th Generation Intel Core i7-8650U Quad-Core (Up to 4.2GHz)
16GB of RAM, 256GB SSD Storage, Detachable Screen Design, 17 Hour Battery Life
15 Inch (3240 x 2160 Resolution) TouchScreen Display, NVIDIA GeForce GTX 1060 GPU (6GB GDDR5)
SDXC Media Card Slot, USB Type-C, USB 3.0 Type-A, 802.11ac Wi-F,| Bluetooth 4.1,Windows 10 Pro (64-Bit)
Included in Surface Book 2 15 Inch 256GB i7 Bundle: Microsoft Surface Pen Platinum, USB Type-C to HDMI / VGA / DVI Adapter
✓ 15in Display
✓ Up to 14-hour battery life
✓ Weight: 2.38lb
✓ Storage: 256GB
✓ Intel Core i7
✓ RAM: 16GB
This is in my humble opinion the nicest Windows laptop on the market. It's the laptop I wish I had when I was going through nursing school.
Beautiful screen and gorgeous build that rivals that of Macs. You have a full laptop that has a detachable touch screen.
Comes with a smart stylus that allows you to take write/ take notes on the screen. Good specifications all the way through. The major downside is the price.
If you can get the Microsoft Surface Book 2 for under $2,500.00 you would be doing pretty good.
If you're not a big fan of touch screens or having a tablet (which is big selling point of this computer) then you might be better served going with the MacBook Pro.
Chromebooks
Chromebooks are a little different. Because they're more cloud based computers their specs can be a little different than the Windows or Mac computers.
Different how?
Different in the sense that Chromebooks don't need a lot of high end components to run well.
Because their primary function is cloud based (through the internet) much of what you're going to do with the laptop will not be as tasking.
In other words you can get away with low end components for a Chromebook and still have one that runs really smoothly. It's also the reason why Chromebooks tend to be so much cheaper than either Windows or Macs.
With all that said (and I know it's going to sound like I'm talking out of both sides of my mouth) do not buy a cheap Chromebook.
If you're going to buy one get one that's close to our recommended specifications for a laptop (FYI it's in the buying guide section).
Alright.
This is our recommended Chromebook laptops for nursing school …
Lenovo Yoga C630
Newest Lenovo Yoga C630 2-in-1 15.6" FHD IPS Multitouch Screen Chromebook with 128GB MicroSD Card |...
8th Gen Intel Core i5-8250U (beat i7-7500U) Quad Core Processor (1.6GHz up to 3.4 GHz, 6MB Cache), Intel UHD Graphics 620, 128GB MicroSD Card
15.6" Full HD (1920 x 1080) IPS Multitouch Screen Energy-efficient WLED Backlight Display, 360° Flip-And-Fold Design, 8GB DDR4 Memory, 128GB eMMC Flash Memory
2 x USB 3.1 Type-C, 1 x USB 3.0 Type-A, 1 x Headphone/microphone Combo Jack, 1 x RJ-45
10/100/1000 Gigabit Ethernet, Wireless-AC, Bluetooth, HD Webcam, Stereo Speakers
Chrome OS, 4.19 Lbs, 0.7" Thin, Battery: 3-cell Lithium-ion 10 Hours, Midnight Blue
✓ 15.6in Display
✓ Weight: 4lb
✓ Up to 9 hours of battery life
✓ Storage: 128GB
✓ Intel Core i5
✓ Ram: 8GB
Compared to some of the computers we listed above there's nothing sexy about this computer. It's not a bad build by any means. But it's not eye-catching like the Apple MacBook Air or the Microsoft Surface Book.
The build quality is sturdy and the computer runs really quick. Couple downsides worth mentioning…
Battery life is not as good as the others.
It's a little on the heavy side compared to the others.
Also, make sure your school will even let you use a Chromebook.
Lastly, remember this is a Chromebook. These specs are only acceptable because it's a Chromebook.
See Amazon's Pick
Amazon has their pick of good laptops for nursing students.
Compare Our Top Picks
If you want to compare our top picks of the best laptops for nursing students…
Do I Need a Laptop for Nursing School?
First let's get this question out of the way. While you don't need the most advanced laptop money can buy, you do need a laptop.
Between papers and software/websites nursing schools utilize, laptops are a must.
Not having a laptop or computer access puts you at a disadvantage. I know what you're about to ask….
What if my nursing school has a computer lab? If you're not doing an online program you could use the computer lab as an option.
You could… I wouldn't for a couple a reasons and the big one being
It's inconvenient.
The lab might only be open during hours you can't use it.
Lastly it's just a hassle.
I would advise any nursing student to have access to a laptop even if it's a really cheap one that all you use it for is writing papers. This will save you a massive headache.
Trust me. I tried for a little bit to go through nursing school without a laptop (not by choice), and you know what…it sucked!
The laptop I had completely died on me. Instead of buying a new laptop I decided I was going to wing it.
Between the computer lab and an iPad I thought to myself "I got this".
Nope I did not.
I made it only a month before a wave of assignments started piling on top of each other. I tapped out and went and bought a new laptop.
Can I Just use a Tablet for Nursing School?
If you read my story above I think you already know where I'm going to go with this. You cannot just rely on a tablet.
Tablets like the iPad or Android tablets are fine as a companion to a laptop. But truthfully a laptop can do everything a tablet can do but the reverse is not true.
If you are considering getting a tablet, make sure to check out our article on the best tablets for nursing students.
Related: Can I Get an Ipad for Nursing School?
Which One Mac or PC for Nursing Students?
You should have known we were going to talk about this long standing debate between Mac users and PC users.
As a FYI I've used both Mac and PCs. I have both at the house. I personally prefer PC computers because you can do more with it.
You don't have to worry about a software being compatible with a PC because it just will be. But you do have to double check when you're buying a Mac.
With all that said when it come to Mac or PC for nursing school it depends. It depends on a lot of factors. Here's a priority scale to help you narrow it down.
1. What does the school want: some schools don't support both. I'm attending a graduate nursing program that doesn't support Macs.
They tell you ahead of time to get a PC. So if you have any issues with any of their recommended software, they'll tell you to get a PC.
2. What can you afford: price matters. Macs are significantly pricier than PCs.
3. What are you more comfortable using: if possible you want to get the system you're used to using.
Nursing school is stressful. Don't add a computer you can't use well into the equation if you can help it.
4. What else are you using the laptop for: the best example that comes to mind are gamers. If you're a big gamer and you plan to use your nursing computer for gaming as well.
Your needs are going to be very different compared to another nursing student who are only using their laptop to do school work, surf the internet and get on Facebook.
Is Getting a Chromebook for Nursing School a Good Idea?
Chromebooks have been around for a while now. When they first came out and you asked me this question I would have said heck no.
Fast forward a couple of years later and updates to both the software and hardware of Chromebooks and now not only can they be really good alternatives to a Mac and PC but they can be a good laptop option for cash strapped nursing students.
What are Chromebooks
Chromebooks do not run Microsoft Windows or Apple Mac OS. Instead Chromebooks run an operating system developed by Google called Chrome OS.
What makes chromebooks different from Windows or Mac is that Chromebooks are highly dependent on an internet connection to make the most of the laptop.
The reason for that is that everything you do on a chromebook lives on a chrome browser. Because of that everything you can do on a chrome browser you can do on a chromebook.
➱ Email
➱ Facebook
➱ Write papers
➱ Play Internet Games…and so forth.
The downside is that you can't run third party (non-web browser enabled) software and games such as Adobe Photoshop.
Couple things to keep in mind, many software have a web-based version or alternative. For example, to write papers, Google Docs and Microsoft have an online version of its office suite of apps (Word, Excel).
I know what you're probably thinking.
"Does that mean I can only write papers in a place that has wifi?"
When Chromebooks first came out the answer would have been yes. Most current chromebooks have offline functions which includes writing papers.
When the computer reconnects with wifi you can set it up to sync and backup your paper in the cloud (via Google Drive).
Laptop Buying Guides for Nursing Students
If you're searching for good laptops for nursing students, sometimes things can get very technical. Should you get a dedicated graphics card or not?
What about screen quality? Should you get this screen with this many pixels per square inch? All of those tech mumbo-jumbo can confuse you as you're trying to make a decision on a good computer for nursing school.
For the average nursing student, there's really only 5 factors you need to pay attention to.
➤ The computer operating system (Mac, Windows or Chromebook)
➤ The battery
➤ The storage
➤ The Processor
➤ The Ram
I know it seems like it's a lot but in the next section I'm going to break down those 5 factors. Even if you don't buy from our list, you'll know what to look for and so you don't get bogged down in irrelevant details that doesn't really matter for you.
For the Gamers in nursing school…
For the gamers who are in nursing school. Let me go ahead and help you out. You need a high-end Windows laptop and you can check out the prices of the gaming laptops on Amazon. Or one of these…
For everybody else keep reading! I'm about to break it down for you.
Factors to Consider When Buying a Computer for Nursing School
When it comes to picking out a laptop for school here are the 5 things you should pay attention to.
1. The Operating System
I touched on this in detail earlier in this article. You can go review that section. A quick review is that the operating system refers to whether the laptop is running Windows OS (Microsoft), Mac OS (Apple) or Chrome OS (Google).
The main thing to remember is that you need to make sure the operating system you use will work with the requirement of your nursing school.
Based on what your institution approves, you can pick the one you can afford and so forth.
Recommendations:
★ Microsoft Windows
I know there's a lot of people with strong preferences and I get that. Apple users are going to push back on this.
The reason I chose Windows is because it is by far the most widely used computer operating system. The chances that your school won't support Windows is slim to none.
There is a chance that they won't support Apple's Mac. The other reason is that Apple laptops are significantly more expensive than Windows laptops.
Don't get me wrong. If your school allows it and you can afford it than by all means.
2. Battery Life
In this day and age it's amazing battery life is still a big problem with electronics. The last thing you need is for your laptop to die in the middle of writing a paper.
The good thing is outlets are usually easy to come by. Still you need to make sure your laptop can handle the long haul unplugged if need be.
Recommendations:
★ 8 hours
I know I said 8 above but worst case scenario make sure your laptop has a battery life of at least 6 hours. It's a good balance to make sure you can handle a day of classes or a long study session unplugged if you're not close to an outlet.
3. Storage
Computer storage is referred to as hard drive space. You'll also see it abbreviated as "HD" or "HDD."
There's also a type of hard drive called solid state drive "SSD." It's supposed to be better than the normal HD.
As for hard drive space for this I'm talking about the amount of "stuff" you can have saved on your computer.
Whenever you download a file or install a software program (ex. Microsoft office, Photoshop, video games and so forth) your using up space on your computer.
If you use too much of your available space you'll either not be able to install the software, save the picture etc.
Also if you use up too much of your available hard drive space your computer will start running very slow.
Recommendations:
★ 128 GB
Many people will actually recommend a 1 terabyte hard drive (in case if you were wondering there's 1000 gigabytes(GB) in 1 terabyte…
You could go down that route, it's more expensive but it would be more storage.
If you're primarily going to be using this computer for school and general web surfing, you can get away with not having that much storage.
Especially in the age of cloud storage (ex. Dropbox, OneDrive, iCloud, etc.) your important information should be stored in the cloud.
Three reasons:
Frees up space on your computer.
You can access the document or file anywhere.
If anything happens to your laptop (lost, stolen, stops working) you don't have to worry about losing your paper or any other things you've saved on the computer.
4. The Processor
Is the part of the computer that carries out whatever task you want it to. Because of that you can imagine having a bad processor can mean a very slow computer.
There are several types/models of these processors out in the wild. You could easily get bogged down in detail. I'm going to simplify it for you. There's three models of processors you need to pay attention to. They are part of Intel's Core i series.
Intel Core i3
Intel Core i5
Intel Core i7
The core i3 is the budget processor so you'll find it on cheaper computers (it's the slowest one of the group).
Core i5 is the mid-tier processor and the core i7 is the higher end processer (it's the quickest one of the group).
You'll find the core i7 in more expensive computers. But they're also going to be the faster computers.
Recommendations:
★ Intel Core i5
If you can afford it definitely upgrade to the core i7. If not you'll be fine for every day nursing student work with the core i5.
Avoid the core i3 if you can. There is a noticeable difference going from the core i3 to the core i5.
5. The RAM
You're probably wondering what is a ram…Well I'm not talking about this ram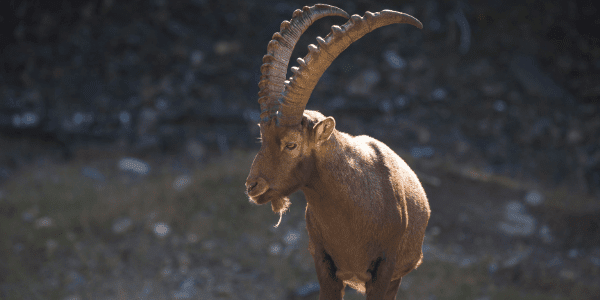 I'm talking about RAM in a computer. It stands for Random Access Memory. The computer RAM is your ability to multitask on your computer.
So think having multiple programs running or multiple tabs on a your internet browser open.
A big indicator of your computer's ability to handle all of that simultaneously is how much ram the computer has.
For very low budget computers you'll see 2GB or 4 GB RAM.Don't do it. Just Don't
Recommended RAM for Nursing Computer:
★ 6GB of RAM
You need at least 6GB of RAM on your computer for decent multitasking ability. If you can afford it get one that has 8GB of RAM.
You might think you're not going to need to multitask that much. Think again. In nursing school you're going to be multitasking with that computer a lot.
When I was writing a research paper for nursing school, I could easily have 10 tabs open trying to find the perfect peer-reviewed article.
6. Portability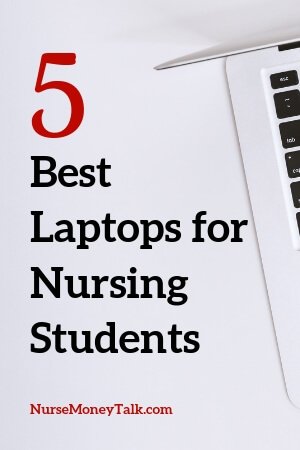 This is often overlooked but it's actually very important. You need to ask yourself how easily can you move the laptop around with you.
You would think just because it's a laptop it's not that big of a deal. But laptop come in all shapes and sizes not to mention weight.
So keep that in mind when you're buying.
Conclusion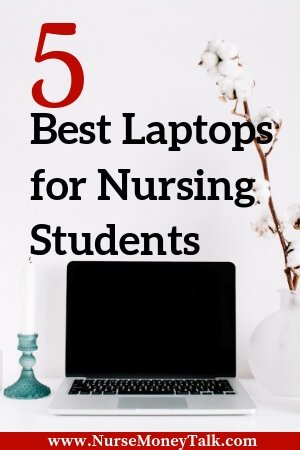 Hopefully, you found this article helpful. While you don't have to buy our recommended laptops keep in mind of our recommended specifications.
If you have any questions, feel free to ask them below.
Related Articles on Best Laptops for Nursing Students