5 Best Laptops for Nursing Students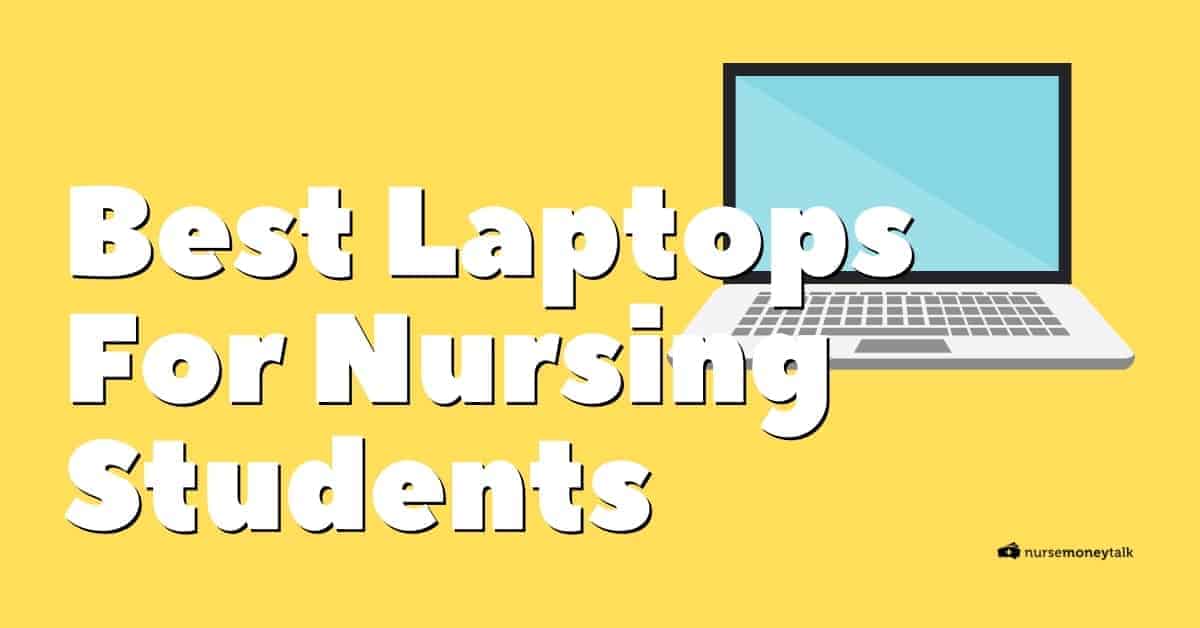 When you're navigating the demanding world of nursing school, the last thing you want is your tech slowing you down.
From juggling lengthy PDFs, clinical notes, simulation software, and those marathon study sessions, your laptop is essentially your lifeline.
So, which device deserves the coveted title of the best laptop for nursing students?
My Pick: The Best Laptop For Nursing Students
For the Windows User
After extensive research, weighing the pros and cons of various contenders. Cross-referencing the specific needs of nursing students.
I'm confident in naming the Surface Pro 9 as my top pick for the best laptop for nursing students.
Here's why.
Sale
Microsoft Surface Pro 9
Introducing Copilot on Windows 11, your everyday AI companion – Copilot empowers you to create…
Immersive 13″ touchscreen – Adapts to your surroundings, adjusting the color balance to best suit…
Hinges on your every move – Adjust the angle with built-in Kickstand, adding Surface Pro Signature…
Performance and Portability Married Perfectly
The Surface Pro 9 doesn't just skate by on brand reputation.
Built on the Intel Evo platform, it boasts the 12th Gen Intel Core processors, ensuring swift multitasking and handling of any academic software thrown its way.
This is further complemented by a touch-control method that's intuitive and seamless.
All-day Reliability
For nursing students, a long battery life is non-negotiable.
Whether you're in lectures, clinicals, or the library, the Surface Pro 9 promises up to 15.5 hours of battery life, ensuring you're powered up from the first class to the last note you jot down at night.
Designed with Students in Mind
The built-in Kickstand offers flexibility, letting you adjust the angle based on whether you're typing notes or binge-watching study videos.
The nearly edge-to-edge 13″ PixelSense touchscreen isn't just a visual delight; it's optimized for the Surface Slim Pen 2 and Windows 11.
And speaking of the pen, the intelligent design integrates storage and charging for the pen right into the Surface Pro Signature Keyboard.
Connectivity and Gaming
Beyond academics, the Surface Pro 9 acknowledges that nursing students also need some downtime.
With Thunderbolt 4 ports, it transitions from an academic workhorse to a gaming or entertainment device effortlessly.
Personalize Your Device
With the option to choose from vibrant colors, including the striking new Sapphire and Forest, you can personalize your device to reflect your style.
Though it's worth noting that the Surface Pro Signature Keyboard and the Surface Pen are sold separately. This is unfortunate because you really need both to get the full Surface experience.
Sale
Surface Slim Pen 2
Sleek and comfortable. Slim carpenter-inspired style is perfect for all hands and is easy to hold…
Take notes naturally. The haptic motor in Surface Slim Pen 2 brings the feeling of writing and…
Surface Slim Pen 2 can help improve your productivity. You control the level of feedback you feel…
For the Apple Loyalists: The M2 MacBook Air
Now, I understand that for many students, especially those who have grown accustomed to the Mac ecosystem, it's hard to look beyond the Apple logo.
And if you're a nursing student who swears by MacOS, I have good news for you.
Introducing the M2 MacBook Air, arguably the best MacBook for nursing students.
Sale
Here's a rundown of what this sleek machine offers:
Stunning Aesthetics and Display
The MacBook Air boasts a 15.3-inch Liquid Retina display, offering vibrant images and incredible detail thanks to its support for one billion colors, 500 nits of brightness, and P3 wide color.
And while the display has rounded corners at the top, it offers an immersive viewing experience.
All of this is packed in an impressively thin and light 100% recycled aluminum enclosure.
Power-packed Performance
At the heart of this laptop is the Apple M2 chip, which brings together a robust 8-core CPU and 10-core GPU.
With up to 24GB of unified memory, tasks that once seemed daunting will feel like a breeze.
Unbeatable Battery Life
Enjoy up to 18 hours of productivity, thanks to the power-efficient performance of the Apple M2 chip. This means fewer trips to the power outlet during those extended study sessions.
Silent and Smooth
One of the understated features of the MacBook Air is its fanless design. This ensures a silent operation, regardless of the workload.
Wide App Compatibility
From Microsoft Excel and PowerPoint to Adobe Creative Cloud and Google Workspace, many of the essential apps for nursing students are optimized for Apple silicon, ensuring speedy performance.
Plus, with free software updates, Apple ensures your system stays secure and efficient.
Enhanced Multimedia Experience
Whether you're video-calling professors or relaxing with a movie after exams, the MacBook Air has you covered.
It comes with a sharp 1080p FaceTime HD camera, a three-mic array for clear audio, and an immersive six-speaker sound system enhanced by Spatial Audio.
Budget Laptops for Nursing School
If you're on a budget, you should consider getting the HP Pavilion X360 2-in-1 if you're a Windows user.
Consider the older M1 MacBook Air if you're preference is a Mac.
Sale
What About Chromebooks?
I wouldn't recommend a Chromebook for most nursing students.
Not because I don't like Chromebooks (one of my favorite laptops that I own is a Chromebook), but because I think there are some potential limitations with Chromebooks.
Those limitations may be enough to cause you some problems in school. I go deeper into the reasons why I don't recommend Chromebooks for nursing school below.
If you really must have a Chromebook then the best Chromebook for nursing students is HP Premium Business Chromebook.
It's well built, and because it's slightly overpowered for a Chromebook, you shouldn't have much of a slowdown when you're surfing the web or doing school work.
HP Premium Business Chromebook
Powered by 8th Gen Intel Core i5-8350U with 1.7 GHz base frequency, up to 3.6 GHz maximum Turbo…
14″ diagonal FHD IPS micro-edge WLED-backlit multitouch-enabled edge-to-edge glass (1920 x 1080)…
8GB DDR4 SDRAM Memory for full-power multitasking; 64GB eMMC flash memory is ideal for mobile…
Coming to this conclusion wasn't easy as there are a lot of laptops out there.
Unfortunately for students, the quality of a laptop tends to correlate with the price (i.e., the higher the price, the better the quality), at least to a certain point.
So if you want a quality laptop that's built well and has good enough internal specs that it won't be slow or frustrating to use in nursing school, you're going to have to pay a premium for it.
Best Laptops for Nursing Students
Here's my complete list of the recommended laptops for nursing students.
Mac Computers
1. Apple MacBook Air
Apple MacBook Air Laptop w/ Apple M1 Chip
All-Day Battery Life – Go longer than ever with up to 18 hours of battery life.
Powerful Performance – Take on everything from professional-quality editing to action-packed...
Superfast Memory – 8GB of unified memory makes your entire system speedy and responsive. That way...
Here are the specs:
✓ Diplay:13 in Retina screen
✓ Battery: Up to 18 hours battery life
✓ Weight: 2.8lb (1.29kg)
✓ Storage: 256GB or 512 GB
✓ Processor: Apple M1 Chip
✓ RAM: 8GB
Gorgeous screen and excellent body build you could only expect from an Apple laptop. If you're a fan of Macs and were planning on getting a Mac, this is not a bad option.
The downside with most Macs is, of course, the price. They're generally more expensive than Windows laptops but Mac lovers like the ease of use of Macs.
Did I mention how lightweight the MacBook Air is and the great support you would get from the Apple Store?
Check the current price of the MacBook Air, every once in awhile you can catch them on sale.
2. Apple MacBook Pro
Apple MacBook Pro w/ M1 Chip
Apple-designed M1 chip for a giant leap in CPU, GPU, and machine learning performance
Get more done with up to 20 hours of battery life, the longest ever in a Mac
8-core CPU delivers up to 2.8x faster performance to fly through workflows quicker than ever
8-core GPU with up to 5x faster graphics for graphics-intensive apps and games
16-core Neural Engine for advanced machine learning
Here's the MacBook Pro Specs:
✓ Display: 13in Retina Display
✓ Battery: Up to 20-hours battery life
✓ Weight: 3lb (1.4kg)
✓ Storage: 256GB or 512GB
✓ Processor: Apple M1 Chip
✓ RAM: 8GB
The MacBook Pro is one of the best laptops Apple makes, not to mention one of the best-looking laptops on the market.
Compared to the Apple Macbook Air, you're getting a laptop with more "horsepower" in just about every metric.
You also get the Apple touch bar and their fingerprint scanner which they call "Touch ID." The nice thing about the Touch ID is you don't have to deal with annoying passwords.
The one downside is that it's a little heavier than the MacBook Air.
If you want a Mac computer that's going to last you long after nursing school, then you need to check out the MacBook Pro.
Otherwise, just stick with the MacBook Air.
Windows Computers
3. ASUS VivoBook S15
Asus VivoBook S15 S532
ScreenPad 2.0 adds an interactive, secondary 5.65" touchscreen to enhance productivity
ScreenPad 2.0 fits a series of handy ASUS utility apps: Quick Key, Number Key, Handwriting, Slide...
15.6 inch Full HD 4 way NanoEdge bezel display with stunning 88% screen-to-body ratio and 5.65"...
Here's the specs for the Asus VivoBook:
✓ Display: 15.6-inches
✓ Battery: Up to 11-hours
✓ Weight: 3.97lb (1.8kg)
✓ Storage: 512GB
✓ Processor: Intel Core i5
✓ Ram: 8GB
This ASUS Laptop comes with a 15.6" FHD display that delivers sharp, crystal-clear images to accompany you while you multitask on your laptop.
The laptop comes with an 8th gen intel core i5-10210U processor (1.6-3.4GHz) with turbo boost technology for reliable performance.
It also has 8GB of RAM and 512 GB PCIe NVMe SSD storage capacity. It features an Intel UHD Graphics 620 graphics processor, which renders sharp videos and clear pictures.
The VivoBook S15 has the innovative ScreenPad 2.0, which adds an interactive, secondary 5.65″ touchscreen to enhance productivity and make navigation more intuitive.
The ScreenPad 2.0 fits a series of handy ASUS utility apps, including Quick Key, Number Key, Handwriting, Slide Xpert, and more.
4. Microsoft Surface Book 2
Here's the specs for the Surface Book 2:
✓ Display:15in Display
✓ Battery: Up to 14-hour battery life
✓ Weight: 2.38lb
✓ Storage: 256GB
✓ Processor: Intel Core i7
✓ RAM: 16GB
In my humble opinion, this is one of the nicest Windows laptop on the market. It's the laptop I wish I had when I was going through nursing school.
The Surface Book 2 has a beautiful screen and a gorgeous build that rivals that of any MacBook. You have a full laptop that has a detachable touch screen.
It comes with a smart stylus that allows you to take notes on the screen. Overall it has good specifications all the way through. The major downside is the price.
If you're not a big fan of touch screens or having a tablet (which is the big selling point of this computer), you might be better served going with the MacBook Pro.
5. Microsoft Surface Book 3
Sale
Microsoft Surface Book 3
Most powerful Surface laptop yet, with quad-core powered, 10th Gen Intel Core processors. More than...
Power when you need it. Up to 15.5 hours battery life [1] — plus improved standby that extends...
The connections you need, including USB-A, USB-C, and full-size SD card slot.
Here's the specs for the Surface Book 3:
✓ Display:13.5-inch or 15-inch
✓ Battery: Up to 17.5-hours
✓ Weight: 6.54lb (2.96kg)
✓ Storage: 256 GB | 512 TB | 1 TB | 2 TB
✓ Processor: Intel Core i5 | Intel Core i7
✓ RAM: 8GB | 16 GB | 32 GB
The versatile Surface Book 3 is the ultimate 2-1 laptop. The 13.5″ touchscreen display has a 3000 x 2000 resolution with a 3:2 aspect ratio.
The screen can be detached from the keyboard, flipped over, re-attached, and used as a tablet.
The Surface Book 3 is powered by the Intel Core i5-7300U processor with 8GB of RAM, 256GB of flash memory storage, and a GeForce GTX 1060 graphics card with 6GB of dedicated memory. The Surface Book 3 runs Windows 10 Home.
Chromebooks
6. Asus Chromebook Flip
Asus Chromebook Flip C436
14 inch touchscreen Full HD 1920x1080 4-sided "frameless" NanoEdge Display around each side of...
The Full HD display has a durable 360 degree hinge that can be used to flip the touchscreen display...
Powered by the Intel Core i3-10110U Processor (4M Cache, up to 4.1 GHz) plus on board Gigplus Wi-Fi...
Here's the specs for the Asus Chromebook Flip:
✓ Display: 14-inch
✓ Weight: 2.58lb (1.17kg)
✓ Battery: Up to 12-hours
✓ Storage: 128GB
✓ Processor: Intel Core i3
✓ Ram: 8GB
The ASUS Chromebook Flip C434 is designed for the nursing student's on-the-go lifestyle.
It has the versatility to be used as a laptop, tablet, tent, stand, or entertainment center, for maximum comfort and versatility. Enjoy effortless connectivity to your favorite devices with its multi-functional USB-C port.
The C434 flips the Chromebook concept to where it's not only durable but beautiful, with a timeless design that has never gone out of style.
The Full HD display has a 360-degree hinge that allows for four ways to use your C434.
It's powered by the Intel Core i3-8130U Processor (4M Cache, up to 3.40 GHz) plus on-board Gig+ Wi-Fi 6 (802.11ax) + Bluetooth 5.0 for super-fast and snappy performance.
It includes 128GB PCIe NVMe M.2 SSD, 8GB RAM, 2x USB Type-C (Gen 1) ports, and an illuminated chiclet keyboard.
The build quality is sturdy, and the computer runs really quick.
A couple of downsides worth mentioning is that it's a little on the heavy side compared to others on this list.
Lastly, because it's a Chromebook, you'll need to make sure a Chromebook will meet the requirements of your school.
Why You Can Trust Me
As the resident tech expert for my family members, relatives, and friends, I understand how challenging tech stuff can be.
I spend hours each week researching and watching the latest tech videos and reviews.
When a product is released that I'm interested in many times, I'll go into the store to check out the demo.
Why do I do all of this, you ask? Because I'm naturally just interested in all things tech.
It doesn't help that tech has its own language, words, and abbreviations that isn't easy for many nursing students to understand.
When I was starting nursing school, I had similar struggles. I wasn't as tech-savvy as I am now. So much of the tech lingo was like a foreign language to me.
Even after getting a handle on the terminology, it didn't help me to figure out which laptop was the best for nursing school.
Should I get a Windows laptop or an Apple Mac? What are the pros and cons? How good of a processor do I need?…actually, what's a processor? What about screen size? The questions go on and on. I'm going to help you answer these questions.
By the end of this article, you're going to know what to look for when picking a laptop for a nursing major.
If you look at other articles on good laptops for nursing students, you'll notice a pattern.
Other articles are usually just lists of computers that don't really give you a lot of directions.
Or they're filled with many technical details that honestly, if you cared to learn, you probably would not have googled "what's the best laptop for nursing school."
As well-meaning as some of those articles are being given 15 computer options is just going to cause you more confusion. I hope to remedy this by giving you one recommendation based on these categories
Apple (Mac laptops)
Windows (PC laptops)
Chromebook
Most nursing students (or parents) already know if they want an Apple or a Windows laptop. Many times the primary questions are…
"What's the best Mac laptop for nursing school"
"What's the best budget Mac laptop for a nursing student"
Or
"What's the best Windows laptop for nursing school"
"What's the best budget Windows laptop for a nursing student"
That's going to be our primary focus in our recommendations.
Rest assured that any computer you pick from our recommended Mac or Windows laptops will be able to get the job done in nursing school without a problem.
Frequently Asked Questions
1. Do I need a laptop for nursing school?
While you don't need the most advanced laptop money can buy, you do need a laptop. In nursing school, you're going to be writing many papers and doing assignments that will require internet access.
Not having a laptop or computer access puts you at a disadvantage. Now you might ask, "what if my nursing school has a computer lab?" You could make that work, but keep in mind it will be inconvenient, and the lab may not be open 24 hours a day.
I would advise any nursing student to make sure they have a laptop, even if it's a cheap one that all you use it for is writing papers. This will save you from having a massive headache. Trust me!
I tried it for a little bit, going through nursing school without a laptop (not by choice), and you know what, it sucked!
The laptop I had completely died on me. Instead of buying a new laptop, I decided I was going to wing it. Between the computer lab and an iPad, I thought to myself, "I got this."
Nope, I did not. I made it only a month before a wave of assignments started piling on top of each other. I tapped out and went and bought a new laptop.
2. Can I use a tablet for nursing school?
If you read my story above, I think you already know what I'm going to say.
You cannot just rely on a tablet in nursing school. Tablets like the iPad or Android tablets are fine as a companion to a laptop. But truthfully, a laptop can do everything a tablet can do, but the reverse is not always true.
If you're considering getting a tablet, make sure to check out our article on the best tablets for nursing students.
Related: Can I Get an Ipad for Nursing School?
3. Which one Mac or PC for nursing students?
You should have known I would talk about this long-standing debate between Mac users and PC users.
As an FYI, I've used both Mac and PCs. I have both at the house. I personally prefer Windows computers because you can do more with them.
You don't have to worry about software compatibility with a PC because it just will be. But you do have to double-check when you're buying a Mac.
With all that said, when it comes to Mac or PC for nursing school, it depends. It depends on a lot of factors. Here's a priority scale to help you narrow it down.
What does the school want?
Some schools don't support both. Previously I attended a graduate nursing program that didn't support Macs. They tell you ahead of time to get a PC. So if you have any issues with any of their recommended software and you're using a Mac computer they'll tell you to get a PC before they help you troubleshoot anything.
What can you afford?
Price matters. Macs can be more expensive than a Windows computer. Some may argue that Macs will last you longer but that might not matter if you're needing a computer just to get through the next 2 to 4 years of school.
What are you more comfortable using?
If possible you want to get the system you're used to using. Nursing school is stressful. Don't add a computer you can't use well into the equation if you can help it.
What else are you using the laptop for?
The two platforms tend to cater to different demographics. The best example that comes to mind is with gamers.
If you're a big gamer and you plan to use your nursing computer for gaming then you're better off with Windows because that tends to be the operating system the high profile game publishers cater to.
Overall your needs could be very different compared to your nursing school peers so you want to get a laptop that caters to your needs.
4. What are Chromebooks?
Chromebooks do not run Microsoft Windows or Apple Mac OS. Instead, Chromebooks run an operating system developed by Google called Chrome OS.
What makes Chromebooks different from Windows or Mac is that Chromebooks are highly dependent on an internet connection to make the most of the laptop.
The reason for that is that everything you do on a Chromebook lives on a chrome browser. Because of that everything, you can do on a chrome browser you can do on a Chromebook.
Email
Facebook
Write papers
Play Internet Games…and so forth.
The downside is that you can't run third-party (non-web browser enabled) software and games such as Adobe Photoshop.
Couple of things to keep in mind. Many softwares have a web-based version or alternative. For example, to write papers, Google Docs and Microsoft have an online version of their office suite of apps (Word, Excel).
I know what you're probably thinking.
"Does that mean I can only write papers in a place that has wifi?"
When Chromebooks first came out, the answer would have been yes. Most current Chromebooks have offline functions, which include writing papers.
When the computer reconnects with wifi, you can set it up to sync and backup your paper in the cloud (via Google Drive).
New Update!
A new update allows Chromebooks to run apps on the Google Play Store. This is a nice update because it means just about any app you can run on your Android-powered phone can be run on a Chromebook.
5. Is getting a Chromebook for nursing school a good idea?
Chromebooks have been around for a while now. When they first came out, and you asked me this question, I would have said heck no.
Fast forward a couple of years later with new updates to both the software and hardware of Chromebooks and my opinion has changed.
Now not only can they be an excellent alternative to a Mac and PC, but they can be a good laptop option for cash-strapped nursing students.
PLEASE NOTE!
By design, Chromebooks, for the most part, only run software that lives in a browser.

If your nursing school requires you to use software that needs to be downloaded and installed on your computer, you will need a Mac or a Windows computer.

If you decide to go the Chromebook route, it's not necessarily a bad option. You'll need to do your due diligence to make sure you're not going to have any issues in school.

If you don't want to deal with the hassle, just get one of the recommended laptops I mentioned above.
6. Do I need an expensive Chromebook?
Chromebooks are a bit different. Because they're more cloud-based computers, their specs can be a little different than the Windows or Mac computers.
Different how?
Different in the sense that Chromebooks don't need a lot of high-end components to run well.
Because their primary function is cloud-based (through the internet), much of what you're going to do with the laptop will not be as tasking.
In other words, you can get away with low-end components for a Chromebook and still have one that runs smoothly. It's also the reason why Chromebooks tend to be so much cheaper than either Windows or Macs.
With all that said (and I know it's going to sound like I'm talking out of both sides of my mouth), do not buy a cheap Chromebook. If you're going to buy one, get one close to our recommended specifications for a laptop (FYI, it's in the buying guide section).
Laptop Buying Guides for Nursing Students
If you're searching for good laptops for nursing students, sometimes things can get very technical. Should you get a dedicated graphics card or not?
What about screen quality? Should you get this screen with this many pixels per square inch?
All of that tech mumbo-jumbo can confuse you as you're trying to decide on a good computer for nursing school.
For the average nursing student, there are only five factors you need to pay attention to.
The computer operating system (Mac, Windows or Chromebook)
The battery
The storage
The Processor
The Ram
I know it seems like it's a lot, but I'm going to break down those five factors in the next section. Even if you don't buy from my list, you'll know what to look for so you don't get bogged down in irrelevant details that don't really matter to you.
For the Gamers in Nursing School
For the gamers in nursing school, let me help you out because you'll need a Windows computer with higher specs than anything I mentioned. You can check out the current prices of some really good gaming computers here.
Factors to Consider When Buying a Computer for Nursing School
When it comes to picking out a laptop for school, you should pay attention to these five things.
1. The Operating System
I touched on this in detail earlier in this article. A quick review is that the operating system refers to whether the laptop is running Windows OS (Microsoft), Mac OS (Apple), or Chrome OS (Google).
The main thing to remember is that you need to make sure the operating system you use will work with the requirement of your nursing school. Based on what your institution approves, you can pick the laptop you can afford and so forth.
Recommendations:
★ Microsoft Windows
I know there's a lot of people with strong preferences, and I get that. Apple users are going to push back on this.
The reason I chose Windows is that it is by far the most widely used computer operating system. The chances your school won't support Windows is slim to none.
There is a chance they won't support Apple's Mac. The other reason is that Apple laptops can be significantly more expensive than Windows laptops.
Don't get me wrong. If your school allows it and you can afford it then by all means get a MacBook.
2. Battery Life
In this day and age, it's amazing battery life is still a big problem with electronics. The last thing you need is for your laptop to die in the middle of writing a paper.
The good thing is outlets are usually easy to come by. Still, you need to make sure your laptop can handle the long haul unplugged if need be.
Recommendations:
★ 8 hours
I know I said eight above, but worst-case scenario, make sure your laptop has a battery life of at least 6 hours. It's a good balance to make sure you can handle a day of classes or a long study session unplugged if you're not close to an outlet.
3. Storage
Computer storage is referred to as hard drive space. You'll also see it abbreviated as "HD" or "HDD." There's also a type of hard drive called solid-state drive "SSD." It's supposed to be better than the normal HD.
As for hard drive space for this, I'm talking about the amount of "stuff" you can have saved on your computer.
Whenever you download a file or install a software program (ex. Microsoft office, Photoshop, video games, and so forth), you're using up space on your computer.
If you use too much of your available space, you won't be able to install any more software or save any more pictures. Also, using up too much of the available hard drive space on your computer can cause it to start running very slow.
Recommendations:
★ 128 GB
Many people will recommend a one terabyte hard drive (if you were wondering, there are 1000 gigabytes(GB) in 1 terabyte). You could go down that route, it's more expensive, but it would be more storage.
If you're primarily going to be using this computer for school and general web surfing, you can get away with not having that much storage, especially in the age of cloud storage like Dropbox, OneDrive, and iCloud.
Pro-Tip
Now that I mentioned it, all your important information should be backed up in the cloud for these three reasons.

First, it frees up space on your computer.

Secondly, you can access the document or file anywhere.

Lastly, if anything happens to your laptop (lost, stolen, stops working), you don't have to worry about losing your paper or any other things you've saved on the computer.
4. The Processor
This is the part of the computer that carries out whatever task you want it to. Because of that, you can imagine having a bad/low-end processor can mean a very slow computer.
There are several types/models of these processors out in the wild. You could easily get bogged down in detail. I'm going to simplify it for you. There are three models of processors you need to pay attention to. They are part of Intel's Core i series.
Intel Core i3
Intel Core i5
Intel Core i7
The Core i3 is the budget processor, so you'll find it on cheaper computers (it's the slowest one in the group).
Core i5 is the mid-tier processor, and the Core i7 is the higher-end processer (the quickest one of the group).
You'll find the Core i7 in more expensive computers. But they're also going to be the faster computers.
Mac Users
Apple started making their own line of processors called the M1 chips. They're also really good, so if you see that, don't worry, it's still a good processor.
Recommendations:
★ Intel Core i5
If you can afford it upgrade to the Core i7. If not, you'll be fine for every day nursing student work with the Core i5.
Avoid the core i3 if you can. There is a noticeable difference going from the Core i3 to the Core i5. The exception would be if you're getting a Chromebook than a Core i3 would be fine.
5. The RAM
You're probably wondering what a ram is. Well, I'm not talking about this ram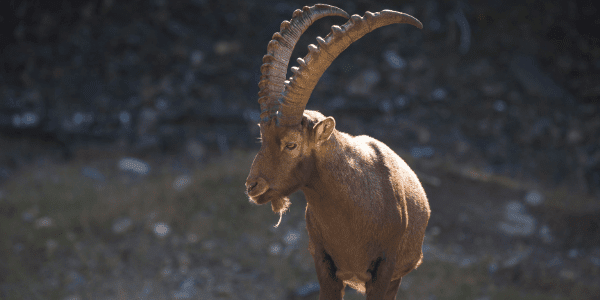 I'm talking about RAM in a computer. It stands for Random Access Memory. The computer RAM is your ability to multitask on your computer. So think about having multiple programs running or multiple tabs open in your browser.
A big indicator of your computer's ability to handle all of that simultaneously is how much ram the computer has.
For very low-budget computers, you'll see 2GB or 4 GB RAM. Please don't do it. Just don't get ram that low.
Recommended RAM for Nursing Computer:
★ 8GB of RAM
You need at least 8GB of RAM on your computer for decent multitasking ability. If you can afford it, get one that has more than 8GB of RAM.
You might think you're not going to need to multitask that much. Think again. In nursing school, you're going to be multitasking with that computer a lot.
When I was writing a research paper for nursing school, I could easily have ten tabs open trying to find the perfect peer-reviewed article.
6. Portability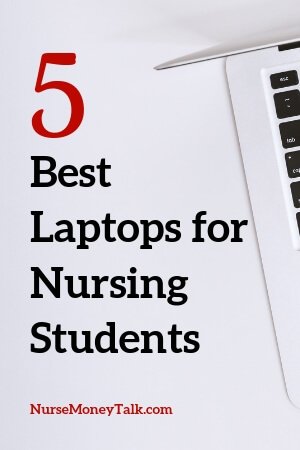 This is often overlooked, but it's important. You need to ask yourself how easily can you move the laptop around with you.
You would think just because it's a laptop, it's not that big of a deal. But notebooks come in all shapes and sizes, not to mention weight. So keep that in mind when you're buying.
Pick the Best Laptop
Just in case if you missed it, here's my summary table again.
Hopefully, you found this article helpful. Let me know in the comments if you have any questions. Lastly, remember even if you don't buy from my recommended list, keep my recommended specifications in mind.
Related Articles on Best Laptops for Nursing Students
More Frequently Asked Questions