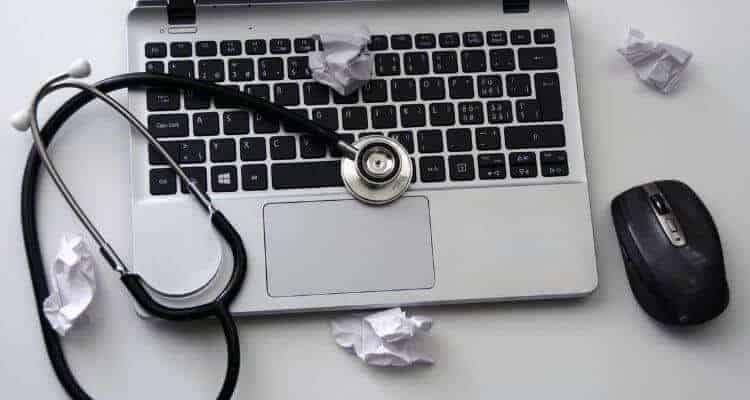 This article is going to discuss and list the best stethoscopes for nursing students.
A stethoscope is a vital tool for medical professionals. Without it, you won't be able to make accurate assessments.
For a nurse, a stethoscope has 2 main functions; auscultation and blood pressure measurement.
In such assessments, what you don't hear is as important as what you hear (source).
That's why you should invest in a decent stethoscope that offers good sound quality.
With so many stethoscopes on the market trying to decide which one to buy can be overwhelming. No worries.
We've got you covered.
We've compiled this short list of our top picks for the best stethoscope for nursing students to save you the effort and time.
We also have a detailed stethoscope buying guide at the end of the article to help you make an informed decision.
We have several ranking factors, including the comfort of use, durability, and sound sensitivity. Before we begin, it's important to mention that usually, the good stethoscope for nursing students are going to come with a higher price tag.
As nursing students, we understand that money is tight. We've tried to balance it out by finding a mix of higher-end stethoscopes and budget-friendly stethoscopes you can use.
We were nursing students once ourselves, so we understand the struggle.
*Disclosure: This post may contain affiliate links. If you click and make a purchase, I may receive a commission. For more info, please see my disclaimer.
Best Stethoscope for Nursing Students
1. Editor's Pick: 3M Littmann Cardiology IV Diagnostic Stethoscope
It's nearly impossible not to find 1 or 2 Littmann stethoscopes on such a list anywhere over the web, and it's no wonder.
The impeccable sound quality and durable build makes it the favorite choice for many physicians and nurses.
Detecting lower sounds can be challenging for nursing students due to their busy and loud surroundings.
That's when this stethoscope comes handy.
This stethoscope can detect subtle changes in tone and rhythm and isolate them from their surroundings.
Thanks to its well-designed tubing. The dual-lumen tubing combines 2 sounds in 1 path minimizing artifact sounds and eliminating sound contamination.
In terms of quality, it has no natural rubber latex, which is good news to nurses and patients with sensitive skin.
This model is an improvement over the Littmann Cardiology III in terms of acoustics. Reviewers who used both reported louder and clearer sound.
According to the manufacturer, it enables you to pick up hardly detectable sounds like aortic stenosis, S3 gallop murmurs, and faint pulmonary anomalies.
Like the rest of 3M Littmann products, this stethoscope has a tunable diaphragm that allows you to hear different frequencies by adjusting the pressure over the chest piece.
One noticeable feature is the dual-sided chest piece that makes it suitable for both adult and pediatric patients.
This model is available 9 different colors, its tubing is resistant to skin oils and alcohol, so it won't stain easily.
However, for the sake of practicality, we recommend you get darker colors.
Pros:
Clear sound
Tunable diaphragm
Material suits sensitive skin
Cons:
See the other customer reviews for the 3M Littmann Cardiology IV on Amazon.com.
Related Article: 5 Best Littmann Stethoscopes for Nurses
2. Frontrunner: ADC Adscope 600 Platinum Series Cardiology Stethoscope
Sale
ADC Adscope 600 Platinum Series Cardiology Stethoscope with Tunable AFD Technology, Navy
INCREDIBLE ACOUSTICS: Proprietary adjustable frequency design (AFD) technology enhances acoustic performance; use light pressure for low frequencies, firm pressure for high frequencies. Individually...
ERGONOMIC: Sculpted chestpiece is precision CNC machined to exacting tolerances from surgical stainless steel. Length 27 inches, weight 7.15 oz
HIGH PERFORMANCE: Cardiology headset features dual channel phthalate-free tubing, large-bore stainless steel binaurals, and Adsoft Plus snap-on silicone eartips for the ultimate in wearing comfort and...
This is an excellent stethoscope with crisp sounds, which will make for an accurate assessment. It scores high in voice amplification thanks to its bi-lumen headset and AFD 'Adjustable Frequency Design' used to detect high and low pressures.
In addition to bell and diaphragm frequencies.
The CNC stainless steel chest piece, alongside with the aluminum binaural and heavy-walled large-diameter aural tubes ensure durability and optimized acoustics.
Making this stethoscope a great rival for 3M Littmann with way less price. A remarkable feature of this stethoscope is its headset.
Its Adsoft Plus silicone earbuds are ergonomic and allow for a decent acoustic seal. They're easy to take off and clean, as well.
This stethoscope falls short of portability. If you prefer to carry it around your neck, you'll find it a bit short.
The tubes are thick, and normally it's heavier on the chest piece side so it might just dropdown.
For those reasons, it's better to keep this stethoscope in your pocket.
It comes with a lifetime warranty through which you can get free diaphragms or ear tips and complementary refurbishment.
For a more personalized touch, ADC Adscope comes in 9 distinct colors to match your style.
In addition to a scope ID tag (which is a must for any stethoscope).
Pros:
Affordable
Ergonomic design
Lifetime warranty
Cons:
Check out the ADC Adscope 600 on Amazon.
3. The Good Deal Item: Vive Precision Stethoscope
Vive Precision Dualhead Stethoscope - Dual Head Diaphragm Bell for Nurses, ER, Cardiology,...
DUAL HEAD CHEST PIECE: Designed so that you can use either the bell side or diaphragm side, our stethoscopes have the ability to rotate a complete 180 degrees. This means only one side can be used at...
EXCEPTIONAL PERFORMANCE: High acoustic dual-head chestpiece produces a clear sound. The stainless steel diaphragm detects high frequencies and the small bell detects low frequency and auscultatory...
LIGHTWEIGHT, DURABLE CONSTRUCTION: Flexible PVC tubing is used in the standard y single lumen design that includes soft silicone ear tips and durable stainless steel ear tubes and combination...
You don't have to aim for a high-end stethoscope for optimal performance. The Vive Precision Stethoscope gets the job done efficiently, and the price is low. It's a real bargain.
It features a dual 180-degree rotating head chest piece that has the diaphragm on one side and the bell on the other one.
Enabling you to use only one of them at a time and ensuring that you here both low and high frequencies.
The premise of Vive Health company is to manufacture high-quality medical equipment at a good price. It lives up to the claim with a stethoscope that's affordable and well-constructed.
The headset is made of sturdy stainless steel, and the tubing is of high-end rubber.
The silicone earbuds are comfortable to wear and do a great job in noise cancellation.
Unlike its rivals, it has a single lumen with flexible lightweight tubing. It's made of flexible PVC that's easy to carry but can be too flexible and wear out easily.
It comes with a 2-year guarantee. Besides, it comes with a box to store your equipment and an extra diaphragm.
Pros:
Lightweight
High-quality acoustics
Minimal noise interference
Cons:
Tubing is too flexible
Earbuds are a bit tight
See the other reviews for the Vive Precision Stethoscope on Amazon.
Related Article: 5 Best Sphygmomanometers for Nursing Students
4. Comfort Choice: MDF Acoustica Deluxe Lightweight Dual Head Stethoscope
MDF Acoustica Lightweight Stethoscope for Doctors, Nurses, Students, Home Health Use, Adult, Dual...
TRUSTED by Medical Providers since 1971 | Backed by our Full Lifetime Warranty & Replacement-Parts-For-Life Program Included| Latex-Free
ALL-PURPOSE LIGHTWEIGHT diagnostic instrument that delivers accurate auscultation of heart, lung, and stomach (gastrointestinal, bowel, etc.), blood pressure flow (Korotkoff) sounds with acoustic...
CHESTPIECE designed with a turnable, fully rotating stem and a true bell and true diaphragm to capture high or low frequency sounds as needed. Handcrafted from premium aluminum to deliver the ultimate...
This is a choice for those who want to practice lightly or don't use their stethoscopes heavily. While the MDF Acoustica provides good functionality compared to its price.
Its sound quality is quite average, so it won't help you in critical situations. Should you use it in regular assessments, it would do fine.
The MDF Acoustica takes it up a notch with its full rotation acoustic valve stem that allows you to identify the active voice channel via the green light.
The tubing is well insulated as it's made of dense latex-free PVC.
Moreover, its length is longer than average, protecting the personal space of both you and the patient. It seems like the manufacturers of this stethoscope care about your comfort.
The device is very lightweight, flexible, and comes with different sizes of silicone earpieces to ensure proper fitting.
They're also phthalate-free for hygiene purposes. Besides, the all-black color makes it elegant.
If you're not going to use it in urgent situations or loud surroundings. This product makes a great choice for an amazing price.
Pros:
Good value for money
Easy to clean earbuds
Cons:
Check out the MDF Acoustica Deluxe Stethoscope on Amazon.
5. Budget Item: Omron Sprague Rappaport Stethoscope
Omron Sprague Rappaport Stethoscope, Black
Includes: three sizes of open bells, two sizes of diaphragms, and two pair of eartips
Latex FREE tubing and chrome plated chestpiece
Comes with three sizes of open bells
Omron Sprague is a popular choice. Its main appeal is its price, which is really cheap compared to others, and the benefits/ cost ratio is quite acceptable.
The chrome chest piece is durable. The earbuds deliver clear sound yet they're not the most comfortable and don't pick up a wide range of frequencies.
It comes in a variety of colors and variable tube lengths to suit everyone. The latex-free tube is convenient for those with allergies or sensitive skin.
The tubes might rub together, yet you can separate them manually using a clip or a holder.
The sound quality is okay. For the price, we won't ask for more. It's not comparable to other high-end products like Littmann's, for example. Yet, it does a pretty good job.
This is an average stethoscope for simple regular assessments, it won't be efficient for urgent or critical situations.
Plenty of accessories come with this device, including a variety of bells with different sizes for versatile functionality. Alongside diaphragms and a storage case.
Pros:
Great price
Good functionality for the price
Cons:
Loses its shape over time
Wears out easily
A bit heavy
Check out the other customer reviews of the Omron Sprague Rappaport Stethoscope on Amazon.com.
Anatomy of a Stethoscope
Before you decide. Let's dive in to see what the different parts of a stethoscope are and what makes them good.
That way, you can judge for yourself and know what to look for.
1. Chest piece
It's recommended to get a chest piece that's made of stainless steel or bronze.
As they're good sound conductors, durable and they ensure a tight seal fitting for the diaphragm. A proper seal is essential because air leaks in the diaphragm could compromise sound quality.
There are 3 types for chest pieces:
1. Single
These are general usage stethoscopes. A single head allows for detection of a wide range of frequencies from low to high.
2. Double
A more versatile option that consists of a diaphragm and a bell. The diaphragm is the flat larger part that works for high frequency, while the bell is a cup-shaped smaller part that's responsible for low frequency.
3. Triple
This is rather advanced and expensive. It's also heavy. Mainly used in critical cardiac assessments done by physicians. As a nursing student, you won't need to look at these.
2. Diaphragm
You should look for a diaphragm made of high-quality material as it's the most important component of the stethoscope.
Littmann company has introduced a tunable diaphragm to the market, through which you can adjust the diaphragm sensitivity by applying different amounts of pressure.
A non-chill rim is a desirable feature too.
3. Tube
The tube transfers sound from the patient to your ears. That's why we care about its material. The rule of thumb is that the thicker, the better.
Because it means that the tube is durable and well-insulated, so you don't have to worry about operating in noisy surroundings.
A rubber or latex-free tube is preferred, especially for those who have sensitive skin (source).
Brands offer some other features like oil or alcohol resistance, for example. We also love a crack-resistant tube, so it doesn't wear out when you fold it in your pocket.
4. Earpiece
It should be soft and ergonomic in order not to hurt your ears. Look for silicone earbuds for the comfort they provide. Also, their angle makes a difference.
We appreciate that some brands provide you with multiple earpieces of variable sizes to choose what suits you best.
For the complete information make sure to check out our article on the different parts of a stethoscope.
Cheap vs. Expensive Stethoscope: Is there a Difference?
They might look similar, but there're some slight differences between a "cheap" stethoscope and an expensive one.
Differences include a higher level of precision to detect subtle changes in tone and rhythm.
This is important because for sick patients with cardiac issues it's going to involve hearing some low-frequency heart sounds like heart murmurs or rubs.
To achieve this level of performance, you will find cardiac stethoscopes with thick insulated short tubes, to transfer sound fast and cancel noise. Metallic chest pieces and thick earbuds contribute to the enhanced sound quality.
Related Article: 10 Best Stethoscope for Nurses
What to Consider Before Buying?
1. Work Environment
As you might have noticed, most of the affordable stethoscopes offer good sound amplification but weak noise cancellation.
Meaning they work well in quiet environments and are nearly useless in critical situations.
When and where you will be using your stethoscope is the first factor to consider when you start looking for products.
A great stethoscope in the wrong environment can be worthless.
2. Clarity
For a nursing student, this one is a deal-breaker. A stethoscope with weak sound amplification or one that doesn't detect weak sounds is not acceptable.
You should be able to detect low frequencies and differentiate between sounds.
3. Material
Diaphragm and chest piece materials determine sound clarity, while tubing material controls sound insulation. Finally, earpiece materials are responsible for your comfort.
4. Weight
A heavy stethoscope is not necessarily a bad one. On the contrary, many of the top performers with advanced acoustics are heavy. However, you should evaluate your needs.
If you're going to be having this stethoscope around your neck while you're walking around the whole day, it would be exhausting, and a lightweight product should be your focus.
Verdict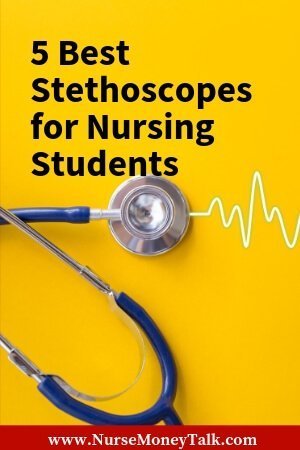 Nobody can choose a stethoscope for you, because regardless of its general features using this device is a personal experience that only you can judge.
The bottom line is the 3M Littmann Cardiology IV Diagnostic Stethoscope is the best overall stethoscope.
The renowned brand will never fail you with their astonishing products, and you know for a fact that your money isn't going to waste.
If it's out of your budget, you can check other affordable options we've listed.
Related Articles to Best Stethoscope for Nursing School:
Frequently Asked Questions