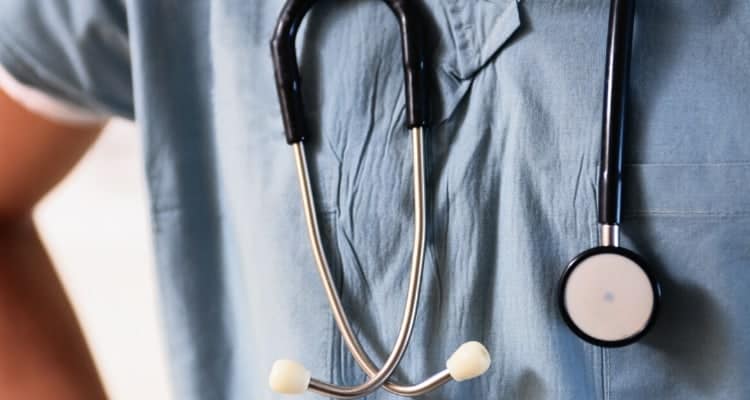 A stethoscope is one of the most important tools a nurse uses.
Being able to listen clearly to the sounds the body produces from the lungs, heart, and other organs is a crucial part of diagnosing patients.
These are 10 of the best stethoscopes for nurses.
*Disclosure: This article on the best stethoscope for nurses may contain affiliate links. If you click and make a purchase, I may receive a commission. For more info, please see my disclaimer.
Top Picks
Best Stethoscopes for Nurses
1. 3M Littmann Classic III
You can't go wrong with a classic and this 3M Littmann Classic III stethoscope proves that.
It's versatile enough for use on patients of all ages, including pediatrics.
Both sides of the chest piece contain a tunable diaphragm that is easy to remove and clean between patients.
Comfort is found in many ways with this stethoscope, both for the nurse and the patient.
The tubing is lightweight and latex-free so even the most sensitive skin won't get irritated.
There's also a non-chill rim on the diaphragm for patient comfort.
Pros:
Tunable diaphragm
Latex and phthalate-free tubing
Non-chill rim on diaphragm
Cons:
Earbuds come off easily
Material around bell may crack
Tubing dents easily
Check the price of the 3M Littmann Classic III on Amazon.com.
Related Article: 5 Best Littmann Stethoscope for Nurses
2. 3M Littmann Lightweight II S.E.
If you struggle with neck pain from constantly wearing a stethoscope, you'll appreciate this 3M Littmann Lightweight II S.E. stethoscope.
It's the most lightweight stethoscope Littmann makes, weighing in at just a quarter of a pound.
This stethoscope is ideal for taking blood pressure and performing basic assessments on adult patients.
The diaphragm is even angled into a teardrop shape so that it fits neatly underneath a blood pressure cuff.
Switch easily between low and high frequency sounds with just a simple pressure change.
The non-chill diaphragm rim is an added bonus for patient comfort.
Pros:
Lightest stethoscope currently available from Littmann
Teardrop-shaped diaphragm
Tunable diaphragm
Cons:
Only 5 color options
Difficult to hear low-frequency sounds
There are better options for cardiac patients
Check the price of the 3M Littmann Lightweight II S.E. on Amazon.com.
3. 3M Littmann Cardiology IV
A stethoscope with excellent acoustic performance is what you'll find with this 3M Littmann Cardiology IV stethoscope.
The stainless steel chest piece enhances sound waves and allows you to hear even the slightest changes in patient status.
This stethoscope is appropriate for any critical care setting, especially for cardiac patients due to the larger chestpiece and deep bell that can detect low-frequency sounds.
The dual-lumen tubing eliminates rubbing noises and the tubing is the perfect length for wearing around the neck.
Soft-sealing ear tips cancel out exterior noises and stay in place for safety and comfort.
Pros:
Stainless steel chestpiece
Deep bell
Two-in-one tube design eliminates noise interference and rubbing
Cons:
Diaphragm comes off easily
Turquoise tubing color fades over time
Tubing may irritate the skin
Check the price of the 3M Littmann Cardiology IV on Amazon.com.
Related Article: 5 Best Stethoscope for Cardiac Nurses
4. 3M Master Cardiology Stethoscope
The sound quality on this 3M Master Cardiology Stethoscope is ideal for cardiology settings where having the ability to hear even the faintest sounds is crucial to patient diagnosis and care.
Apply light pressure to hear low-frequency sounds and firm pressure to hear high-frequency sounds.
No additional parts are necessary to change from low to high.
The ear buds fit tightly and securely inside of the ear canal to eliminate any outside noises and provide a comfortable wearing experience.
The addition of the latex-free, flexible tubing makes this stethoscope even more useful and appealing.
Pros:
Tune diaphragm with simple pressure change
Ear buds fit securely
Latex-free tubing
Cons:
Bell falls off easily
Tubing is wider than other stethoscopes
Diaphragm may rust over time
Check the price of the 3M Master Cardiology Stethoscope on Amazon.
5. ADC Adscope 603 Clinician Stethoscope