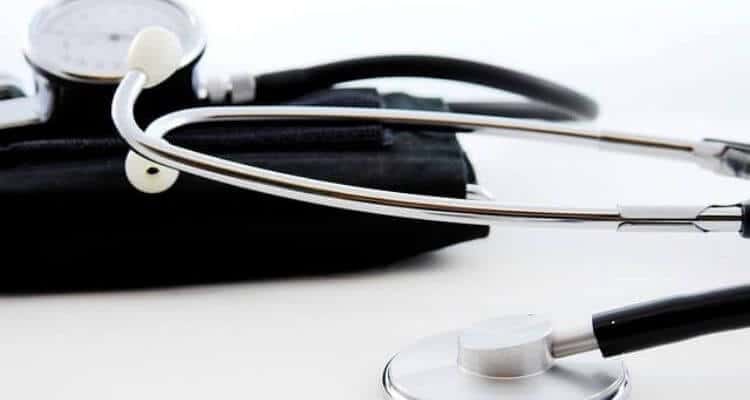 In this article, we're going to look at the best pediatric stethoscope for nurses.
No matter your workplace, every pediatric nurse needs a good quality stethoscope.
The trouble is that when working with smaller patients, a standard adult-size stethoscope isn't going to do the trick.
Finding a reliable pediatric stethoscope takes a bit of digging, but once you find it, you'll never look back.
A stethoscope is such an integral piece of equipment for your nursing career, so why settle for a run-of-the-mill solution?
Below are five options that meet the requirements that we listed above. We're sure you'll find one to meet your needs as a pediatric nurse.
*Disclosure: This post may contain affiliate links. If you click and make a purchase, I may receive a commission. For more info, please see my disclaimer.
Top Picks
Best Pediatric Stethoscope for Nurses
1. ADC Adscope Adimals Pediatric Stethoscope
Sale
ADC - 618SF Adscope Adimals 618 Pediatric Clinician Stethoscope With Tunable AFD Technology, Seafoam
INCREDIBLE ACOUSTICS: Proprietarty adjustable frequency design (AFD) technology enhances acoustic performance; use light pressure for low frequencies, firm pressure for high frequencies. Individually...
CHILD FRIENDLY: Distinctive molded-resin animal face chestpiece with 7 interchangeable snap-on's: Panda, Frog, Koala, Deer, Monkey, Tiger, and Bear
COMPACT & COMFORTABLE: Clinician headset features silicone reinforcing yoke molded into flexible phthalate-free PVC tubing, lightweight aluminum alloy binaurals, and Adsoft Plus snap-on silicone...
This pediatrician's stethoscope from American Diagnostic Corporation will be a hit with any patient. It comes in three fun colors: pink, seafoam, and white.
Kids will especially love the friendly cast of animal characters you can attach to the bell of the stethoscope.
Choose from a bear, deer, frog, koala, monkey, panda, or tiger. Not only is this product adorable, but it comes with the reliability of ADC's Adscope technology.
This makes it easy for nurses to get readings on both low-frequency and high-frequency binaurals.
This stethoscope comes with a 5-year warranty. It's got a 1.5-inch diaphragm diameter along with Adsoft Plus ear tips for extra comfort.
At 30 inches long and three ounces in weight, it's nice and lightweight. It's the perfect choice for pediatric nurses who are running from one client to the next on any given day.
This stethoscope features AFD (Adjustable Frequency Design) to allow nurses to alter the pressure they use to tune the frequency lower or higher.
The bell won't get chilly either, so no more uncomfortable patients or fussy toddlers.
Nursing customers have used it on infants all the way up to adults, reporting a crisp, clear sound on all of their patients.
There are overwhelmingly positive reviews, with most buyers saying that this product eased the anxieties of younger patients while providing clear sound and accuracy.
This product is bound to earn you favor with the kids, but it'll also help you perform a precise and efficient physical exam.
➡️ Check out the ADC Adscope Admials Pediatric Stethoscope on Amazon.com.
2. 3M Littmann Classic II Pediatric Stethoscope
The Littmann company is a solid choice for nursing professionals, and their line-up of stethoscopes range from the classics to cardiology-specific.
No matter the type, if it's a Littmann, it's tested for quality assurance and prime features that nurses want and need.
This includes adjustable diaphragms, high acoustic sensitivity, comfy ear tips, oil-resistant tubing, and precise chest pieces. The Littmann 2122 comes in a lovely raspberry color and measures 28 inches long.
Its bell exterior is stainless steel, and the product comes with a 3-year warranty.
While it's not the lightest (it weighs 16 ounces), it's still an easy-to-transport stethoscope that comes with the latest technology in cardiological care.
The dual-sided non-chill chest pieces makes it easy to work with antsy children, and the floating diaphragm can capture a broad spectrum of low and high-frequency sounds.
The ear tips are ergonomically designed to slip seamlessly into the ear canal for comfort and precise listening. The tubing is resistant to skin oils, and it's also latex-free, making it ideal for the healthcare field.
A unique feature of this Littmann Classic II pediatric stethoscope is that it comes with access to the 3M Littmann Learning Institute app, which can help nurses practice and refine their auscultation skills anytime, anywhere.
The app can teach them how to recognize different heart and lung sounds under a variety of conditions as well as make more accurate diagnoses of patients.
The vast majority of customer reviews for this product are positive, citing this stethoscope as their go-to option for neonates as well as adults.
The smaller bell makes it ideal for nurses in the pediatric unit.
➡️ Check out the Littmann 2122 Classic II Pediatric Stethoscope on Amazon.
Related Article: What's the Best Littmann Stethoscope for Nurses?
3. ADC Adscope Pediatric Clinician Stethoscope
This is another stethoscope that uses the ADC Adscope technology to get clearer amplification at different diaphragm frequencies. Buyers can choose from a variety of fun colors, including black, gray, light blue, metallic Caribbean, metallic raspberry, and pink.
The bright colors are a nice escape from the usual sterilized look and feel of a healthcare setting and are sure to set younger patients at ease.
The product comes with a spare diaphragm and ear tips for added convenience, and the stethoscope weighs in at 12 ounces for lightweight travel.
It features a combination AFD chest piece in stainless steel, and the clinician headset comes with Adsoft Plus silicone ear tips.
The bell diameter is 1⅛ inches, while the diaphragm diameter is 1⅜ inches. The diaphragm is sensitive to pick up on a wide range of frequencies at greater amplification.
In addition, this pediatric stethoscope comes with a lifetime warranty for added peace of mind.
The ADC Adscope pediatric clinician stethoscope comes with the ADC (American Diagnostic Corporation) promise of being made in the United States of premium materials that provide accuracy, safety, and efficiency.
They are acoustically tested for accuracy and dependability under a variety of conditions. While the binaural is fixed, it's at a comfortable 15-degree angle to suit many different patients and children.
The majority of customers report positively on this product, citing it as a must-have for smaller patients, including babies and infants.
They also report that this stethoscope stands up to the other popular brands, such as Littmann.
➡️ Check out the other reviews of the ADC Adscope 604 Pediatric Stethoscope on Amazon.
4. MDF Sprague Rappaport Dual-Head Stethoscope
This stethoscope comes from MDF Instruments, a company that has been supplying handcrafted stethoscopes and blood pressure meters since 1971.
Needless to say, they are an authority on cardiological instruments, and their products loyally serve all ages from infant to adult.
The Sprague Rappaport Dual-Head stethoscope comes with a convertible chest piece, so nurses can use it on patients across the age spectrum.
The tubing comes in fun colors such as black, green, pink, purple, and red, while the exterior chrome finish comes in gold or silver.
The chest piece is made of a zinc alloy and includes an easy-to-read acoustic valve system that identifies the active sound channel.
With a lifetime warranty and free-parts-for-life guarantee, buyers don't need to worry about replacing their stethoscope.
Moreover, this product is latex-free, so it's safe for all of your patients.
The unique 5-in-1 Sprague design means that nurses can quickly transition from an adult bell to a pediatric or infant bell in no time at all.
The Dual Lumen tubing is comfortable and allows for precise sound amplification.
Nurses can use the Accufit adjustable headset to get just the right fit. This product comes with two extra sets of ComfortSeal ear tips as well as spare PVC diaphragms for children and adults.
This stethoscope is used by nurses in all kinds of units, thanks to its ability to switch between reading infant, pediatric, and adult heart sounds.
Healthcare professionals can get it all done with just one stethoscope, making them more precise and efficient at work, and leading to better patient outcomes.
Buyers report positive testimonials, and the stethoscope is used by everyone from nursing students to full-fledged professionals in a wide range of units.
They report that it's a breeze to clean and repeatedly delivers sound results and all-day comfort.
➡️ Check out the MDF Sprague Rappaport Dual Head Stethoscope on Amazon.com.
5. MDF Instruments MD One
Another MDF Instruments stethoscope, the MD One is designed specifically for pediatric nurses.
Like the other MDF Instruments products, this one comes with a free-parts-for-life guarantee as well as a lifetime warranty. It comes in basic black, as well as pink and purple, to add something bright and colorful for the kiddos.
The ergonomic design is crafted to make the physical examination process comfortable for both nurse and patient.
Eartips come in small, medium, and large to suit all nurses, and the chest piece comes with a pediatric-sized bell that won't chill up and give them a jolt of coldness.
This is a totally lightweight stethoscope, weighing in at only seven ounces. It's constructed of stainless steel to deliver acoustic clarity and amplified auscultation of the heart and lungs.
The chest piece is handcrafted and includes a full-rotation valve stem with an indicator button for simple identification of acoustic sounds.
To suit children and smaller patients, it is fitted with an ultrasensitive diaphragm and retaining ring to help isolate lower frequencies.
It's a durable piece of equipment for nurses, but it also provides the comfort that little patients need.
Another feature that helps to isolate the sounds and get a more accurate reading is the thick PVC tubing, which is latex-free and non-stick, so it won't irritate patients, especially those with latex allergies.
The denser tubing ensures that the sounds aren't interrupted with crackling or ambient noises. This type of PVC tubing is also more dependable and stands up to regular wear and tear.
With a length of 32.8 inches, it creates ample space between nurse and patient, something that other stethoscopes may lack. Furthermore, the metal-alloy chamber in the acoustic tubing maintains an open channel for noise transmission.
A specially-designed headset keeps the ear tips cozy and secure, thanks to ComfortSeal technology and a pre-angled calibration. Customer reviews are mostly positive, stating that it's a great value for the money.
➡️ Check out all the other reviews and the price of the MD One Stainless Steel Premium Dual Head Pediatric Stethoscope on Amazon.com.
Stethoscope Accessories
1. Caseling Hard Case for Stethoscopes
Sale
Case fits 3M Littmann Stethoscope & other Stethoscopes. Extra room for Nurse and Medical Equipment.
Stethoscope Case: This waterproof hard case fits 3M Littmann Classic III / IV Diagnostic / Lightweight II S.E / MDF Acoustica Deluxe Stethoscopes. Convenient and stylish for storing your stethoscope...
Waterproof Case Material: This hard carrying case is made of high-quality ethylene vinyl acetate material which is strong & durable. Storage case will prevent any damage to your stethoscope.
Double Zipper Hard Cases: Stethoscope case for nurses comes with a thick mesh pocket for your accessories. The double zipper design of the carry case makes it easy to access them when you need them.
Nurses are going to need a carrying case for their stethoscopes, so why not try this Caseling Hard Case for stethoscopes? This case is made of ethylene-vinyl acetate, an elastic material similar to rubber.
It's shock-proof, water-resistant, and has a perfectly snug fit for a variety of stethoscopes. This case can fit the 3M Littmann collection of stethoscopes as well as different MDF and ADC stethoscopes.
The inside dimensions measure 10" x 3.5". The interior includes a convenient mesh pocket that can hold a calculator or notepad and a penlight along with your stethoscope.
The exterior features a wrist strap for effortless handling, making this a stylish addition to your nursing materials.
It's worth noting that this is an Amazon's Choice for stethoscope case and the #1 choice in the Medical Stethoscope Accessories category.
It's lightweight and has a 360-degree double-zipper that helps to protect your accessories from dirt and dust buildup.
Customers report that this case can stand up to the daily grind as well as plenty of trips and falls.
The case is durable, and the eco-friendly EVA material can take a hit without compromising the safety of the inside accessories.
The black color is sleek and timeless, and the case won't take up too much space in your bag.
With such an affordable price, there's no reason not to protect your stethoscope from nicks, dents, and scratches.
➡️ The Caseling stethoscope case is available on Amazon.com.
2. Stethoscope ID Name Badge
It's amazing to me how nurses overlook putting their names on their stethoscope.
If you lose or misplace your stethoscope (which is going to happen at some point or another), it's going to be really hard for you to get your stethoscope back.
Whether because someone steals it or it ends up in the bottom of a draw putting your name on your stethoscope increases the likelihood you're going to get it back.
The question might be how do you put your name on your stethoscope?
Easy with the Littmann stethoscope name tag. All my stethoscopes have a name badge on it, and it's saved me several times after I've misplaced it.
➡️ See the other reviews and the price of the 3M Littmann stethoscope ID tag on Amazon.
3. Stethoscope Clip
LuxeClip: Embrace Elegance and Functionality - Modern and Sleek Stethoscope Holder Crafted with...
TESTED DURABILITY AND QUALITY: Sets us apart from the rest; DUAL-layered genuine leather lining on both interior and exterior surfaces provides a strong, guaranteed long-lasting, water-resistant,...
Intricate stitch work with strength-tested threads translate into an exceptionally strong and durable holster; This worry-free design tightly secures all stethoscope types with high-end Velcro lining...
UNIVERSAL FIT AND GRIP: With both the stethoscope and the user in mind; Designed to accommodate all stethoscope variations, including adult and pediatric stethoscopes, cardiac, electronic and...
There's been some debate about whether or not nurses should be hanging a stethoscope around their neck. The debate ranges from the spread of germs on an unclean stethoscope to the nurse.
To the oil (whether from skin or hair care product) damaging a stethoscope. I'm in the camp of not wearing a stethoscope around my neck (my neck seems to ache after a long shift of doing that).
For those reasons, I use a stethoscope clip.
➡️ With 3 different colors, the Secure-A-Scope stethoscope holder (on Amazon) allows you to accessorize while keeping your stethoscope secure. It's an Amazon's Choice for stethoscope clips. Make sure to check it out.
Buying Guide
Of course, finding that product isn't simply a matter of finding a smaller-sized stethoscope.
There are specific things to look for when narrowing down your options so that you can purchase the most dependable and suitable stethoscope.
1. Brand Reputation
First of all, look for brands that have a reputation for producing top-notch nursing equipment, and try to ensure that they have a pediatric option for you.
2. Pay Attention to the Chest Piece
Secondly, pay attention to the chest piece. You're going to be working with younger patients with smaller, more fragile bodies.
Therefore, you need a chest piece that is adequately sized for a youngster.
This will ensure that you get a more accurate reading and provide a higher level of care for your patient.
Smaller chest pieces are easier to move around, won't cause unnecessary discomfort to the child, and they'll include diaphragms that are more delicate.
This means they are much better at picking up higher-frequencies than standard size diaphragms.
3. Adjustable and Detachable Parts
Adjustable and detachable parts can help nurses who regularly transition between patients of various ages.
Even those who work primarily with pediatric patients can benefit from adjustable diaphragms and bells, as kids come in different shapes and sizes, too.
4. Non-chill Ring
In addition, a non-chill ring will keep them comfortable and prevent that dreaded feeling of a cold stethoscope on the bareback.
This is crucial to easing a child's anxieties and fears around a physical examination.
5. How the Stethoscope Looks
Another way to calm their nerves is to have a stethoscope that's aesthetically pleasing.
We're all over the dull and drab ones anyway. Look for fun colors such as blue, red, green, pink, and purple.
This can create a nice distraction and help you complete your exam faster and more effectively.
Final Thoughts
In case you missed our chart from above.
If you've read enough of our articles, then you know we tend to have our favorite companies when it comes to products. When we were talking about the best scrubs for nurses, it was Landau.
When it was about shoes, we wrote two entire articles on the top Nike shoes for nurses and the best New Balance shoes for nurses.
If you really want to get us going, let's talk about day to day computers and electronics. We really have a strong opinion there.
All that being said there's one thing you'll probably notice about our favorites. We're always looking for the best quality we can get for the price.
The stethoscope we use as nurses on a regular basis is no exception.
For stethoscopes, our preference is Littmann, but we know other nurses feel differently.
That's why we went looking for other great stethoscopes we could review.
So if you get stuck not being sure what stethoscope you should try the Littmann pediatric stethoscope.
With over 500 reviews and an almost 5-star rating on Amazon, it would be our recommendation.
Have you tried a stethoscope you really liked or heard someone else say they like? Let us know in the comments below.
Related Articles