5 Best Stethoscope for Cardiac Nurses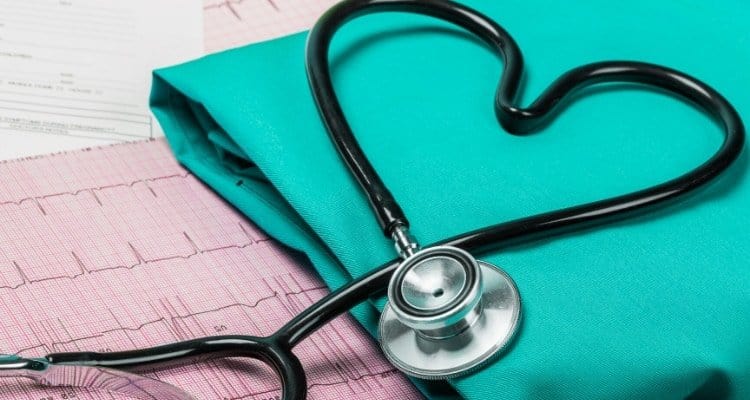 A stethoscope is one of the most important tools a nurse can have.
It's particularly important for cardiac nurses who may deal with patients diagnosed with critical heart conditions.
Without a doubt, having a high-quality stethoscope is a great asset and can help nurses treat their patients quickly and efficiently.
*Disclosure: This post about the best stethoscope for cardiac nurses may contain affiliate links. If you click and make a purchase, I may receive a commission. For more info, please see my disclaimer.
Top Pick
If you're in a hurry for the best stethoscope for cardiac nurses than you might as well not bother reading the rest of this article because our overwhelming favorite is the Littmann Cardiology IV.
Superior build accompanied with acoustic clarity makes this stethoscope one of the best you could get on the market.
Don't take our word for it check out all the other reviews of the Cardiology IV on Amazon.
5 Best Stethoscopes for Cardiac Nurses
1. 3M Littmann Classic III Stethoscope
Whether you're a nursing student just starting out or a long-time nurse, this 3M Littman Classic III Stethoscope has everything you need to treat patients in a non-critical setting like a primary care doctor's office, pediatrician's office, or urgent care office.
It's attractive and lightweight and made from superior quality pieces like the two-sided chest piece and oil-resistant tubing.
This stethoscope provides crystal clear sound which is ideal for assessing cardiac patients.
The lightweight design makes it comfortable enough to wear around your neck all day, which the oil-resistant tubing is easy-to-clean and lasts longer than standard tubing.
Those with allergies will appreciate that the tubing is also latex and phthalate-free.
With over 20 different tubing and chestpiece colors, there's something to fit every nurses' personality and taste.
Pros:
Superior acoustic quality
Lightweight design is comfortable enough to wear all-day
Free from latex and phthalate
Cons:
Earbuds may loosen and detach over time
Multiple reports the diaphragm scratches easily
Some of the colors may fade quickly
Check the price of the 3M Littmann Classic III on Amazon.
Related Article: 5 Best Littmann Stethoscopes for Nurses
2. ADC Adscope 600 Platinum Series Cardiology Stethoscope
The Adscope 600 Platinum Series Cardiology Stethoscope from ADC is built to last and even comes with a lifetime warranty when you register it.
The warranty covers free consumables like ear tips and diaphragms and the unit will be replaced with a new one if any major service is needed to fix it.
In addition to the excellent warranty this stethoscope comes with, it's also available in 11 color options such as basic black and Breast Cancer Awareness Pink.
There are loads of features that will benefit cardiac nurses, such as the adjustable frequency design that makes for high-quality acoustics.
The sturdy chest piece is crafted from surgical stainless steel so you know it's going to withstand countless hours of use.
The headset is perfect for cardiac nurses because it boasts anodized aluminum binaural and soft silicone ear tips, allowing for the best sound quality at all times.
Pros:
Excellent lifetime warranty
Surgical stainless steel chestpiece
Anodized aluminum binaural and soft silicone ear tips
Cons:
Earpieces have been reported to wear out quickly
Tubing is short
Some might consider this stethoscope on the heavy side
Check the price of the ADC Adscope 600 Platinum Series on Amazon.
3. 3M Littmann Cardiology IV Stethoscope
Being able to detect even the smallest changes in your patients is crucial for cardiac nurses.
The Littmann Cardiology IV Stethoscope from 3M allows you to do just that, making it the ideal choice for cardiac nurses working in critical settings like the Emergency Department and the Intensive Care Unit.
The large chest piece and deep bell make it easier for you to listen to a patient's heart, lungs, veins, and arteries so you can diagnose and treat them faster and more effectively.
The tubing design is also unique in that it allows the sounds to travel through just one tube instead of the usual two, virtually eliminating the rubbing sounds that can distract you from properly diagnosing your patients.
It's ergonomically-designed and lightweight, with comfortable ear tips that mold to your ears, creating an airtight seal.
All of the parts are sturdy and made to last years.
Pros:
Easy to detect small changes in patient status
Single tube design eliminates rubbing sounds
Ergonomic design
Cons:
Diaphragms come off easily
Colors fade
Difficult to clean
Check the price of the Littmann Cardiology IV Stethoscope on Amazon.com.
4. 3M Littmann Master Cardiology Stethoscope
The chestpiece on this 3M Littmann Master Cardiology Stethoscope is what makes it truly unique.
You can change from low to high-frequency sounds with just a simple pressure change.
For low-frequency sounds, apply light pressure to the patient's skin.
For high frequency, apply firm pressure.
By tuning the diaphragm with a quick pressure change, you're able to diagnose your patients quicker which is vital for cardiac nurses.
The headset is angled so that it comfortably fits within the ear canal and the ear tips are soft-sealing so there's no outside noise interference.
The tubing maintains its shape no matter how tightly it's coiled up in your pocket.
During use, the single tube design allows for better acoustics without any rubbing sounds from dual tubing.
It's also latex-free for even the most sensitive skin.
Pros:
Diaphragm is easily tuned with pressure change
Angled headset comfortably fits in the ear canal
Latex-free tubing
Cons:
Bell tends to rust over time
Diaphragm scratches easily
Heavy when worn on the neck for long periods of time
The Littmann Master Cardiology Stethoscope is available on Amazon.com.
5. MDF ProCardial Premier Cardiology Stethoscope
A lifetime warranty and Free Parts for Life Program make this MDF ProCardial Premier Cardiology Stethoscope a great choice for any nurse, but particularly for cardiac nurses who need something trustworthy and reliable.
Each stethoscope is handcrafted and has been since 1971, ensuring all parts are well-made and sturdy.
Since it allows you to treat infants, pediatric patients, and adult patients, you'll never need another stethoscope.
The tubing is latex-free and made from PVC material which is meant to withstand both normal wear and tear and the tough job that cardiac nurses have.
The diaphragm is non-chill for patient comfort and can transmit heart and lung sounds from 100Hz to 1000Hz.
The headset is ergonomically-designed at a 15-degree angle so that it properly fits in the ear canal.
Each stethoscope comes with two extra sets of ComfortSeal ear tips so it's always ready to use.
Pros:
Latex-free tubing
Non-chill diaphragm for patient comfort
Ergonomically-designed headset is angled at 15 degrees
Cons:
Eartips are stiff
Colors chip over time
Thick tubing is bulky
See the price of the MDF ProCardial Cardiology Stethoscope on Amazon.
Buying Guide for Stethoscopes
1. Ergonomic Design
Since stethoscopes are one of the most frequently used tools in the medical profession, it's important that they are comfortable to wear.
Ergonomically-designed stethoscopes may have features like:
An angled headset so that the ear tips fit comfortably in the ear canal.
Soft ear tips that mold to the ear canal.
Lightweight tubing material that doesn't irritate the neck.
An easy-to-tune diaphragm that doesn't require a lot of pressure.
2. Latex-Free
Many people have latex allergies, which makes a latex-free product more appealing.
Whether you have a latex allergy yourself or you simply want to protect your patients with latex allergies, a stethoscope made with latex-free tubing is a good idea.
Tubing that's free of other irritating materials like phthalates can also be beneficial to your skin and the skin of your patients.
3. Single Tubing
Tubes that rub together can create a rustling sound within the headset that can interfere with properly diagnosing patients.
Single tubing eliminates this rubbing sound, allowing for clearer acoustics and a greater ability to diagnose and treat patients correctly.
Related Article: What are the parts of a stethoscope?
4. Non-chill Diaphragm
Patient comfort is always a top priority for medical professionals.
A diaphragm that is too cold can alarm a patient, particularly pediatric patients, and make for a traumatizing experience.
A non-chill diaphragm stays at a comfortable temperature so your patients are never surprised by an ice-cold diaphragm on their skin.
5. Lightweight Design
Many medical professionals wear their stethoscope around their neck at all times.
It's important that the stethoscope is made from lightweight materials to avoid skin irritation and heaviness around the neck.
Even something as small as a stethoscope can create neck, shoulder, and back problems if it's too heavy.
6. Lifetime Warranty
A stethoscope is a big investment, so you want to ensure it's one that will last a long time.
Lifetime warranties are a good thing to have if your stethoscope breaks or loses parts.
Many companies require you to register the product within a certain time frame in order to qualify for the lifetime warranty so be sure to read all the instructions that come with your stethoscope.
7. Acoustic Quality
Acoustic quality is the most important feature of a stethoscope.
You need to be able to hear even the smallest changes in a patient's status.
Final Thoughts
A reliable stethoscope can make the job of a cardiac nurse easier and allows them to be more efficient when it comes to diagnosing and treating their patients.
All of these stethoscopes have advantages and disadvantages and choosing the right one depends on the specific requirements of your nursing position.
Related Article to Stethoscopes for Cardiac Nurses