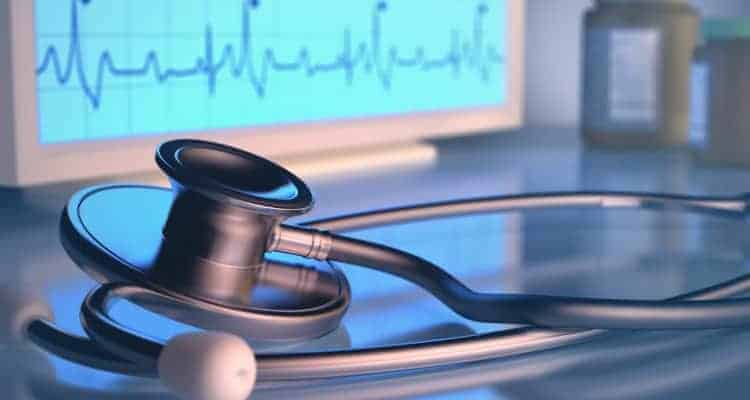 The job of an ER nurse is a demanding one.
You tend to patients of all different ages and for multiple reasons in just a single shift.
Having a stethoscope that is versatile enough to treat all of your patients is crucial.
These five are some of the best stethoscopes for emergency room nurses.
*Disclosure: This post about the best stethoscope for cardiac nurses may contain affiliate links. If you click and make a purchase, I may receive a commission. For more info, please see my disclaimer.
Top Pick
If you're looking for the best stethoscope for ER nurses than you might as well stop looking and check out the Littmann Cardiology IV stethoscope.
Sale
3M Littmann 6152, Stethoscope, Cardiology IV, Black Tube, Stainless Steel Chestpiece, 27 Inch, 6152
Diagnose and make decisions with confidence
Hear subtle changes in patient status
Useful in critical care and challenging environments such as the ED, ICU, Cardiac ICU, step-down unit and other dynamic locations
7-year warranty
Ergonomic and high profile construction; 40% larger chestpiece and 60% deeper bell than the 3M Littmann Classic III Stethoscope
Designed for use with adult and pediatric patients
In our humble opinion, the Littmann Cardiology IV is the ideal stethoscope for the ER nurse who deals with very critical patients.
Runner Up
With that said if you're a nurse who's on a budget (aren't we all) then the Littmann Classic III will work also.
Best Stethoscope for ER Nurses
1. 3M Littmann Classic III Stethoscope
Everything an ER nurse needs to assess patients with a stethoscope is found in this 3M Littmann Classic III Stethoscope.
It allows you to treat patients of all ages- from infant to pediatric to adult.
The diaphragm is easy to tune with just a simple pressure change.
Light pressure allows you to hear low-frequency sounds while applying firm pressure allows you to hear high-frequency sounds.
Being able to tune the diaphragm with a quick pressure change is a real time-saver for a busy emergency department nurse.
You'll find other useful features in this stethoscope, such as the singular tube design that virtually eliminates the rustling noise that can result from two tubes rubbing together.
There are multiple color choices and all of the materials are free of latex and phthalates so it's gentle enough for even the most sensitive skin.
Pros:
Easy to tune diaphragm
Single tube design
Latex-free
Cons:
Stains easily
Difficult to register the product on the manufacturers website
Tube colors fade quickly
Check the price of the Littmann Classic III Stethoscope on Amazon.
2. 3M Littmann Cardiology IV Stethoscope
Sale
The 3M Littmann Cardiology IV Stethoscope is ideal for ER nurses that see critical care patients every day, especially those who suffer from cardiac episodes.
Since this stethoscope contains a deeper bell than most, it allows the user to hear even the slightest changes in a patient's status.
This is crucial for ER nurses who are often faced with some of the most critical patients in the hospital.
The look and feel of this stethoscope also adds to its appeal.
There are 17 attractive color options, from basic black to hunter green to turquoise.
There's also the option to choose different chest piece colors.
The lightweight design won't irritate the neck and the ergonomic headset is angled so it sits comfortably in the ear canal.
Nurses that need a stethoscope with the ability to hear even the faintest sounds will appreciate the design of this stethoscope in addition to its features.
Pros:
Deep bell picks up the faintest sounds
17 color options
Ergonomic design
Cons:
Light colors stain easily
Thick tubing
Tubing is short
Check availability of the Littmann Cardiology IV Stethoscope on Amazona.com.
Related Article: The Best Littmann Stethoscope for Nurses
3. ADC Adscope 600 Platinum Series Cardiology Stethoscope
ADC - 600ST ADSCOPE 600 Cardiology Stethscope with AFD Technology, Tactical, Adult
INCREDIBLE ACOUSTICS: Proprietarty adjustable frequency design (AFD) technology enhances acoustic performance; use light pressure for low frequencies, firm pressure for high frequencies. Individually...
ERGONOMIC: Sculpted chestpiece is precision CNC machined to exacting tolerances from surgical stainless steel. Length 27 inches, weight 7.15 oz.
HIGH PERFORMANCE: Cardiology headset features dual-channel phthalate-free tubing, large bore black anodized aluminum binaurals, and Adsoft Plus snap-on silicone eartips for the ultimate in wearing...
Superior acoustics and maximum comfort is what you'll find in this ADC Adscope 600 Platinum Series Cardiology Stethoscope.
The excellent acoustic quality comes from the CNC precision-machined chest piece that is crafted from sturdy stainless steel.
With a simple pressure change on the diaphragm, you can switch from low to high frequency- an essential function for any ER nurse.
The headset is comfortable from start to finish, with the ergonomic design that fits correctly in the ear canal and the soft, silicone ear tips that eliminate outside sounds so you can correctly diagnose and treat your patients.
Patient comfort is also at the top of the list of features with this stethoscope thanks to the non-chill diaphragm.
Even the littlest patients will feel at ease while you're examining them.
With a lifetime warranty and free consumables, this stethoscope is a wise choice for any ER nurse.
Pros:
Excellent acoustic quality
Ergonomically-designed headset
Non-chill diaphragm
Cons:
Eartips wear out quickly
Tubing is short
Easily falls off the neck due to flat tube design
Check the price for the ADC 600 Platinum Series Stethoscope on Amazon.com.
4. MDF MD One Dual Head Stethoscope
MDF MD One Stainless Steel Stethoscope, Adult, Black Tube, Black Chestpieces-Headset, MDF777BO
TRUSTED by Doctors, Nurses, Students, Home Health, Medical Providers since 1971 | Backed by our Full Lifetime Warranty & Free-Parts-For-Life Program | Latex-Free
MD ONE line is known for performance, durability and aesthetics. Constructed from acoustically-superior stainless steel. Makes a great gift with over 20 color variations to choose from.
CHESTPIECE: dual head stethoscope for adult diagnostics that delivers accurate transmission of heart, lung, and stomach (gastrointestinal, bowel, etc.) sounds, and blood pressure flow (Korotkoff)...
The lifetime warranty and Free Parts for Life Program alone make the MD One Dual Head Stethoscope from MDF a great value, but when you see all the features it offers, the deal gets even better.
Starting with a sturdy, ergonomic design, this stethoscope is made from 100% stainless steel so it's built to last.
The ComfortSeal ear tips come in three sizes-small, regular, and large- so they are guaranteed to fit perfectly no matter the size of your ear canal.
The chestpiece is also made from durable stainless steel and an acoustic valve stem that locks in sound so you only hear your patient.
The tubing also helps eliminate extra sounds as it's made from thick, latex-free PVC in a single tube design so no rubbing noises occur.
Each stethoscope comes with extra ear tips and a diaphragm in addition to an ID tag.
Pros:
ComfortSeal eartips come in three sizes
Stainless steel chestpiece
Single tube design
Cons:
Eartips break easily but are replaceable
Difficult to keep bell on
Slightly heavy
Check the price of the MD One Stethoscope on Amazon.
5. MDF ProCardial Premier Cardiology Stethoscope
The MDF ProCardial Premier Cardiology Stethoscope is a great asset to any nurse, but particularly to ER nurses who need reliable equipment that works in high-pressure situations.
This stethoscope helps you diagnose patients of any age, from pediatric to adult.
It can also easily be converted from a regular stethoscope to a cardiology stethoscope with the addition of a cardiology bell, which is included with each purchase.
The sturdy chest piece converts to nine different options and the non-chill diaphragm ensures each patient is comfortable during their examination.
The tubing is the perfect size and is crafted from thick, latex-free PVC which cancels out exterior noise, allowing you to hear any worrisome changes in your patient's status.
The ergonomic headset fits comfortably in the ear canal, making this an excellent option for any nurse no matter how big or small your ear canal is.
Pros:
Chestpiece converts to nine different options
Non-chill diaphragm
Latex-free tubing
Cons:
Tubing is stiff
Paint chips easily
Heavy when worn around the neck for long periods of time
Check the price of the MDF ProCardial Stethoscope on Amazon.com.
Stethoscope Buying Guide
1. Single Tube Design
Stethoscopes that come with two tubes can allow for excess noise from the tubes rubbing together to interfere with properly diagnosing patients.
A single tube design eliminates this problem because the tubes can no longer rub together.
Related Article: The Important Parts of a Stethoscope
2. Latex-Free Tubing
Since a stethoscope is often worn around the sensitive skin near the neck, irritation can occur if you have allergies to latex and other materials.
Tubing made from latex-free options like PVC is a great alternative to products that contain latex, particularly for those who suffer from sensitive skin and latex allergies.
3. Eartip Sizes
Everyone's ear canal is unique so having multiple sizes for eartips is a great feature to look out for.
Eartip sizes can come in a variety of options, including:
Small
Regular
Large
Extra-Large
4. Deep Bell
Nurses that work in critical settings such as:
Emergency Department (ERs)
Intensive Care Unit (ICUs)
Cardiac Intensive Care Unit (CICU)
can benefit from a deep bell because it allows you to hear even the faintest sounds.
This is crucial for critical patients because even the slightest change in patient status can affect their prognosis.
Related Article: The Best Stethoscope for Cardiac Nurses
5. Non-Chill Diaphragm
A cold diaphragm can be a shock to a patient that's already in distress in the ER.
Having a non-chill diaphragm on your stethoscope allows the patient to be as comfortable as possible during their examination.
This is particularly important for pediatric patients who may be scared during their examination.
6. Colored Tubing
Traditional stethoscopes come with tubes made of either white or black.
Tubing color options have come a long way in recent years, with multiple color options now available.
Be cautious with lighter tubing colors as they may stain easier than dark tubing colors.
7. Lifetime Warranty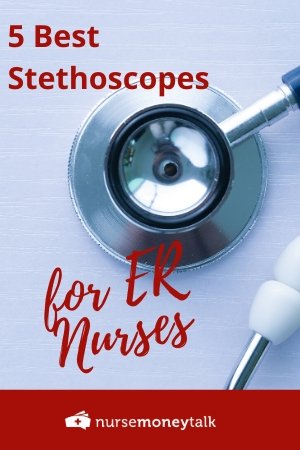 A lifetime warranty is an easy way to save money on replacement parts if your stethoscope ever breaks.
Many lifetime warranties only require you to enter some basic information on the manufacturer's website in order to qualify.
This simple step can save you hundreds of dollars.
Things that may be covered include:
Replacement eartips
Replacement diaphragms
Tubing that cracks or frays
Bells that break or loosen
Final Thoughts
Having a stethoscope you can trust while treating patients is a must for any nurse.
These five stethoscopes offer many features that ER nurses need in order to perform their job properly.
Related Article on ER Nurse Stethoscopes