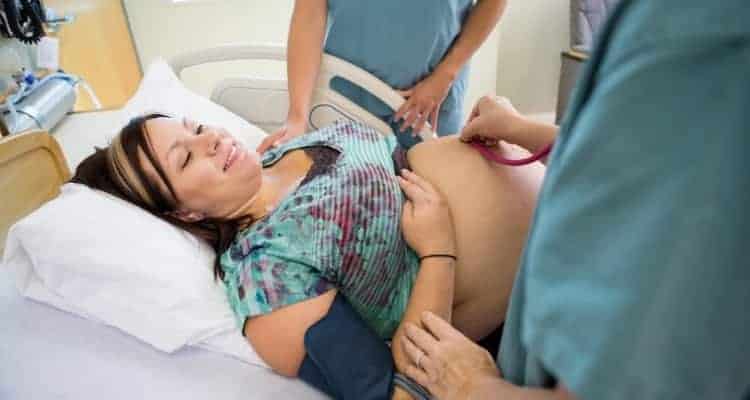 As a nurse working in labor and delivery, you have a very important role to play.
Your stethoscope should also be a reflection of your role.
In this sense, investing in a good-quality stethoscope is an absolute must.
But what kind of stethoscope should you choose?
There are plenty out there but here are five of the best stethoscope for labor and delivery nurses.
*Disclosure: This post may contain affiliate links. If you click and make a purchase, I may receive a commission. For more info, please see my disclaimer.
Quick Pick
Best Stethoscope for Labor and Delivery Nurses
1. 3M Littmann Classic III Stethoscope
Littmann is a well-known name in the world of stethoscopes and the Classic III provides a range of features that are well suited to labor and delivery nurses.
A step above the entry-level Littmann S.E. model the Classic III should suit everyone from the student to the professional and features high levels of acoustic sensitivity that are ideal for general use.
Pros:
The chest piece is double-sided and features an adult and an infant side.
Each side of the chest piece is easily tunable to a wide range of frequency sensitivity.
The tubing material is not only stain-resistant but also not made from latex, which means that it is less likely to cause skin rashes and allergies.
A full five-year warranty means that you can have peace of mind.
It comes in a nice range of colors for the nurses who like to accessorize.
Cons:
There is a marked difference in sound quality between this Littmann model and the model higher up.
Some customers have complained about being sent fake Littmann stethoscopes in the mail so be wary.
This may not be the best model for ultimate portability since the tubing is quite heavy and it may end up hurting the neck.
Check availability of the Littmann Classic III stethoscope on Amazon.com.
2. ADC Adscope 600 Platinum Series Cardiology Stethoscope
This entry from ADC is well worth looking at if you want an alternative to the ever-popular Littmann stethoscopes.
It features an acoustic technology called AFD, or Adjustable Frequency Design.
This is supposed to enhance the acoustic performance of the scope.
A great look, surgical stainless steel construction, and lifetime warranty make this an attractive package for any medical professional.
Pros:
The package comes with extra ear tips and when you register, you can also access free consumables such as extra diaphragms and ear tips.
A dual-channel acoustic design enhances the sound transmission.
CNC machining to tight tolerances creates a rugged and durable construction, making it ideal for daily use.
A fantastic lifetime warranty and free consumables make this a worthy purchase and great value for money.
It can be sent back to the company for refurbishment at any time.
Cons:
Despite the features, some people find that the sound quality is simply not up to the standard of cheaper Littmann scopes.
Some customers have also found that the ear tips are not that durable and more may need to be ordered as free consumables.
Some customers also find that paint can rub off the bell fairly quickly and with regular cleaning efforts.
See what others are saying about the ADC 600 Platinum Series Stethoscope on Amazon.com.
3. 3M Littmann Cardiology IV Stethoscope
This professional-looking scope is sturdy and has a higher sensitivity to sounds in the body than lower models.
As such, it's suited to general use and use in the ICU, acute cardiac care and of course labor and delivery where high acoustic sensitivity is a requirement.
Pros:
The one-touch tunable diaphragm allows any medical practitioner to adjust the frequency response of the scope and hear what he or she needs.
The headset can easily be adjusted to suit the practitioner so it fits comfortably for daily use.
A dual-lumen design enhances sound sensitivity and cuts out common sound interference.
It's easy to fold up and store or put into a pocket without damaging the durable tubing design.
Cons:
Some people find that the tubing is heavier in this model than entry-level designs so it may not be as portable and might even hurt the neck if worn all day.
The thicker tubing can make it tougher to carry around.
Some people have found that the ear tips in this model are not as tight-fitting as they could be and they tend to move around in the ears a little.
Check availability of the Littmann Cardiology IV on Amazon.com.
Related Article: What's the most recommended Littmann stethoscope for nurses?
4. 3M Littmann Master Cardiology Stethoscope
The olive green tubing makes this classic Littmann stethoscope stand out from the crowd.
In fact, the design has been handcrafted so that it sits comfortably around the neck and can be used without hesitation at any time of day and for any number of patients.
Pros:
One-touch on the diaphragm tunes it to high or low frequencies, making it an indispensable part of any nurse's day.
An included adapter means that it can be used across a range of medical disciplines including cardiology, pediatrics, and respiratory departments.
The headset has been engineered to fit into the human ear canal at a comfortable angle so it can be worn without pain.
Cons:
Some customers have stated that they were delivered fake Littmann stethoscopes from a third-party retailer.
This is not the lightest-weight scope so some people might not find it comfortable to wear around the neck for long periods of time.
The tubing is good quality but also quite thick and some people find that this can make it feel as though they are fighting with the scope instead.
Check price on the Littmann Cardiology Stethoscope on Amazon.
Related Article: 5+ Best Stethoscopes for Nurses
5. MDF ProCardial Premier Cardiology Stethoscope
This beautiful-looking gold and black stethoscope is from MDF, which has a longstanding name in the medical industry.
If you're looking for an alternative to the Littmann scopes, this may be one to seriously consider.
Pros:
The stunning gold and black design and handcrafting makes this look instantly professional and luxurious.
The dual-sound channel design ensures better sound for each ear and greater sound transmission.
The headset has been engineered to fit the human ear canal precisely so that it is a comfortable fit and can be worn every day without fatigue.
Solid stainless steel construction makes this a very durable stethoscope.
It offers excellent acoustic sensitivity.
Cons:
The thick tubing design is durable but some people find it too heavy to carry around their necks all day long.
The thick tubing also means that it isn't as easy to fold up and store in a pocket.
Because of the thicker tubing, some people find that it can twist the ear tips from the ears and make it hard to operate without a struggle.
Check the price of the MDF ProCardial Stethoscope on Amazon.
A Brief Stethoscope Buying Guide for Labor and Delivery Nurses
Given how important a good stethoscope is for your daily work as a nurse, it's important to invest in the right one.
You need one that will serve you well over time and one that can be carried around easily but these kinds of factors must be weighed against factors such as price.
There are plenty of stethoscopes on the market but they are not all created equal.
In this context, here are a few tips on buying the right stethoscope for your ongoing work as a nurse:
1. Reliability and Dependability
Part of buying the right stethoscope is buying one that can be depended upon.
Your work as a labor and delivery nurse can be tough and it's important to buy a scope that will endure the rigors of your daily work.
In this context, the scope you buy should be durable enough to deal with daily use.
The scope should be made from materials that are hard-wearing and do not fall apart or degrade quickly.
Stainless steel is a must because it resists rust and will be around for the long haul.
Likewise, the tubing should be free of latex because this can cause skin allergies.
Related Article: What are the parts of a stethoscope?
2. Sound Quality
Though there are going to be differences in acoustic sensitivity between scope models, the scope you buy should offer enough sound transmission for your work.
For example, if you work in pediatrics and need to listen to infant heartbeats, you'll need a scope that has a high sensitivity to these frequencies and can transmit them well.
3. Price Versus Quality
The truth is that there are lots of scope models out there and not every single one of them will be appropriate.
However, you must also take into account what the scope costs versus how you will be using it.
If you need a scope for general use and also for pediatrics, you'll need to invest more.
But if you do not require those high levels of acoustic sensitivity, then an entry-level model might well suffice in your work.
The fact is that there are plenty of stethoscopes on the market for you to choose from so you need to think carefully before investing.
How acoustically sensitive should it be?
Do you need a lighter-weight model for ultimate portability?
Do you need a three-year warranty? Or longer?
These are all important questions to be asked and will more likely dictate your buying decision.
Conclusion
As a nurse, you need to carry around a good-quality stethoscope for daily use.
Ideally, it should be light, feel comfortable, have good sound sensitivity and transmission, and be durable.
The good news is that there are a wide range of stethoscopes out there to choose from.
Related Article to stethoscopes for labor and delivery nurses