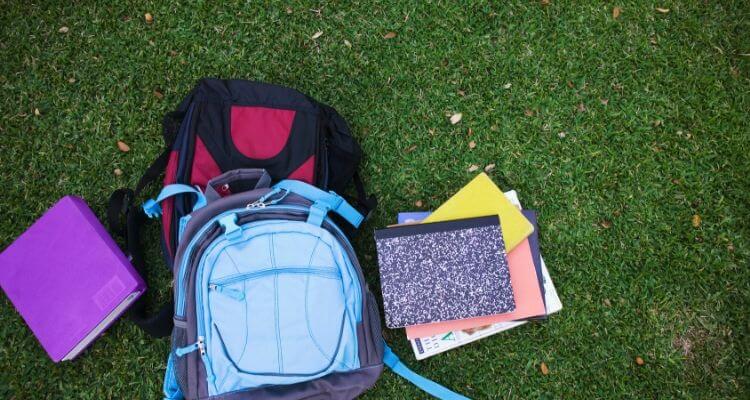 This article is going to discuss the best backpacks for nursing students.
Depending on which backpack you have will determine how comfortable it's going to be.In general, backpacks should be practical, sturdy, and easy to carry around.
In a profession or a field of study that has special requirements, like nursing, it's even more important to choose the right one.
Nursing students normally need a laptop, several heavy textbooks, instruments, notebooks, stationery, and an assortment of personal stuff.
With all those belongings, it's easy for those items to become tangled up or lost in a poorly designed backpack.
This ends up making the process of reaching for what you want challenging. A good backpack should help you organize your things in the best possible way. Those backpacks can vary.
They could be extra-large, elegant, have wheels, come with anti-theft pockets, and many other features.
As you go through our top nurse backpacks list, think about your needs. Hopefully, this will help you make the right choice.
*disclosure: this post may contain affiliate links. If you click and make a purchase, I may receive a commission. For more info, please see my disclaimer.
Quick Look
Best Backpacks for Nursing School- Our Top Picks
Here are some of the best backpacks for nursing students currently in the market. Let's see which one you'd like best.
1. Mancro backpack
Sale
Mancro Laptop Backpack for Travel, Anti-theft Laptop Backpack for Men Business Backpack Work Daypack...
PERFECT SIZE & STORAGE SPACE: Laptop backpack with perfect size to hold things and your 15.6 inch laptop or 15 inch, 14 inch Macbook/Laptop. Convenient main pockets for iPad, charger, binders, books,...
USB PORT DESIGN: The usb charging durable bag with built in USB charger outside and built in charging cable inside, you can plug a mobile power hub into on the inside,then you just connect your usb...
SAFETY & ANTI THEFT LOCK: This anti theft backpack for laptop comes with a LOCK so you never have to worry about someone stealing your laptop, ipad, business file, homework and anything value, keep...
This is an elegant and practical bag. It has a multitude of various sized pockets, with 3 big ones, 9 smaller ones inside, and 2 side pockets.
There's also a dedicated space for your 17 in. laptop. It's anti-theft, and has a convenient USB port and charging cable.
You do need a power bank though, it doesn't do the charging. It's unisex and comes in a variety of colors to cater to all tastes.
It's made from sturdy water-resistant polyester, which will make it last throughout the school year in good condition.
It has padded shoulder straps and distributes the weight well, so it's easy to carry around all day.
It's also easy to clean up and maintain, which are both essential for a nursing student.
Pros:
Multiple pockets of various sizes
Dedicated 17-in laptop compartment
Provides access to a USB charger
Theft proof, Includes a combination lock
Water repellent
Made from durable eco-friendly nylon
Padded shoulder straps for comfort
Unisex
Comes in many colors
Moderate price
Cons:
The backside fabric is not made from a mesh or breathable material.
It could feel a bit stuffy on a hot day.
See all the other customer reviews for the Mancro Backpack on Amazon.com.
2. Jiefeike Travel Laptop Backpack
Jiefeike Travel Laptop Backpack,Extra Large Capacity TSA Friendly Anti Theft Backpacks with USB...
TSA APPROVED & MULTIPURPOSE:At checkpoint,unfolds the EXTRA LARGE BACKPACK freely 0-180 degree making you quickly through the airport security and keep other items tidy,exclusive designed for AIRPLANE...
LARGE CAPACITY & ORGANIZED: Men travel backpack owns 20+ Independent multi pockets with classic style for large storage and organization. extra large size 19.0*14.6*10.2 (inches), Capacity:45L,...
EXTRA LARGE & DURABLE MATERIAL: The extra large college backpack: With 3 Mobile device pockets, separate padded laptop compartment hold for 13 inch macbook,14,15,15.6 and up to 17 Inch...
It's a very large, multipurpose, practical, and very sturdy bag. When you're not carrying it around in college, it would be a great travel mate.
It's designed to open up 180 degrees for easy clearance at the airport security checkpoints.
It has 20+ large pockets, 2 anti-theft zippers, and many hidden pockets, for the best possible storage, and efficient organization of your stuff.
It has a separate padded compartment that can carry a 17-in Laptop, plus a few other devices.
There's an external USB port and charging cable so you can conveniently use your devices while charging them.
There's also an audio port to place your earphones.
It's sturdy and durable. It's water resistant, shockproof, and easy to clean and maintain. It's also comfortable to carry around even on a hot day, thanks to the back ventilation system
Even though the price tag on this one is a bit high, it's still less than similar brand backpacks and offers great value for money.
Pros:
Extra large capacity
Multiple pockets with various sizes and locations
2 Anti-theft zippers and hidden pockets
Separate padded compartment for sensitive instruments
Can carry a 17-in Laptop plus other devices
High-density nylon lining makes it shockproof
Made from high-quality polyester
Water and tear resistant
USB external port and internal charging cable
Audio interface with headphone pull through
Steel cable rugged handle
Airflow back system for better ventilation
Adjustable padded shoulder straps
Lanyard in shoulder strap to hang sunglasses or keys
Cons:
A bit on the pricey side
The big size is tempting to pack up too many items
Could get heavy and cluttered
Check out the Jiefeike backpack on Amazon.
3. Swiss Gear 1186 Laptop Backpack
SwissGear Unisex-Adult (Novelty and Luggage only) 1186 Bungee Backpack, Grey (Laptop Version), 17.75...
CAMPUS-READY/EVERYDAY DESIGN: Boasting a modern, everyday silhouette, this pack features plenty of room to store large textbooks, essentials, and devices. From spacious compartments to water bottle...
TABLET & LAPTOP STORAGE: The roomy main compartment features a padded 13" laptop sleeve while a front organizer compartment includes a padded tablet pocket that fits your iPad. Protect your devices...
ORGANIZATION ON-THE-GO: Stowaway classroom or office necessities, such as pens, pencils, a calculator and your ID, in the front organizer pocket and quickly reach for accessories inside a small...
Swiss gear has been in the business of providing super quality luggage and outdoor apparel for ages. Their constant innovation shows on everything this brand produces.
This backpack is sturdy, elegant, practical, and lightweight. It can easily be used for school, sports, or traveling. It's suitable for both genders, and surprisingly, for all age groups as well.
As a Swiss Gear customer, you get a few perks, and one of them is a three-year warranty. Not bad at all!
Pros:
Divided into three compartments
The padded pocket can carry a 17.5-in Laptop
Made from durable polyester
Easy to clean and maintain
Padded airflow shoulder straps and backside
Front bungee cord for extra storage
Reflective accent material for added safety
Side water pockets
Headphone port
A D-ring to attach stuff
Well known brand
3-year warranty
Cons:
No USB port
No anti-theft precautions
A bit pricey
Check out the reviews of the Swiss Gear backpack on Amazon.com.
4. Everest Deluxe Wheeled Backpack
The mobility and size of this backpack are the main attractions here. If you need to carry around heavy textbooks, a laptop, and other miscellaneous stuff, this backpack would be great for you.
You also have the choice to use it as a regular backpack.
The added telescopic handle and rollers aren't too heavy or cumbersome to carry around. Just don't let the size tempt you to fill it up too much!
Pros:
Large size
Rollers for extra mobility
Spacious main compartment
Double zipper closure
Built-in organizer in the front pocket
Three side pockets
Snap waist buckle to stabilize your gear
Telescoping handle for more control
It comes in many colors
Cons:
A bit on the pricey side
Some users commented on the durability of its material
Check out the Everest Wheeled Backpack on Amazon.
Related: 10 Best Rolling Backpacks for Nursing Students
5. Louise Morrison Backpack
A lighthearted graffiti on the bag is the main feature here. You could buy it as a joyful item of school gear, or you can give it as a gift to a colleague.
It's a sturdy, practical, comfortable, and lightweight backpack. We believe it's also perfect for nurses or nursing students.
Pros:
Nice personalized graffiti
Made from high-quality lightweight polyester
Multi pockets with various sizes and designs
Laptop compartment
Side pockets and multiple other storage spaces
Adjustable, padded, and breathable shoulder strap
Unisex, and perfectly suitable for students
Moderate price
Cons:
No anti-theft features
No USB or audio ports
Not too many pockets
Check out the customer reviews for the Louise Morrison backpack on Amazon.
6. ProEtrade Backpack
ProEtrade Backpack Daypack for College Laptop Travel, Computer Bookbag Bag with USB Charging Port...
DURABLE - The PROETRADE Backpack / Daypack is made of HIGH-QUALITY Anti Scratch Fabric with water resistant zipper design, it's very sturdy, tear resistant, water resistant,. Which can effectively...
CAPACIOUS & LIGHT WEIGHT – Large Capacity, the backpack Dimension : 20"H x 12.5"W x 8.5"D. Lightweight : 1.8lb, It can easy hold your clothing, books, ipad, water bottles, umbrellas and Lined laptop...
MULTI COMPARTMENTS - Total 8 pockets, 2 main compartment, 1 laptop pocket, 2 front zipped pocket, 2 pockets outside for holding small accessories and water bottles or umbrellas, 1 inner pockets for...
This is a perfect backpack for a nursing student's daily grind. It's large, but not huge. It has all the essential pockets and compartments.
There's a laptop padded pocket, side pockets, and hidden pockets.
It has an anti-theft pocket and a reflective patch for night visibility. It's ergonomically designed, which means it keeps your body as comfortable and stress-free as possible.
This backpack's sturdy, durable, and very stylish. It comes in many colors to cater to the various tastes, genders, and age groups.
It can also be used for school, travel, sports, or any other activity requiring a good backpack.
On top of all this, It has the usual frills like the USB port, and its price is very moderate. You're getting a lot of value for your money if you pick this one.
Pros:
Large capacity
Nicely divided
Multi-compartments of different sizes in various locations
Padded pocket for laptop
Lightweight
Anti-theft pocket
Reflective patch for safety at night
High-quality anti-scratch fabric
Sturdy and durable
Adjustable shoulder and chest straps
Airflow system for better ventilation
Ergonomic design for comfort
The back panel is sponge padded for protection of vertebrae
USB external port
Suitable for student life and other activities
Moderate price
Cons:
Checkout the ProEtrade backpack on Amazon.
So How to Choose a Good Backpack?
Nursing students carry so many things; a ton of books, a laptop, instruments, supplies, and their own stuff. When you're at school all day, you also have to add snacks in there too.
The main challenge here is to find a bag that can accommodate all this, plus keep it protected, organized, and accessible.
Having a variety of compartments and pockets of various sizes, located in multiple places is what's going to let you organize your backpack properly.
One of the compartments should be padded, and it should be wide enough to contain your laptop. It also needs to be comfortable. You're going to be carrying it all day long.
The word 'ergonomic' is always nice to have in the specifications. Padding, ventilation, and adjustable straps are important variables here also.
You have the choice of getting a backpack with wheels you can pull instead of carrying it all the time.
Naturally, bigger bags should have that option. Always choose the size that fits your stuff comfortably.
It has to be durable and withstand the wear and tear of school life. A good material is an investment for the future.
Nurses need to exercise proper hygiene at all times, their belongings included. Your backpack has to be water-resistant and easy to clean and maintain.
You shouldn't do this, but if you think you're going to leave your bag unattended, often the anti-theft feature in the bag will help keep your stuff safe even when you're not looking.
Another good safety feature is the reflective patch. If you're going to be walking at night, then this is a good idea. Especially if you're going to be walking near the road at night.
Some non-essentials but nice to have include a USB external port and an audio output port for your earphones. Some bags also have places to attach your sunglasses or keys.
Related Article: Nursing Student School Supply List: 20 Must Have Items
Some tips for organizing your backpack
First of all, write down what you need for nursing school.
Lists are always great.
If you're forgetful, err on the side of caution. A little overpacking is better than missing out important books or instruments.
Put the materials that go together in adjacent places. For example, pens, highlighters, sticky notes, and notebooks could be put on one side of the bag.
Try to keep your items in the same place. For example, if you get used to taking your red pen from the small pocket on the left, you're not going to spend a lot of time searching for it later.
If you have a car or a locker, you can put some of your stuff in there. You really don't have to carry it all.
The exception is if you're forgetful and you live really far away from the school than you might want to bring it all with you.
Lastly, there here are many sizes for backpacks, choose the right one for you. And here's another thing, getting a bigger bag invites clutter! So try to balance it out.
More about organizing your backpack here and here. Also in case you missed our comparison table…
Conclusion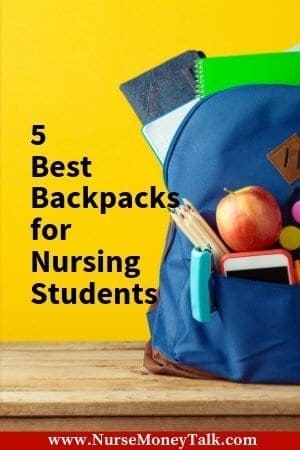 The best backpack for a nursing student is highly dependent on what that specific nursing student needs.
But assuming you're an average student having an average amount of courses, I believe that the ProEtrade Backpack (on Amazon) would be a great choice.
It fulfills almost all the criteria we outlined for a good backpack, and it does it at a reasonable price.
It's large, well designed, ergonomic, and has some essential safety features like anti-theft and reflective night light.
It comes in many colors, and also has the frills that go so well with being a student.
Choosing a backpack is a breeze, right!?
Do you have any tips for organizing your nurse backpack? Let us know in the comments below.
Related Articles to Backpacks for Nursing Students
If you found this article helpful please share it. Thank you in advance.