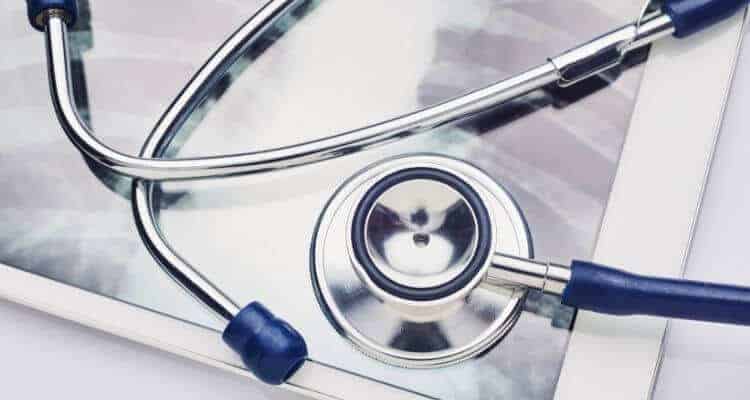 This article is going to give you the top nurse pinning ceremony gift ideas. Because we know how difficult it can be finding the perfect gift for a nurse pinning ceremony.
Do you know a nursing student that's about to graduate nursing school?
Well of course you do.
If you didn't, you probably wouldn't have searched for this.
Or be reading it.
This is around the time nursing students start graduating from school.
This also means this is around the time nursing students have their nurse pinning ceremony.
First of all, I want to say congratulations to them.
As someone who's been through nursing school, I can say this is a huge accomplishment for them.
Because of this occasion, many families start asking themselves what's the best nurse pinning ceremony gifts.
Something about the pinning ceremony does seem to confuse many friends, families and loved ones.
If they said graduation than you would probably know what would be a good graduation gift for nurses.
But a nurse pinning ceremony is a little different.
To help you out we're going to give you our top nurse pinning ceremony gift ideas.
Related Article: If you would like to learn more about the nurse pinning ceremony feel free to check out this article.
*Disclosure: some of the links on this site are affiliate links.
Nurse Pinning Ceremony Gift Ideas
1. Stethoscope
You might be wondering.
Why would I put a stethoscope on here? Doesn't he or she already have a stethoscope?
You ask. They probably do already have one.
You know what? It probably isn't very good.
Many times nursing students in a money crunch situation buy the cheapest stethoscope they can just to get by.
I don't blame them.
I was in a similar boat.
You gotta do what you got to do.
Getting a "real" nursing job after they graduate is going to require a "real" stethoscope.
I'm not talking about going out there and buying a "luxury" stethoscope.
Nope.
I'm talking about a quality affordable stethoscope.
➡️ For example, you can get them the Littmann Classic III. Check the price on Amazon.
I'm a fan of Littmann stethoscopes.
It's what I currently use.
I think they make good stethoscopes at a reasonable price.
➡️ While you're at it, you can get them a stethoscope Identification tag as an added bonus.
By getting them a stethoscope ID tag, you're ensuring their name is going to be on their stethoscope.
This helps prevent lost or stolen stethoscopes. Which unfortunately does happen.
There's also an option for having a professionally done name tag for the stethoscope like the
I suppose if you were getting this gift early you could get the stethoscope and get them a professionally done name tag for the stethoscope.
Once both the items ship to you go ahead and attach the name badge to the stethoscope and then repackage it.
The look on their face when they see a new (and better) stethoscope plus their name on it…
Priceless!
2. Silicone Wedding Band
QALO Women's Rubber Silicone Ring, Classic Silicone Wedding Ring for Women, Breathable, Durable...
COMFORT, FLEXIBILITY & STYLE: The ultimate in extreme comfort and durability - meet the classic ring that's ready for anything. The QALO Women's Classic Silicone rings provide a safe, comfortable,...
HIGH QUALITY MATERIAL & DESIGN: Our Medical Grade Quality Silicone Rings are ideal for anyone whether it's for everyday use, work or any physical activity. Our silicone material is functional even for...
FIT & SIZING: Our QALO silicone rings are made from medical grade silicone, breathable and measures 5.5mm wide and 2.5mm thick. Our rubber wedding bands for women run true to size. Be sure to check...
Male or female this is a must-have for all nurse graduates.
This also makes a really good gift for nurse pinning ceremony.
If your nurse graduate has a studded wedding ring, they need a silicone wedding band.
I've heard countless stories of wedding rings ripping through gloves.
You don't want your nurse graduate's glove tearing apart in the middle of them handling bodily fluids.
I've tried a couple of different ones.
➡️ The brand I use and would recommend you get is the Qalo silicone rings. You can check the price and the different prices on Amazon.
When I first got them after I got married, I was skeptical. Fast forward to today, and it's the primary ring I use.
The rings are both functional and comfortable.
➡️ Get your Qalo ring they come in both men and women's.
I thought this was so important I went and updated my new nurse essentials checklist just to add the silicone wedding bands.
3. Nurse Knee Socks
Sock It To Me, Nurse, Women's Knee-High Socks, Funky Fun Nurse Socks
QUIRKY DESIGN - Feeling under the weather? You don't need to call 911, we've got your remedy right here.
STYLISH AND ADORABLE - Your toes will be cozy in these eye-catching, thick, comfy socks.
DURABLE, SOFT, AWESOME - These super cute knee-highs are made in Korea from 58% cotton, 40% polyester, 2% spandex.
I went back and forth about putting this item on the list for several reasons.
I wear very plain all black or all white socks.
I don't wear knee-high socks.
I've never been a fan of giving socks as a gift.
Actually, I'm not a fan of getting socks as a gift either.
With all that said I can appreciate that:
A lot of people, especially nurses like to wear colorful "designer" socks.
A lot of other nurses wear knee-high socks, especially if they're compression socks.
There's plenty of people that like giving socks as gifts.
Plenty of people like getting socks as gifts.
These socks are medical-themed.
They're stylish.
If this means anything to you, it's made with 58% cotton, 40% polyester, and 2% spandex.
➡️ Get your Sock It To Me, Nurse, Knee High Socks on Amazon.com.
3. I Wasn't Strong Like This When I Started Out: True Stories of Becoming a Nurse (BOOK)
Sale
This is an interesting read for your nursing graduate especially if they're an avid book reader.
This book is pretty much just a collection of narrative stories told by other nurses.
Different nurses from varies stages of their career step up and share some of their stories.
Things like "first birth" "first death" and so on. Can be inspirational to prepare your new grad for the profession they're about to be inducted into.
At 320 pages it's substantial enough.
But not too big that the avid reader probably couldn't power through it in a couple days.
➡️ Check out the book "True Stories of Becoming a Nurse" on Amazon.com.
4. A Tumbler
Sale
YETI Rambler 20 oz Tumbler, Stainless Steel, Vacuum Insulated with MagSlider Lid, Seafoam
The Rambler 20 oz. is made from durable stainless steel with double-wall vacuum insulation to protect your hot or cold beverage at all costs
These Ramblers come standard with the YETI MagSlider Lid, the only drink lid that uses the power of magnets to keep your water, beer, or favorite drink on lock
While the MagSlider Lid adds a barrier of protection for keeping drinks contained and preventing heat or cold from escaping, Please Note – The MagSlider Lid is not leakproof and will not prevent...
A tumbler is a great gift. As a nurse trying to stay hydrated is a struggle.
Bring your own drink container is the best way to go. Not to mention it's a great way to make sure your coffee stays warm.
After you pour it in and then forget about it for an hour or two.
Get your Yeti Tumbler for your soon to be graduate nurse. Now that I'm thinking about it if he or she doesn't drink coffee or tea.
Than the Nalgene might be a better fit.
It's not as big and bulky. But it also won't give you the same temperature control.
Check out the Nalgene water bottle….
5. A Nurse Bag
From experience having a dedicated bag for work is more ideal. You don't have to worry about switching things over. Or getting sent home because you forgot your badge in your other bag.
One dedicated bag is best. Check out these bag options.
Nurse Mates Ultimate Bag, Coffee
Multiple storage and document compartments
Heavy Duty Zippers and Seams. Measures 13" x 9" x 14"
Stain Resistant, Non-Skid Padded Bottom
And this one.
Related Article: 5 Best Medical and Tote Bags for Nurses
6. A Nursing Goody Bag
Do you know what's even better than one gift?
A lot of other gifts.
Hear me out because this doesn't have to break the bank. The first thing you do is get them a nursing bag (we gave an example above).
After getting the bag, you would fill it with a bunch of items that a new grad nurse would need.
We have a checklist that has just about all the significant items your new grad nurse will need before they start their first day on the job.
I"m sure you could come up with a lot more of your own gifts for new nurses.
But we'll definitely get you started. There are some "pricier" gifts on there.
But definitely not all of them. Just to give you an example of some of the things we have listed there.
We have items like:
Many of those items aren't particularly pricey. Or at least you shouldn't be buying the pricier version.
This does require a little bit more work than just buying a gift. But I think the reaction on their face will make you feel it was worth it.
Another thing you could do with this gift idea is to go in on it with someone else.
Especially if you're buying the higher ticket items, this is an excellent way to lower the cost per person.
While still getting your nursing graduate a gift they'll love.
7. Watch
A watch is a great nurse pinning ceremony gift. Every nurse really needs a watch.
Time management in nursing is a big deal. Pulling out your phone is not always the best option.
Having a watch on your wrist helps for keeping tabs on patient management.
Some of the more popular watches I've come across is, of course, the Apple Watch…
The second I would say is the Fitbit…
Fitbit Alta HR, Blue/Gray, Small (US Version)
Get the power of continuous heart rate in Fitbit's slimmest design yet-all day, during workouts and beyond
With heart rate, you can better measure calorie burn, and use zones (fat burn, cardio, and peak) to find the right workout intensity for your goals
With sleep stages powered by PurePulse heart rate, automatically track your time spent in light, deep and rem sleep (coming soon) and take steps toward a better night's rest
Personally, I'm more partial to fossil watches. For example…
Fossil Q Men's Gen 3 Explorist Stainless Steel and Silicone Smartwatch, Color: Black (Model:...
Smartphone notifications, touchscreen functionality, activity tracking, custom goal & alarm settings, customizable watch faces & watch bands, music controls & micro apps, microphone & speaker controls
Estimated 24 hour battery life, based on usage; charger included; imported; water resistant IP67: dust & splash resistant
Case size: 46mm; Band size: 22mm; black plated stainless steel case and black silicone band with buckle closure; interchangeable with all Fossil 22mm bands. LED flashlight
You could even go to Walmart or Target and pick up something there. Regardless of which watch you pick or where you get the watch, remember two things:
Make sure it's something comfortable. They're going to be wearing it all day.

Make sure it's something with a non-porous and non-metal band.
Pro Tip:
Metal bands will eventually get worn out from all the hand-washing and hand sanitizer use. Cloth bands are going to get stained from things like chemicals and bodily fluids. You want something that's more likely to wash off with soap and water.
8. Jewelry
What if they already have a good watch? But you still want to get them some jewelry.
You can't go wrong with some nursing jewelry such as:
➡️ If you want to check out some more nursing jewelry, click here to check Amazon.com.
9. Portable Cell Phone Sanitizer
Sale
PhoneSoap 3 UV Cell Phone Sanitizer & Dual Universal Cell Phone Charger Box | Patented & Clinically...
UV-C Phone Sanitizer & Charger; PhoneSoap 3 cleans and sanitizes the surfaces of your phone and other high touch gear. Backed by 10 years in UV technology, our best-in-class products disinfect your...
360-Degree Disinfection; Our unique, patented design ensures powerful, germicidal UV-C light reaches all sides and surfaces of objects placed inside. Our combination of chamber design, selective...
Quick and Easy Hygiene; Simply plug the PhoneSoap 3 into power with the provided cord, place your phone or other item inside, close lid to begin disinfection, and then remove your newly disinfected...
Your phone is covered with a lot of bacteria.
Your nurse graduate's phone is also covered with a lot of bacteria.
Their phone after one shift of working in a hospital will probably be covered with even more bacteria.
With how often your nursing graduate will use their phone and the number of germs and bacteria lurking in the corners of a hospital he or she will have to be mindful of their phone.
I was initially not going to list this item.
I usually just wipe down my phone with the cleaning wipes at the hospital.
I have an Otterbox case that surrounds my phone, so it's usually not that big of a deal.
I recognize many nurses don't have that quality of a case, and those wipes could be too harsh for the actual phone itself.
➡️ Those reasons are what makes getting this Portable UV Cell Phone Sanitizer such a good idea. Check it out on Amazon.
10. A Gift Card
Visa $50 Gift Card (plus $4.95 Purchase Fee)
This card is non-reloadable. No expiration of funds. No cash or ATM access. Cards are shipped ready to use.
This card can be used in the U.S. only, online or in stores, where Visa debit cards are accepted. Your Amazon.com Balance cannot be used to purchase Visa gift cards. For FAQ's on how to use your...
A one-time $4.95 purchase fee applies at the time of purchase. No fees after purchase (including dormancy, service or other fees).
There are some situations where a gift card is best. Maybe you know they need scrubs.
Which I'm reasonably sure they will. But you don't know what their scrub size is.
Well, a gift card would solve that problem. It also takes away some of the work on your end trying to pick out a gift.
11. Cold Hard Cash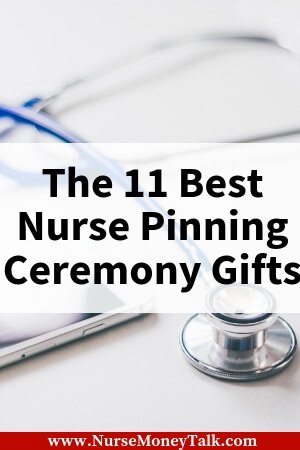 If all else fails, cash is still king. It will definitely take the pressure off. You don't have to pick a gift. You don't even have to choose a store like you would if you gave a gift card.
Nope.
Just write them a check or give them cash and you're good.
The only downside to this is that unless you're giving a lot of money sometimes money doesn't get as much excitement as an item gift would.
I'm not saying it's not appreciated. The reaction just isn't the same as you would get with a gift.
Conclusion
I hope you found this list helpful. I know finding an appropriate gift for a nurse's pinning ceremony can be stressful.
Remember a nurse pinning ceremony is such a huge milestone for the guy or girl that you know.
You just showing up and being there for them is a lot more of a big deal than any gift item you could possibly buy.
Related to Nurse Pinning Ceremony Gift Ideas
I have an article where I pointed out some of the most important things new grad nurses should know.
Feel free to share that with them.
Nursing school is not the end of the book. It's just one chapter.
We want to partner with them and help them in their next chapter as new nurses.
Also…
What other nurse pinning ceremony gifts idea did we miss?