15 Awesome Gifts for a Nursing Student
This article is your gift guide to awesome gifts for a nursing student.
This list was created because we know how hard it can be finding the perfect gift.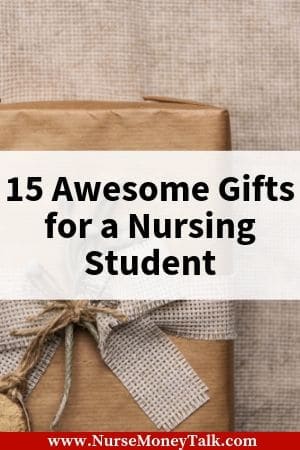 *disclosure: some of the links on this site are affiliate links.
Introduction: A Nursing Student Gift Guide
If you're looking at this gift guide for nursing students, I think there are two possible scenarios.
The first scenario is you just like looking at gift guides for nursing students.
The second is there's a nursing student you know you want to give a gift to.
I think the latter is a more reasonable assumption so let's run with that.
As someone who tends to struggle buying presents, I know how hard it can be. It doesn't help if you're trying to buy a last-minute nursing student present.
Helping you find the right present is the reason for this guide.
Whether it's your mom, dad, brother, sister, a relative or a close friend there's a little bit of something for everybody in this list.
So without further delay…
Practical Gifts for Nursing Students
To begin with, here are some ideas for practical gifts for nursing students.
Some of these might not seem as exciting as our fun nursing student gifts below. Rest assured the practicality of these gifts makes them much appreciated.
Especially for nursing students who are on a tight budget.
1. A Stethoscope
I know what you're thinking.
"why a stethoscope?"
"don't they already have one."
This is true. They probably already have one, but it's probably not very good.
Many times nursing students will buy the cheapest stethoscope they can just to get them by.
The thing about cheap stethoscopes is they're hard to hear from. To make matters worse, they can be painful on the ears.
If you can upgrade them to a better stethoscope that would set them up for the long run.
I recommend Littmann stethoscopes. They are a good mix of both quality and being reasonably priced.
2. Stethoscope ID Name Tag
Nursing students are always misplacing their stethoscope.
Always! This usually happens one of two ways.
They either lose the stethoscope by setting it down somewhere and forgetting about it.
Or someone asks to use their stethoscope (probably a doctor) and then the person walks off with it.
You would think this doesn't happen very often.
But it does.
To make matters, worse many nurses have the same or similar stethoscopes (nurses tend to gravitate towards the same quality stethoscopes).
A solution is to have a name badge on your stethoscope.
If the nursing student misplace the stethoscope or someone walks off with it, there's a better chance of getting it back.
3. A Rolling Backpack
A nursing student still using a traditional backpack should switch to a rolling backpack.
In nursing school the books they require nursing students to bring to class are heavy.
One book alone could be several pounds.
When you start throwing them all in the same bag it's a recipe for back pain.
I'm a big guy, and I still regret all the years I spent carrying around those books on my back.
4. A Nursing Bag
or
Nursing students are going to have clinical rotations.
During clinical rotations, they're going to be carrying things that they usually wouldn't need to for class.
In nursing school, I found it very helpful to have a separate bag just for clinical.
I didn't want to forget anything, especially my name badge.
Clinical instructors will send nursing students home for not having their nursing school badge with them.
5. Nursing Clipboard
During clinical nursing students are taking a lot of notes.
Having a clipboard with them is a must. Nursing students don't need just any clipboard.
They need one with a little bit of storage.
A clipboard with storage gives them the surface area to write.
Plus it gives them a little bit of storage for extra pens, paper whatever else they're going to need for their clinical rotation.
All in a very portable design.
6. "I Wasn't Strong Like This When I Started Out: True Stories of Becoming a Nurse" (Book)
This book is sure to inspire any nursing student.
This book features stories from real nurses sharing their experiences in their nursing careers.
In the narrative, the nurses discuss their firsts.
Their first births

first death

first IV stick and so forth.
They'll also read the nurses accounts of what helps them get through their difficult shifts.
7. Fidgetland Fidget
Popularized by the ABC TV show Shark Tank.
These fidget toys are a way to reduce stress and anxiety.
Some nursing student just need something in their hand during lectures or while studying to help them focus.
These are great inexpensive gifts to help solve that problem.
8. A Nursing Watch
Nurses need a watch.
Nursing students that don't usually wear a watch soon learn how vital having a watch is.
Many medications nurses have to give are time sensitive.
Not being aware of the time could be detrimental to the patient's health, comfort or well being.
There's a practical element to having a watch.
But it doesn't mean a nursing student can't accessorize with them also.
Check out the prices and all the designs of nurse watches on Amazon.
Fun Gifts for Nursing Students
Above we gave you some practical gifts for nursing students.
Below we're going to go a different direction.
We're going to cover some fun gifts you can give the nursing student you know.
9. "Sock it to Me" Nurse Knee Socks
Socks are fun gifts you can give
They're also a fun way to accessorize especially in clinical when the school or hospital might not let nursing students be so expressive with their attire.
The "Sock it to Me" nurse knee socks are fun, and the quality is excellent.
10. "Because Nursing School" Wine Glass Goblet
Within moderation of course. But even still. There's going to be those nights.
11. "Trauma Queen" Large Nursing Tote Bags
I mentioned above about the importance of having a separate bag or tote bags for a nursing school clinical.
This is along the same lines except funnier.
12. "She Believed She Could So She Did" Nurse Keychain
Every time she pulls out her key chain, there's a reminder.
Something to inspire her that she can get through nursing school.
13. Personalized Stethoscope Coffee Mug
If he or she is a big coffee or tea drinker, this makes a really nice personalized nursing student gift.
You get to type in the name before you order.
14. Nursing Student Grip and Stand for Phones
This is another simple gift that can make a big statement.
15. Adult Coloring Books for Nurses
Nursing school is stressful.
Along those lines I learned an important lesson in nursing school, you have to figure out how to manage your stress.
The difference between success and failure could be your ability to manage your stress.
I remember seeing some of my peers coloring as a way to relieve stress.
At that point, I didn't know adult coloring books were even a thing.
Not only is adult coloring books a thing research is showing some health benefits with coloring according to Mayo Clinic.
Here's the video below.
Bonus 16. Nurse Laptop Sticker
This is more of a fun gift.
These are popular in nursing school. It's a way for nursing students to represent.
They can put this on their stuff. Things like a yeti tumbler or their laptop.
Check out nurse laptop stickers on Amazon.
Conclusion
Hopefully, you found this nursing student gift guide helpful.
It's not uncommon for gift givers to get anxious or frustrated when looking for a gift.
We get so focused on finding the "perfect" gift we lose sight on what's important.
The thought.
So whether it's a birthday gift for a nursing student, mother's day, father's day whatever.
Ultimately it's the thought that counts.
They're going to be so excited that you thought of them regardless.
Related Articles on Gifts for a Nursing Student
You can't go wrong with practical gifts.
If you're looking for more practical gift ideas for nursing students you should check out the article "What Supplies Does a New Nurse Need."
In that article, we list 15 of the most important things new nurses need before starting a new nursing job.
Also, check out…
Pin it!