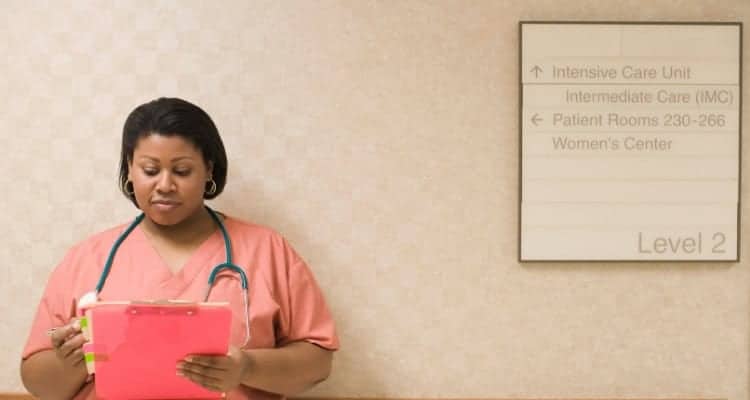 Nurses perform many administrative tasks throughout the day.
Between taking notes, monitoring patient vitals, and other paperwork, nurses need something reliable to write on and keep everything organized.
A good clipboard is an essential tool for nurses to have.
These are 10 of the best clipboards offered for busy nurses.
*Disclosure: This post contains affiliate links. If you click and make a purchase, I may receive a commission. For more info, please see my disclaimer.
Top Pick
Best Clipboards for Nurses
1. WhiteCoat Clipboard
A full-size nursing clipboard that easily folds in half to store conveniently in your pocket is what you'll find with this WhiteCoat Clipboard.
Made from durable aluminum and powder coated for a secure finish, this clipboard is built to last.
You can safely store up to 15 papers which is important for nurses who have to be HIPPA compliant at work.
When you need the clipboard out of the way, you can fold it in half and place it in your pocket.
There's also a handy nursing reference included that lists things like injection sites and pain scales.
Pros:
Holds 15 papers
Folds in half
Aluminum construction
Cons:
Scratches easily
Corners bend
Squeaks when opened
Check the price of the WhiteCoat Clipboard on Amazon.
2. Saunders Cruser Mate Clipboard
The Saunders Cruser Mate Clipboard is a clipboard that's good for your job and good for the environment.
It's crafted from 89% recycled materials so you know you're helping out the earth by purchasing this product.
It's lightweight and sturdy due to the aluminum construction but it's also resistant to rust when exposed to liquid.
You can clip papers to the front and also store a notepad and extra paperwork in the secure section behind it.
The shiny black color gives it a classic, professional look so it's perfect for any medical office or hospital setting.
Pros:
Made from 89% recycled materials
Two large storage compartments
Versatile black color
Cons:
Thin construction
Clip spring tends to break easily
Use caution with sharp edges
Check the price of the Saunders Cruser Mate Clipboard on Amazon.com.
3. Officemate Slim Clipboard
The slim design of this Officemate Slim Clipboard will be appealing to traveling nurses who need every inch of space available to store items in their briefcase or travel bag.
Although the construction is slim there is still plenty of room to store important documents in the compartment behind the clipboard.
There is also space to store pens and pencils so you can grab them conveniently when you're in a rush.
The clipboard is ergonomically-designed to fit comfortably in your hands so you can easily carry it along with other nursing necessities during your shift.
Pros:
Slim, lightweight design
Designated storage space for pens and pencils
Ergonomically-designed hand grips
Cons:
Plastic pen holder is fragile
Clip comes loose with frequent use
Plastic tends to crack
Check availability of the Officemate Slim Clipboard on Amazon.
Related Article: The Top Pens for Nurses
4. Tribe RN Nursing Clipboard
This Tribe RN Nursing Clipboard has been updated to be the toughest clipboard they've ever created.
The material they used is resistant to cracking, bending, and chipping.
It also comes in four appealing colors that are appropriate for any nursing professional.
The durable construction is just the icing on the cake.
There's also a sturdy front clip, a generously-sized storage compartment where you can keep important documents secure.
Plus a handy nursing reference sheet with useful tips that nurses use every day.
Even better, each purchase comes with access to the Tribe RN online resource library.
Pros:
Sturdy, updated construction
Large storage compartment
Handy nursing reference sheet
Cons:
A little heavy and bulky
Reference sticker sheet peels over time
Colors aren't very bright
Check the availability of the Tribe RN clipboard on Amazon.
5. Healing Hands Nursing Clipboard with Storage
The Healing Hands Nursing Clipboard with Storage is an ideal clipboard for any nursing professional, no matter how long they've been in the field.
The handy reference sheet on the back of the clipboard has just about everything you need to know on a daily basis when taking care of patients, including vital signs, labs, GCS score, medications, and more.
It comes in two attractive colors- black and mint.
Both come in a matte finish that is resistant to scratches.
With plenty of storage and a sturdy front clip, any nursing professional would benefit from using this clipboard.
Pros:
Handy reference sheet
Two-color options
Plenty of storage space
Cons:
Colors fade
Side hinge breaks easily
Reference sticker peels over time
Check the price of the Healing Hands Nursing Clipboard on Amazon.com.
6. Prestige Medical Clipboard
This Prestige Medical Clipboard comes with all the bells and whistles a nurse could possibly want from a clipboard.
A clock, timer, alarm, and calculator are featured front and center and run on one L1131 battery which is included.
The front of the clipboard also features a handy reference guide while the back of the clipboard boasts a ruler, pain assessment scale, and more.
Both colors- pink and white- are crafted from heavy-duty ASB plastic so you know it'll last for years.
It's also the perfect size at just under 14 inches long and 9 inches wide.
Pros:
Includes a clock, timer, alarm, and calculator
Back has a ruler
ASB plastic
Cons:
Difficult to change the time
Complaints that the battery doesn't fit properly
Slightly bulky
See the price of the Prestige Medical Clipboard on Amazon.
7. Medical Basics Nursing Clipboard with Quick Reference Sheet
The sleek design of this Medical Basics Nursing Clipboard with Quick Reference Sheet is what sets it apart from other clipboards.
The beautiful steel gray and black color combination works well for any medical office or hospital setting.
It's also slim so it fits well in the hand or in a briefcase or medical bag.
The Quick Medical Reference Sheet boasts loads of useful information like normal lab values, common conversions, and signs of sepsis and septic shock.
Made from strong, durable plastic you can rest assured that this clipboard will withstand even the toughest nursing shifts.
Pros:
Sleek design
Handy reference sheet
Solid plastic construction
Cons:
Reference sheet peels over time
Clip breaks easily
Only one color option
Check the price of the Medical Basics Clipboard on Amazon.
Related Article: 15 Items Every Nurse Should Have in Their Bag
8. WhiteCoat Clipboard-Vertical Fold
The rich wine color of this WhiteCoat Clipboard- Vertical Fold really stands out and makes this clipboard unique.
Many clipboards come in basic white and black but this beautiful wine color makes this clipboard distinct.
It also folds in half so it conveniently fits in your scrub pocket when you aren't using it.
The solid aluminum construction is lightweight but also built to last with frequent use.
There's a quick reference guide on the back of the clipboard that boasts plenty of useful information such as common conversions in addition to a convenient ruler.
Pros:
Appealing wine color
Folds in half for convenient storage
Quick reference guide on the back
Cons:
No space to write your name
Only one color option
Fits in deep pockets
Check the price of the Vertical Folding WhiteCoat Clipboard on Amazon.
Related Article: 10 Best Scrubs for Nurses
9. Officemate LED Light Clipboard
Keep your tablet and important documents safe with this Officemate LED Light Clipboard.
The tablet stays securely in place thanks to the flexible bands across the center of the clipboard.
You can fit plenty of nursing essentials like notepads, rulers, pens, paperclips, and your keys.
The classic black color is made even more appealing when the bright LED light shines down on it.
The LED light is also removable when not in use so the clipboard takes up less space in your favorite briefcase or nursing bag.
Pros:
Securely holds a tablet
Fits plenty of items in the large storage compartment
The bright LED light is easily removable
Cons:
Batteries need to be replaced often
The battery compartment doesn't stay closed at times
A little bulky and heavy
Check the price of the Officemate LED light clipboard on Amazon.com.
10. Officemate Clipboard Storage Box
The Officemate Clipboard Storage Box does what its name indicates in that it offers plenty of storage for your important nursing documents.
From letter-sized to legal-sized paperwork, this clipboard can store it all.
It's also extremely durable because of the reinforced corners that keep it safe even with frequent bumps and drops.
Go traditional with the black and gray color combination or bring some boldness to the medical office or hospital with the bright black and green color combination.
The snap closure ensures your paperwork stays secure so you're always compliant with HIPPA regulations.
Pros:
Stores letter-sized and legal sized papers
Reinforced corners protect from drops
Two colors
Cons:
Plastic hinge snaps easily
Tends to chip
No designated pen slot
Check the price of the Officemate Clipboard on Amazon.
Clipboard Buying Guide for Nurses
1. Nursing Reference Guide
Nurses need to know a lot of information but having a reference guide on hand can make it easy to search for important facts like pupil size, common conversions, medications, and vital signs.
Reference guides should be thorough and made from durable materials that won't peel off easily or become damaged when exposed to wet or other harsh environments.
2. Construction
The two most common materials clipboards are constructed from are plastic and aluminum.
Plastic is more lightweight than aluminum but aluminum is sturdier.
If you're choosing a plastic clipboard make sure it is made from strong plastic like ASB.
Whenever possible, purchase a clipboard made from recycled materials so your purchase benefits the environment.
3. Technology
While basic clipboards are useful, those with technology included are even more beneficial.
Things like:
Calculators
Clocks
Alarms
Timers
LED lights
Are all great technology features to have in a clipboard.
They can make tasks like determining how much medication to give a patient or taking their pulse even easier.
4. Reinforced Corners
Corners of clipboards endure many bumps, drops, and crashes during a typical nursing shift.
Corners that are reinforced with extra materials resist cracking, bending, and chipping which can make a clipboard dangerous or unusable.
Edges that crack or chip can become sharp and lead to injuries for either yourself or your patients and coworkers.
5. Storage Space
Clipboards that come with storage space are extremely useful for nurses who need to keep important documents safe due to HIPPA regulations.
HIPPA regulations are rules that medical professionals need to follow in order to keep patient information safe.
Storage compartments that latch securely are the best option for nurses.
6. Foldable Design
Traditional clipboards remain flat but foldable clipboards can be opened up when in use and folded when not in use.
Ones that fold vertically fit better in deep pockets while ones that fold horizontally fit well in narrow pockets.
7. Designated Pen Slot
Nurses go through pens very quickly because they are constantly jotting down notes and signing paperwork, etc.
Having a designated pen slot on your clipboard ensures you can always find a pen quickly which makes you look more prepared when performing important administrative tasks at work.
Final Thoughts
Owning the right clipboard can make the job of a nurse easier.
Having a secure place to store documents and a reference guide for when you forget common nursing facts are essential features a clipboard should contain.
All of these clipboards would be useful for those in the nursing profession.
Related Article