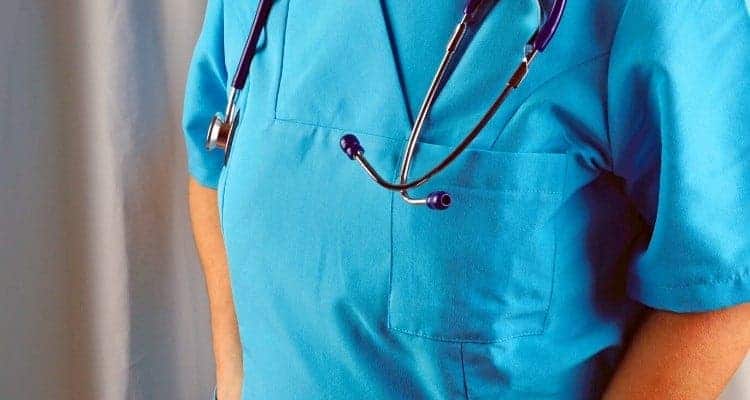 Nurses need to wear clothing that moves freely with them during their shift.
That's why scrubs are the preferred garment for nurses.
They're easy-to-clean and can hold all of the tools a nurse needs to perform their job efficiently.
Here are 10 of the best scrubs for nurses.
*Disclosure: This post contains affiliate links. If you click and make a purchase, I may receive a commission. For more info, please see my disclaimer.
Top Pick
If you're in a hurry and are just looking for our top recommended scrub for nurses, then you should check out these scrubs from Figs on Amazon.
For the rest of our nurse scrub picks keep reading below.
10 Best Scrubs for Nurses
1. Grey's Anatomy Two Pocket V-Neck Scrubs
Bring a piece of one of America's most popular dramas, "Grey's Anatomy", with you to work with these Grey's Anatomy Two Pocket V-Neck Scrubs.
They offer a flattering fit with the v-neckline and shirred back yoke that stretches for comfort. There are two large pockets- one with a designated pen slot.
The polyester/rayon fabric combination makes it easy-to-clean and lightweight.
Simply throw them in the washing machine with non-chlorine bleach for the toughest stains.
You can tumble dry them on low and use an iron on the lowest setting to remove any wrinkles.
Pros:
27 color options
Shirred back yoke
V-neckline
Cons:
Runs small
Shrinks with high-heat dryer setting
Fabric isn't breathable
Check the price on the Grey's Anatomy Two Pocket V-Neck Scrubs on Amazon.
2. Adar Pro Scrub Set
You'll look sleek and stylish in this Adar Pro Scrub Set, made from flexible fabrics like polyester, rayon, and spandex.
The scrubs are cut to fit snugly while also allowing you to move freely during your shift.
A v-neckline and tailored top combine with skinny leg bottoms for a modern look that appeals to many young, up-and-coming nurses.
Each front pocket includes a space for your cell phone and pen.
There are an additional five pockets on the scrub bottoms that can hold several nursing tools.
The soft fabric is comfortable and breathable and also resistant to odors and wrinkles.
Pros:
Unique, modern fit
7 total pockets
Odor and wrinkle-resistant fabric
Cons:
Fabric pills after frequent washes
Sizing runs small
No prints available
See the price of the Adar Pro Scrub on Amazon.
3. Dagacci Medical Uniform
The Dagacci Medical Uniform is soft and stretchy thanks to the 15% rayon that's used to create each scrub top and bottom.
The v-neck top features a criss-cross pattern that's flattering for all body types.
The elastic waistband fits comfortably and allows for free movement throughout the day.
There are 15 beautiful, rich colors to choose from like vibrant apple green and traditional white.
Each scrub top is free of tags so there's no rubbing against your neck that can cause irritation.
There are also six generously-sized pockets that include several smaller sections to hold necessities like pens, identification, a cell phone, and a stethoscope.
Pros:
15 appealing colors
V-neckline
6 large pockets
Cons:
Sizing runs small
Fabric pills with washing
Stitching frays over time
See the price of the Dagacci Medical Uniform on Amazon.
4. WonderWink Stretch Scrub
The WonderWink Stretch Scrub delivers on its name as the fabric is extremely soft and stretchy.
Each of the 32 color options is made from 100% polyester fabric so it's easy to wash and won't shrink in the dryer.
The short sleeve top is breathable and keeps you cool throughout your entire shift.
The attractive v-neckline gives the top a modern look while the shaping panels on each side offer a flattering fit.
There's also an angled front yoke and a hook on the back of the scrub top which makes hanging it in your work locker convenient.
Pros:
Durable 100% polyester fabric
32 color choices
Back hook for easy hanging in your work locker
Cons:
Thin fabric
Stains easily
Difficult to remove wrinkles
Check the availability of the WonderWink Stretch Scrub on Amazon.com.
5. Dickies GenFlex Cargo Scrubs
The GenFlex Cargo Scrubs by Dickies combines the versatility of a cargo pant with the comfort of a scrub bottom to create the perfect pant for nurses.
With 7 total pockets, you'll never run out of space to store all of your nursing necessities.
Each pocket is roomy and some even feature dividers to keep your items neat and tidy.
Each scrub bottom is crafted from soft cotton, durable polyester, and stretchy spandex.
The pull-on closure makes putting the pants on a breeze while the handy drawstring creates a custom fit that's comfortable.
Pros:
7 roomy pockets
Comfortable cargo fit
Pull-on closure with drawstring for a custom fit
Cons:
Sizing runs big
Low-rise fit dips very low at the back
Not very stretchy
Check the price of the Dickies GenFlex Cargo Scrubs on Amazon.
6. Figs Casma Scrub
If you've been searching for a scrub top with a flattering fit that's soft and easy-to-wash, the Figs Casma Scrub top fits the bill.
This scrub top is incredibly soft and washes well with no pilling of the fabric, even after multiple washes.
The fabric is also resistant to wrinkles, stains, and is breathable.
The v-neckline is the perfect depth so that it's appropriate for a work setting.
The double-needle stitching keeps seams intact no matter how often you wear this scrub top- and you're going to want to wear it frequently because it's very comfortable.
Pros:
Washes well and can be tumble-dried on low
Wrinkle and stain resistant
Lightweight and breathable
Cons:
Only 5 color options
Tight around the shoulders
Runs small
Check the availability of the Figs Casma Scrub on Amazon.
Related Article: 5 Best Scrubs for Tall Nurses
7. Landau 4-Pocket V-Neck
The Landau 4-Pocket V-Neck is a great scrub top for nurses who desire a classic look with a breathable, comfortable fit.
The combination of durable polyester and soft cotton make this scrub top easy to wear and easy to clean.
The side vents allow you to move freely during your shift and bend and stretch to perform your nursing duties as needed.
There are four sturdy pockets, each with a pen divider so you can take notes and perform your job efficiently.
With 34 color options including basic black, cherry blossom, and steel gray, you can stock up on several and have a comfortable scrub top to wear every day.
Pros:
Machine washable
4 pockets
34 colors
Cons:
Runs big
Tight sleeves
Boxy fit
Check the price of the Landau 4-Pocket V-Neck Scrub on Amazon.com.
8. Koi Classics 247
The Koi Classics 247 is a scrub top that caters to every body and every size.
Sizes extra-small to 3X are offered, with each top featuring a relaxed fit for superior comfort.
This modern, pullover style boasts a modest v-neckline and side slits for even more flexibility and comfort.
There are three pockets total- 2 large front pockets and a miniature chest pocket that is ideal for clipping your identification badge to.
The machine-washable cotton and polyester blend stays soft and never loses its shape even with frequent washes.
Seventeen color options leaves you plenty of chances to find the perfect scrub top for your needs.
Pros:
Sizes XS-3X
Pullover style
2 large, 1 mini pocket
Cons:
Runs small
Boxy fit
Fabric attracts lint
See the price of the KOI Classics Scrubs on Amazon.
Related: 10 Best Affordable Scrubs for Nurses
9. Dickies EDS Essentials
The brand Dickies has been trusted by nurses for decades and this EDS Essentials scrub top shows exactly why.
Durable polyester fabric is blended with 5% spandex so it's both machine-washable and stretchy.
Despite having spandex fabric, you can still tumble dry the scrub top on low heat to remove wrinkles without worrying about it shrinking.
Each scrub top comes with 3 pockets, including one pen pocket.
The v-neckline is appropriate enough for a medical setting but modern enough to appeal to nurses of all ages.
A wide array of color options are available including black, white, and hot pink.
Pros:
Durable polyester/spandex fabric
3 pockets, including a pen slot
Modest v-neckline
Cons:
Tight sleeves
Runs a little small
Baggy in the midsection
Check availability of the Dickies EDS Scrubs on Amazon.com.
10. Natural Uniforms Medical Scrub Set
If you've been hoping for a breathable scrub set with a modern look to it, this Natural Uniforms Medical Scrub Set is the one for you.
Made from a blend of polyester and cotton, it's soft and comfortable while also being able to withstand the tough job nurses perform on a daily basis.
The v-neck top features two generously-sized pockets for storing all of your nursing necessities.
The pants feature an elastic waistband with a drawstring so you can rest assured they will stay in place all day.
This scrub set is suitable for both female and male nurses because of its versatile look.
Pros:
Soft fabric
Breathable
Elastic waistband with drawstring
Cons:
Smaller sizes run big
Thin fabric
Wide pant legs
Check the price of the Natural Uniforms Medical Scrub Set on Amazon.com.
Scrub Buying Guide for Nurses
1. Fabric Options
The scrub fabric should be soft and breathable, not stiff and heavy.
Polyester fabric is durable while cotton is breathable.
Spandex or rayon stretches and allows for flexibility when they're added to scrubs.
2. Pockets
Nurses have several tools they use during their shift, including:
Stethoscopes
Pens
Syringes
Notepads
Blood pressure cuffs
Bandaids/gauze/medical tape
Having plenty of pockets to store these items makes the job of a nurse much easier.
Scrubs should have at least two large front pockets for storing important items.
3. Stain-Resistant
Nurses encounter many spills and accidents during their shift so stain-resistant fabric in a scrub top and pants is crucial.
Polyester is one of the most stain-resistant fabric because it's able to withstand many washes without pilling or fraying (source).
4. Drawstring Pants
Since many scrub bottoms don't come with a zipper closure, having a drawstring is the best way to keeps pants in place all day long.
You can pull the drawstring as tight or as loose as you want for a comfortable, custom fit.
5. Color Choices
Nurses traditionally wear white scrubs, but more and more medical facilities are allowing their nurses to express their style with bright and bold scrub colors (source).
Black is another classic choice but hot pink, teal, and steel gray are also becoming popular choices.
6. V-Neckline
V-necklines used to be thought of as risque, but more scrub manufacturers are offering modest v-necklines that are appropriate for a medical office or hospital setting.
7. Pen Slot
Nurses go through a lot of pens with all of the notes they take so being able to grab one quickly is essential to performing their job efficiently.
Pen slots are often included in scrub tops so you can grab a pen in a pinch without having to sort through dozens of items in your pockets.
Related Article: 5 Good Pens for Nurses
8. Back Hook
If you leave your scrub tops at work in your locker, you may want a back hook to hang them.
Back hooks should be large enough to hang but small enough not to get tangled on things like your stethoscope or blood pressure cuff.
Final Thoughts
The right scrubs can make the job of a nurse much easier.
Not having to worry about your clothing during your shift allows you to focus more on your patients.
Every nurse deserves a good pair of scrubs and all of these options offer something unique and desirable for nurses.
Related Articles on Best Nurse Scrubs