Can Nurses Choose Their Scrubs?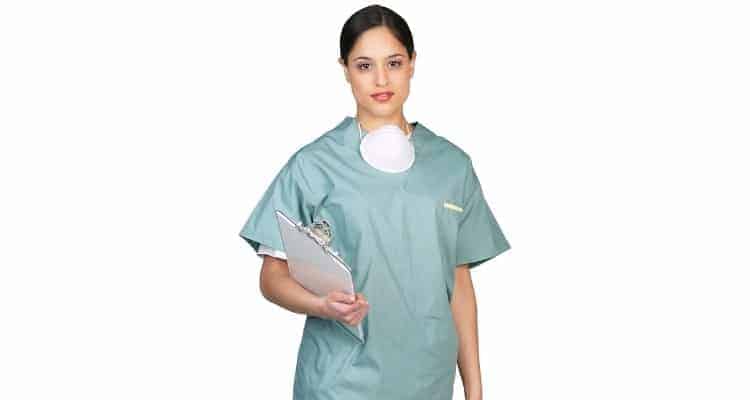 We're going to be answering the question "can nurses choose their scrubs?"
Yes, many facilities allow nurses to choose their own scrubs. Some facilities may put certain restrictions like color or where you have to buy them. If it's a new job make sure to double-check with your hiring manager before buying any new scrubs.
Below we're going to give you some tips when you're out buying scrubs.
*Disclosure: This post may contain affiliate links. If you click and make a purchase, I may receive a commission. For more info, please see my disclaimer.
Tips for Buying the Right Scrubs
Nursing scrubs are very important.
They need to be professional-looking but also feel good and withstand many washes.
There are a lot of scrubs on the market which make the buying decision hard.
To help, here are some tips on buying nurse scrubs.
1. Buy the Right Scrub Color
Buying scrubs in the right colors is very important because it can say a lot about you.
Here's what I mean.
First, certain facilities have specific colors nurses have to wear.
It could be a departmental thing.
For example, every labor and delivery nurse has to wear purple scrubs.
It could be a facility-wide thing where every specialty has to wear a certain color scrub.
For example, there are different colors used for registered nurses as opposed to nursing assistants and registered dietitians.
There are also facilities where it doesn't matter what color scrubs you wear.
Regardless of what your facility policy is the scrub color says a lot about you.
It could tell people what department you work in.
What you're title is.
Or if you like to wear one of these types of scrubs…
Instead of the solid colors, it could just show you're a fun nurse.
You see this primarily with nurses who take care of pediatric patients.
2. Consider Quality and Durability
The last thing you want is for your nursing scrubs to disintegrate in the wash.
And they will be washed A LOT!
This is what can happen when you buy cheap scrubs made from inferior materials.
I understand wanting to save money but don't just buy scrubs just because they're cheap.
It's important to invest in scrubs made from good brands (such as Cherokee, Landau or Dickies) who use high-quality materials.
High-quality material with a high-quality build means you can wash them each day without having to worry about them.
Related Article: 10 Best Scrubs for Nurses
3. Get Scrubs with Pockets
It might seem odd but it's very important to buy scrubs that have nice deep pockets that are conveniently located.
Between pens, papers, stethoscopes and everything else chances are you're not going to complain about having too many pockets during your shift.
I can't tell you how many times I've gotten frustrated because I ran out of pockets to put things in during a busy shift.
4. Buy More Than One
You're going to need more than one pair of nursing scrubs for the sake of convenience.
If you don't happen to have time to do a wash one night, this is where having extra pairs will be useful.
Make sure that you buy more than one pair of scrubs. It will save you time and frustration.
Pro Tip:
You should think about buying at least enough scrubs to cover the typical number of shifts you work in a row.

For example, if you work Mon-Fri you should have at least 5 pairs of scrubs.

This might sound like a lot but what I've found at least for me is after work the last thing I want to do is to deal with laundry.

I would much rather deal with laundry on my day-off.
Frequently Asked Questions
Can you wear whatever scrubs you want?

Yes, most facilities will let you wear whatever scrubs you want.

What color scrubs do nurses wear?

Some facilities will have nurses (and other care providers) wear the same color so patients will have a better understanding of who is providing their care.
Conclusion
Nursing scrubs are a crucial part of everyday medical wear.
In this context, it's important to buy scrubs that are durable, made from tough and comfortable materials, and feature plenty of pocket space.
The better-quality brands are always worth investing in even if the price is a little higher.
Related Article