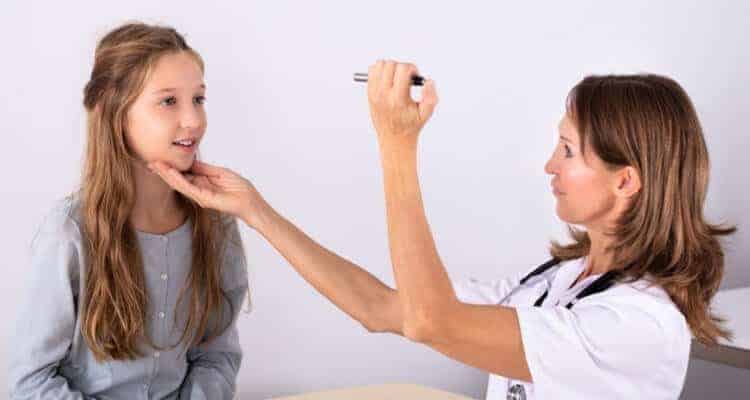 Nurses and doctors, know that a medical penlight is an invaluable tool in the health care profession.
Like our stethoscopes, blood pressure apparatus, and medical bags, the importance of our penlights is practically priceless.
Think about it.
How many times every single day do you pull your penlight from your scrubs or jacket pocket in order to check a patient's pupils or sift through a drawer or cabinet for sterile gauze and bandages.
Or even flash a light into a patient's room in the dark at night without having to wake them.
If you didn't have that little penlight, you would have to lug around a big flashlight, and we all know you simply cannot use those bright lights to look into a patient's eyes!
These little gadgets are vital to the nursing occupation, and that's why it's imperative to find the best one for your purposes.
For this reason, we have compiled a list of the best penlights for nurses as well as some accompanying information with each that will help guide you to the best choice.
*Disclosure: some of the links on this site are affiliate links. If you make a purchase we may receive a commission at no extra charge to you.
Quick Picks
☛ Best Overall Penlight: Luminotop Penlight
(Hight quality penlight with three light modes, good for any nurse or doctor.)
☛ Best Disposable Penlight: Primacare Disposable Penlight
(Reasonably priced for what you get.)
☛ Best Nursing Penlight that has a Pupil Gauge: Primacare Reusable LED Penlight with Pupil Gauge
(Pupil gauge is an added bonus.)
Best Penlight for Nurses
Here's our top medical penlight picks starting with…
1) Risemart LED Penlight with Pupil Gauge
Sale
RISEMART Pen Light, Nurse Led Medical Penlight with Pupil Gauge for Nursing Students Doctors Black...
★GREAT PENLIGHTS -- Very handy penlights always provide comfortable touch feeling in your hands.Awesome pen lights with bright white light perfectly help you to do daily work.
★EXQUISITE PENLIGHT SET -- The 2 pieces LED pen lights(Black and Silver) come with 4 * AAA batteries.Humanized set for you.
★PERFECT MEDICAL TOOLS -- The cute clip design make this penlight very convenient to carry around, and the built in pupil gauge really helpful for the doctors or nurses daily work.
This nicely-priced LED medical pen light offered by Risemart is a professional-level diagnostic tool that has an easy-on-the-fingers rubber material to push down on so that it's super simple to use.
And it's that easy-on/off rubber that makes it exceptionally simple to use one-handed.
Another nice feature of that rubber switch is that you need just a little more pushing action to push down on it, which makes it nearly impossible to switch on accidentally when the pen is inside your bag or in your pocket.
This feature means no more batteries wearing out due to unintentional lighting. All you do is click it once, and it stays on, and it won't go off until you click it again to turn it off.
There's a warm light for checking into patients' pupils and a brighter light for looking into ears, noses, throats, and for up-close wound diagnosis.
The upgraded concave head protects the bulb from breakage if you drop it.
It has a legend printed on its side that makes pupil constriction reads easy on your eyes, especially since you'll be looking at these results many, many times throughout your shift.
It's lightweight and comfortable on your grip, and it comes with four AAA batteries for your convenience. Its handy built-in clip means this light is at the ready every time you reach for it.
Finally, this penlight uses low wattage, which gives it an extended battery life of up to 220 hours.
Includes black penlight and silver penlight for bright lights, instructions, four batteries, as well as a black lamp holder with warm light and silver lamp holder with warm light.
What nurses are saying about it:
Very durable
You can move the clip to any place you desire
Difference between the bulbs is noticeable
Lasts a long time even after heavy usage
Best light I've come across
Great quality
Very affordable
The button is hard to press
Bright light is too bright
Pros:
Rubber tip so light does not turn on accidentally
Easy click-on and click-off
Two light settings of warm and bright for varied uses
Kit includes lights for both warm and bright lights
Kit includes batteries and instructions
Low wattage for long battery life
Long-lasting and durable
Cons:
Some users report the bright light can be too bright
Rubber button can be hard to press down
➡️ Check out the Risemart Penlight on Amazon.com
2) Opoway Penlight with Pupil Gauge
Opoway Pen Light with Pupil Gauge LED Penlight Medical for Nursing School Doctor Diagnostic (Pink &...
Convenient: The reusable led penlight with push button switch, being able to click the light on/off is super convenient so that you can hold the penlight anyway you want and not have to fumble around...
Sturdy and Durable: Made from high quality aluminum alloy and led bulb, feels great in the hand, very sturdy and durable. Great for nursing school, EMT school, nurse and doctor for ears, throat etc....
Portable: small and compact design, with metal clip, perfect for carrying in your pocket, scrubs, bag or med kit.
This Opoway penlight is a great tool that includes both a pink and purple light all in one kit. Its body is made of a high-quality aluminum alloy, so it's sturdy and durable.
The push-button off/on switch makes it easy to use all throughout your shift no matter how many times you have to depress it.
This pen has both a ruler chart and pupil gauge on its side, which is extremely helpful for diagnostic purposes.
It has a built-in metal clip for easy attachment to your jacket or scrubs. This little light feels comfortable in the hands, and it comes with four AAA batteries that are easily replaced.
Finally, its friendly low price makes it affordable even for nursing students who are just starting out.
What nurses are saying about it:
Long-lasting and durable
Love how the pretty colors make it easily distinguishable from others' penlights in my nursing class
Very helpful gauge
Well-constructed
Fits easily into the pocket
Very affordable
Replacement warm lights are gentle on the eye
Pros:
Durable and well-constructed
Gauge is easy to use
Attractive colors that make pen easily distinguishable from others
Reliable product
Cons:
Some users report these pens feel bulky in the pocket
➡️ Check out the Opoway Penlight with Pupil Gauge on Amazon.com
3) White Coat Penlight with Trauma Shears
This penlight and trauma shears set by White Coat includes a penlight with titanium-bonded bandage scissors, which is a nice feature particularly for nurses who work in the Emergency Department.
Both of these invaluable tools are made of high-quality and safe materials. The medical-grade penlight has a gauge which makes it easy to check patients' pupils.
Included in this kit are AAA batteries that are replaceable. It has a sturdy built-in clip, so you don't have to worry about losing it.
Plus, the price is nice, even when compared to many other penlights we evaluated.
What nurses are saying about it:
Both are quality items that work great
This LED penlight is awesome
High-quality product for the price
Penlight even survived accidentally putting it through the wash
Very affordable
The light turns on too easily
Pros:
High-quality materials
Well-constructed
Kit comes with bandage scissors
Cons:
A few users report the light comes on too easily
➡️ Check out the White Coat titanium bonded trauma and bandage scissors on Amazon.
4) Luminotop Penlight
The Luminotop penlight is a professional-grade penlight that has three lighting modes—low, mid, and high—making it particularly valuable to nurses who need it for a wide variety of uses.
Click on low and look into a patient's pupils without hurting their eyes. Click on high and look down a patient's throat or for examining wounds.
It has enhanced color rendering, which makes it suitable for diagnostic purposes because it's much easier to distinguish more subtle color changes.
It can be submerged in water and alcohol without damaging it, so you can sterilize it from one use to the next.
Plus, it's lightweight and super-easy to use one-handed because it has a single tail switch for easy on/off. Included in this kit are a user guide, two spare O-rings, diffuser, and pupil gauge card.
Price is a bit higher on this one compared to others on our list, but it's still affordable for all budgets.
What nurses are saying about it:
Can't find anything to complain about; there's nothing to improve on
I've worked my whole career in EMS and nursing and have never found a better penlight
Very nice penlight, especially for the price
Beam pattern is just like a full flashlight
Affordable
Clip is a bit too tight
Pros:
Well-built and sturdy
High-quality materials
Three settings for a wide variety of uses
Kit comes with spare O-rings, diffuser, and pupil gauge card
Affordable
Cons:
A few users report the bright setting dims too quickly
➡️ Check out the reviews of the Luminotop penlight on Amazon.com.
5) Primacare LED Penlight
Primacare DL-9325 LED Diagnostic Penlight with Imprinted Pupil Gauge, Reusable and Lightweight...
𝐄𝐋𝐄𝐆𝐀𝐍𝐓 𝐃𝐄𝐒𝐈𝐆𝐍: Primacare reusable penlights are designed by high quality, long lasting and energy efficient LED standard bulb. It emits a nice warm light that...
𝐏𝐔𝐏𝐈𝐋 𝐆𝐀𝐔𝐆𝐄 𝐏𝐑𝐈𝐍𝐓𝐄𝐃: This has an imprinted pupil gauge chart on it for easy assessment and accuracy at a glance. Our diagnostic penlight is a...
𝐋𝐈𝐆𝐇𝐓𝐖𝐄𝐈𝐆𝐇𝐓 𝐀𝐍𝐃 𝐂𝐎𝐍𝐕𝐄𝐍𝐈𝐄𝐍𝐓: The diagnostic penlight is made of lightweight plastic materials making it easy to store and clip...
The Primacare LED penlight is a professional reusable penlight that not only has a tiny little price that fits into every budget; it's made of high-quality materials that are made to last a long time.
It's convenient because all you have to do is press the pocket clip for it to turn on and off.
The side pupil gauge makes determining pupil size easy, and the white/blue color makes it easy on patients' eyes. Included are two AAA batteries that are easily replaceable.
What nurses are saying about it:
High-quality product, especially considering the price
Lasts a long time
It's the only penlight that works for me
Not too bright, so it works well for looking at retinas
Has a nice sturdy feel
Sleek design
Durable
Not suitable for looking into eyes because the light flickers
Clip feels flimsy
Pros:
Excellent low price
Sturdy and long-lasting
Sleekly designed
Cons:
Some users report the light flickers
A few consumers report the clip is too flimsy
➡️ Check out the other reviews of the Primacare Penlight on Amazon.com
Frequently Asked Questions
These are some frequently asked questions related to the best medical penlight for nurses.
We've tried to highlight some key questions we think you'll have such as, "what's the difference between a disposable penlight and a reusable penlight?"
What is a penlight?
A penlight is a mini flashlight in the shape of a pen that nurses, doctors, and other medical professionals use when they are assessing patients (source).
Are nurses the only medical professionals that use penlights?
No, nurses are not the only medical professionals that use penlights. Other medicals professionals such as a doctor or an EMT may use a penlight also.
What do nurses use penlights for?
The primary uses of a penlight include checking for pupil reflex, lighting up a patient's room without waking up the patient (especially for night shift nurses), looking through drawers and cabinets, and examining other patient areas such as tongue and throat.
What is a disposable penlight?
A disposable penlight is a penlight (usually a cheaper penlight) that is not reusable. It comes already charged and once the battery stops working you can't recharge it. (An example would be the Primacare Disposable Penlight with Pupil Gauge)
Final Thoughts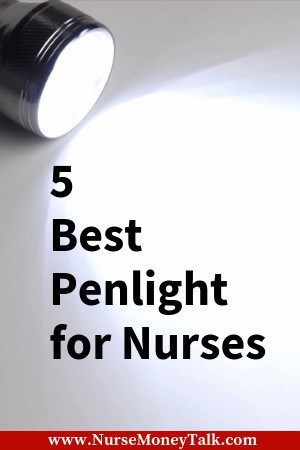 Can pen lights be used by folks outside the medical profession? Of course. Campers, mechanics, even firefighters find these little gadgets very useful.
But for nurses, penlights are a vital tool. Hey, they don't call them 'medical' penlights for nothing, you know.
When you consider how much use nurses get out of them, nurse penlights are one of the cheapest and most effective little gizmos we use in nursing.
In fact, they're such a valuable tool that they'd be cheap even at two or three times their price.
Besides the things we all use them for, such as looking into patients' retinas and checking wound dressings up close, each one of us has his or her own uses for our penlights that make their influence on nurses almost immeasurable.
That's why it's so important that you find the right penlight for your needs. And it's why we've spent the time evaluating and reviewing these little devices.
After all, nurses have enough to do–we don't need to add one more task to our busy days!
Let us know what your thoughts are in the comment section below and if you're looking for more good reads check out some of these other articles.
Related Articles: