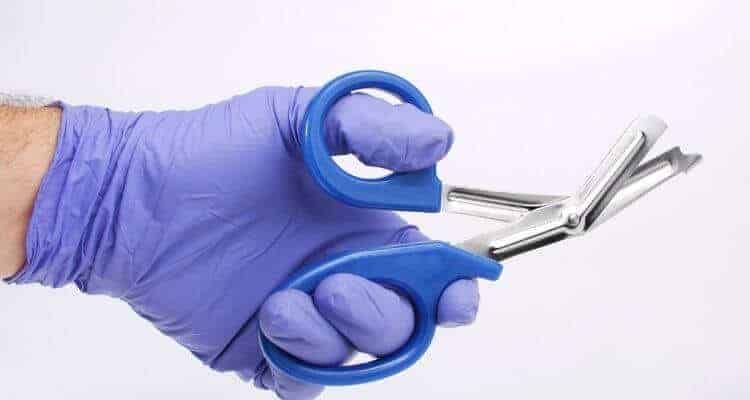 This article is going to review the best trauma shears for nurses. Because as nurses we need to make sure we have the best nurse gear.
*disclosure some of the links on this site are affiliate links.
This is our picks of the best trauma shears for nurses.
Madison Supply Premium Fluoride Scissors
Surviveware Trauma Shears Bandage Scissors
White Coat Titanium-Bonded Trauma Shears
RISEMART Medical Bandage Scissors
EMT Trauma Shears with Carabiner
Prestige Medical Fluoride Scissors
Buying Guide for Trauma Shears
Nurses, paramedics, and EMTs wouldn't be caught without some trauma shears on hand, but not all of these scissors are created equal.
When it comes time to help people out of a tough medical circumstance, having the right trauma shears can be the difference between a successful call and a devastating loss.
These tools need to be durable and strong, as paramedics use them on a regular basis to cut through clothing, seatbelts, and more.
Below is a round-up of six top-quality picks on the market.
Top Picks
The Best Trauma Shears for a Nurse
1. Madison Supply Premium Fluoride Scissors
These shears are not only affordable, but they're a #1 bestseller on Amazon in the Medical Scissors Shears category.
These scissors are coated in fluoride to provide a stick-free surface, which is ideal when working in a trauma unit.
Nurses and paramedics will be able to cut through bandages and medical tape quickly without the shears sticking.
They are autoclavable up to 290 degrees Fahrenheit for increased sterilization, and the handle is made of durable plastic that can stand up to wear and tear.
The stainless steel blades have milled serrations that make them capable of cutting through tough material consistently easy.
A blunt tip protects patients from the sharp blade edges. These shears are 7.5 inches long.
Madison Supply offers a 60-day money-back guarantee for customers, although the reviews and testimonials are overwhelmingly positive.
Customers have been able to cut through thick bandages, blue jeans, and even Kevlar with these shears.
Healthcare professionals have used them in the Intensive Care Unit, as well as out and about on the job.
These medical shears sit comfortably in the hand, but are still strong enough to cut through outerwear, leather, and thin metals and fiberglass.
The most common complaints about these shears are that they're quite large and start dulling after about a year of consistent use.
Overall, these shears come from a company that is known for producing quality, heavy-duty products.
With its bent blade shape, they're easy to slip under dressings and lightweight casts for efficient cuts. The less-than-stellar side of these shears is that they take some time to loosen up.
It might be difficult for people to open and close the scissors the first few go arounds, and this could lessen productivity and efficiency on the job.
➡️ Madison Supply medical scissors are available on Amazon.
2. Surviveware Trauma Shears Bandage Scissors
These 7.5-inch medical scissors are an Amazon's Choice product in the Trauma Shears category.
The stainless steel blades are bonded to make them extra durable and able to hold up to tough materials such as denim and outerwear.
They smoothly cut through fabrics and medical bandages, plus the blunt tip won't hurt patients.
The blades are bonded and coated with black fluoride to prevent sticking while cutting through adhesives, bandages, and more.
Surviveware Trauma Shears are lauded by medical professionals, but they also make a great complement to first aid kits at home, in the car, and on camping trips.
The scissors are always ready to take on an emergency, and their size makes them comfortable for hands of different shapes and sizes.
The black color and design makes them easy to see while cutting through a range of materials, too.
Tutorial videos of these shears demonstrates how they can cut through metals, pennies, wet fabric, and Combat Application Tourniquets.
These scissors are made in the USA and do well in a variety of everyday nursing and paramedic routines and emergencies.
One disadvantage is that the black coating begins to wear off when sharpening the blade.
Furthermore, these shears can cut through thin ropes and casts, but might not be able to handle thicker materials.
➡️ Surviveware trauma and bandage shears is available on Amazon.
3. White Coat Titanium-Bonded Trauma Shears
These White Coat trauma shears are 7.25 inches, making them a bit smaller than some competitors.
However, this might be an advantage for nurses and those who need something not so large.
The bonded titanium means these blades can confidently cut through all kinds of materials and fabrics, perfect for EMTs and those dealing with medical emergencies.
The bent tip is a blunt edge that will keep patients safe while cutting through bandages, clothing, and more.
These scissors will fit comfortably into an emergency or medical kit, and their ergonomic design makes them easy to hold and maneuver.
The blades hold up well to antiseptic washing, although some customers have complained about having difficulty opening and closing the scissors.
This should loosen up with use, but some clients haven't had much luck.
One unique feature with these trauma shears is that they come with an LED pen light that easily clips onto clothing and pockets.
Use it to examine patients' eyes, mouth, and ears. The pen takes two AA batteries.
The winning factor for these shears is that they are conveniently angled to make complicated cuts simpler and quicker.
They are guaranteed to give nurses and paramedics the clean-cut they need.
The disadvantage here is that they are quite big, so they might not be as handy for those with smaller hands.
➡️ White Coat trauma shears are available on Amazon.
4. RISEMART Medical Bandage Scissors
These trauma shears are 7.25 inches with nonslip, ergonomic handles and a sleek black color.
The thick handles allow for an easier grip and additional strength when cutting through materials of varying thickness.
The blades are also non-slip, as well as serrated to make cutting through fabric bandages quick and efficient.
These affordable scissors come with a penlight that can clip to scrubs or pockets.
It has a five-centimeter ruler and pupil size chart along either side and a rubber-tip on and off click top. Two AA batteries are included.
Lightweight, but durable, these trauma shears are coated in black fluoride so they won't stick to wet or sticky fabrics and dressings.
The bent tip and angled length makes them perfect for using on operating tables, plus the blunt tip on the end protects patients' skin.
These scissors are autoclavable and come with a one-year warranty.
They're heavy duty, but also compact so they fit nicely into a pocket or medical kit.
While the penlight comes with two lighting settings, even the dimmer one seems to be too bright for most nurses to detect pupil constriction.
➡️ Risemart bandage scissors are available on Amazon.
5. EMT Trauma Shears with Carabiner
These EMT trauma shears for operational, medical, and emergency use come with a handy carabiner for easy transportation.
Click them to belts or first aid kits, or store them in a pocket on a pair of scrubs.
The carabiner is made of steel to hold up to daily activity, plus the shears come with a lifetime warranty.
The blades are made of Japanese 420J2 Surgical-Grade stainless steel, and the scissors measure 7.5 inches as per ER standards.
The blades can cut through fabric and dressings, as well as thicker items such as seatbelts, leather, and tape.
The surgical-grade stainless steel is precisely mill-serrated to make cutting all kinds of fabrics a breeze.
The handles are smooth for a comfortable grip, and their size makes them great for maneuvering cuts at different angles.
These shears come in a range of colors, including black, blue, red, and pink.
The tip is a curved point with a flat lip to protect patients from getting poked or cut by the blades.
The company, Carabiner-Shears, offers an all-black, teflon-coated option as well.
Customers rate these scissors highly for their durability and how well they hold up to water, bleach, and other fluids.
They're strong enough to cut through a penny, and a smaller version is available for those who need it.
Overall, these shears offer more mobility and the added convenience of a carabiner.
They're a heavy-duty pair of scissors, with a thick, sturdy handle for total control over the cutting.
Even though they work on tough jobs and materials, they are still lightweight enough to carry around comfortably.
On the downside, they can be a bit large for people with smaller hands. Fortunately, the company came out with a smaller version.
➡️ Carabiner-shears are available on Amazon.
6.Prestige Medical Fluoride Scissors
As an Amazon's Choice in "Surgical Scissors for Cutting Bandages," these trauma shears are autoclavable and coated in black fluoride for non-stick usage.
Out of nearly 1,100 customer reviews, the scissors boast a 4.5-out-of-5-star rating.
The autoclavable shears come with a five-year warranty and are constructed of 420-quality stainless steel.
The scissors are commended for their strength, and they've definitely been put to the test.
Medical professionals and nurses have used them on Carhartt apparel, which is known for work clothing such as coveralls and fire-resistant clothing.
Others have cut through nylon lashings and seatbelts.
The serrated blade edge gets a good grip on the material so it can cut through without fraying or wedging the fabric in the blade's teeth. These can even cut through pennies.
Many buyers have been pleased with the product's resistance to corrosion, even after wiping them down countless times with bleach and other chemicals.
In addition, these scissors are incredibly affordable and may seem ordinary, but they stand up to the daily grind of working in the medical field.
They're convenient to carry, store, and use.
On the whole, these are scissors that will stand up to the daily challenges of the job.
They make sharp, clean cuts without putting the patient in harm's way. They also hold up well to constant cleaning and sanitizing.
On the downside, the handle could be much stronger, which could help with the overall stability of these shears.
➡️ Prestige Medical scissors are available on Amazon.com.
Buying Guide
With such a simple tool as trauma shears, one might think they could purchase just about any type of scissors, as long as they're suited to the healthcare industry.
Well, there are actually a few definitive factors that go into separating the winners from the losers. Interestingly enough, price doesn't always mean quality, so here are some tips on purchasing a top-notch pair of trauma shears.
Durability
First of all, consider durability, as these scissors are going to be used day in and day out.
No one wants to waste money on a product that will wear out and get dull within a few months.
Even though there are economical options out there, durability should be one of the primary considerations before making a purchase.
An insider tip is to buy a pair of trauma shears that comes in an individual package. Those that are sold as pairs or with a set usually denote compromised quality.
Another way to check for durability is to take a look at the handles and blades.
The handle should be thick and non-slip, and a blade joint is meant to be solid and stable, not flimsy.
Material & Design
Secondly, take a look at the material and design of the scissors, as this contributes to its overall quality.
The best options by far are stainless steel and titanium. Look for stainless steel with a quality grade of 420; this is considered excellent quality and should be very dependable.
Titanium can also be a suitable option, just be sure that it's bonded to ensure that the blades won't stick to bandages during the cutting process.
As for the handle, that should have an ergonomic design that is easy to use and sits comfortably in the hand.
Professionals will have to use these shears for everything from cutting through seat belts and leather to tearing open dressings and wet bandages.
Enforced plastic or thick rubber are two ideal materials for a sturdy scissors handle.
Related: 5 Best Thermometer for Nurses
Price
A third component to consider during the buying process is price.
Even if you're on a budget, it's important to remember that you get what you pay for. If you're out to find the least expensive pair of trauma shears, you'll find it, but the quality will be lacking.
Fortunately, some of the top-rated options are available at great prices, less than $20.
Knowing that, be hesitant to buy shears that come in a combo pack for that kind of money.
On the same token, expensive trauma shears should be looked at with a skeptical eye because there's no need for them to be that pricey.
Consider also whether or not the product comes with a warranty.
Conclusion
Hopefully, you found this article helpful. As a nurse, I understand the need for quality material.
When we're busy on the job, we need our gear to work every time. Whether it's a pulse oximeter or a trauma shear it just needs to work.
Related Articles on Trauma Shears for Nurses