10 Awesome Christmas Gifts for Nurses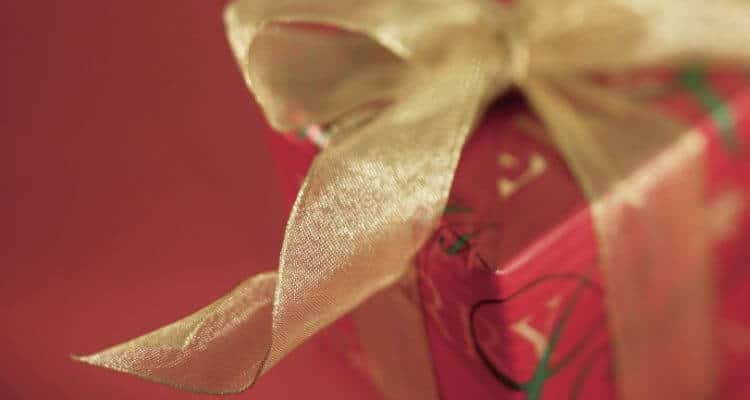 In this article, we're talking about the best Christmas gifts from nurses.
Because when trying to find the perfect Christmas present for a nurse, we know how difficult it can be.
Our Top Picks of the Best Christmas Gifts for Nurses
☛ Best Overall Nurse Christmas Present: Sassy Wine Glass on Amazon
☛ Best Practical Nurse Christmas Gift: PhoneSoap 3 UV Smartphone sanitizer on Amazon
☛ Best Personalized Nurse Christmas Gift: Personalized Nurse Mug by Blue Sparrow Designs Co. on Etsy
Christmas Presents for a Nurse
1. A Device That Charges a Phone and Cleans it at the Same Time
Sale
Nurses are around all kinds of germs each day. Considering that your phone is like a third hand that you never wash, it's pretty gross to think about what's on that phone.
For hardworking germaphobes, gifting them the PhoneSoap Phone Sanitizer from Amazon is something that will amaze them and set their worries at ease.
This nifty little device resembles a mini tanning bed for your phone. You slip it into the case and it uses UV light to destroy 99.99% of the bacteria living on the phone's surface.
It does all of this while charging your phone too!
Anti-bacterial wipes are annoying to carry around, and nurses don't always have time to disinfect their phones themselves.
PhoneSoap makes it easy for them to set their phones down to charge while they get a nice, safe bath.
The device is the size of a mid-size clutch or wallet, and it comes in a variety of colors from neutrals to metallics to pastels.
It's definitely a fun and useful gift that anyone in the healthcare field will love.
See the other reviews for the PhoneSoap 3 UV Smartphone Sanitizer on Amazon.com.
2. A Stylish Tumbler That Won't Leak or Break
Sale
Any nurse will tell you that he or she barely has time for a meal break, let alone a cup of coffee. So get him or her this fashionable tumbler that will keep a beverage hot for hours and won't break or crack.
Some tumblers are made of cheap plastic or thin glass, making them super fragile, but this Yeti Rambler from Amazon has an insulated double wall so that it can stand up to daily wear and tear.
That means your friends and loved ones won't have to worry about it sloshing around in their bags or falling off their desks.
Moreover, you can feel good about gifting this tumbler because it's BPA-free, dishwasher safe, and made of durable stainless steel.
Not only does it look good but it'll last a long time.
This gift is a functional one that also has a sense of style. You can choose from a range of colors to find just the right one to match the recipient's personality.
The Yeti Rambler can hold 20 ounces of liquid so it can keep your nursing buddies hydrated for hours.
These tumblers are especially unique in that lids are magnet-locked, so they're easy to open and close while preventing leaks.
The Yeti Tumber is available on Amazon.com.
3. Fun Compression Socks That They Won't Be Embarrassed to Wear
Since nurses are on their feet all day, they can run into some health problems. For those who deal with poor circulation or blood flow, compression socks might be the answer.
Not only are they used by diabetics, but they're useful for athletes who want to recover more quickly from physical exertion and injury.
Nurses could use all the help they can get when it comes to feeling comfortable on the job, so why not gift them these adorably fun compression socks?
Suitable for men and women, they're also an Amazon's Choice for Men's Sports Compression Socks.
These socks have great reviews and have helped people ease their symptoms of swollen and achy feet, plantar fasciitis, Achilles tendonitis, and poor blood circulation in the legs.
They are made of moisture-wicking fabric to keep legs and feet dry; plus, they've got extra cushioning on the toes and heels for added comfort.
They're ideal for people who are on their feet all day, and they come in so many different patterns and colors.
Pick up a pack of these socks so your loved ones will have a new pair to wear each day of the week.
See the other reviews of the CharmKing compression socks on Amazon.
4. A Fun Stress Reliever That They Can Relate to
We've all heard of the stress-busting benefits of coloring books, and now there's one that your nurse friends will love.
Nurse Life: A Snarky Adult Coloring Book is the gift that they never knew they wanted. It's a #1 best-seller on Amazon and the pricing is so good that you can get one for several of your friends.
It's sure to provide hours of fun and laughter for your loved one.
This coloring book is full of awesome designs and accompanying quotes that will have any nurse chuckling and nodding in agreement.
It's a lighthearted approach to the job that will remind them to take a breather and keep a positive attitude.
This gift is a unique way of letting nurses know how appreciative you are of the work they do while providing them with some snark for their post-shift breaks.
If you aren't convinced that they'll like a coloring book, consider that the act of coloring helps adults concentrate, unwind, and release some tension and exhaustion.
What kind of nurse wouldn't want that?
See what other nurses are saying about the Nurse Life: A Snarky Adult Coloring Book on Amazon.
5. A Pretty Nurse Accessory That They Won't Want to Take Off
Forget the scrubs; now your nurse friends can flaunt their credentials anywhere with this super-cute heartbeat necklace from Amazon.
They don't have to work in the cardiology unit to recognize the zig-zagged lines of an electrocardiogram monitor and this necklace comes in a mix of metals so you can choose just the kind of option they'd love.
Browse the gold, silver, and rose gold choices or maybe check out a pair of earrings in similar electrocardiogram style.
The necklace is 18 inches so it won't hang down precariously from her neck, getting in the way of work and patients.
The design is accompanied by a delicate heart charm and will look smashing on the special nurse in your life.
Buying jewelry is always a toss-up because it's difficult to find just the right piece that they'll like.
This heartbeat design is sure to please any healthcare worker and it's a stunning testament to the work they've dedicated their lives to.
See the other reviews for the Heartbeat Necklace on Amazon.com.
6. A Relaxing, Soft Pajama Set
Who doesn't love to sleep? When nurses finally get the chance to hit the hay, they want to feel as cozy as possible. You can help make that happen by giving them a set of soft lounge pajamas from Amazon.com.
Available in a handful of colors from XS to XXL, these pajamas are made of 95% cotton and 5% spandex for just enough give and lots of softness.
The set comes in two pieces: long pants and a long-sleeved button-down shirt to ensure the highest level of relaxation. A drawstring elastic waistband adds extra comfort and the look is elegant, classic, and stylish.
These pajamas come from Ekouaer, a professional sleepwear brand for men and women.
While this particular pair is for women, you can browse the company's website for men's options.
While providing comfort and class, these pajamas are also lightweight and silky, inviting individuals to climb in bed and get some rest, which is just what any hard-working nurse needs.
See what other customers have said about the Ekouaer Pajama set on Amazon.com.
7. A Cozy, Lightweight Robe for When They Finally Have Some Downtime
It can feel as though a nurse's work is never done so when they finally do get a break, they usually want to just do nothing. Sometimes it can even be a bother to get dressed! That's where this beautiful plush robe comes in.
An Amazon's Choice, this robe features double-stitching for durability as well as woven cotton for a comfy and cozy feel.
It's available in a variety of colors, and the dyes are chemical-free so the colors won't run in the wash.
The robe comes with deep pockets for added convenience and is available in sizes S to XXXL.
This is a great way to stay relaxed, cool, and comfortable any time of day. The 100% cotton robe has a shawl collar and ties inside and out for a secure fit that looks relaxing but not frumpy.
Give this gift to the male nurse in your life who needs to know how much he is appreciated.
Plus, this robe will finally give them an excuse to sit back, relax, and take some time for themselves.
Their days off need to be easygoing, so they feel prepared to head back to work. Kickstart that process by gifting this timeless, elegant robe.
Check out the other reviews of this cozy robe by Alexander Del Rossa on Amazon.
8. A Sassy Wine Glass
Why put your frustrations into words when you can do it with wine?
When a much-deserved day off rolls around, ensure the nurse in your life can sit back and unwind with one of these hilarious wine glasses from Amazon.
Designed with nurses in mind, the glass perfectly sums up how it feels to come home after an exhausting shift.
While you may not be able to personally relate, you can give them a gift that says that you appreciate what they do and want to treat them to something nice.
The front of this stemless wine glass features the universal nursing symbol with the staff and wings. On the back, there are three measurement lines reading "Good," "Bad," and "Don't Even Ask."
In total, this wine glass can hold 17 ounces of liquid and it's made of crystal-clear glass. It's a cute keepsake for the nurse in your life as well as a fun addition to his or her home.
Best of all, it gives him or her an excuse to kick back and enjoy a glass of red or white.
The sassy wine glass is available on Amazon.
9. An Accessory Kit for When it's Time to Crack Open the Wine
Ozeri OW06A Wine Bottle Corkscrew & Accessory Set 5-Piece,Black
Shaped like a wine bottle, the Ozeri Wine Accessory Set opens and shuts into place with its magnetic…
5-piece set includes a stainless-steel corkscrew with foil cutting knife, drip-stop collar,…
Stands vertically like a wine bottle or stores away into any wine rack.
Before they get to the wine glasses, they'll have to pop open a bottle of their favorite wine.
Consider gifting them an entire bottle-opening accessory set so they're never left without a way to get to their booze.
This 5-piece wine bottle accessory set (from Amazon) comes in a cute case that is shaped to resemble a wine bottle and snaps shut with magnetic locks.
It includes a:
stainless steel corkscrew,
a knife to cut packaging foil,
a no-mess drip-stop collar,
and a combination wine pourer/stopper,
It's everything that they need all in one convenient carrying case, perfect for bringing on the go or for keeping everything organized at home.
This is a fun, inexpensive gift that any nurse is sure to appreciate.
If you're in doubt about what to get your nursing friends this holiday season, consider this wine accessory kit. It's the perfect reason to get together and have a great night in.
The wine accessory kit is available on Amazon.
10. Handmade Socks That Are Sure to Get a Laugh
Socks are one of those gifts that everyone needs but no one really wants to give. Well, now you can be that person and still maintain your reputation as a great gift-giver.
These fun and adorable socks from Etsy are just what the doctor ordered (pun intended). They fit women's shoe sizes 4 through 10 and come up to the ankle. The soles of the socks read, "If You Can Read This, the Nurse is Off Duty."
Clients can choose to change the text color to their choosing and the text isn't made of vinyl, so it won't crack over time.
The socks are made of a 95% polyester/5% spandex blend.
This is a great gift because you'll be doing loads of good by giving it. First of all, you'll be helping out an Etsy seller, which is always a nice thing.
Secondly, you'll be giving the hardworking nurses in your life something that can help them relax and take some much-deserved time off their feet.
Nurses are on walking around all day, usually for 12 or more hours each shift.
Any chance they have to put their feet up and take a breather is much welcomed.
Now you can build a self-care kit for your friend or family member by including these fun, cozy socks. Maybe pair them with some of the other items from our list to create the ultimate relaxation pack for your loved one.
11. A Personalized Mug That They'll Actually Want to Use
Let's be honest; no one really wants a mug from your trip to Disney World or some obscure beach in New Jersey.
However, nurses will probably appreciate this personalized mug that allows them to proudly declare their life's calling while sipping their favorite coffee.
For those days off when it's all about recuperating from the demands of the job, nothing beats basking in the delight of caffeine out of your favorite mug.
A chipper day starts with this personalized floral nurse mug (from Etsy.com) that will make them feel valued.
This mug comes from an Etsy shop so you'll be supporting two careers in one: nurses and creative entrepreneurs.
The mug's design features lovely pink flowers and some greenery in a calming watercolor painting style.
The image is printed on both sides of the mug and sublimated so it won't come off in the microwave or dishwasher or with daily wear and tear.
The mug is made of 100% traditional ceramic and is FDA approved for food and beverage use.
It's available in two sizes: 11 ounces and 15 ounces so you can get the one that best suits your friend's or loved one's lifestyle.
Every time that they take a sip of coffee or tea, they'll remember your gratitude for the work they do day in and day out.
12. A Chic Pullover That Reps Their Vocation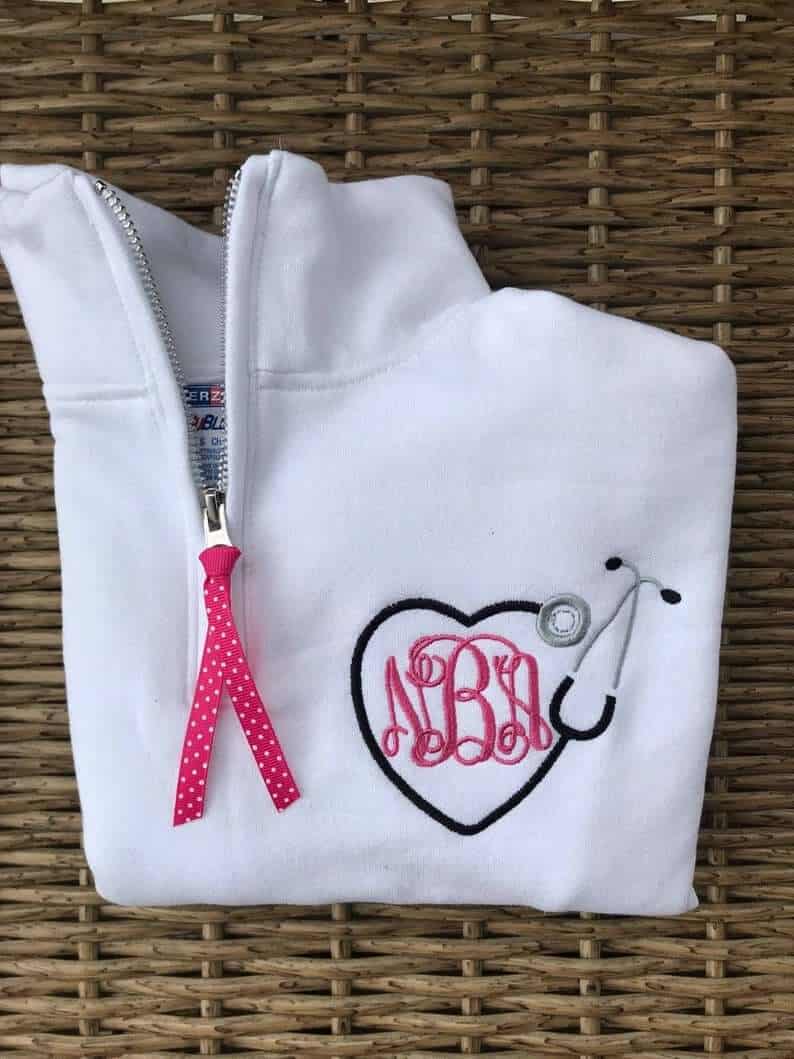 While work uniforms can be drab and dull, this monogrammed pullover from Etsy is a welcome change from the daily nursing scrubs.
These pullover sweaters are unisex so they're great for any nurse or medical student in your life.
They're available in sizes S through XXXL and are super cozy, according to dozens of happy clients.
Each sweater includes a cute stethoscope design along with the monogram inside a heart shape.
This is a gift that you can totally customize for your dear nursing friends.
First, choose which color they'll look best in; there are 13 different shades to choose from, ranging from neutrals to bold jewel tones.
Next, decide the style of text that you want the monogram to be in.
There's a classic block letters option, fishtail font, elaborate script, and more. Pick a style that reflects your loved one's personality!
You can even add a unique ribbon to the quarter-zipper on the pullover to give it that extra pop of color.
Whether they wear it in the office or while lounging at home, this is a practical yet sincere gift that they'll cherish for years to come.
About Christmas Gifts for Nurses
It's never too early to start thinking about Christmas gifts! If you have a nurse or healthcare professional in your life, you might be wondering what to get him or her for the holidays.
You want it to be something that he or she will get good use out of, but you also don't want it to be something impersonal or insincere.
Well, we've got a gift guide of 12 awesome options that just about any nurse or nursing student would love.
When buying a gift for a nurse, you want to strike that perfect balance of practicality and fun.
A new pair of scrubs is great, but it's strictly work-related and something that he or she will probably buy for himself or herself anyway.
As you'll see with these Christmas present ideas, you can still make apparel fun and exciting while being suitable for a busy nurse.
We also included pragmatic ideas that infuse something interesting or unique into the mix.
Moreover, the attractive prices of these items mean that you can mix and match to create the ideal present for that special nurse in your life.
Key Takeaways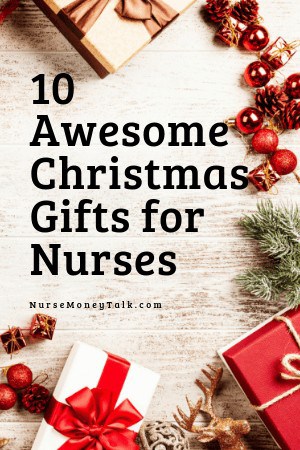 Hopefully, our Christmas gift ideas for nurses will inspire you this holiday season.
Is there a gift you feel should be added? If so, let us know in the comments below.
Related Articles to Christmas Gift Ideas for Nurses