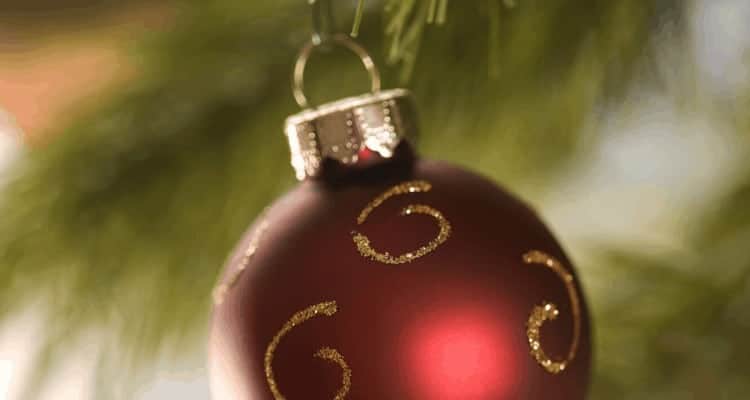 In this article, we're going to go over some of our favorite nurse Christmas ornaments.
Some of these ornaments are super cute and would make a really good Christmas gift for a nurse, a secret Santa nurse gift, a stocking stuffer or a really cute decoration for your Christmas tree.
*Disclosure: This post may contain affiliate links. If you click and make a purchase, I may receive a commission. For more info, please see my disclaimer.
Our Top Nurse Christmas Ornament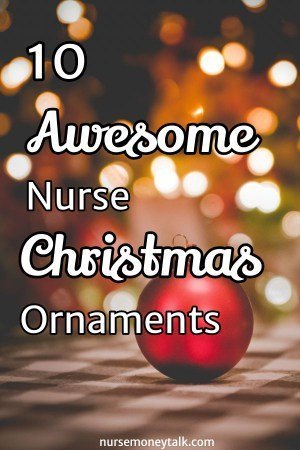 ☛ One of Our Favorites: Porcelain Nurse Scrub Ornament
☛ Nursing Student Christmas Ornament: Personalized Nursing Student Ornament
☛ Christmas Ornament Pick for a Retired Nurse: Retired Nurse Snowflake Ornament
☛ Nurse Practitioner Christmas Ornament: NP Handpainted Ornament
☛ Labor and Delivery Nurse Ornament: Labor Nurse Ornament
The Best Nurse Christmas Ornament
1. Old World Christmas Ornament
Sale
Old World Christmas Nurse Cap Glass Blown Ornament for Christmas Tree
ORNAMENTS FOR CHRISTMAS TREE: Hand crafted in age-old tradition with techniques that originated in the 1800s
CHRISTMAS DECORATIONS: Molten glass is mouth-blown into finely carved molds
UNIQUE GIFTS: Ornaments are all hand-painted and glittered in a series of labor-intensive steps to achieve the beautiful creations
A nurse Christmas ornament that's shaped like a nurse cap.
While nurses don't really wear nursing caps anymore it's still a very memorable symbol of the nursing profession. A seasoned nurse would definitely appreciate this memorable gift.
2. Cathedral Art Nurse Ornament
This nurse Christmas ornament has just about all the symbols we would see in the nursing profession.
The primary symbol is a cross in the middle with hearts in four corners. Below the cross is a nurse's hat and a caduceus. In the middle of the cross is the engraving:
To a very special NURSE! Your gentle hands & healing touch. Your love and care mean so much!
3. Porcelain Nurse Scrub Ornament
This nurse scrub Christmas ornament is made of porcelain and features vibrant colors. It comes in a multitude of colors:
Black
White
Light Blue
Dark Blue
Green
Pink
Just to name a few. With this many color options, you'll be able to find one that fits your favorite color.
Or the favorite color of the nurse you're giving the gift to.
The porcelain nurse scrub also has an option to personalize the ornament.
4. Light-up Glass Ball Christmas Ornament
Nurses are All Heart LED Christmas Ornament – Xmas Light Up Decoration with Candle and Glittery...
NURSE CHRISTMAS LED ORNAMENT. The "Nurses Are All Heart" saying with a heart and heartbeat design are on the outside of this LED ornament. It measures approximately 4" diameter, comes with batteries,...
GLASS BALL LIGHTED ORNAMENT. Christmas gift for nurses, nurse practitioners, nursing students or nurses assistants. It can hang on a tree or display stand; sit on a desk, bookshelf, mantel or table.
LIGHT UP XMAS ORNAMENT. Inside this lighted glass ball decoration is a candle, and glittery snow. The candle requires batteries that are included.
A glass ball Christmas ornament. It might be hard to see in the picture but the ball features a battery-powered candle on the inside you can turn on to really make it stand out.
On the outside, the ball has three hearts with images of an EKG. There's also the phrase "Nurses Are All Heart" on there with images of snowflakes all around.
5. Nurses Hanging Bandage Box Christmas Ornament
Kurt Adler Bandage Box 'Nurses' Hanging Resin Christmas Ornament
This Kurt Adler Bandage Box "Nurses" Hanging Ornament is a beautiful addition to any holiday decor or Christmas tree. This hanging ornament features a bandage box with "Nurses Make it Better" across...
Kurt Adler specializes in beautifully detailed Christmas Ornaments and holiday seasonal decor designed exclusively with your needs in mind!
Create beautiful holiday memories to treasures for generations to come! Makes the perfect Gift for family and friends
This particular ornament is kinda cool, but it might be a bit much for some.
There are two parts to this ornament. The top is a red heart with a nurse's hat on one side of the heart.
Below the heart is a hanging bandage box. On the front of the box is several pictures:
A heart
A bandage
A caduceus
Along with the pictures there are also several wordings:
"Nurses Make it Better"
"Highest Quality Medical Care"
"Gentle Touch"
"100% Compassion Guarantee"
6. ER Nurse Christmas Ornament
A Christmas ornament featuring blue scrubs and writing that says "E.R. Nurse Trauma Queen."
This funny nurse Christmas ornament is also cheap and while it wouldn't make the best gift for a male nurse it would definitely work as a good secret Santa gift.
Personalized Nurse Christmas Ornaments
7. Personalized Christmas Ornament Scrubs
This Christmas ornament features blue nurses scrubs with a stethoscope and a nurse clipboard.
This ornament allows customizations in two different spots. You can add customized writing on the shirt bottom (15 characters) and the clipboard (15 characters).
8. Personalized Male Nurse Christmas Ornament
This particular Christmas ornament stands at about 4 inches tall and features a male nurse wearing green scrubs holding a clipboard.
The part of the Christmas ornament that's customizable is the clipboard. You can have up to 10 characters for a name.
9. Personalized "Nurse + Year" Christmas Ornament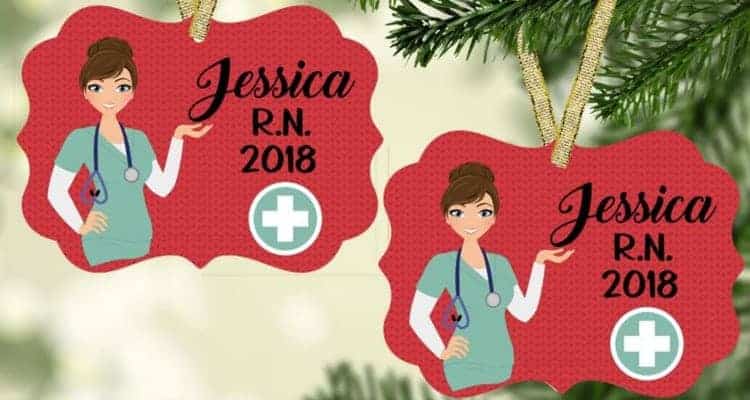 This ornament is made out of aluminum with a permanent finish.
It measures approximately 3.97″ x 2.75″ Most of the ornament can be customized.
There's 6 different choices of nurses to pick from with various hair and skin tones.
You get to also customize the name and year you want to be included. This ornament makes a really good nurse ceremony pinning gift (nursing graduation) or a gift for a first-year nurse.
10. Personalized Nurse Christmas Ball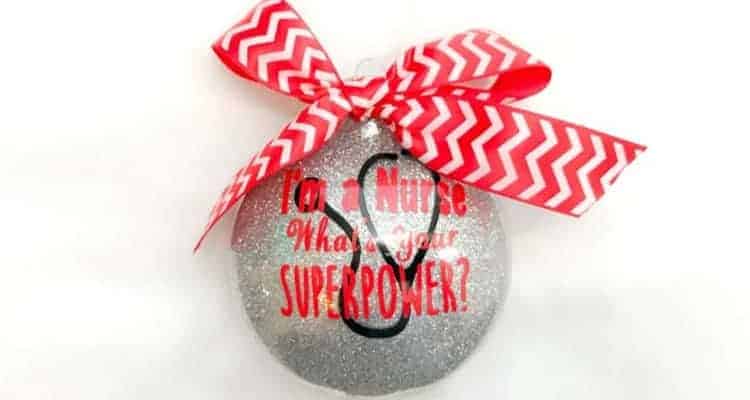 This ornament is shatterproof and made with outdoor grade vinyl.
It features a ribbon on top with the engravings "I'm a Nurse What's Your SUPERPOWER!"
With this order, you can choose which ribbon you want and what color you want the ball to be.
Final Thoughts
There are so many options for nurse Christmas ornament it becomes really hard to know which one you want.
Sometimes just glancing and looking at several will help you figure out which one you want based on the ones that stick out.
To look at even more selections check out the nurse Christmas tree ornaments on Amazon.
Also, don't forget about all the personalized Christmas tree ornaments for nurses on Etsy.
Related Article