5+ Best Secret Santa Gifts for Nurses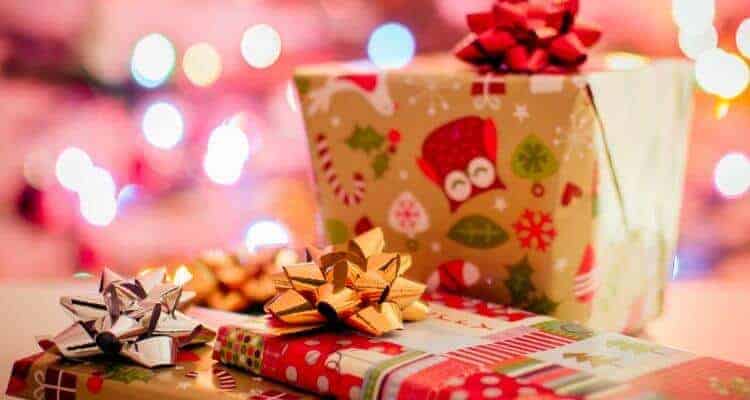 If there's one game you're probably going to be playing at your next party it's going to be Secret Santa.
That's why in this article we're going to give you our top picks for the best Secret Santa gifts for nurses.
*Disclosure: this post may contain affiliate links. If you click and make a purchase, I may receive a commission. For more info, please see my disclaimer.
Secret Santa Gifts for Nurses
1. Hand Repair Set
While many hospitals have switched to non-latex medical gloves and sometimes low protein latex gloves, nurses are most likely going to come in contact with a fair share of latex gloves, which sometimes can lead to redness, itching, swelling, and other less common latex allergic reactions.
For that reason, a hand repair gift set is going to be a perfect gift for your favorite nurse.
The linked gift set from Burt's Bees comes with 3 favorites that pamper dry hands: the almond and milk hand cream which hydrates the skin, the cuticles softener lemon butter cuticle cream, and the shea butter hand repair cream for hydrating dry hands with premium botanical butter.
The pack also includes a pair of cotton gloves which help hold in these products.
You can use this set of all-natural products to deliver the nourishment that the skin needs to thrive.
They also work with the skin's renewal pace by supporting the hydrolipid barrier and nourishing new cells.
Moreover, you can use this set to treat acne, clogged pores, or dullness.
The set comes in a giftable organza pouch that will surely catch the recipient's eye.
Check out Burt's Bees Hand Repair Gift Set on Amazon.
Related Article: 5 Best Hand Creams for Nurses
2. Medical Scissors
This is another gift that all nurses would appreciate since they often find themselves in situations where they need to remove clothing quickly or change bandages, so it can be quite useful in the workplace.
White Coat's titanium-bonded trauma shears are a popular choice amongst a lot of healthcare professionals and are a great gift to present to your favorite nurse.
The tip of the White Coat's scissors is bent, making it safe to use in emergencies and prevents unintentional blade cuts.
Further, the angled shears make these scissors an ideal choice for the use on surgical tables and elevated surfaces.
Furthermore, the shears are made of high-quality, environmentally-safe materials and are equipped with an LED penlight with pupil gauge, perfect for checking the mouth, throat, and eyes.
Check out the White Coat Trauma Shears + Penlight on Amazon.com.
As a side note if you're looking for more options for Trauma shears check out our article: Best Trauma Shears for Nurses.
3. Bath Bombs
Sale
There's absolutely nothing better than a nice, warm bath after a hard day at work, especially for a nurse that knows no rest if the patients aren't resting well.
Littam Bath & Beauty offers a pack of 6, extra large bath bombs that will help create a rejuvenating bath experience.
Each one of these bath bombs carries a unique and natural scent. Available scents include lemongrass, orange, rose, peppermint, lemon, and lavender.
These bath bombs are rich with luxury, all-natural ingredients that will help nourish the skin and keep it looking healthy and revitalize.
Such ingredients include shea butter, olive oil, argan oil, coconut oil, mineral salts, and cocoa butter.
All you need to do is drop one bath bomb into a bathtub filled with warm water and just let it dissolve completely.
Then, jump right in the tub and let all the tension in your body melt away.
Get the Bath Bombs Gift Set on Amazon.
4. Wine Tumbler
Caring for the sick and infirm isn't an easy job: it can be extremely stressful, and it requires a lot of energy, to the point where the nurse is completely depleted and can't wait to go home, jump in the bed, and sip on a glass of wine.
If you're in search of a gift that combines humor and practicality, the linked wine glass is a great Secret Santa surprise for your friend or co-worker.
This 12-ounce wine glass is made out of stainless steel construction that holds a material-food grade of 18/8.
It's super sturdy and resistant to break and rust. It can also be cleaned by hand with ease.
The wine glass is finished with a high-quality "Because Patients" printing, talk about some humorous whine and wine time.
The tumbler features a BPA-free cover that helps seal it completely and prevent any spilling. The lid is also transparent, allowing you to see what's inside.
If you know that the nurse you're trying to surprise prefers drinking through a straw, you'll be happy to know that the package comes with a stainless steel straw and a straw brush as well.
Get the Wine Tumbler on Amazon
5. Badge Reels
Instead of a personalized and plain badge clip that shows no character whatsoever, how about an artistic and colorful design that will brighten up their uniform.
These high-quality, cute badge reels are precision-made and very durable.
They make an excellent nurse accessory and can be noticed from a mile away, which will result in compliments that will make the nurse's day.
The package includes 3 unique nurse badge reels: smiley wink face badge with a purple bow, smiley face badge with a pink bow, and an EKG heart badge.
The badges have a swivel alligator clip that's able to rotate in a full circle, which eliminates any chances of tangled up cords.
There's also a 24-inch retractable badge holder for your convenience.
Get the badge reel on Amazon.com.
6. Nursing Bag
Nurse Mates Ultimate Nursing Bag
Multiple storage and document compartments
Stain Resistant, Non-Skid Padded Bottom
Large hinged mouth for easy access to roomy interior
On a daily basis, nurses tend to carry an insane amount of gear, including a stethoscope, sanitary items, reference guides, a smartphone, and some snacks, just to name of a few.
This sometimes can get too overwhelming, so a nursing bag would definitely make an excellent gift for a nurse to haul all that gear around and keep it in one place.
The Ultimate Nursing Bag from Nurse Mates provides multiple pockets and storage compartments that are designed specifically to accommodate all the tools of the profession.
With a large hinged mouth directly to the main compartment. Additionally, the bag is made of a water-resistant, stain-resistant poly/nylon fabric, and it features long-lasting zippers.
Check out the Nurse Mates nursing bag on Amazon.
Related Article: 10 Best Medical Bags for Nurses
About Secret Santa
Gift exchange games have significantly increased in popularity and have grown to be more of a tradition amongst friends, families, and co-workers that's not to be missed.
There's one game in particular that universally takes the number one spot as the best gift exchange game by storm: Secret Santa. We'll get into its variations and rules further down the article.
You don't really have to dig deep to find a Christmas gift for your favorite nurse or anyone for that matter.
All you have to do is find something that will brighten up their day with a smile or a good belly laugh.
But you'll find that it's never really as easy as it sounds, as gifts are considered personal tokens of gratitude and appreciation, and you want to do that right!
To help you find the perfect gift for your upcoming Secret Santa party, we've compiled a list of Secret Santa gifts you can give to a new nursing student or to your favorite nurse.
Also, we've taken into consideration that a lot of these gifts have to be practical both inside and outside the workspace so that they won't just hold a sentimental value with no real use.
Quick Tips on Buying Secret Santa Gifts for Nurses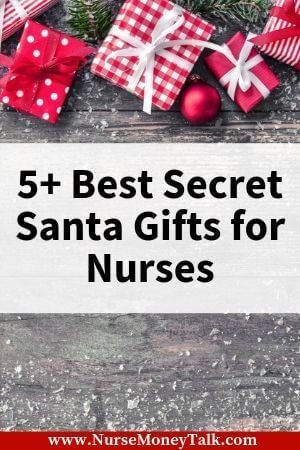 When buying a gift for someone, you need to first consider its usefulness and whether it resonates with the recipient's personality and interests. For nurses, you need to be thinking of items that can make their jobs a bit easier like a stethoscope or medical scissors.
It can also be anything that inspires good memories of a great time they had. It can even be as simple as a gift card to one of their favorite restaurants.
Your choice of the gift mainly depends on how well you know the recipient, you can't just go about buying a gift without knowing what the receiver likes.
If you're clueless about what they might like, don't be afraid to ask, just don't make it too obvious because you still want to maintain secrecy in a Secret Santa party. Save yourself the hassle of guessing to avoid buying them something they don't like.
Keep in mind that gifts don't need to carry a steep price tag to have an impact on someone. Like we've just said, it just needs to resonate with their personality.
A great out-of-the-box gift idea is to get them some tickets for an event they might be interested in or some sort of activity that they like to partake in.
Maybe your favorite nurse has a nerdy side and is obsessed with Star Wars or Marvel Comics, so how about a DVD or comic book collection of their favorite movie series or comic book character?!
If you're still feeling lost about what gift you want to get your favorite nurse by now and you're contemplating whether you're even a friend of theirs, worry not, it's never too late to listen and pay attention to the recipient.
Try tagging along with them when they're out shopping, you might notice their eyes start widening when glancing at a certain item. Simple things like that can make it a lot easier for you to pick out the perfect gift.
Secret Santa: Variations & Rules
We've taken into consideration that maybe this is your first time participating in Secret Santa, and so we'll be explaining the rules and the different variations of the game briefly.
Secret Santa – also known as Kris Kringel – is a western Christmas tradition where members of a community are randomly assigned a person that they have to give a gift to, all while keeping the gift giver's identity shrouded in secrecy until the gift is opened.
1. Thieving Secret Santa
Commonly known as the Yankee Swap or the White Elephant, in this version of the game, each player brings a single gift that's suitable for the rest of the participants.
The nature of the gifts should be kept secret by wrapping them up completely. Each participant then takes turns in taking a new gift or stealing a gift that's already been opened.
When setting up the game, the identity of each gift provider shouldn't be disclosed in any way (source).
2. Guessing
This version of the game is a little different as it involves some lettering. Each participant is asked to bring a gift for their assigned recipient, with a letter.
Depending on how the rules are established between the participants, the indicated letter can hint on the identity of gift-giver or not.
The receivers of each gift will then use the letter to guess who their Secret Santa is (source).
3. Conspiracy Santa
Conspiracy Santa is just what it sounds like: all participants will have to select a single participant and run some sort of "conspiracy" without that person's knowledge or involvement.
Participants can run several "conspiracies" concurrently, one for each participant. Online means are usually used to discuss and manage each "conspiracy" until reaching a consensus.
The gift is purchased by one of the decided-upon participants and given to the recipient at a decided-upon date and time (source).
4. Secret Casino Santa
This is a pretty fun version of the game for those who enjoy gambling. Each participant tends to buy a gift for a specific amount without specifying who the gift is for.
Sometimes the gift isn't for anyone specifically. Then, each participant puts a specific amount of money into a hat or a pot.
Random selection is used to determine who goes first when it comes to gift selection. The gift selector has the following options:
A: Go for a random gift
B: Go for the money instead
C: Go for all the unwanted gifts by those who chose to go for the money
By the end of the game, all chosen gifts are unraveled, and both winners of the leftover gifts and money are drawn and revealed. Sounds like a bundle of fun, huh?!
Conclusion
We hope you found this article helpful. If you're looking for some other gift ideas for your favorite nurse, check out some of these other articles related to Secret Santa gifts for nurses: