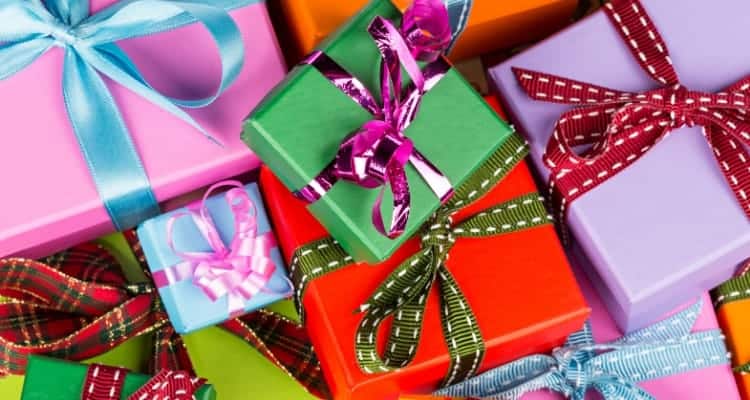 Finding a gift for the nurse in your life doesn't have to be hard.
There are plenty of great options that are both useful and meaningful.
The type of gift you buy depends on the recipient, but we're here to give you 20 of the best gift ideas for nurses.
*Disclosure: This article on the best gifts for nurses may contain affiliate links. If you click and make a purchase, I may receive a commission. For more info, please see my disclaimer.
Best Gifts for Nurses
Gift Ideas for the Techie Nurse
1. Fitbit
Staying healthy is even more important for nurses who are exposed to germs throughout the day.
One way to keep that immune system supported is by getting plenty of exercises and monitoring the body to watch for signs of trouble.
This Fitbit makes that an easy task because it monitors your heart rate, sleep patterns, activity level, and more.
An extended battery life of 6+ days and the ability to play and store your favorite songs are just a few of the bonus features this Fitbit offers.
Likes:
Monitors heart rate, sleep pattern, and more
6+ days of battery life
Ability to play and download songs
Dislikes:
Difficult to sync
Battery isn't replaceable
Check the price of the Fitbit Versa 2 on Amazon.
Related Article: 5 Best Watches for Nurses
2. Apple Watch
Nurses who own an iPhone will appreciate all the benefits the Apple Watch has to offer.
Not only does it track your heart rate, activity level, and menstrual cycle (if applicable), but it also allows you to use it in place of your phone and doubles as a compass, music-streaming device, and wallet.
With all the tools a nurse needs to carry around, not needing to carry a cell phone, wallet, MP3 player, and watch is a great benefit.
All the Apple apps, like Apple Pay, are accessible through the App Store on this device.
Likes:
GPS tracking
Stream music and podcasts
Access to the App Store
Dislikes:
Battery drains quickly
Takes time to understand all the functions
If they don't have an iPhone another good smartwatch that a nurse would like would be a Fossil Smartwatch.
Check the price of the Apple Watch Series 5 on Amazon.
3. Bose SoundSport Wireless Ear Buds
Whether it's for working out, listening to a favorite playlist, or simply tuning out the world for awhile after a stressful shift, these Bose SoundSport Wireless Ear Buds will be a great gift for any nurse.
These sweat and water-resistant earbuds come in 3 sizes so they fit comfortably and securely in the ear canal.
Losing the ear buds won't be a problem thanks to the handy "Find My Buds" tracking app.
It's Bluetooth compatible and includes a microphone so it also doubles as a hands-free cell phone device.
Likes:
Sweat and water-resistant
3 ear bud sizes
Bluetooth compatible and microphone included
Dislikes:
Check the price of the Bose SoundSport on Amazon.com.
4. Amazon Alexa
Give the gift of a virtual assistant with the multi-talented Amazon Alexa.
It can answer questions, keep track of fitness goals, control Smart Home features, play music, act as an intercom, and more.
Four attractive colors go well with any decor.
Alexa's skills are constantly evolving and there's something new to learn every day.
A busy nurse will love the ability to play music with a simple command or ask even the most difficult medical questions to which Alexa always has a reply.
The crisp, clear sound is another great feature as are the multiple layers of privacy.
Likes:
Play music, games, and more
Ask questions and get answers
4 colors coordinate with any decor
Dislikes:
Difficult to connect
No Bluetooth capability
Many bugs reported
Check the price of the Amazon Alexa on Amazon.com.
Healthy Living Gift Ideas for Nurses
5. Beard Grooming and Trimming Kit
Help the male nurse in your life keep his beard in check with this Beard Grooming and Trimming Kit.
A conditioned beard feels softer and looks more professional which is a necessary attribute for any male nurse rocking facial hair at work.
This kit includes everything needed to keep a beard soft and smooth, such as a leave-in conditioner made from Argan oil and vitamin E as well as stainless-steel barber scissors for trimming.
A convenient bag keeps all the tools safe and organized.
Likes:
Professional-grade products
Sharp, stainless steel barber scissors
Handy bag for storing tools
Dislikes:
Brush sheds over time
Balm doesn't go on smoothly
Check the price of the Beard Grooming Kit on Amazon.
6. Zyllion Shiatsu Back and Neck Massager
A tough shift can lead to muscles feeling tired and sore, and this Zyllion Shiatsu Back and Neck Massager helps with that.
The 3-dimensional nodes knead tight muscles, removing any knots quickly.
Each node is also heated so it soothes tired, sore muscles at the same time.
It can be used on multiple areas of the body due to its versatile and ergonomic design.
While the neck and back are the most common areas to use it on, it can also be used on the stomach, thighs, back of the knees, and calves.
Likes:
Nodes relieve tension
Useful for multiple areas of the body
Compact design
Dislikes:
Must be plugged in to work
Check the price of the Zyllion Shiatsu Back and Neck Massager on Amazon.
7. Blue Apron
Having to come up with a delicious and healthy meal at the end of a long shift is the last thing a nurse wants to think about.
Let them relax by gifting them with an e-gift card to Blue Apron.
Blue Apron is a meal delivery service that delivers everything you need to whip up a healthy, tasty meal in minutes.
Many of the meal plans work with diets like Weight Watchers and there are even vegetarian options offered.
E-gift cards are reasonably priced and give the recipient the option of choosing their own meals.
Likes:
Healthy, delicious meal kits delivered to your door
Works with different dietary restrictions
Reasonably priced
Dislikes:
Can only be used for a meal subscription
Shipping may cost extra
Check the price of Blue Apron.
8. UV Light Sanitizer Bag
So many germs and bacteria are brought home on a nurses clothes and other belongings after a shift that they may spend hours cleaning everything.
Save them time and money by gifting them this UV Light Sanitizer Bag.
It can disinfect clothing, a cell phone, keys, nursing tools, glasses, and more without any chemicals.
Items are just placed into the bag and are cleaned with the powerful UV light.
The purple light on the front of the bag indicates when it's in use and no UV light is emitted from the bag for safety purposes.
Likes:
No chemicals
No UV light is emitted during use
Compact and lightweight
Dislikes:
UV light can be dangerous if not used properly
Check the price of the UV Light Sanitizer Bag on Amazon.
Entertainment Gift Ideas for Nurses
9. 7-Piece Italian Crafted Glass Decanter & Whisky Glasses Set
Whether for entertaining or simply unwinding after work, this 7-Piece Italian Crafted Glass Decanter & Whisky Glasses Set is elegant and understated and will keep your favorite whiskey in a safe spot.
The decanter is a generous size and holds 33.75 ounces while the six glasses hold the perfect 9.5 ounce-size of liquid.
Both the decanter and glasses feature a beveled, diamond cut that's free of any lead and other harmful chemicals.
The decanter also includes a square stopper that keeps your whisky tasting great.
Likes:
Elegant, diamond-cut glass
6 glasses and large decanter
Stopper on decanter
Dislikes:
Complaints of glasses arriving broken
Check the price of the Glass Decanter Set on Amazon.
10. Audiobook Subscription from Audible
Reading is a great way to relax and the Audiobook Subscription from Audible allows you to read multiple books each month without even having to turn a page.
The audiobooks can be listened to at home, at work, during a workout, in the car, or virtually anywhere you have access to a compatible device.
The subscription includes an initial 12 audiobooks and then the choice of 2 audiobooks each month.
Audiobooks can be exchanged for free if the initial selection isn't up to par.
Audiobooks can be kept after the subscription is cancelled.
Likes:
Can be read anywhere
12 audiobooks to start
Audiobooks can be exchanged
Dislikes:
Requires an annual membership
Must download an app to listen on-the-go
Only select books are available
Check the price of the Audible Book Subscription on Amazon.
11. Settlers of Catan (or another Board Game)
Give the gift of fun with the Settlers of Cantan board game, or another board game of your choosing.
There's no better way to unwind with a few friends than by having a game night, and this board game is perfect for that.
Build and control your own civilization by harvesting crops, trading resources, and guiding your settlers to victory.
The object is to avoid having your roads cut off or money stolen by fellow players.
It's a board game that any nurse will enjoy adding into their game-night rotation.
Likes:
Only requires 3-4 players
Game can be finished in an hour
Appropriate for adults
Dislikes:
Many pieces
Expansions to the game cost extra
Check the price of Settlers of Catan Board Game or Shop Other Board Games on Amazon.
Practical Gift Ideas for Nurses
12. Underscrub Shirt
Whether it's worn on its own or layered, this Underscrub Shirt is a great addition to any nursing uniform.
It's made from a durable and soft blend of rayon and spandex so it's stretchy and comfortable.
The shirt comes in 10 color options that coordinate well with a variety of scrub tops.
The long-sleeve design keeps arms warm on even the chilliest days.
It's machine-washable for convenience and doesn't shrink when dried.
Any wrinkles can be smoothed out with an iron used in the lowest setting.
It's an affordable and practical gift for any female nurse.
Likes:
Soft fabric
Long-sleeve design
10 color options
Dislikes:
Fabric wrinkles easily
Sizing runs quite large
Check the price of the Underscrub Long-sleeve Shirt from Amazon.
13. A New Stethoscope
Stethoscopes endure a lot of wear and tear so gifting a nurse with a new Stethoscope is a useful gift that they will use for years to come.
This specific stethoscope from Littman is suitable for critical care settings like the Cardiac ICU and Emergency Department.
It features a tunable diaphragm that switches from high to low frequency sounds with just a simple pressure change.
The dual-lumen tubing doesn't cause the rubbing noises that are so common with other stethoscopes.
Stethoscopes that are designed to be used in a critical care setting are also useful for non-critical settings.
Likes:
Suitable for critical care settings
Tunable diaphragm
No rubbing sounds
Dislikes:
Complaints of tubing causing skin irritation
Stainless steel may scratch
Check the price of the 3M Cardiology IV Stethoscope on Amazon.com.
Related Article: 10 Best Stethoscopes for Nurses
14. Nurse Socks
Traveling nurses need to stay safe while flying and compression socks like these Nurse Socks are a great way to do that.
Compression socks keep blood flowing to the heart and other areas of the body, even while sitting for extended periods of time, like on a plane.
Nurses who travel for work are at risk for developing problems with their circulation because of the hours spent sitting on a plane, train, or in a car.
Compression socks have come a long way and now feature fun designs like the heartbeats and awareness ribbons on these socks.
Likes:
Keeps blood flowing during long trips
Helps avoid circulation problems
Comes in several cute designs
Dislikes:
Check the price of the compression nurse socks on Amazon or the nurse socks on Etsy.
Related Article: 5 Best Compression Socks for Nurses
Personalized Nurse Gifts
15. Personalized Badge Reel
A decorated badge reel is so much nicer than the plain ones given to nurses at orientation.
A personalized one is even better because you never have to worry about someone taking it.
This Personalized Badge Reel makes a great gift for the nurse in your life who wants to add some pizazz to their badge.
It comes in four color options: blush pink, mint green, taupe, and french blue.
There are multiple ways to customize it, including adding a first name, first initial, and credentials.
Likes:
4 color choices
Two wearing options- swivel clip and belt slide
Multiple ways to personalize it
Dislikes:
Reel is a little thick
Only one font choice
Belt slide doesn't swivel
Check the price and the style option of the personalized badge reel on Etsy.com.
16. Personalized Stethoscope ID Tag
There are many ways to make a stethoscope more personalized, from choosing different tubing color to adding stickers to the diaphragm.
One of the best ways to personalize a stethoscope is with a Personalized Stethoscope ID Tag.
This personalized stethoscope ID tag fits any regular tubing and easily snaps together to clip on. Once it's clipped on, it's difficult to remove it.
You can choose from 3 different base colors and 45 different fonts.
Each tag measures 1.5 inches and is easy-to-clean with a disinfectant wipe.
Likes:
Clips on easily and stays put
45 font styles to choose from
Easy-to-clean with a disinfectant wipe
Dislikes:
Difficult to remove once it's on
Only fits regular size stethoscope tubing
Font color only comes in black
Check the price of the Personalized Stethoscope ID on Etsy.
17. Personalized Nurse Bag
This Personalized Nurse Bag is both a thoughtful and useful gift, sure to be appreciated by any nurse who receives it.
It's large enough to hold several nursing tools and even a laptop.
It can be personalized in many ways, including font style, color, and credentials.
The front mesh pockets are perfect for storing water bottles and snacks.
There's even a handy pen slot on the front panel.
The straps are 29.5 inches long so it feels comfortable when worn on the shoulder or carried by hand.
Each bag can be personalized with up to 14 letters.
Likes:
Large main compartment
2 front mesh pockets
Pen slot
Dislikes:
Bag is not lined
No extra pockets in the main compartment
Back panel is plain black
Check the price of the personalized nurse bag on Etsy.com.
Related Article: 10 Best Medical Bags for Nurses
Budget Gift Ideas for Nurses
18. "I Wasn't Strong Like This When I Started Out: True Stories of Becoming a Nurse" -Book
Give a truly heartfelt gift with this inspirational book, "I Wasn't Strong Like This When I Started Out: True Stories of Becoming a Nurse."
In the book, real nurses share their personal stories of the patients and moments that have stuck with them the most over the course of their careers.
From an ED nurse treating his first car accident patients to a nurse practitioner caring for an AIDS patient, each story will move the reader and leave a lasting impact.
Likes:
Inspiring stories
Relatable to real life
Available in paperback and audiobook
Dislikes:
Check the price of "I Wasn't Strong Like This When I Started Out: True Stories of Becoming a Nurse" on Amazon.
Related Article: 15 Best Books for Nurses
19. Yeti Tumbler
Every nurse needs a good tumbler to help keep them hydrated during their shift and this Yeti Tumbler is perfect for that.
It holds 20 ounces of liquid and keeps hot drinks hot and cold drinks cold for hours.
The exterior is made from a durable material called Dracut which resists cracking and peeling, even when placed in the dishwasher.
Nineteen color choices, like brick red and seafoam, will appeal to all types of nurses.
The lid stays on tight thanks to a special magnet that won't come dislodged even if the tumbler is dropped.
Likes:
Holds 20 ounces
Durable exterior coating comes in 19 colors
Lid stays in place with magnets
Dislikes:
Exterior color fades with frequent washing
Not leak-proof
Check the price of the Yeti Tumbler on Amazon.
If you want to get it personalized, check out some of these personalized Yeti Tumblers on Etsy.
Related Article: 10 Best Water Bottles for Nurses
20. Silicon Wedding Band
A Silicone Wedding Band is an excellent gift to give a nurse or other medical professional who can't or doesn't want to wear a traditional wedding band at work for hygiene or safety reasons.
Regular wedding bands can be a safety hazard if they get caught on something but silicone wedding bands are flexible and easy-to-remove if they become entangled.
This silicone band is breathable and won't cause skin irritation, even with frequent handwashing.
It's offered in dozens of colors and sizes so there's something perfect for everyone.
Each purchase is backed by a 30-day full refund policy.
Likes:
Breathable material
Won't cause skin irritation
30-day money back guarantee
Dislikes:
Difficult to determine the correct size
Can be easy to break
I personally wear a silicon wedding band at work and I find it more comfortable.

It's so comfortable that many times that's what I wear on a regular basis even when I'm not at work.
Check the price of the silicon wedding band on Amazon.
Gift Buying Guide for Nurses
1. Useful
You don't want the gift that you purchase to end up in a junk drawer or tucked in the back of a closet.
Taking the time to really think about who you're purchasing the gift for and what types of things they like and dislike will help you avoid this dreaded scenario.
Gifts that are always useful include nursing tools, mugs/tumblers, and gift cards.
2. Sizing
When purchasing a gift that isn't "one size fits all", you can find the correct size in two different ways.
Ask the recipient their size
Guess a size and get a gift receipt
Asking the recipient their size may spoil the surprise so your best bet may be to take a guess and get a gift receipt just in case it doesn't fit.
Always err on the side of caution and size up because many clothing items can be shrunk in the dryer and many jewelry items can be adjusted.
3. Double-Check Personalization
Personalized items are a thoughtful way to show someone you care, but they can also be tricky.
You don't want to end up with the gift having a wrong name or credential on it.
Triple check all of the personalization instructions before submitting an order.
If possible, ask to have a sample picture of the personalized gift sent to you from the seller before it's made.
4. Safety
Nurses have a tough job and are often placed into hazardous scenarios during their shift.
Any gift that can make their job easier and safer is always a good idea.
Some examples include:
Apple Watch- GPS tracking detects their location
UV Light Sanitizer Bag- removes germs and bacteria from their clothing and other items
Nurse Socks- helps with circulation during long shifts or frequent travel
Silicone Wedding Band- eliminates the risk of metal jewelry becoming entangled or twisted on medical equipment
5. Ease Of Use
The last thing a busy nurse wants to do when they receive a gift is to have to take the time to set up a new device.
Nurses that aren't knowledgeable about technology may not appreciate a techie-type gift.
If you do purchase a device for a nurse who's not great with technology, set everything up for them prior to giving them the gift.
This will save them the time of having to read all the instructions and they can start using the gift right away.
6. Gift Cards or Memberships
You can't go wrong with a gift card or a membership for a place or activity that the nurse in your life loves.
Instead of having to guess what gift they would like best, this allows them to choose their own gift.
While it may not seem like a very personal gift, it's actually more likely that the recipient will appreciate the gift because it's something they will be sure to use.
7. Refund Policy
Whenever you're buying a gift, it's always wise to pay attention to the refund policy.
If a gift doesn't fit, doesn't work, or the recipient simply doesn't like it, having the ability to return or exchange it for another item is a good idea.
Some sellers offer a full money-back guarantee if the item is returned within a certain amount of time.
Others require you to provide a receipt or might require that the item be shipped back at your expense if it was ordered online.
Final Thoughts
Whether you're shopping for a birthday, anniversary, promotion, or a "just-because" gift, all 20 of these gift ideas make great options for that special nurse in your life.
Hard-working nurses deserve to know they're appreciated and these gifts are the perfect way to show how much you care.
Frequently Asked Questions
Related Article on Gifts for Nurses