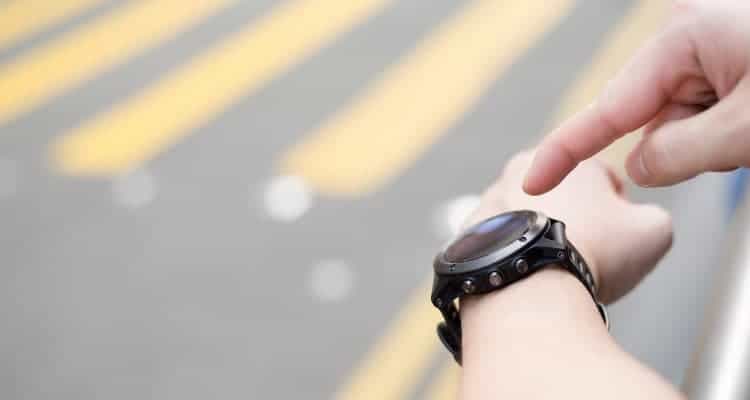 A watch is a must-have for any nurse because it helps you keep track of time and is also useful when checking a patient's pulse or performing other time-related nursing tasks.
A watch should be functional, dependable, and stylish. These are 10 of the best watches available for male nurses.
*Disclosure: This article on the best watches for male nurses may contain affiliate links. If you click and make a purchase, I may receive a commission. For more info, please see my disclaimer.
Our Top Picks
Best Watches for Male Nurses
1. Apple Watch
Those that love Apple products will appreciate the great features this Apple Watch (Amazon.com) has to offer.
Aside from the obvious features like the time and calendar functions, this watch also includes GPS navigation and apps to track your heart rate, daily steps, and the noise level in the room.
You have access to all the Apple apps and the Apple Music library right from your wrist.
This watch works as an extension of your phone, allowing you to leave your phone in your pocket as you answer and respond to text messages.
Why we like it:
Access to Apple apps
Track heart rate and daily steps
Make phone calls and text
2. Timex Expedition
Affordable and functional. The Timex Expedition is a watch that fits on wrists up to 8-inches in circumference and boasts multiple functions that any nurse will find useful.
It can be used in either regular time or military time and includes a 24-hour countdown timer.
Durable and rugged, this watch can be submerged in water up to 30 meters deep so it's suitable for outdoor activities and can withstand the wear and tear encountered during a long nursing shift.
The black resin case and gray digital display looks great plain or lit up with the Indiglo backlight. ➜ See 5 Best Watches for Nurses
Why we like it:
Regular or military time
Water-resistant up to 30 meters
Indiglo backlight
3. Fossil Gen 5 Smartwatch
The Fossil Gen 5 Smartwatch has all the features Google and Android users are looking for in a smartwatch.
It's powered by Wear OS by Google and includes useful tools like Google Assistant, Tiles, Google Pay, and Google Fit.
You can do things like track your heart rate, listen to music on Spotify, set timers and alarms, and make phone calls.
It charges quickly and has smart battery modes that extend the battery life by days.
It's also water-resistant so it's a great watch for busy nurses who frequently need to wash their hands. ➜ See Best Smartwatches for Nurses
Why we like it:
Access to Google apps
Listen to music on Spotify
Smart battery modes
4. Casio Men's XL Series G-Shock
Nurses that travel frequently will enjoy this Casio Men's XL Series G-Shock watch because it switches easily from city time to world time and includes 31 different time zones. There's also a daylight saving time function.
Keeping track of time has never been easier thanks to the ability to set 4 daily alarms and a snooze alarm.
The Hourly Time Signal indicates when each hour passes, another great feature when you're working a long shift.
The wristband is comfortable enough to wear all day while the face includes G-Shock technology and is resistant to both water and falls.
Why we like it:
31 time zones
Hourly Time Signal
Water and fall-resistant
5. Samsung Galaxy Smartwatch
GPS, Bluetooth, and a long battery life are just a few of the features that make this Samsung Galaxy Smartwatch an excellent option for nurses.
You can even control your smart appliances from this watch, including your television, robot vacuum cleaner, and refrigerator.
This watch helps you keep your life on track with a daily calendar that shows you your schedule, the weather, your daily steps, the watch's remaining battery life, and more.
It's compatible with both Android and iOS devices and it tracks both standard and military time. It's also water-resistant and rugged enough to use outdoors.
Why we like it:
Controls smart appliances
Daily calendar briefing
Rugged for outdoor use
6. Dakota Digi Clip Watch
If you prefer to not wear a watch on your wrist but still want to keep track of time, this Dakota Digi Clip Watch is a great alternative.
It can clip to your bag, badge reel, or even a pen slot if your nurse scrubs have one.
The watch includes a stopwatch, countdown timer, and alarm and can display two time zones at once.
The alarm comes with several different chime options to choose from. There's also an analog compass and it is water-resistant up to 100 feet, so you can use it while outdoors.
Why we like it:
Clip it anywhere
Alarm function with chime
Water-resistant up to 100 feet
7. Fitbit Versa 2
The Fitbit Versa 2 has so many great features that any busy nurse will love.
It's a watch you'll probably never want to take off.
It boasts all the standard watch features, like telling times, alarms, and a calendar, and has all the smart technology you need to make your life easier.
Check the news, answer calls, and control your smart appliances in one convenient place. You can stay on top of your fitness goals with a heart rate and activity tracker and even enjoy music from Spotify and Pandora while you work out. ➜ See 5 Best Fitbit for Nurses
Why we like it:
Control other smart devices
Answer phone calls and texts
Track of your activity level
8. Fossil Men's Stainless Steel Watch
Whether you're buying the Fossil Men's Stainless Steel Watch for yourself or as a gift for a nurse, it's a worthwhile investment that has all the features you need in a traditional watch with unmatched quality and craftsmanship.
The 3-hand analog display features a mineral crystal face for a truly unique look.
Each dial tracks a different measurement of time. There's also a window that displays the date and a stopwatch function, which is a great tool for nurses to have.
It's water-resistant up to 165 feet and doesn't need to be removed during hand washing.
Why we like it:
Attractive mineral crystal face
Stopwatch function
Water-resistant up to 165 feet
9. Michael Kors Slim Runway Stainless Steel Watch
The Michael Kors Slim Runway Stainless Steel Watch looks luxurious but it's offered at an affordable price.
Made from stainless steel, this watch features a round face with a 3-hand analog dial display with quartz movement.
The dials track hours, minutes, and seconds, which is a great feature to have when taking a patient's pulse.
It's water-resistant up to 50 meters and is suitable for swimming and showering for short periods of time. The slim design is perfect for the minimalist who wants an attractive watch without all the bulk.
Why we like it:
Slim design made from stainless steel
3-hand analog dial
Water-resistant up to 50 meters
10. Men's Solar Sport Combination Watch
Use the power of the sun to charge this Men's Solar Sport Combination Watch.
Even when not exposed to natural sunlight, the battery can last anywhere from 5-23 months, with an average full charge lasting 10 months.
In addition to the great charging features, this watch is also water-resistant up to 100 meters and boasts a bright LED light on the watch face with hands and markers that glow.
Display the day of the week in multiple languages and set up to 5 daily alarms. The stopwatch and calendar are two more convenient features.
Why we like it:
Solar-charged battery
Water-resistant up to 100 meters
LED watch face
Watch Buying Guide for Nurses
1. Time Measurements
One of the most important features nurses look for in a watch is the ability to easily count the seconds.
When taking a patient's pulse, keeping track of the seconds as you're counting beats is crucial to getting a correct reading.
Watches with three dials that display the seconds individually, or watches with a digital readout of the seconds are the best options for nurses who need to frequently check a patient's vital signs, including their pulse.
2. Water-Resistant
Nurses have to wash their hands frequently in order to avoid spreading germs and bacteria to themselves or to other patients.
Having to constantly take your watch off every time you wash your hands is a hassle that no nurse wants to deal with.
Watches that are waterproof or water-resistant can be worn during hand washing without fear of the watch malfunctioning.
Not all watches are meant to be submerged in water so pay attention to the specific water depth specified on your watch's instructions.
Watches that aren't waterproof and are submerged in water for too long can become foggy, lose certain functions, or stop working entirely.
3. 12 Vs. 24 Hour
A 12-hour watch uses standard time, which switches back over to 1:00 once 12:59 passes.
A 24-hour watch uses military time, which continues counting up after 12:59 passes.
This means that 1:00 p.m. on a 24-hour watch would read 13:00 hours.
Some watches give the option of switching between these two modes while others display both standard and military time at once.
The type of watch you purchase depends on your preference, but most of the world operates in standard time so it's easier to coordinate with other smart devices.
4. Charging
Standard watches usually contain a watch battery that needs to be replaced periodically.
Smartwatches usually need to be charged with a USB cord. Other watches are solar-powered and are charged by the sun.
Solar-powered watches are the most environmentally-friendly type of watches because they need the fewest replacement batteries and take the least amount of electricity.
If you work long shifts, watches that can hold a long charge of at least a day are preferred so you don't have to charge your watch while at work.
5. Watch Face Light
If you're using your watch in the dark, you'll want a watch face that lights up or glows in the dark.
LED backlights are a popular choice because they are very bright and use less energy than traditional lights.
If your watch has a timer feature for the backlight, that's a good way to keep your battery from draining quickly.
6. Smart Watches
A smart watch is one that can be connected to other devices, such as a cell phone or television.
Smartwatches often contain activity trackers that display your heart rate, daily steps, fitness goals, and even sleep patterns.
Final Thoughts
Whether you're looking for a smart watch or a traditional watch, all 10 of these watches are suitable for busy male nurses.
Although cell phones and computers offer many of the standard functions often found in watches, nothing can quite replace the convenience of having it right on your wrist.