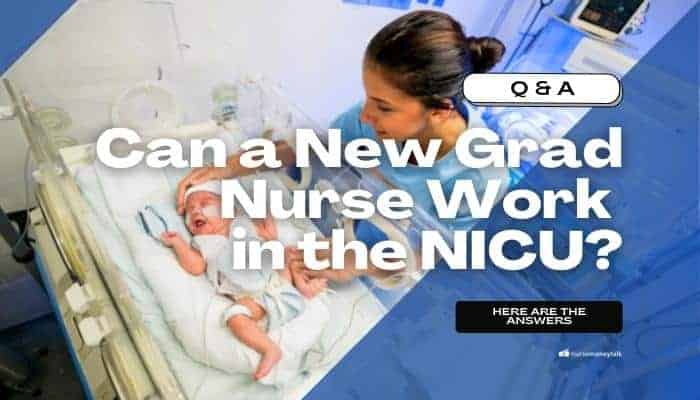 Working as a nurse is a rewarding job in and of itself, but what could make the job even more rewarding?
How about working exclusively with infants and their loved ones?
As a NICU nurse, you can gain rewarding experience, competitive pay, and the respect of your community working with infants!
*Disclosure: This article on can a new grad nurse work in the NICU may contain affiliate links. If you click and make a purchase, I may receive a commission. For more info, please see my disclaimer.
Can a New Grad Nurse Work in the NICU?
Yes, new grad nurses can get hired in the NICU, but it's hard. With that said, there are various ways you can increase your chances of getting hired. Before all of that, ask yourself whether or not you're ready to take on the role of a NICU nurse and if this new job is the right choice for you.
Find Your Next Nursing Job
Use our nursing job board to start looking for and applying to great nursing jobs near you.
What Is A NICU?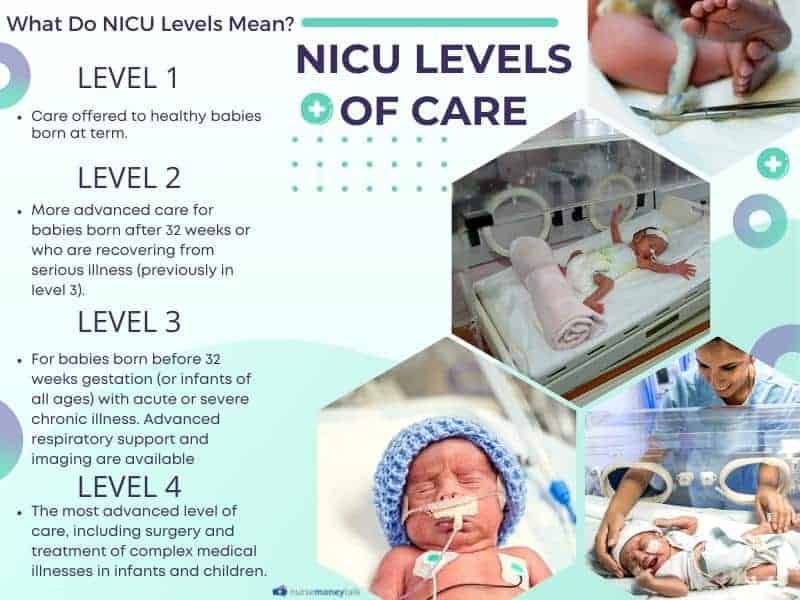 It's important to understand what exactly a NICU is? NICU stands for Neonatal Intensive Care Unit.
Neonatal comes from the word "neonate," which is any infant 28 days or younger. However, many NICUs don't have an age limit and can treat patients as old as two years old.
This means that as a NICU nurse, you'll be treating not just infants and babies but also older and younger toddlers.
Bedside Manners
Just because you're treating infants and toddlers doesn't mean your bedside manner goes away.

As a NICU nurse, it should be as important to have well-rounded bedside manners for children and their families as well.
Levels Of Care
NICUs have varying levels of care depending on the type of treatment provided to infants and children.
Depending on the hospital you work in, you can have care levels 1 through 4 and might have to work in only one or all levels of the NICU.
Levels of care for a NICU include:
Level 1: Care offered to healthy babies born at term.
Level 2: More advanced care for babies born after 32 weeks or who are recovering from serious illness (previously in level 3).
Level 3: Critical care including respiratory care for premature babies (born before 32 weeks), or infants of all ages with acute or chronic serious illness.
Level 4: The most advanced level of care, including surgery and treatment of complex medical illnesses in infants and children.
Skills For Working In NICU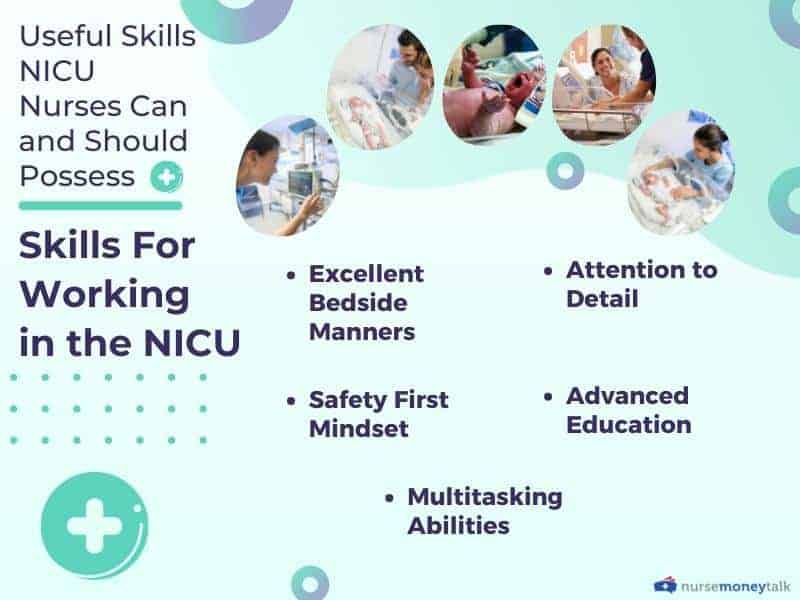 Because there are varying levels of care for the NICU, nurses working in the NICU must be well-rounded and have lots of nursing skills under their belt.
For starters, a basic understanding of nursing skills is required, with special attention placed on care for infants and babies.
To acquire these skills, nurses should have worked in a setting that allows them to care for infants, such as in the emergency room.
However, there are other valuable skills NICU nurses can and should possess, including:
1. Excellent bedside manners
Parents with sick babies can have some of the most intense questions and reactions that as a nurse, you should be able to handle.
2. Safety first mindset
Nurses should always have safety in mind, and that's even more important when dealing with babies who can be incredibly fragile and need the utmost patience and care
3. Attention to detail
When administering medications to infants, proper dosing can be the difference between life and death. Because of that, it's important to have as much attention to detail as possible.
4. Advanced education
As a NICU nurse, you will have to remain well-versed in changes to the care of infants, changes in medicine, and have the ability to excel in academic standards.
Having a proper education provides an excellent foundation to your career as a NICU nurse.
5. Multitasking
All nurses have to have the ability to multitask and do things under stress. However, the stress is even more amplified when you have the life of an infant on your hands.
It's important to be able to multitask and be able to handle stress well as a NICU nurse.
Why New Grads Might Not Be Candidates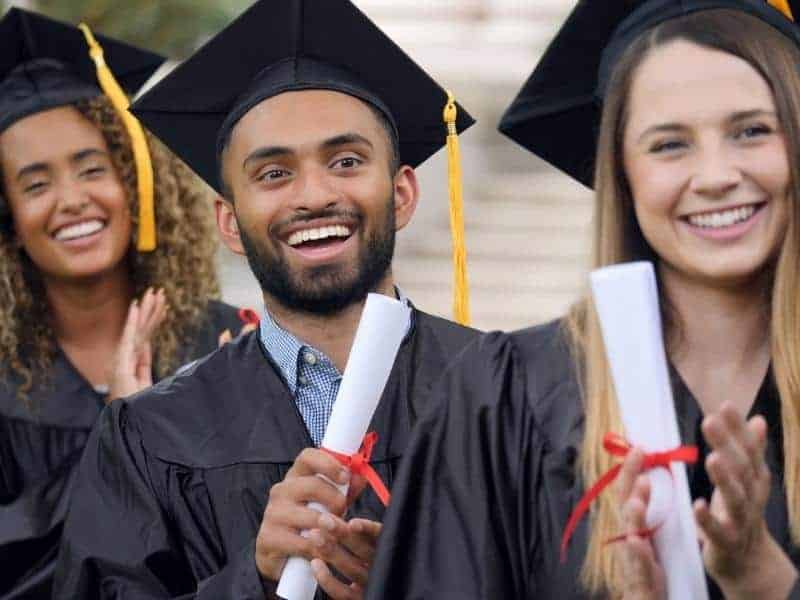 Although new grads might be energetic and want to work at a NICU, many hospitals aren't open to hiring new grads as of 2020.
This is especially true since the start of the COVID-19 pandemic, where financial strain has affected hospitals that must turn to layoffs and stricter hiring practices amidst the pandemic.
Nevertheless, there are various ways new grads can build their resume and become more competitive. This includes:
Gaining experience in other hospitals, including in highly stressful settings such as adult ICU's and emergency rooms
Learning a new language to help parents understand issues affecting their children, such as Spanish, Khmer, Tagalog, Arabic, Russian, etc.
Gaining additional certifications, such as a Neonatal Resuscitation Program (NRP) certification, Electronic Fetal Monitoring (C-EFM) and Pediatric Advanced Life Support (PALS) among others
Many hospitals might also choose to hire you as a Level I NICU nurse and then slowly allow you to progress to Level 2, 3, and 4 neonatal care.
If you feel you'd make a good fit for a NICU nurse, there's no reason you can't build up your experience and get hired later on at a NICU!
Build Up Your NICU Nursing Career
If you want to work as a NICU being a new grad, it's possible to build up your resume and quickly work your way to the NICU.
By polishing your skills as a new nurse, you can be prepared to care for infants and their families.
For help finding your next job to help you on your nursing career journey, check out our job board!
Find Your Next Nursing Job
Use our nursing job board to start looking for and applying to great nursing jobs near you.
Have You Read These Yet?
Frequently Asked Questions