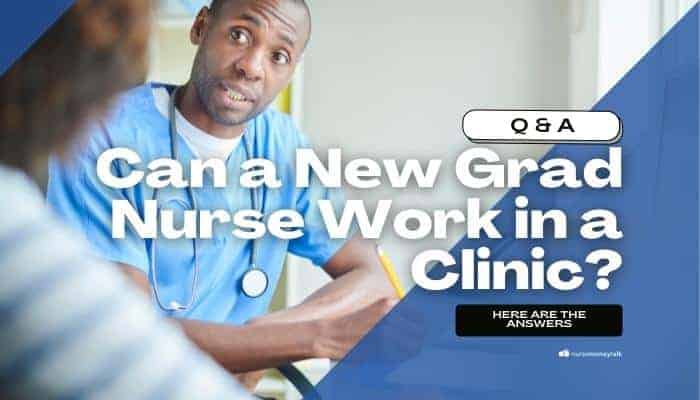 In this article, I'll answer a question I got a while back about whether or not new grad nurses can/should work in a clinic.
"I graduated from nursing school, and I'm thinking about getting a job in a clinic because the hours fit what I'm looking for as a nurse. Is it a bad idea? I've heard so many nurses and instructors say that all new nurses should start in med-surg…"
*Disclosure: This article on can a new grad nurse work in a clinic may contain affiliate links. If you click and make a purchase, I may receive a commission. For more info, please see my disclaimer.
Can a New Grad Nurse Work in a Clinic?
A new grad nurse can and should work in a clinic nursing job so long it fits their current and long-term goals. The push for new grad nurses starting in med-surg to "hone their nursing skills" is overrated. New nurses should focus on working in areas that fit their goals and desires.
Find Your Next Nursing Job
Use our nursing job board to start looking for and applying to great nursing jobs near you.
Reasons New Grads Might Consider Clinic Nursing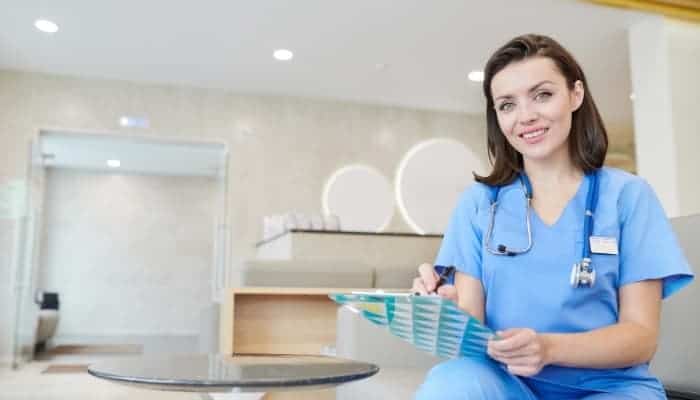 Here are some of the reasons you might want to consider clinic nursing. For a more detailed comparison, check out the other article I wrote comparing clinic nursing with hospital nursing.
1. Fits Your Hours
Clinics tend to run "bank hours," so Monday through Friday, 7:30 am-4:00 pm. Or some variation of that.
Your clinic may start earlier than 7:30 am or end later than 4:00 pm. The point is they're running regular hours, which means you can work the hours of most people.
The hours alone could be a massive plus for nurses with kids because that means you'll be at work when your kids are in school or when daycare is open.
Plus, you'll have the evenings to hang out with your kids, catch any even sports or recital. Or just be around to be able to eat dinner with them and tuck them in at night.
Related: Can a New Grad Nurse Work Per Diem?
2. No Holidays and Weekends
On top of having bank hours, most clinics are not open during major holidays or weekends.
Please note that there are some exceptions to this. For instance, you may have some clinics run Saturday clinics.
Also, some specialty clinics may have a rotating on-call person, which means you may have to work during weekends and holidays.
Pro-Tip
As a nurse who's worked many different hours, I can't emphasize enough how big of a deal your work hours are.

Don't underestimate how annoying finding childcare can be when you work off-hours. Or when you have to work a holiday and the daycare is not open because it's a holiday.
3. Less Stressful
I'm not saying you're not going to have stressful moments as a clinic nurse, but truth be told, it's not going to be as stressful as hospital nursing.
I don't think your most stressful day in the clinic will compare to your most stressful day working in the acute hospital setting.
If finding a low-stress nursing job is important to you, a clinic RN or clinic LPN position is not a bad first nursing job.
Why New Nurses Might Not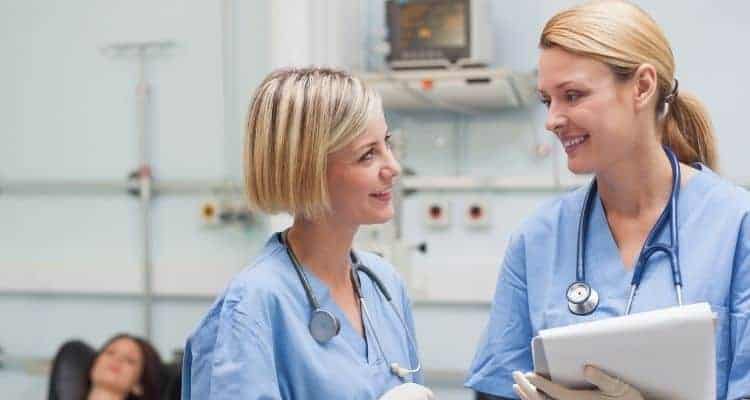 I don't think I would be giving you the whole picture if I didn't have a section that discusses some cons of working in a clinic setting as a new nurse.
For the record, I do think there are some cons. I just don't believe those cons mean you should never take a clinic job.
1. Pay May Not Be as Good
The first con of clinic nursing is that the pay will probably not be as good as hospital nursing.
There are exceptions to this because specialty clinic nurses (like endoscopy nurses) can make good money.
I know that might seem confusing, but technically speaking, many endoscopy nurses work in a clinic setting. Albeit it's a specialty clinic setting with some cons of their own (but that's for another article).
Related: Can a New Grad Nurse Negotiate Their Wage?
2. You Will Struggle Leaving Clinic Nursing
I think the statement "every new nurse should start in med-surge" to hone their skills is overblown.
With that said, I think it's worth mentioning you may find getting a hospital job a little bit more challenging because you'll lack inpatient nursing experience.
That's not to say you shouldn't take the job. Or to say you'll never be able to move from clinic to acute care, but just that it will pose a little bit of a challenge to that transition.
Related: Should a New Nurse Work Part-Time?
Key Takeaways
If working in a clinic is the nursing job you want to get after nursing school, you should do it.
Are there some potential drawbacks to picking a clinic nursing job as your first job? Sure. But there are cons to any option you choose.
The main thing is to pick a job that fits your long-term goals as a licensed practical nurse or registered nurse.
Find Your Next Nursing Job
Use our nursing job board to start looking for and applying to great nursing jobs near you.
Have You Read These?
Frequently Asked Questions